Malek Becomes Mercury Thanks to Bohemian Rhapsody Movement Coach
It took a village to transform Rami Malek from hoodie-clad Mr. Robot hacker introvert into Freddie Mercury, the flamboyant Queen frontman he portrays with astonishing verisimilitude in Bohemian Rhapsody. Hair and makeup designer Jan Sewell. outfitted Malek with prosthetic "buck teeth." Dialect coach William Conacher re-shaped the actor's inflections into a smooth British accent. Music supervisor Becky Bentham and production sound mixer John Casali blended master tape Queen recordings with performances from Malek and Mercury impersonator Marc Martel to communicate the singer's four-octave vocal power on screen. But Bohemian Rhapsody's most uncanny replication of the Freddie Mercury mystique happens every time Malek takes the stage, where he poses, struts and exhorts the crowd just as Mercury used to do. UK movement coach Polly Bennett explains how she trained Malek to move like Mercury.
How did you research Freddie Mercury's unique performance style so you could teach it to Rami Malek?
I watched and read absolutely everything I could about Freddie as a way of probing what I call his "movement heritage." My job was to find what it was that made Freddie a great performer and turn my discoveries into practical, physical thoughts for Rami to play, so I watched concerts, studied photographs, looked at his interviews, exhausted YouTube and everything in between. Using all this information, I started tracing physical "tells" that only Freddie has. For example, Freddie was a boxer and long-distance runner at school, which meant I could provide Rami with a reason why Freddie runs across the stage and punches the air as he performs. I learned that Freddie admired David Bowie, Marlene Dietrich, and Liza Minnelli, so I found remnants of their behavior in Freddie. The fact that Freddie was bullied at school for the size of his teeth suggests why he lowers his chin and deflects interviewers questions by moving a glass in front of him or shields his mouth by smoking a cigarette — anything to move attention away from himself. We could infer that it's also the reason Freddie holds the microphone so close to his mouth during performances, especially in the early years, and when he hits high notes, he tips his head backward. This kind of information was like gold-dust for Rami, because actors need to understand why their characters do the things they do.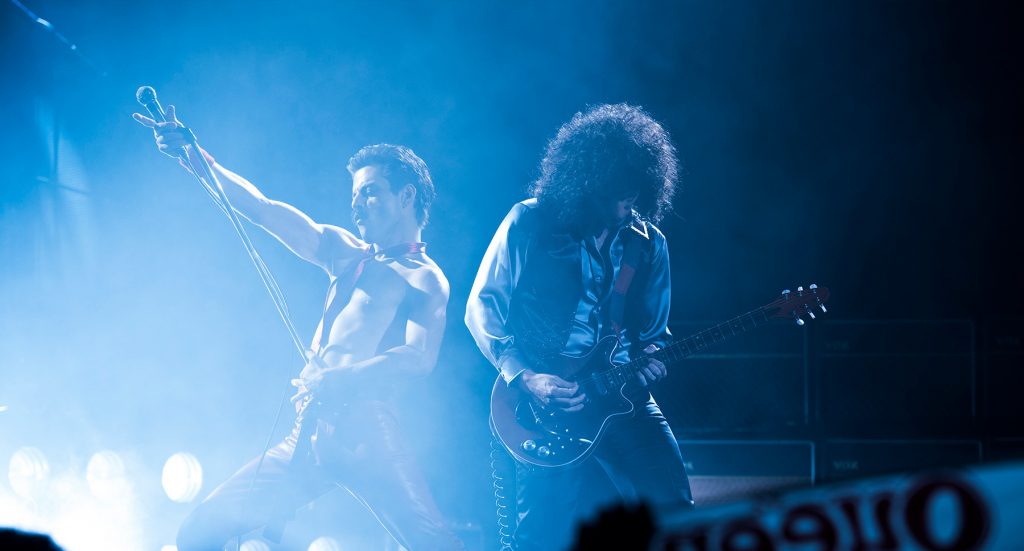 Did Rami Malek have any previous training as a dancer?
No. He had no experience in dance or movement.
So how did you train him to move so gracefully on stage?
We worked in short and intense bursts in both London and New York, according to Rami's schedule [for Mr. Robot.] My approach was to lay the foundations of Freddie's movement heritage in Rami's body so that later on, when we got to specific concerts or storytelling moments in the film, he had this vocabulary. We worked with a series of Efforts, which is a method of breaking down movement according to [modern dance pioneer] Rudolf Laban. We did ballet to stretch out Rami's legs and stabilize his posture. We did yoga to increase Rami's spinal flexibility. I created choreography for Rami involving turns and large poses. And we listened to Queen's music, loudly, every beat, every flourish. Rami had to know when to breathe as he sang.
Where did you train Rami?
We worked mainly in a dance studio. But also, I wanted to get Rami's confidence up, so in the early stages of rehearsal in London, we'd go out for walks in Regents Park where I'd encourage him to sing to the birds on the lake there. The idea of space and horizon was imperative to increasing Rami's sense of performance.
Did you have some kind of system for organizing Freddie Mercury's stage moves?
We had code names for moves and mannerisms – – "ski walks," "dressage" and "bullfighter," to name a few. We would piece them together according to the year, the gig and the song. Some days, we'd film 1977 in the morning and 1984 in the afternoon, so I had to be on set making sure Rami delivered the right Freddie at the right time. Working with Rami's dialect coach, William Conacher, we created a Freddie warm up to help Rami get into character. As time went on, Rami didn't need me so much. He could do Freddie alone.
Bohemian Rhapsody culminates with an eerily accurate re-creation of Queen's 1985 appearance at Wembley Stadium for Live Aid. How did you pull that off?
I studied the footage to break down every scuff of the foot, every step over the microphone cord, switching the microphone from the right hand to left, every off-beat gesture and on-beat arm punch. I worked out the movements that weren't shown in the recording based on what foot he was leading with when the camera picked up on him. I then had to teach these moves to Rami in a way where it wasn't overwhelming for him. Spontaneity was key to Freddie, so it couldn't look like something Rami learned [by rote] on playback. I had to be very eagle-eyed to make sure Rami did what I asked him to do and not what his body defaulted to doing. For two weeks we filmed each song separately but on the last day of filming Live Aid, Rami and the boys ran the whole set right through without error or stopping. The atmosphere was electric. it was about being familiar with the walks and "efforts" to increase Rami's dexterity.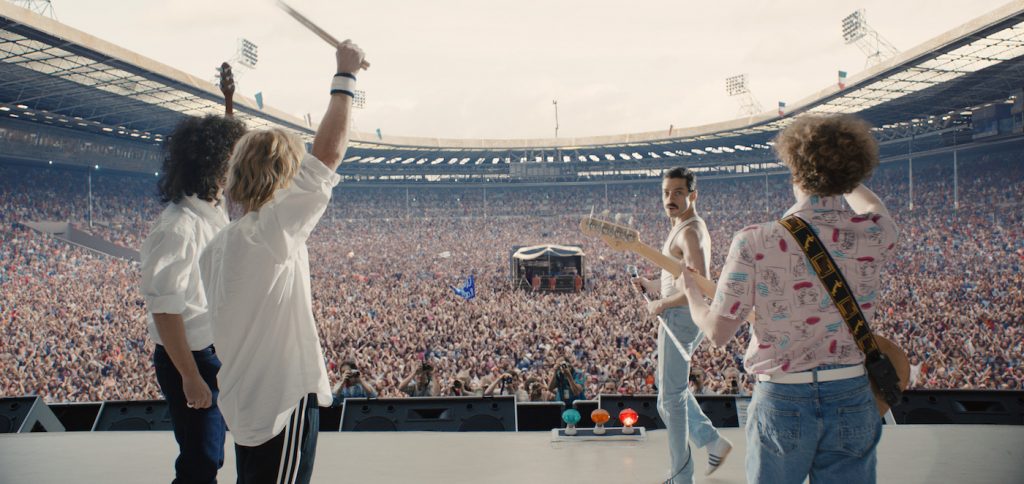 Featured image:  L-R: Gwilym Lee (Brian May), Rami Malek (Freddie Mercury), and Joe Mazzello (John Deacon) star in Twentieth Century Fox's BOHEMIAN RHAPSODY. Photo Credit: Courtesy Twentieth Century Fox.