Our First Look at Game of Thrones Final Season Which Promises the Biggest Battle in TV History
While HBO has already begun casting for their Game of Thrones prequel (hello Naomi Watts), the first images from the 8th and final season of the flagship series have finally arrived. Entertainment Weekly will unveil a glimpse from GoT's last season in their new issue, which features power couple Daenerys Targaryen (Emilia Clarke) and Jon Snow (Kit Harrington) on the cover. The final season has been shrouded in secrecy, of course, with showrunners David Benioff and D.B. Weiss going so far as to shoot multiple endings to ward off any potential spoilers. The EW spread will give us our first glimpse at images from the final season, with details surrounding the massive scope of production.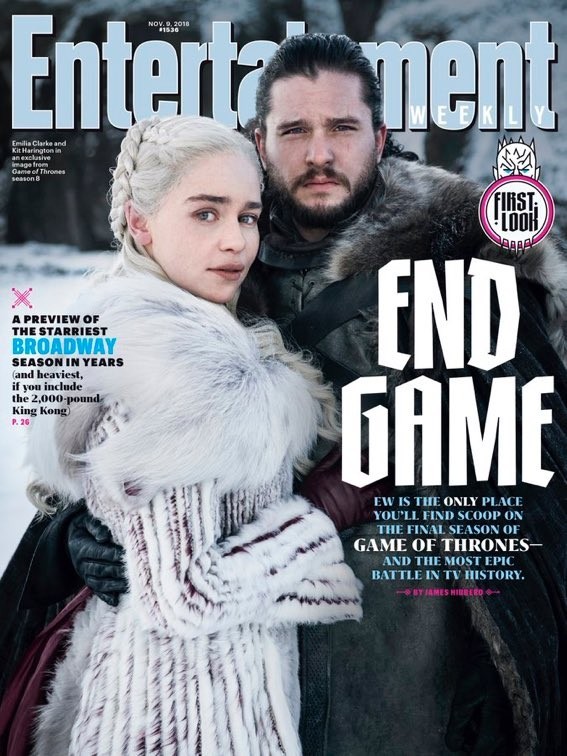 EW has the goods on an emotional table read, as well as the most significant battle in Game of Thrones history (which makes it likely the largest in TV history). That battle, between the living (led by Dany and Jon) and the dead (led by the Night King) is what the entire, epic series has been moving towards since the very beginning. Questions after last season include whether or not Cersei (Lena Headey) will still view Jon and Dany as her sworn enemies and not join them in the battle. The fate of every single character we've come to know and love (or loathe) hangs in the balance.
"It's about all of these disparate characters coming together to face a common enemy, dealing with their own past, and defining the person they want to be in the face of certain death," co-executive producer Bryan Cogman says to EW. "It's an incredibly emotional haunting bittersweet final season, and I think it honors very much what [author George R.R. Martin] set out to do — which is flipping this kind of story on its head."
While the final season is only six episodes long, the shoot itself was grueling. The cast and crew worked for ten months to capture the battle between the living and dead, with Harington telling EW that scenes that would have been a one-day shoot five years ago were now five-day shoots. "They want to get it right, they want to shoot everything every single way, so they have options," Harrington told them.
The endgame begins in April of 2019.
Featured image: Episode 67 (season 7, episode 7), debut 8/27/17: Emilia Clarke, Kit Harington. Photo courtesy of HBO