TIFF 2018: First Man Actor Skyler Bible on Working on Damien Chazelle's Revelatory Space Drama
First Man represents the first time we're getting a full-blown biopic about the legendary astronaut Neil Armstrong. Academy-award winning director Damien Chazelle's film, scripted by Spotlight and The Post's Academy-award winning scribe Josh Singer (based on the book by James R. Hansen) tells the story behind the first manned mission to the moon, with the focus squarely on Armstrong (Ryan Gosling). The Apollo 11 mission that ultimately leads to Armstrong's iconic first steps on the moon took a decade to prepare, with a huge group of talented people working tirelessly to make sure—to the extent it was humanly possible—that they weren't sending men to their deaths. The resulting film is revelatory, a visceral look at the mission from Armstrong's perspective. The film is being hailed as revelatory, and perhaps the most thrilling, and accurate, space film ever made. First Man chronicles the joys and sorrows of the journey—which were most acutely felt by Armstrong, his family, and his colleagues. The Apollo 11 miss was, without hyperbole, the most dangerous mission in human history.
We talked to actor Skyler Bible, who plays Richard F. Gordon Jr., the backup pilot for Gemini 8 and pilot of Gemini 11, and one of 24 people to have ever flown to the moon (as the Command Module Pilot for the Apollo 12 mission). Bible discussed what it was like working on Chazelle's hugely ambitious—and impressively efficient—First Man.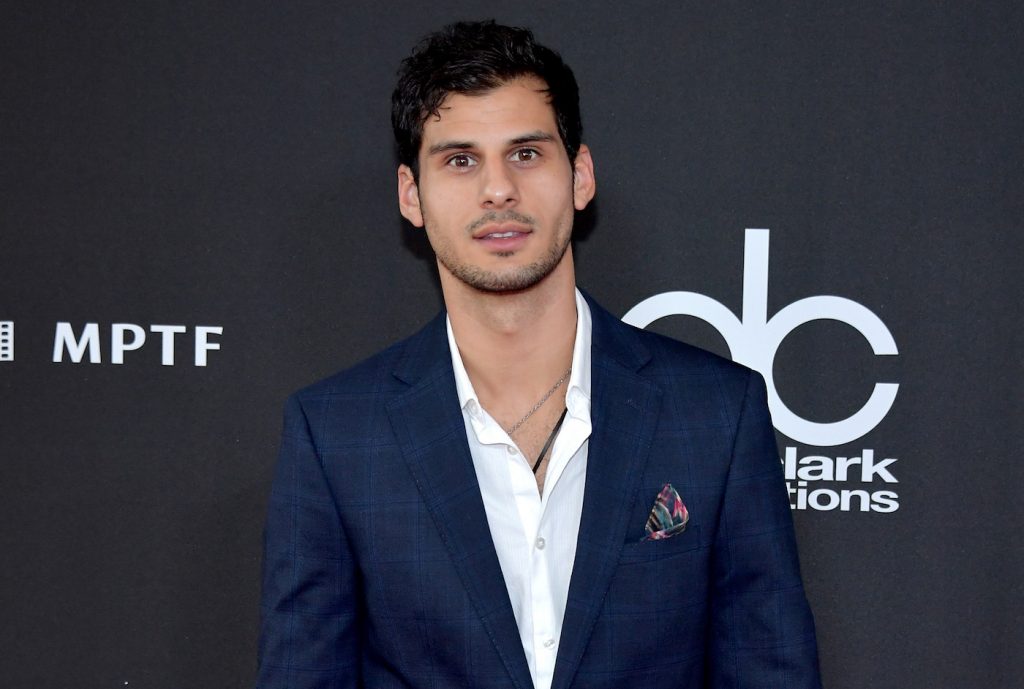 How'd you get involved in what had to have been one of the most sought-after projects going?
I came across First Man very randomly; I have an agent in New Orleans that knew the casting director, who sent me the breakdown. I read for it, Damien gave me a call a week later. He told me to fly out there (Atlanta) to read in person. I figured it's him, never knew when I'm going to get this opportunity again, did a little improv back and forth, and booked it three weeks later.
The film is astonishingly visceral. What was your day-to-day like, working on a film in which every single detail was labored over?
Damien was very particular about the production design of everything. Everything was very intentional. There was meticulous attention to detail about everything, down to the food in the mission control room. Everything was very historically accurate, even the watches we had on were set to the actual time of the meetings we were in during each scene. I mean every detail of this amazing story just adds up. It was really cool.
Also, it was surprisingly a lot easier than a lot of other sets I've been on because everyone was so professional on set. Everyone was so aware of what their role was. While you're on set it really looks like you're in the 1960s. You're there. They had a full-scale model of the Gemini 8 capsule; when you're next to it, it has all the buttons and knobs that are historically accurate, and you're in the jumpsuit, so it's surprisingly easy to stay in character and be immersed in this world. And then the magnitude of the caliber of the cast was amazing.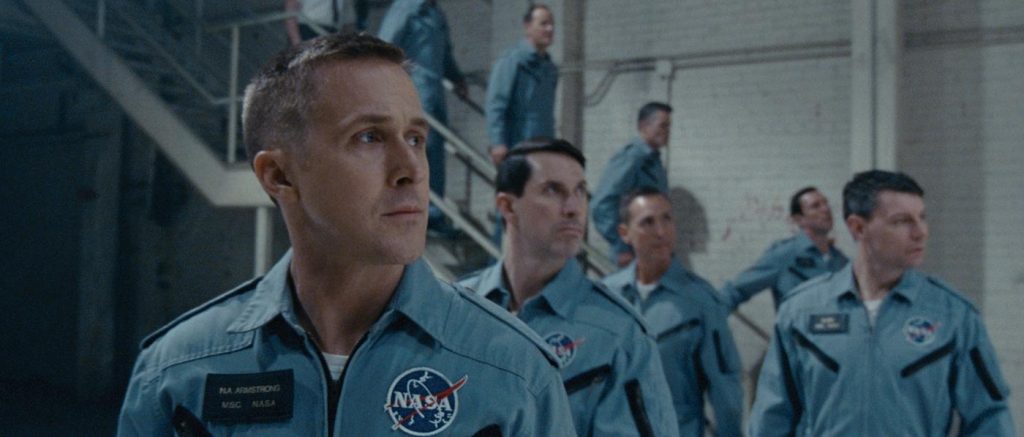 I imagine it must have felt a bit like a little boy's dream of becoming an astronaut coming true—only without all the training.
Exactly. Ever since I was a little kid, I pretended cardboard boxes were spaceships. I always wanted to be an astronaut, what kid doesn't. To be fitted with the jumpsuit they wore, we had an actual lab tech who worked with the Apollo missions on set; I talked to him for hours. It was crazy I was able to talk to people involved in the missions. On top of that too, I reached out to the astronaut scholarship foundation, to see if they had contact with Richard Gordon, and I was able to get on a phone call with him for 15-20 minutes. Talk about a dream come true, talking to one of the 24 people who has been to the moon. He passed away a week and a half after I spoke to him. It was incredible I was able to talk at the time that I did. The CEO of the astronaut scholarship foundation was setting the call-up, she told me that Richard looked me up online to make sure I was good looking enough to play him. He was a very fun guy, very outgoing, very real, liked to have a good time. Very cool.
What discussions did you have with Damien before filming? 
Damien had an entire notebook that he sent all of us, full of his notes and what he wanted for the scenes and all of his little, tiny footnotes, but it was left up to us to do our research as well. So I watched four docs on not only Richard Gordon but the missions too, read books and interviews he did, to get a glimpse of how he acted in everyday life. Then Neil Armstrong's sons were on set, and they were telling me that Richard Gordon was a really good friend of their families, they'd go down on vacations and have dance parties where Richard and Janet [Armstrong] would dance together all of the time. To get a glimpse of his personality was left up to me. I like that flexibility he left for us. Damien wanted it to be very real and grounded, like you're watching it really happen.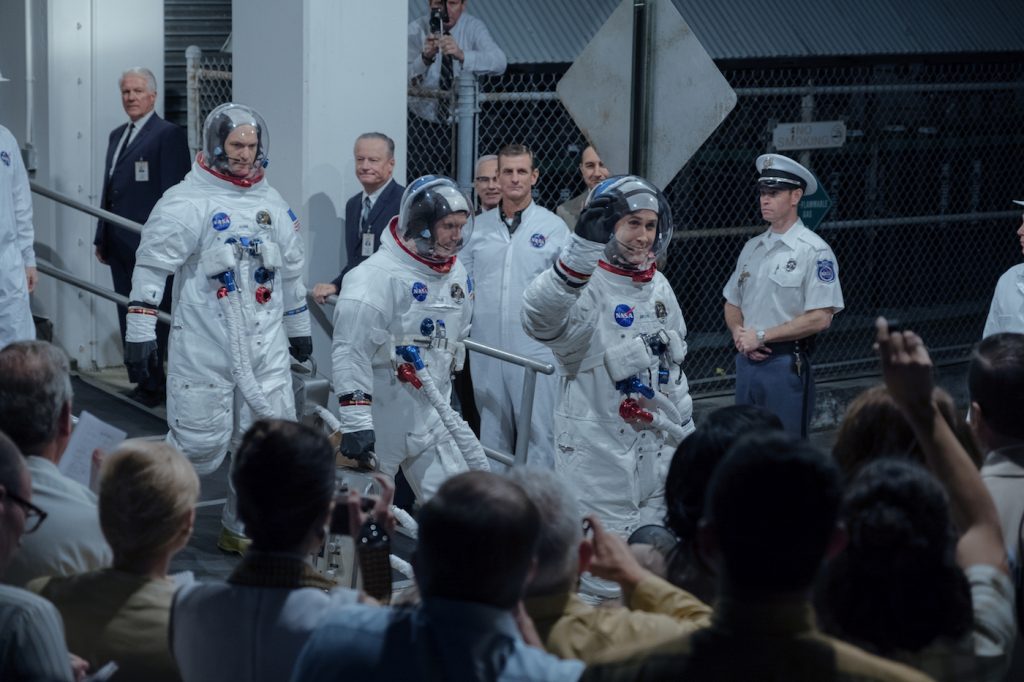 You're part of a really fantastic ensemble cast. How did you feel on day one?
I was very nervous when I first started. I think I filmed for two or three weeks, but I was super nervous when I started. But as soon as I landed on set, everyone was very welcoming and down to earth. Damien is super easy to work with, he's very much like, 'Let's try this.' The DP [Linus Sandgren] and Damien would go through the scenes, and then Linus would interact with his camera crew, they'd shoot it, and after one or two takes, the shot was done. They were very quick, very professional, so there wasn't really time to be nervous, or on edge. And everyone was great to interact with as well. It was the best master class I could have hoped for. Just watching Damien work with Linus. Every scene I was in was with Ethan Embry, who played Pete Conrad, I was just learning from him, and watching him work. It was the same with Corey Stoll. It was very daunting if you just look at the names. It was very refreshing to have a set where no one was stepping on each other's toes. It was a well-oiled machine. If Damien wanted to try something else, everyone was so willing to try, to give something else, to be more real, more natural, try different options. And it was very cool to see Ryan and Damien interacting, to see their relationship in action.
How so?
Damien would shoot a scene with Ryan, and then afterward would come over and ask for an emotional range from grounded to entirely not grounded at all. They'd shoot those moments, mix them up, try something new; it was very cool to see them go back and forth and talk and relay ideas, it was so creative, and yet, it was also so efficient.
First Man hits theaters on October 12, 2018.
Featured image: Oscar®-winning director Damien Chazelle and star RYAN GOSLING reteam for Universal Pictures' "First Man," the riveting story of NASA's mission to land a man on the moon, focusing on Neil Armstrong and the years 1961-1969. Courtesy Universal Pictures.