Captain Marvel Goes Higher, Further & Faster in new Poster
In case you haven't noticed, today is officially Captain Marvel day. We've already shared the first trailer to Anna Boden and Ryan Fleck's MCU game-changer, which stars Brie Larson as Carol Danvers, the fighter pilot turned half-alien superhero who makes her big screen debut next year. Next, we shared this crop of new images from the film, which give us a look at some of the players involved in this origin story (of sorts) that will introduce the most powerful character in the entire Marvel canon. These include Jude Law's mysterious Walter Lawson/Mar-Vell, Ben Mendelsohn's Talos, and Samuel L. Jackson returning as S.H.I.E.L.D. head honcho Nick Fury, who will be a much younger man (and much better sighted) in Captain Marvel. Now we're sharing the film's brand new poster, which boasts Larson's Carol Danvers, in full Captain Marvel suit, standing—appropriately—in an airplane hangar. The tagline gets right to the point: "Higher, Further, Faster."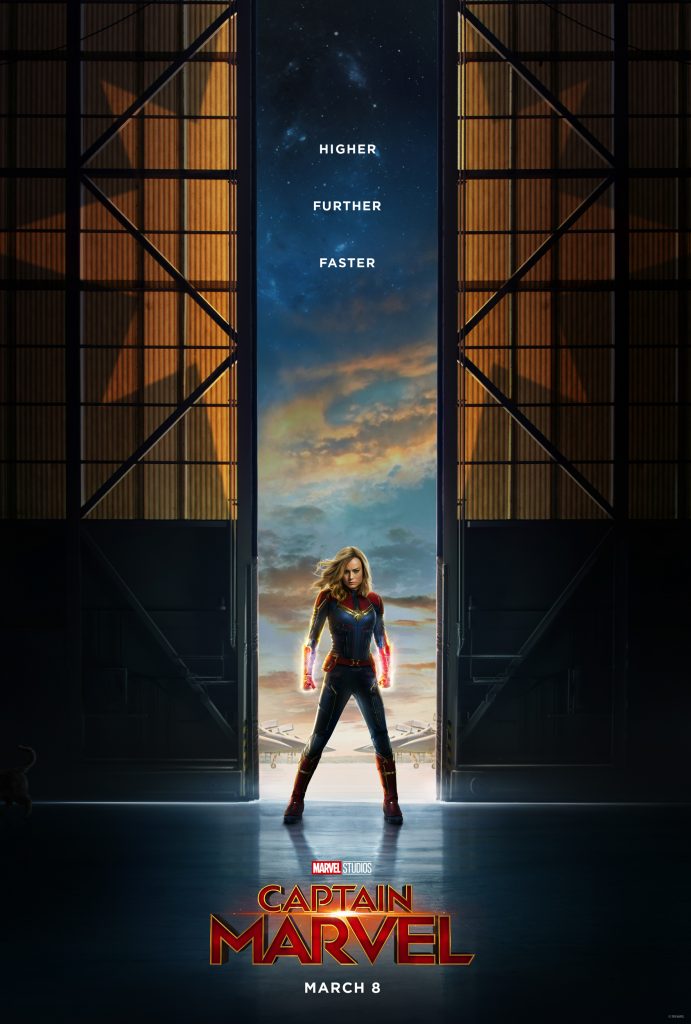 The trailer's fantastic opening, in which Danvers falls out of the sky and through the roof of a Blockbuster Video, immediately places us in the 1990s. Danvers is a human pilot whose DNA has been fused with that of the alien Kree race (those trouble-makers from Guardians of the Galaxy), imbuing her with some serious superpowers. Danvers gets caught up in a war between the Kree and the Skrulls, with Captain Marvel functioning as an origin story that seems to waste little time getting us right into the mix of Danver's galactic plight.
Larson herself is thrilled about Captain Marvel today, understandably:
Look Mom, I'm a superhero. #CaptainMarvel pic.twitter.com/iUv0g1wlxs

— Brie Larson (@brielarson) September 18, 2018
The "Higher, Further, Faster" tagline speaks to the fact that Captain Marvel is going to be the MCU's most potent character. You don't need to take our word for it—here's what Marvel Studios president Kevin Fiege told EW: "She is more powerful than any character we've introduced thus far. So that alone tells you that there's a reason Nick hit that button at the end [of Infinity War], when he realized that they were up against something far bigger than they had ever been up against before. And having her on your side is hopefully going to change the balance of power in a way that they desperately need."
Joining Larson, Jackson, Law, and Mendelsohn are Lashana Lynch, Clark Gregg, Gemma Chan, Algenis Perez Soto, Rune Temte, and McKenna Grace.
Captain Marvel hits theaters on March 8, 2019.
Featured image: Bree Larson is Captain Marvel. Poster courtesy Marvel Studios.