Jessica Jones' Emmy-Nominated Composer on the Twisted Intimacy of Season 2
Composer Sean Callery may be an Emmy veteran, but the four-time winner and 17-time nominee never takes any of this for granted. His latest nom is for his work on season 2 of Neflix's Jessica Jones, the same show he won an Emmy for last year, for Outstanding Original Main Title Theme Music.
"It never gets old," Callery says of his near-perpetual Emmy recognition. "You might think it does, but every time, you really don't expect it, you don't presume it, especially with so much more interesting music and great television out there."
Just about everyone who works in TV these days will tell you the same thing when you speak with them; their peers are creating an astonishing amount of quality work.
"Back in the day, you could watch most of the truly superlative shows because there weren't that many of them," Callery says. "Now you can't watch them all."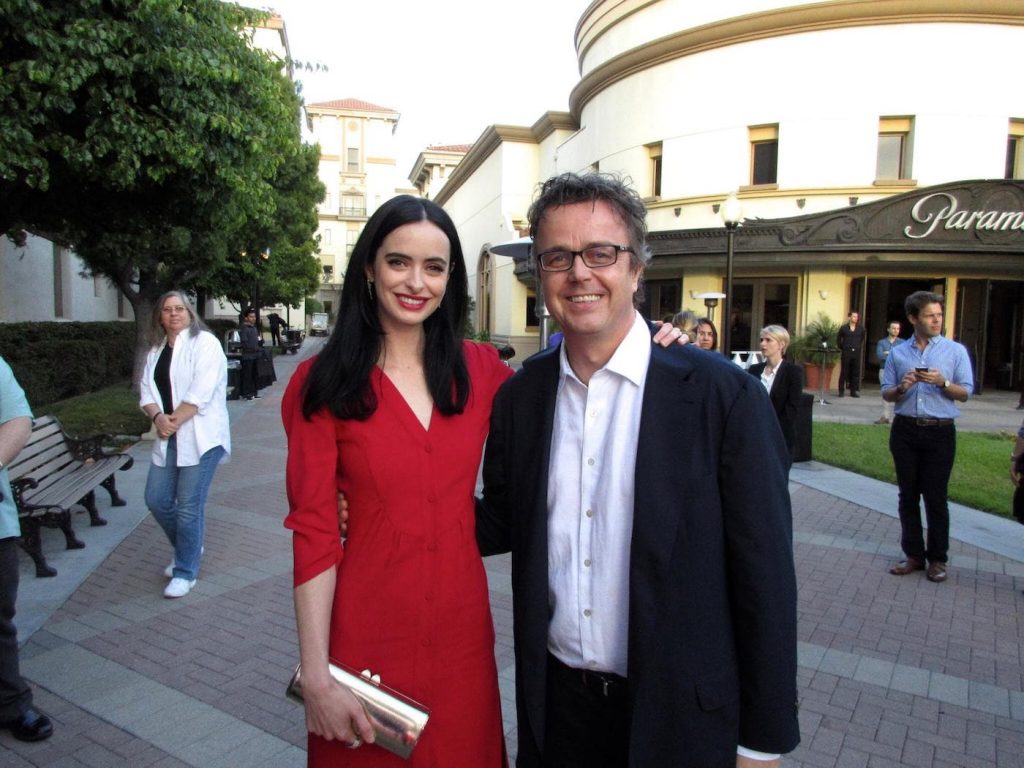 Jessica Jones burst onto the TV landscape in 2015 boasting an alcoholic, antisocial superhero at its center and was immediately heralded as the most mature, fully realized television show Marvel had produced. Since then, Luke Cage, The Defenders (of which Krysten Ritter's Jessica Jones is a part), Cloak & Dagger, Iron Fist, The Punisher, Runaways, Inhumans, and Legion have all premiered—and these are only the Marvel shows. Jessica Jones has remained one of the studio's best small-screen productions, thanks mainly to a cast and crew working in perfect harmony depicting a young woman who could use a bit of balance in her own life.
Callery's involvement in Jessica Jones came by way of his work on Showtime's excellent espionage series Homeland. Jessica Jones showrunner Melissa Rosenberg had heard some of his music, a kind of "quasi-jazz fusion with these textures that appealed to her," he says. "She had an instinct that maybe I might be an interesting person to interview as a possible composer for the series. Melissa had this idea that the Jessica Jones world was a more intimate landscape, her specific part of New York. She's this detective who works alone. She has a troubled past, a lot of trauma and injury, but she's also strong, with amazing wit. We talked about how there might be an interesting way to play with noir and come up with a sound that wouldn't imitate or copy sounds of the past, but enjoy playing around with that universe. She's a hard-drinking detective who plays by a different set of rules. So that started the conversation going, finding a neo noir-ish sound for the show."
Callery had worked on shows like 24 where the scale of the drama is epic—saving the country, even saving the planet was often the goal of the series heroes. The stakes were different in Jessica Jones, which has benefited from keeping things relatively local and intensely personal. The first season dealt with Jessica's horrific past trauma at the hands of the mind-controlling sociopath Kilgrave (a terrific David Tenant). In season two, Jessica does leave New York, but the story remains rooted to her troubled past, revealing a new character who might be even stronger and more ferocious than Jessica—of course, it could only be her mom Alisa (Janet McTeer) long thought dead.
"I knew from that meeting with Melissa that the sound would be more minimal here," Callery says. "The design and the look of the show warranted a more intimate sound, solo instruments, a jazz quintet or sextet."
Callery includes a lot of different sound cues in the story, most of them stark. If you listen carefully, you'll hear a brush kit, a little piano, some electric guitar or bass. As the storyline in season two got progressively darker, so did Callery's sound. Only he learned quickly that for Jessica Jones, darker doesn't necessarily mean bigger.
"Once the storyline turns dark, I first used more orchestration. In the first few action scenes I did, I used these large Taiko drums, and Melissa liked what I wrote, but she thought it felt a little too huge because it's still an intimate experience with the show. So I started doing more action cues with just drum kits, and it was a wonderful suggestion because even the action cues would have a sense of urgency and tension, but you'd stay in the vernacular we'd created from the beginning, which was smaller. On other shows, like Designated Survivor, you could have epic chases using much larger orchestral sounds, but for Jessica Jones that wouldn't work."
Callery has grown fond of Jessica the character the more he's worked on the show.
"I never considered Jessica to be a lonely person because my definition of lonely is someone who hates being alone," he says. "She doesn't have a problem being alone, but I think she'd love to connect with others, I think she seeks it out, particularly as it relates to the relationships in season two to her mom, to Trish (Rachel Taylor), and to Hogarth (Carrie-Anne Moss). There was such a balance there between love and friction. I think the harder parts of the score for me were dealing with those scenes with these wonderful actresses. They were such great performances, and musically you had to be careful to honor these fragile relationships," he says. "You don't want the music to tip too warmly or too cold, you want the audience to decide for themselves where these relationships are at."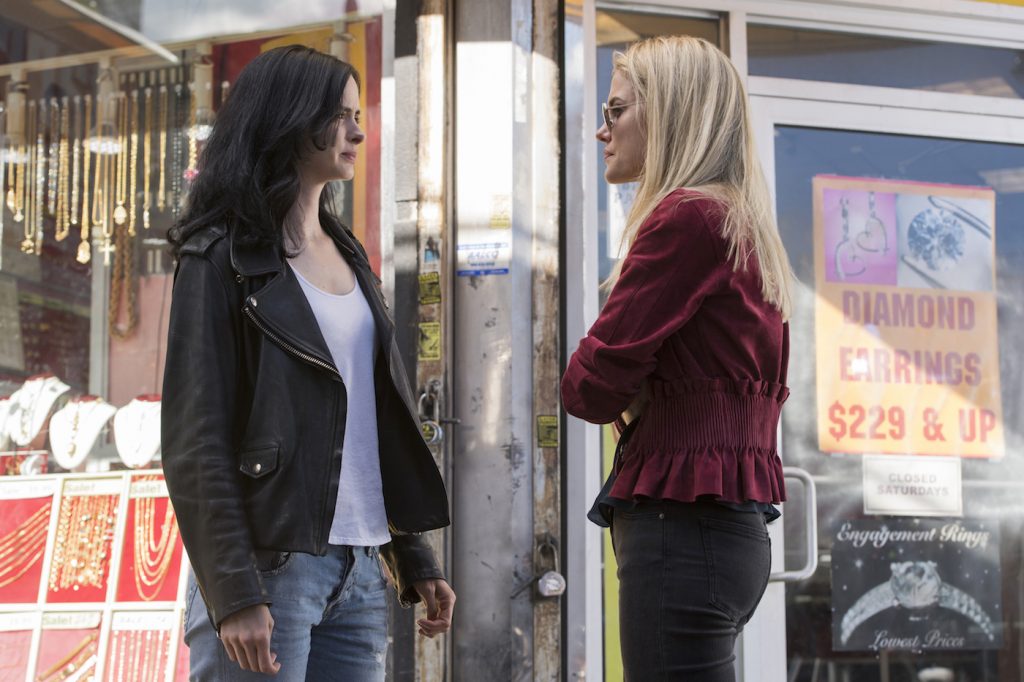 The introduction of Jessica's mother was a hugely significant moment in season two. Jessica Jones backstory is that she was the lone survivor of a car crash that killed her entire family. The accident—which involved a military convoy carrying hazardous chemicals—was what gave Jessica her superhuman strength. It turns out, her mother didn't die, surviving with a surfeit of immense abilities herself.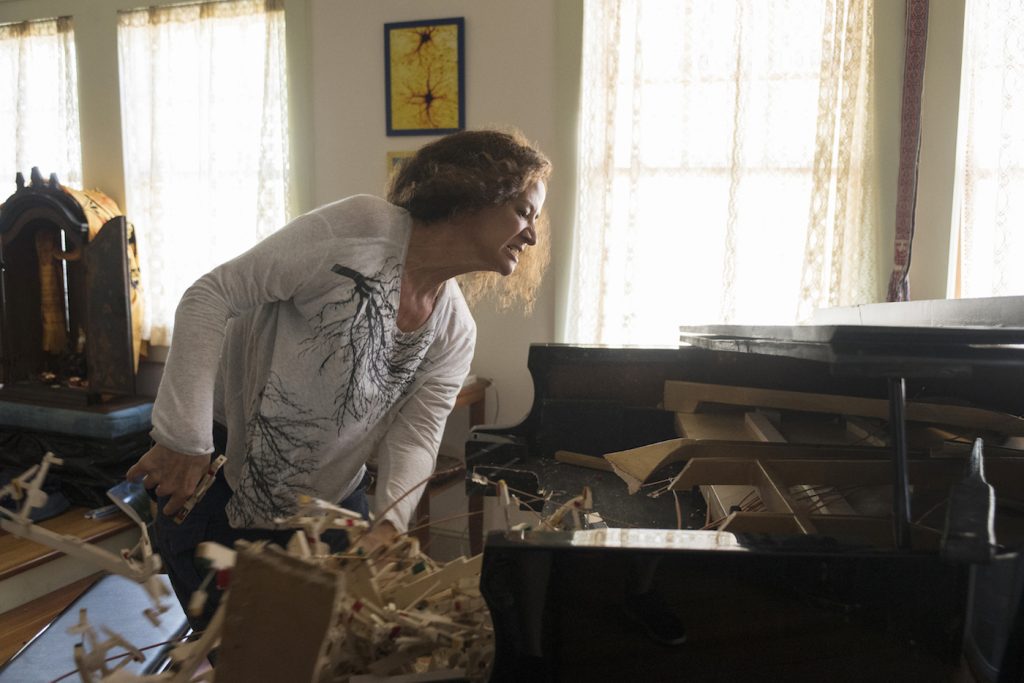 "When Jessica's mother was introduced, the dynamic between the two was so intense. They'd been separated for a long time, and they didn't know how to be around each other, so you had to be careful to honor the naturalness of that moment," Callery says. "Sometimes the moment is, 'I don't know how to feel here, I'm in shock because I haven't seen this person in so many years.' All these feelings are interwoven and all true. If you were to look at one scene and score it one way, then erase that score and do it another way, the scene would have a completely different meaning for you."
Featured image: Janet McTeer, Krysten Ritter in Marvel's Jessica Jones. Courtesy David Giesbrecht/Netflix