Cameron Britton Breaks Through Playing Real Life Serial Killer Ed Kemper in Mindhunter
Netflix true crime drama Mindhunter moves efficiently in tracking the origins of forensic science as experienced through FBI odd couple (Jonathan Groff and Holt McCallany) until midway through its second episode. Then, Cameron Britton makes his entrance. Playing real-life 70's-era serial killer Ed Kemper, Britton strolls into an interrogation room and takes the show in utterly unnerving new direction through his embodiment of folksy evil incarnate.
A frontrunner in Emmy's Outstanding Guest Actor in a Drama Series category, Britton auditioned for the role six times, starting with a performance video-recorded by his wife via iPhone. "Fortunately playing a narcissist who loves attention was a great motivator to stay in the moment, and I used that for the auditions," Britton recalls. "If I started getting nervous going into the room, I'd think to myself 'I'm not nervous to audition; Ed is excited to be interviewed.' That put me in the mind frame of making it be about the work."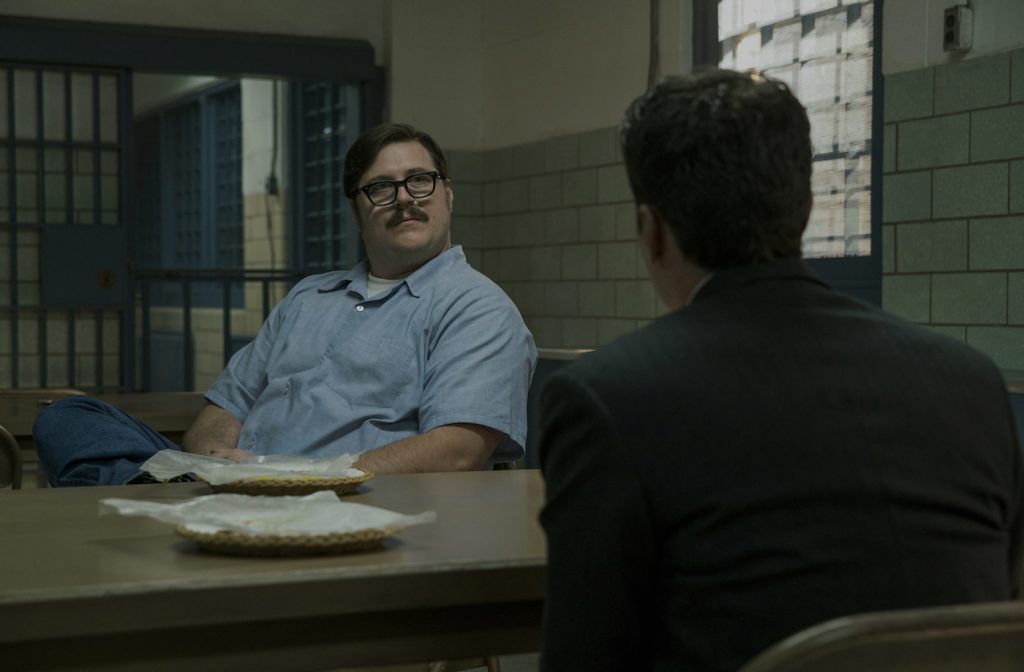 By the time he met David Fincher for his screen test with co-star Groff, Britton had molded a character largely in synch with the series' famously meticulous director-producer. He says, "David and I totally agreed we didn't want this to be some ultra-delicious cinematic character. Our big focus was to make Ed very ordinary, because that's what makes serial killers so frightening. It's not how unique they are. It's how regular they are."
As part of his research, Britton studied interview footage of the real Ed Kemper video-taped at the California Medical Facility where he's serving life for murdering ten people. "I didn't try to do Ed Kemper's version of arrogance or his version of defensiveness, but I did want to catch his vibe," Britton says. "He has a very distinct sort of energy, like a python. He's very still and very calm and very unpredictable and kind of hypnotic. Ed lulls you by engaging with you and holding eye contact. That way, he can keep control at all times."
Britton's breakthrough performance seemed to have come out of nowhere but in fact, the six-foot-five actor spent 13 years honing his craft in Los Angeles before Mindhunter producers came calling. Back in 2004, he moved from Sonoma County to Los Angeles where and enrolled in the American Musical and Dramatic Academy. A year and a half later, he quit school. "By the time I was 19 I was pretty much just drinking beer until I was 26," Britton half jokes.
To pay the rent, he taught pre-school. At night Britton performed in a tiny storefront theater with his pals in the Loft Ensemble. "It was pretty obscure, which was fun because we were able to do original work and take big risks and develop really large characters," says Britton, who remembers portraying a killer for the first time in one of his friend's plays. "I played this huge, loud, impulsive maniac. For Mindhunter, I took all those impulses and restrained them behind the eyes. Ed Kemper constantly wants to scream and yell and be violent, yet he keeps it all contained behind this mask. The sinister aspect take cares of itself because it's all there in the dialogue, which is very casual even when Ed drops some horrific bomb into the conversation without changing his tone. I loved that structure, but my focus was more about 'How do I make him likeable?'"
Under Fincher's direction, Britton, who borrowed vocal inflections from Jimmy Stewart and his own father's "stately" way of speaking, had plenty of chances to experiment with his "Kemper" performance. Britton says, "I wasn't counting but I think we did about 30 times per set up, and what was great was that with David, it's just like 15 seconds between 'Cut' and 'Action.' At first I thought I'd be exhausted and maybe even fired because I couldn't keep up, but by the end of my first week of shooting I had so much energy I could barely sleep. Never before in my life did I get the chance to wake up in the morning, eat breakfast and then act all day until I fell asleep. It was indelible. It was spiritual. It was wonderful."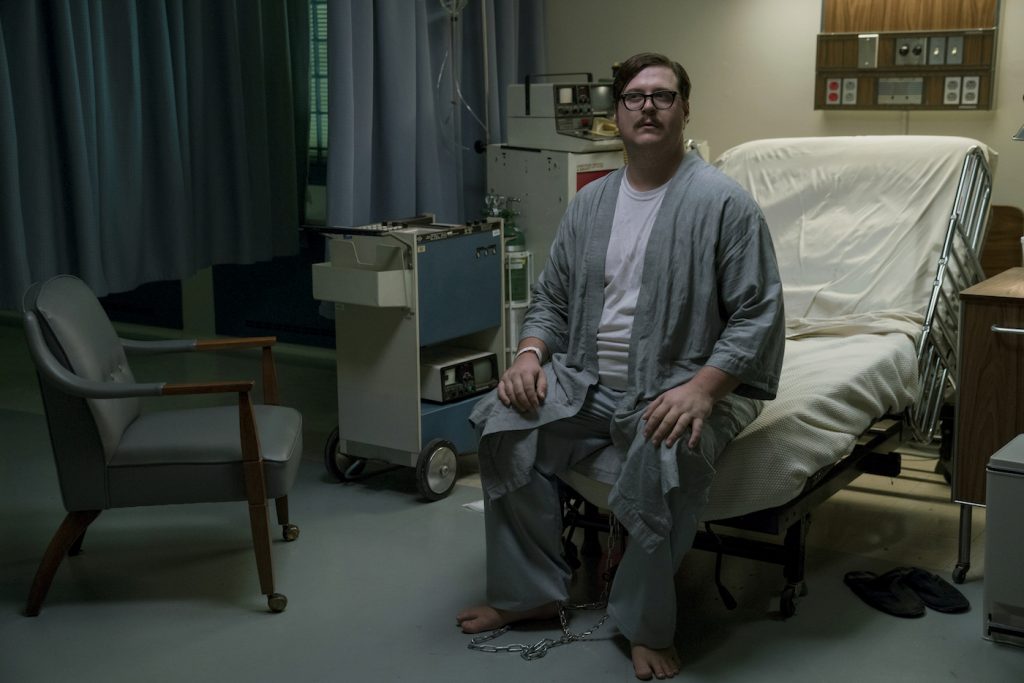 After Mindhunter debuted last fall, Britton got deluged with offers including his first major movie role opposite Claire Foy in The Girl in the Spider's Web. He's currently working with Ellen Page and Mary J. Blige on Netflix' upcoming superheroes series Umbrella Academy, in which he plays an assassin named Hazel. Speaking from the show's set in Toronto, Britton says "My whole life has been turned upside down because of Mindhunter. It gave me the opportunity to pick the kind of roles I'd like to do as opposed to taking whatever's offered." And what kind of roles are those? "I like doing stuff with great directors and great dialogue that isn't necessarily focused on big budget action. I like characters, I suppose."
Featured image: L-r: Cameron Britton, Jonathan Groff. Photo CREDIT: Merrick Morton/Netflix