Cinematographer Erik Messerschmidt on Shooting David Fincher's Serial Killer Series Mindhunter
David Fincher does not like the color red. Cinematographer Erik Messerschmidt knows this because he shot much of the new Netflix series Mindhunter, executive produced and partially directed by the famously meticulous master of suspense. "Fincher and I both have an aversion to magenta so with Mindhunter we always erred on the side of green/yellow in our color choices," says Messerschmidt, who met Fincher on the set of his 2014 thriller Gone Girl. There he worked as gaffer for the film's director of photography Jeff Cronenwith. "Jeff, Fincher and I all have similar tastes, so David asked me to shoot promotional stills for the film," Messerschmidt recalls. "I've always been a tremendous fan of his work. Fight Club came out while I was in film school. Se7en and Zodiac have been major influences as well. When David called about Mindhunter, it was like a dream come true."
Set in 1979, Mindhunter follows FBI Agents (Jonathan Groff and Holt McCallany) in their pioneering efforts to understand the psychological makeup of serial killers. "The time period itself made a major contribution to the palette," explains Messerschmidt, who worked alongside production designer Steve Arnold and costume designer Jennifer Starzyk to shape the show's visuals. "All the browns, oranges, yellows and avocado greens that were common in the late seventies informed the way the show looks."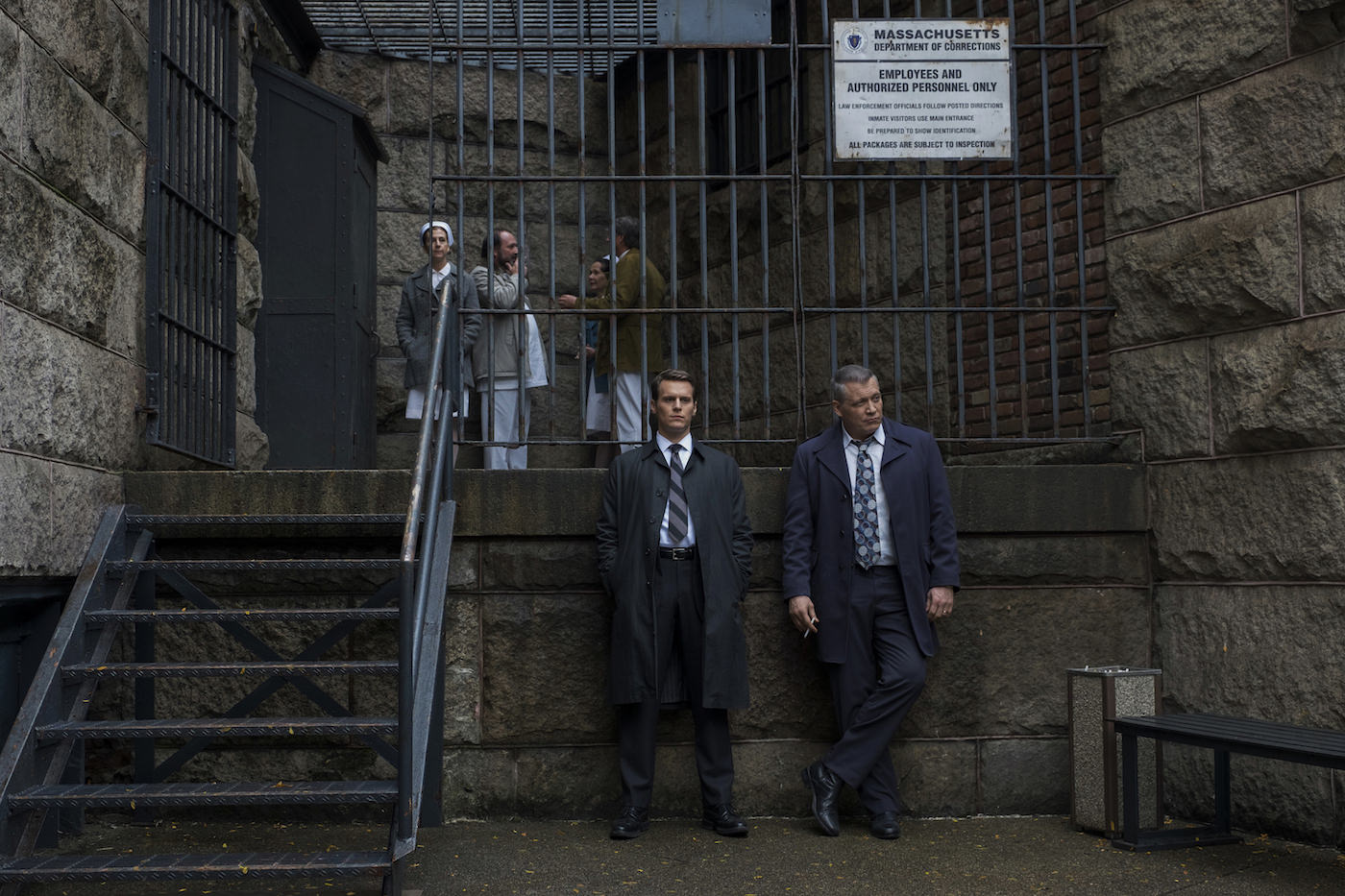 Jonathan Groff and Holt McCallany. Photo by Merrick Morton/Netflix
Messerschmidt also studied movies from the period, including All the Presidents Men, Mississippi Burning and The Conversation as well as Zodiac, Fincher's fact-based serial killer drama set in the late sixties and early seventies. He says, "The time period is significant because of the social politics and approach to law enforcement and psychology, but it's not really a major focal point of the story so we didn't want to play the period too on the nose."
Mindhunter was shot on a sleek camera rig designed by Red Digital Cinema expressly to Fincher's specifications. Messerschmidt explains, "Camera departments have evolved so much that people now strap wireless focus controls, timecode boxes, video transmitters and on-board monitors onto the camera body. It turns into a big mess of wires and Velcro, so Red solved that problem by building all these after-market items into one custom camera body nicknamed 'The Xenomorph.' All the camera needs is a lens and battery and you're ready to shoot."
"Every day with David was like a master class in shot design and coverage," says Messerschmidt. "It's a very technical type of filmmaking, all about simplicity and minimalism. The parameters are so specific, we asked the actors to be very conscious of their marks, which was great for me. I could put lights and flags right up to the edges of the frame knowing the camera operator, dolly grip and actors all had to hit their marks for the shot to work." Guest directors quickly learned that Steadicams were not an option. "We didn't move the camera unless something in the scene motivated it," Messerschmidt says.
At times, unexpected bad weather made for good shots, as when Messerschmidt filmed the series' taut opening night time hostage sequence in the rain. "We needed to establish a slightly uneasy, gritty tone for the show, so for me the rain was a lucky break," Messerschmidt says. "I wanted the scene to feel a little stylized but not too polished. The rain added more mystery and atmosphere."
The series' most chilling moments involve cat-and-mouse interrogation scenes between psychopaths and the FBI profilers eager to pick their brains. Messerschmidt notes that it was important to capture the back-and-forth interplay between subjects through their pauses, looks and unspoken sentiments. "There's a lot of subtext in those interview scenes, so the camerawork becomes very much about coverage," Messerschmidt says. "Shooting those scenes, it was fun to explore ways to spoon-feed the audience the information and play with point of view and perspective."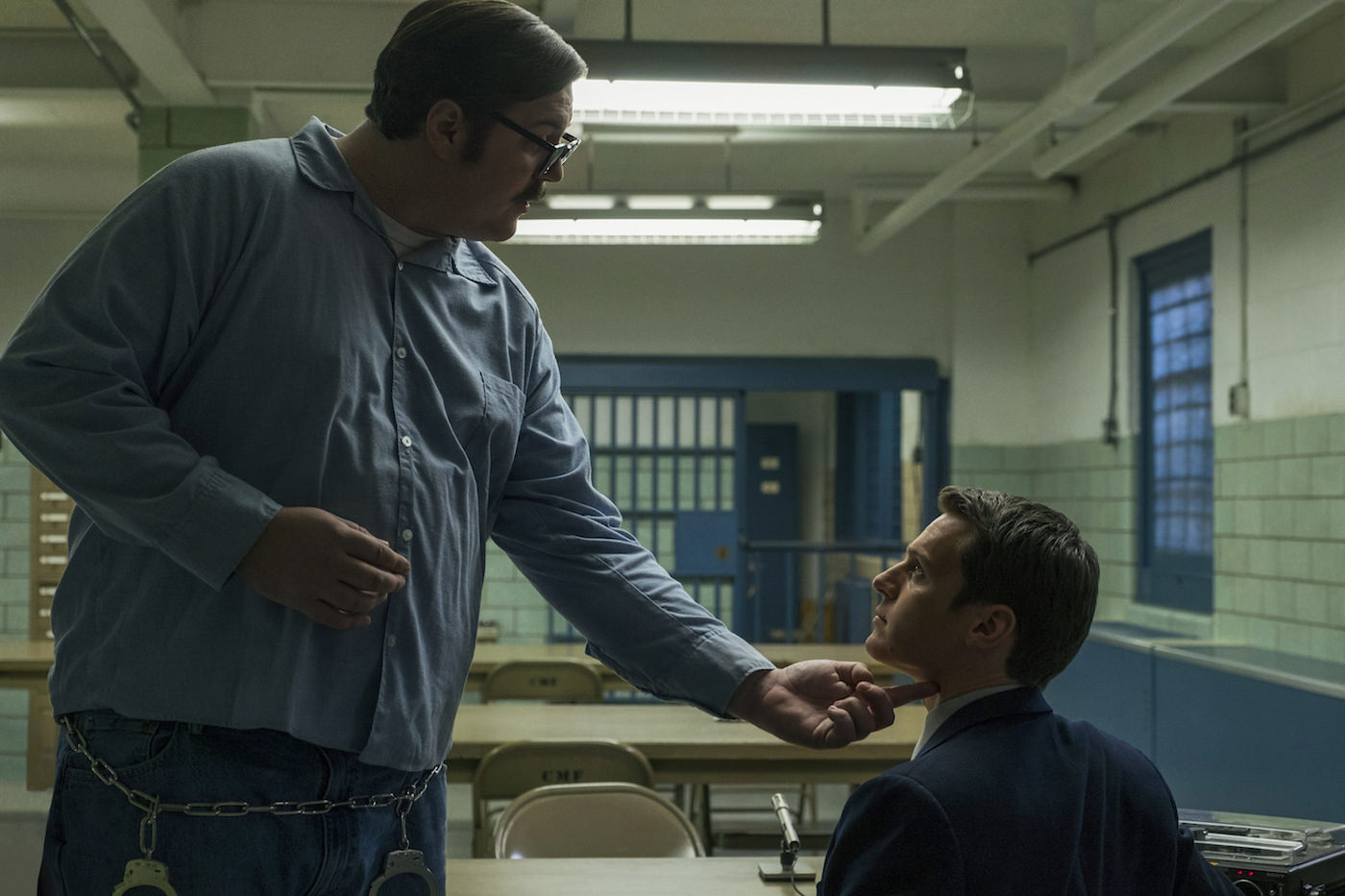 Cameron Britton and Jonathan Groff. Photo by Merrick Morton/Netflix
Featured image: Jonathan Groff and Holt McCallany. Photo by Andrea Miner.