See Thanos's Four-Armed Alien Army Up Close & Personal in new Avengers: Infinity War Featurette
This is it. Your last few bits of new Avengers: Infinity War footage before the film's premiere this Friday, April 27. This new featurette, "Wakanda Revisited," boasts perhaps more new shots than we've seen in weeks, including a much closer look at the Outriders, the four-armed alien creatures sent to Wakanda by Thanos (Josh Brolin) to kill, maim, and maul as many of Earths' heroes as they can. You'll see brand new footage, with very close shots of Black Panther (Chadwick Boseman), Captain America (Chris Evans) and more in hand-to-hand combat with this vicious creatures.
"Every single movie has set the chessboard up for this intense stand-off," Evans says in this new featurette, about Marvel's decade-long creation of their Cinematic Universe, of which Infinity War is the culmination of that. "Each character has an environment that they fit in. It's nice to move some of those pieces around and I feel really lucky that I got to be the one to go and head to Wakanda."
The reason that Cap leads a team of Avengers to Wakanda is to see T'Challa (Boseman), and seek the king's help in their fight against Thanos. So brilliantly realized in Ryan Coogler's historic Black Panther, Wakanda is the logical choice for Cap and the team to try and make their stand agains Thanos. The secretive African nation's technological advances are even greater than anything Tony Stark has cooked up back home. Plus, Wakanda is home not just to Black Panther, but the fierce, hugely capable Dora Milaje, and a whole nation of warriors who know how to fight. So Cap, Black Widow (Scarlett Johansson), Bruce Banner (Mark Ruffalo) and James Rhodes (Don Cheadle) arrive in Wakanda to seek T'Challa's help in both fighting Thanos and keeping Vision (Paul Bettany) safe. While Vision is as powerful a superhero as you can be, he's also the holder of an Infinity Stone—one embedded in his head. The Infinity Stones are the whole reason Thanos has come to Earth, and once he has all of them, he'll be able to control the universe. His first stated order of business? Killing half of every living creature in an instant. Hence him sending his Outriders to Wakanda.
"Cap opens a door in T'Challa's heart," Chadwick Boseman says. "He opens a place where he can trust outsiders."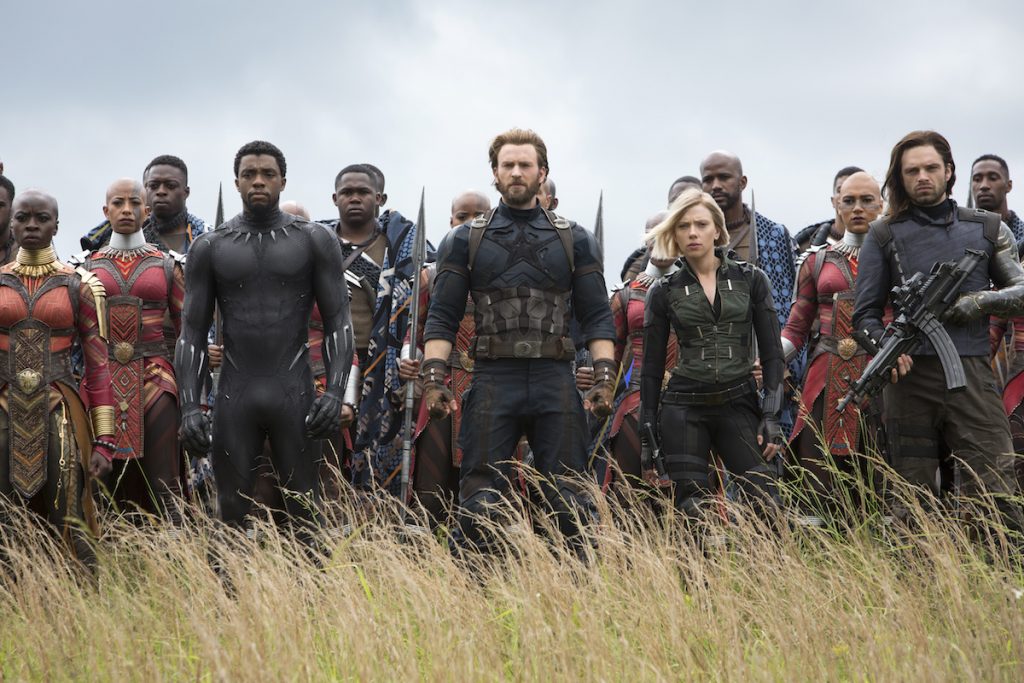 Wakanda offers both a potential refuge and a vision of the future the likes of which the Avengers have never seen. What the Avengers offer in return is for T'Challa and his people to make good on the promise they made at the end of Black Panther. For generations, Wakanda has been kept sealed off from the rest of the world to protect its people and its technology from the hubris and amoral opportunism of the rest of outsiders. Now that T'Challa has decided to open Wakanda up, he'll be playing host to some of the most powerful people on Earth, as well as one of the most vicious entities in the universe, in an effort to live up to these new ideals of inclusion and openness he's instilling in his country.
"They need support and help to deal with a very major global threat," says Danai Gurira, who plays T'Challa's chief Dora Milaje protector and general. "And of course, Wakanda, and Wakandans are the best to partner with."
You'll see that partnership like never before in this vignette. If the entire film is as riveting as this minute and forty-two seconds, Infinity War will be the ultimate cheeseboard, where all the pieces have finally gathered for a match with the whole universe hanging in the balance.
Featured image: Marvel Studios' AVENGERS: INFINITY WAR. Falcon (Anthony Mackie) flying over Wakanda battlefield. Photo: Film Frame. ©Marvel Studios 2018