Ready Player One Prepares for Opening with New Poster Highlighting Wade's Epic Adventure
Are you ready? With less than a week left until Ready Player One is released in theaters, Warner Bros. has released a new poster ahead of the premiere, as fans continue parsing the latest trailers and theme song. The crowds at SXSW were thrilled with the screening they saw.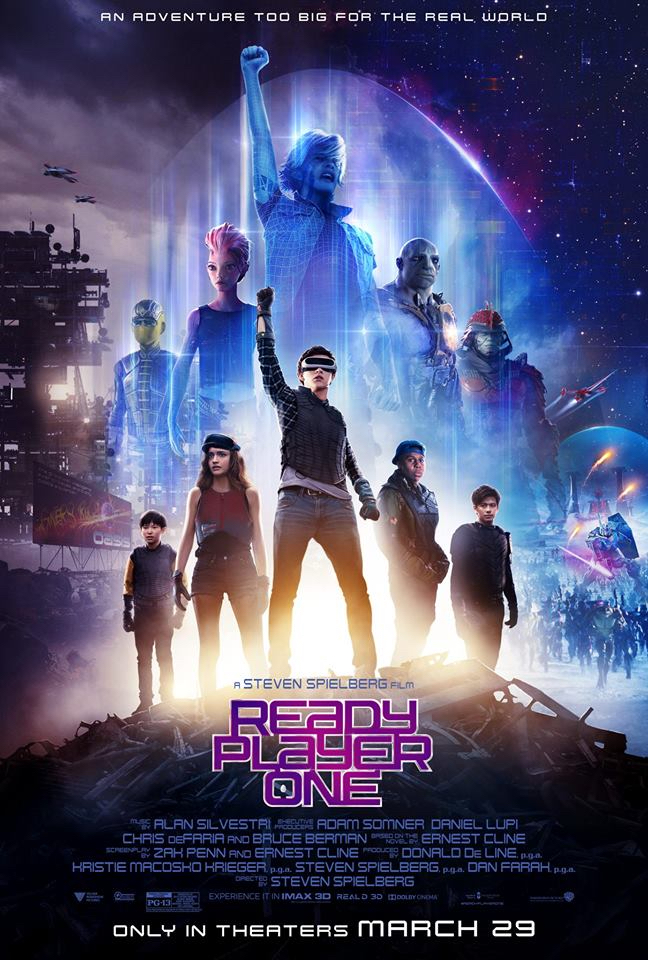 Ready Player One is adapted from the novel by Ernest Cline, who helped write the screenplay with Zak Penn. Set in 2045, RPO follows Wade Watts (Tye Sheridan) as he, like the rest of the world, spends a ton of his time in the OASIS, a virtual reality world where you can be anything and anyone. When the OASIS's creator leaves clues within the virtual realm for someone to find, and, ultimately take control over the virtual reality realm and, by extension, the world, a global hunt is underway. Only things go from virtual to real when the OASIS is co-opted by Innovative Online Industries (IOI), a nefarious company led by Nolan Sorrento (Ben Mendelsohn). IOI wants to control and monetize the vast virtual realm, and voila—an unlikely hero meets his ruthless nemesis and the game begins in Ready Player One. Wade and is his friends—the High Five—embark on what may just be the most epic gaming adventure ever, with stakes that are life and death.
The film is directed, of course, by Steven Spielberg, who recently sat down for an interview with the Los Angeles Times along with Kline. Spielberg expressed how he was "so enthralled by the possibilities" of the film, that he had to be a part of it. When asked to comment on the film being nostalgic of the 80's without becoming too nostalgic, Spielberg said, "Desperately seeking escape is not nostalgia. Escapism is something, especially today, that people are craving more than ever before just to get out of the desperately depressing news cycle." We hear what you're saying, Mr. Spielberg.
Ernest Cline gushed about being able to work with Spielberg, who had such a big influence on his childhood (as evidenced in his book with all the references to Spielberg films), and credited this opportunity to work with Spielberg as a "testament to what happens when you celebrate the things you love kind of unabashedly." Our take away? Continue doing what you love and one day you might get to work with Steven Spielberg.
We're excited to see what Spielberg has in store for us with this new film and are looking forward to diving deep into the OASIS.
Ready Player One uploads into theaters on March 29.
Featured image: Caption: (L-R) LENA WAITHE as Aech and TYE SHERIDAN as Parzival in Warner Bros. Pictures', Amblin Entertainment's and Village Roadshow Pictures' action adventure "READY PLAYER ONE," a Warner Bros. Pictures release.