New Avengers: Infinity War Images, Plus Chadwick Boseman & Mark Ruffalo Talk Thanos
You've probably noticed an uptick in Avengers: Infinity War coverage. That's because with the historic, billion dollar (and growing) Black Panther now officially the stuff of Marvel legend, all eyes turns towards the juggernaut studio's upcoming film, the biggest in their decade-long run of box office and cultural dominance. As the studio ramps up Infinity War's promotion, what that means for you is new images (see below), new information (like cast round tables now okayed for release) and the final trailer, which will be coming just as soon as pre-ticket sales are released.
These images aren't technically brand new, as they were first released in an Entertainment Weekly exclusive, but now that Disney has released them for every outlet, we can share them with you below. They highlight one of the few plot points we know for sure about Infinity War—Thanos (Josh Brolin) and his Outriders come to Wakanda, the technologically advanced African nation ruled by T'Challa/Black Panther (Chadwick Boseman).
In a round table interview, Boseman and Bruce Banner/Hulk (Mark Ruffalo) discussed a lot about the film, including about their characters meeting for the first time (when Black Panther made his debut in Captain America: Civil War, Hulk was off with his buddy Thor on a little intergalactic comedy/adventure called Thor: Ragnarok). In this great image, we see Banner meeting his intellectual equal in Letitia Wright's genius kid-sister to T'Challa, Shuri: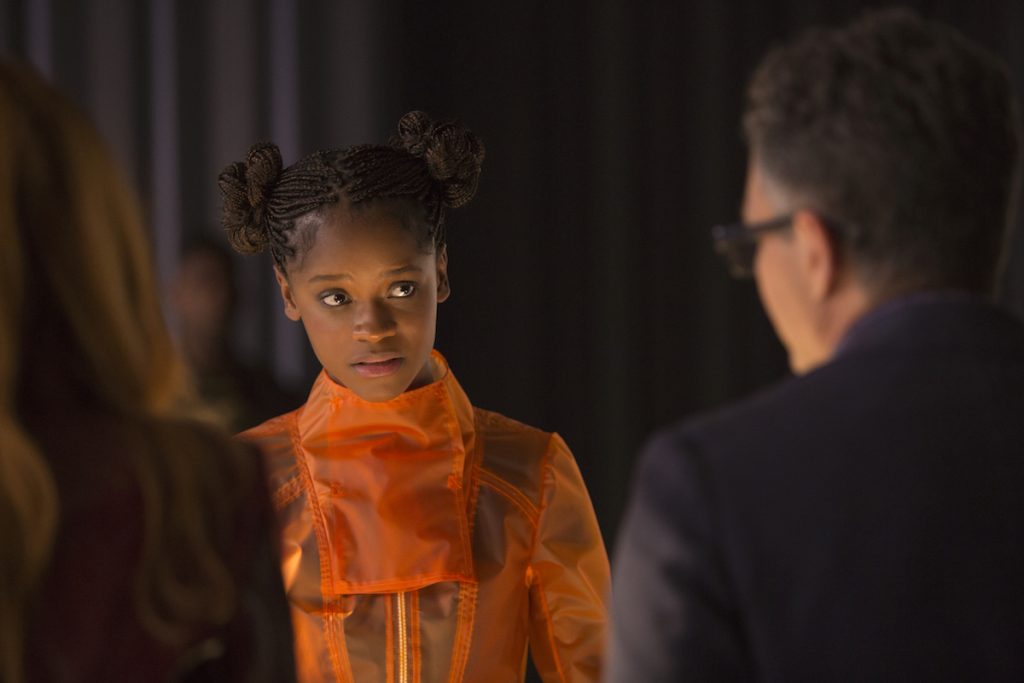 In a portion of the round table published by Collider, Ruffalo promises that the Hulk (or at least, Banner) is respectful of the fact that T'Challa is royalty.  Ruffalo says that, as always, Banner has trouble in Infinity War jibing with his fellow Avengers (he lives in constant fear of, you know, destroying entire cities), while Boseman had a great point on how Infinity War managed to meld the various tones within the MCU (The Guardians of the Galaxy's jokes versus Black Panther's gravitas):
"You know, that is a good question. No, no, seriously, because that is the difficulty in making a movie like this, you have to see the flavor of each one of them. So, I think what is good is that in this situation, you're seeing them in my world. They're in my world so it's interesting to have them enter our space, which is not something that happens all of the time. I think it's important for us to give the flavor of Wakanda, and they're really adjusting to our space, so that will be part of the fun of the movie. And the Guardians entering it…obviously there is a clash, all of that is conflict, but it's not conflict between us necessarily, but it is an emotional, psychological, and social conflict."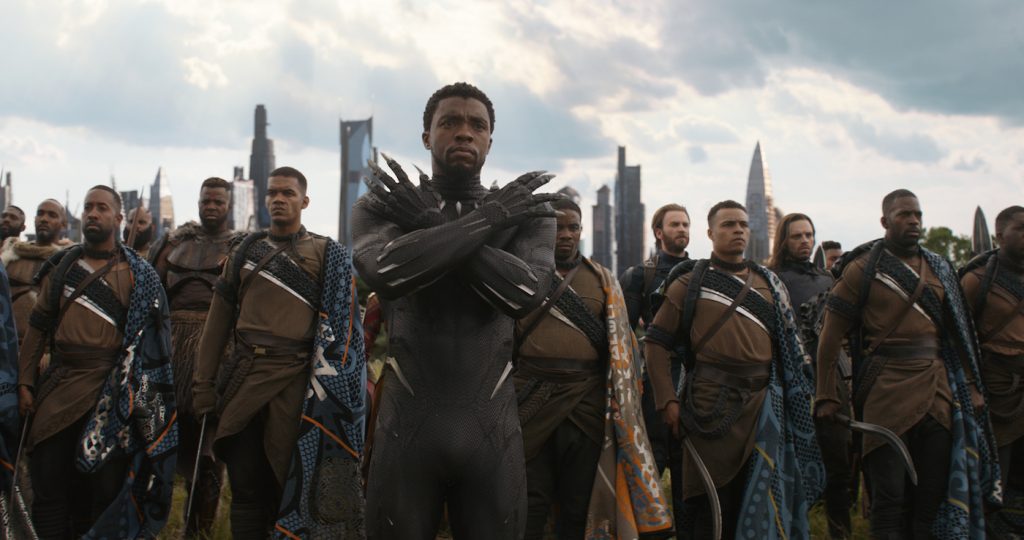 Boseman also reiterated what we've known for a couple of weeks now—that the super villain Thanos comes to Wakanda because of it's vast cache of super alloy, virbanium, and the fact that it's the most technologically advanced nation on Earth.
"You have a world problem with Thanos, a problem that effects everyone. So Wakanda is on the world stage, and we're obviously advanced in a way where we can help with the situation, so that is all that's happening here."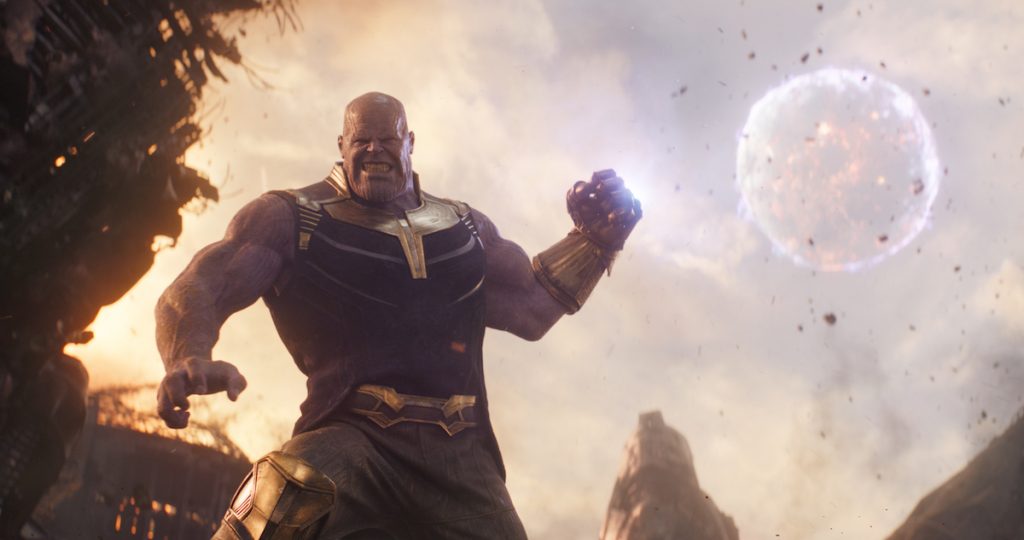 Ruffalo explains that one of Bruce Banner's main roles in Infinity War is to try and impress upon the group just how much more danger they're in now that Thanos is actually on Earth.
"Banner knows probably more about Thanos than anybody, and he's really trying to impress upon everybody how dangerous he is. It's a little bit of a Chicken Little [scenario]. He comes in screaming bloody murder…he's seen what damage he can cause and how powerful he is. And the entire group is in disarray, so he's also getting caught up on what's happened here, and trying to get them to transcend their differences and impress upon them how much danger they're actually facing."
We suggest you read the entire interview here.
In another new photo, we see new best friends, Thor (Chris Hemsworth), Rocket (Bradley Cooper) and Groot (Vin Diesel) presumably on their way to Earth. It's going to take every member of the Avengers, plus just about every other superhero and superhero adjacent character from Marvel's 10-year long MCU to beat Thanos.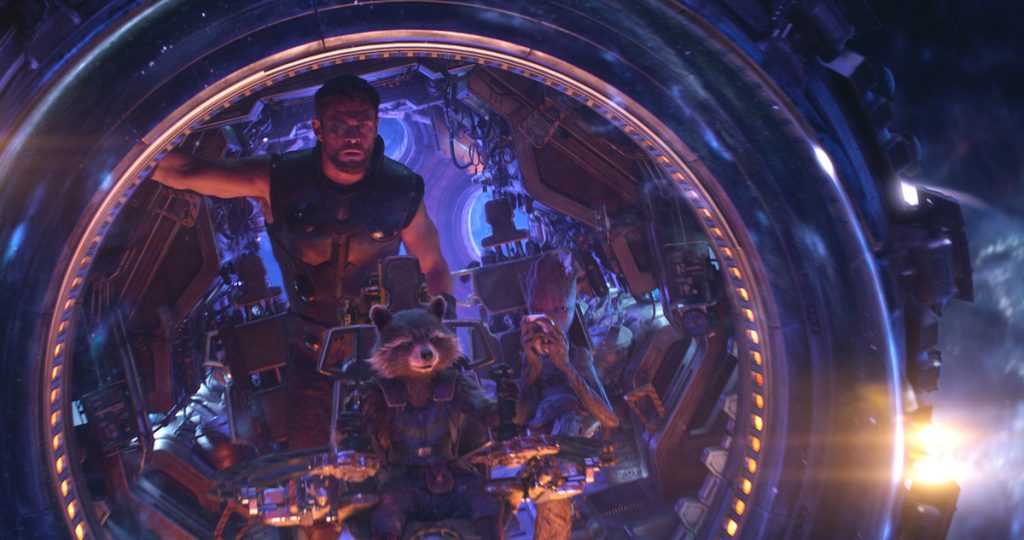 Avengers: Infinity War hits theaters on April 27, 2018.
Featured image: Marvel Studios' AVENGERS: INFINITY WAR. L to R: Okoye (Danai Gurira), Black Panther/T'Challa (Chadwick Boseman), Captain America/Steve Rogers (Chris Evans), Black Widow/Natasha Romanoff (Scarlet Johansson) and Winter Soldier/Bucky Barnes (Sebastian Stan)..Photo: Chuck Zlotnick. ©Marvel Studios 2018