"The Fall of the House of Usher" Production Designer Laurin Kelsey Reanimates Edgar Allan Poe for Netflix
It's October, the right time of year for an Edgar Allan Poe revamp. Creator Mike Flanagan delivers, with a contemporary mini-series adaptation for Netflix of The Fall of the House of Usher, Poe's 1839 short story about the creepy undoing of wealthy but disturbed Roderick Usher. In Flanagan's updated version of the story, Roderick (Bruce Greenwood) and his sister, Madeline (Mary McDonnell), are the filthy rich heads of an unscrupulous pharmaceutical company, siblings who come from humble beginnings to which they seem destined to return, as a mysterious woman (Carla Gugino) dispatches with Roderick's adult children until they are all dead.
The show gets the story going by letting us know the sorry tidings of Roderick's mostly despicable offspring, then focuses each episode on each child's background and mode of death. Poe fans will recognize references to the writer's other work throughout the series, with Flanagan assigning each heir their own Poe story or poem. "We had 'The Telltale Heart,' we had 'The Raven,' 'The Black Cat,' 'The Murders in the Rue Morgue,' and so many other layers and characters from other Edgar Allen Poe stories," Laurin Kelsey, the series production designer, said. "Mike put so much detail into putting all those pieces together; I actually don't know how he did it."
With a degree in theater and literature, Kelsey, who had an affinity for his short stories, was familiar with Poe's work going into the job. "But anything that Mike puts his hands on and feels the need to adapt, I become a fan of really quickly," she said. In this case, she needed to balance a sense of the writer's Gothic Victorian imagery with the most extreme aspects of modern-day wealth. "One of the really cool things that Mike brought in from the beginning was color," Kelsey said, with Flanagan matching each Usher child to their own hue, setting them apart from their competing siblings. "Camille is silver, Leo is yellow, Victorine is orange, Perry is red, Frederick's blue." Working with cinematographer Michael Fimognari, costume designer Terry Anderson, and the hair and makeup team to decide who would step back and whose work would be played up to convey a particular color subtly, each adult child's world is subtly infused with a shade somehow relevant to their death.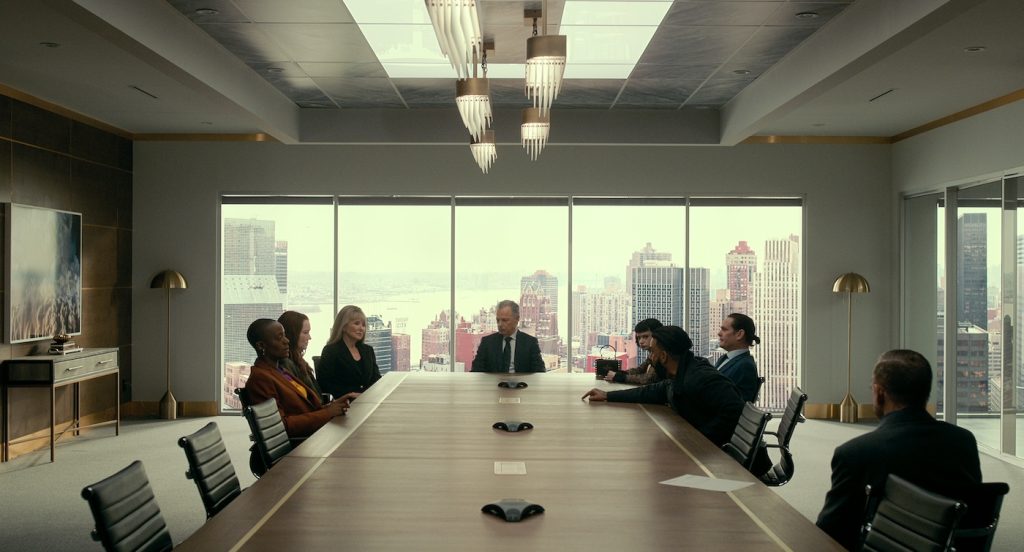 Roderick's progeny all have different mothers. Some have jobs within the family empire; others fear never receiving any proper due. The realization that there's a mole within their ranks, sharing family secrets about their crooked empire with the federal government, sets off vicious infighting once their father puts a bounty on the traitor's discovery. Despite their differences, there's a consistency in the would-be successors' worlds. "I think that actually comes from Mike because the way he's written them and developed the characters, they all have a through-line and are still family, and you feel that," Kelsey said. "In terms of approaching it visually, they all had commonalities in terms of how they would want to spend their money — they were all very showy, they were all very concerned with appearances, and that allowed a balance between all of them."
The home that stands apart is the dark, decrepit living room in the house where Roderick grew up, a set the show returns to throughout the series as he recounts his children's deaths with the prosecutor Auguste Dupin (Carl Lumbly). "That was a really challenging set. In the original book, the house is this mansion on a hill, Gothic, creepy, and decayed," Kelsey recounted, but here, the patriarch's childhood home is a modest suburban house we visit in 1953, 1962, and in its battered present. The production designer worked unexpected Gothic elements into the surrounding architecture, building the surrounding houses' facades as if they were original to the 1890s and designing the Usher home as a small Victorian house that had been repurchased and beaten up over decades.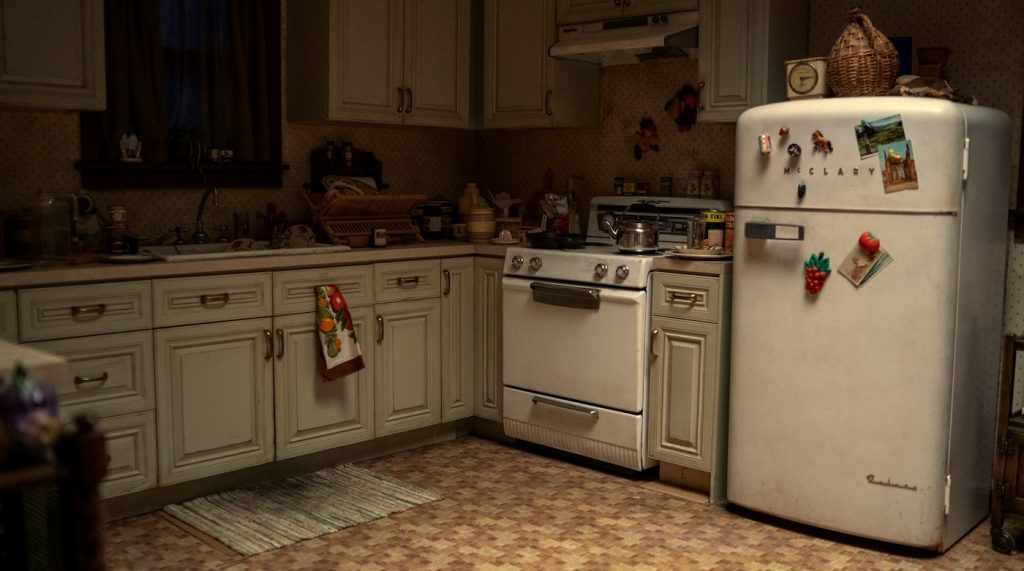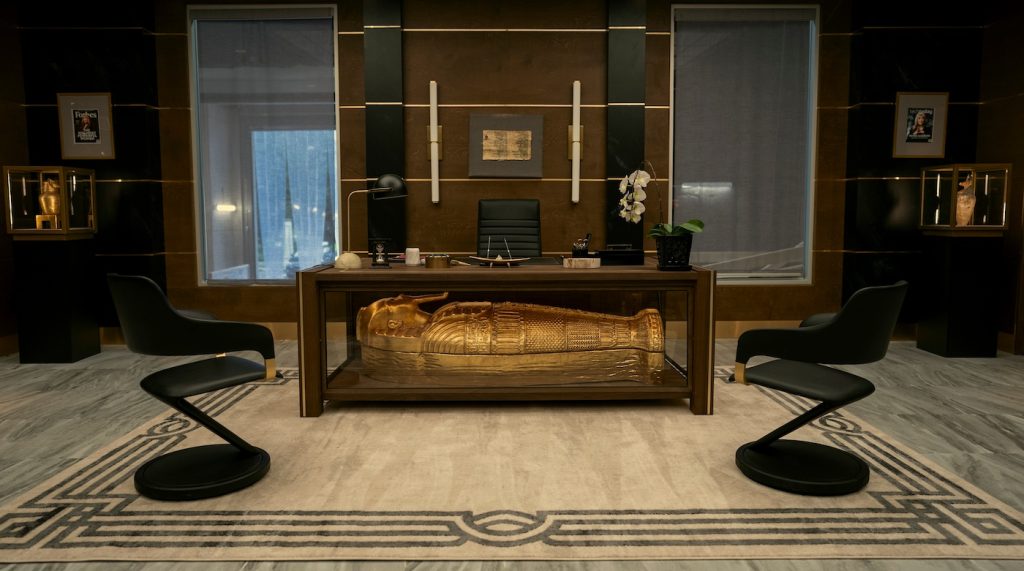 The Fall of the House of Usher is a macabre psychodrama, but it's also still horror, with a lot of stunts for Kelsey to account for. "Almost every wall in the house was on a chain motor," she pointed out, regarding the technical demands of Roderick's small, deteriorating home. "Everything's crumbling apart, but you still have to have it functioning in an efficient way." Given the sets' requirements, almost the entire series was built from scratch, which Kelsey called a designer's dream. "A lot of it had to do with how complicated the stunts were and what we needed the sets to be able to do. We didn't just have an abandoned warehouse with rain and water and drainage," the PD pointed out. The crew had five stages going at once and worked on the builds for a year to bring a sense of Poe's Victorian era to the show's stunt-ready, contemporary luxury abodes. "It was a fun challenge to bring those two worlds together because you wouldn't think ultra-modernism fits in with Gothic architecture in many cases," Kelsey said.
The Fall of the House of Usher is streaming on Netflix now.
For more on big titles on Netflix, check these out:
"Fair Play" Writer/Director Chloe Domont Makes a Killing on Male Fragility
Julia Roberts, Mahershala Ali & Co Seek Refuge at the End of the World in "Leave The World Behind" Trailer
"Reptile" Director Grant Singer on His Slithery Mystery Feature With Benicio Del Toro
Featured image: The Fall of the House of Usher. Carl Lumbly as C. Auguste Dupin in episode 101 of The Fall of the House of Usher. Cr. Courtesy of Netflix © 2023