How "Killers of the Flower Moon" Production Designer Jack Fisk Created 1920s Oklahoma
Killers of the Flower Moon became a journey of inspirational research for production designer Jack Fisk (The Revenant, There Will Be Blood). He traveled to Oklahoma to visit the very homes of the Osage portrayed in the Scorsese film – a story that unpacks the painful history of the Osage during the 1920s, whose oil-backed wealth was methodically stolen from them under false pretense.
The screenplay was adapted by Eric Roth and Scorsese based on David Grann's meticulous 2017 work of non-fiction. The book focuses on the beginnings of the Bureau of Investigation – known today as the FBI – and one of its primary agents, Tom White (Jesse Plemons). DiCaprio was supposed to play White, but a shift in the narrative changed the perspective to the Osage. In doing so, a tragic love story unfolds between Mollie Kyle (Lily Gladstone) and WWI veteran Ernest Burkhart (Leonardo DiCaprio) during its nearly three-and-a-half-hour runtime.
Nearly 50 locations were used in the making of Killers of the Flower Moon, and Fisk either repurposed existing structures on Osage land or built them from the ground up. Two of those from-scratch builds were Mollie's home and the cattle ranch owned by William Hale (Robert De Niro), who is Ernest's bigwig uncle. Another challenge was creating the two-block city of Fairfax, complete with a train station. Fisk designed a replica of the Fairfax station at a former depot in the town of Pawhuska, which stood in for Fairfax, laying 1,200 feet of track and finding a period locomotive. 
Here, the two-time Academy Award nominee details what went into resurrecting 1920s Oklahoma. 
This was your first project with Martin Scorsese. I'm curious if anything intrinsic stood out to you about his pre-production or shooting style?
He was always someone I admired for his films and his work ethic. This was a little unusual because it was in the middle of COVID when we filmed. A lot of my early meetings were Zoom meetings and writing long letters. In shooting, I was impressed with how young he seemed and how open he was to changes. We would be rehearsing a scene in the morning, and an idea would come up, and he would go with it. We'd be scrambling to get more of a set ready or whatever it was. That excited me. Because I am about the same age as Marty, and I see him working that hard, it makes me want to work harder.  
Did you have any initial reactions going into the project?
I was excited when I first read the script to be making a film where the Native Americans were living in houses. It was different for me. And to make a Western where people were living in houses and people were driving cars. I mean, there were horses present, but we were really going through a lot of changes during that time. The Osage were simulating into white world, and the white world was surviving any way it could.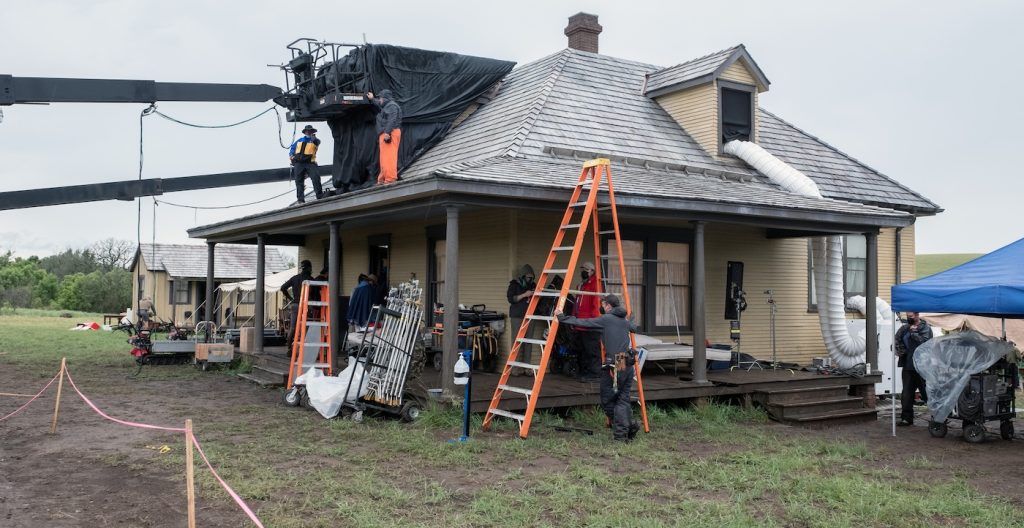 In regards to the production design, were there any guiding lights or principles that led the work?
I love history, and we did a ton of research on this film. David Grann had done immense research on his book, and so did Marianne Bower, who worked with Marty and was an executive producer on the film. She continued to collect information and put it together, and then I did some more research on my own. The direction Marty gave to me was he wanted to make a Western, but he also wanted to tell the Osage story as truthfully as possible. My approach with Marty was if I had an idea, I'd present research to back it up. I think he felt relieved I was taking it so seriously in terms of making it real. We were also able to visit every set before shooting, and Rodrigo [Prieto, cinematographer] responded to dark walls and responded to natural light coming through windows so we put a lot of windows in everything we built.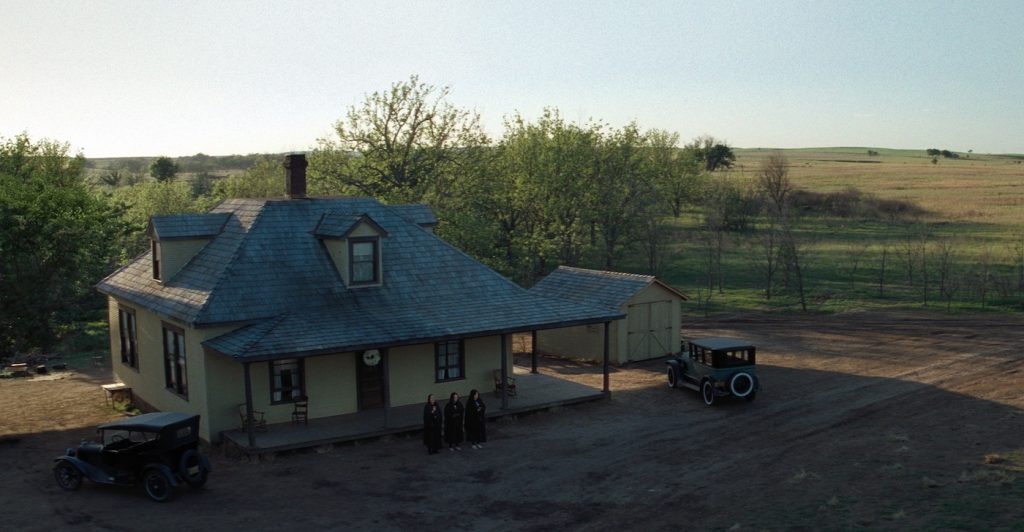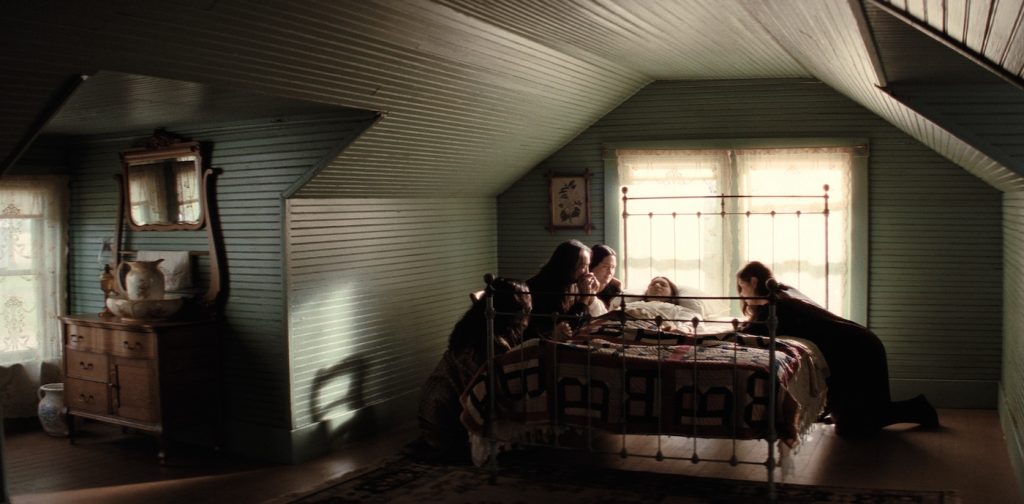 Was it beneficial to be shooting in the locations where the events occurred?
We were shooting in the same towns where the characters lived. For part of it, we substituted Pawhuska to be Fairfax. Fairfax is a sad town at this point because it has fallen apart since the '20s. I don't know if it was ever that prosperous, but it was a farm community of 1,500 people, and the Osage reservation of Gray Horse is about 5 miles away. The more I dove into that history and the people that I met there, a lot of them Osage and some of the white people who had been there for generations, the story became more alive. I realized how much pressure was on us to tell the story of the Osage people.
How did you approach creating the town of Fairfax?
The main street of Fairfax was created in the town of Pawhuska, and we had about two blocks of abandoned buildings. I think within those two blocks, there were maybe three businesses. A lot of the buildings had been destroyed by leaking roofs, and some of them were so bad we couldn't even go into them. The town was in bad shape, and a lot of buildings were missing over the years, so we filled those in with artificial buildings like a movie theater, a hotel, and several other businesses to give us a complete two blocks.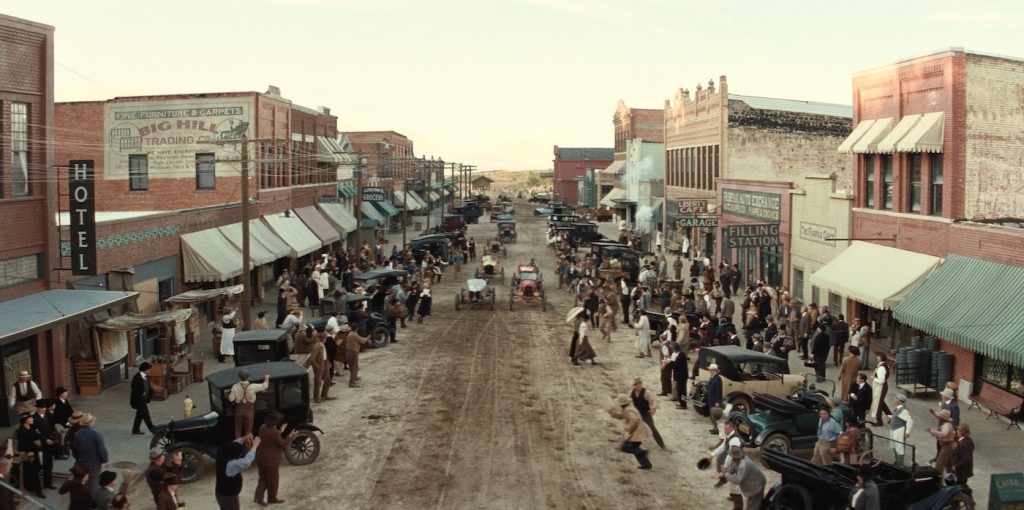 For some of the sets, we took over an appliance store, which became our pool hall and a restaurant. We also shot a basement scene in it. There was an art gallery we turned into a dance studio, and we transformed Pawhuska church into a courthouse.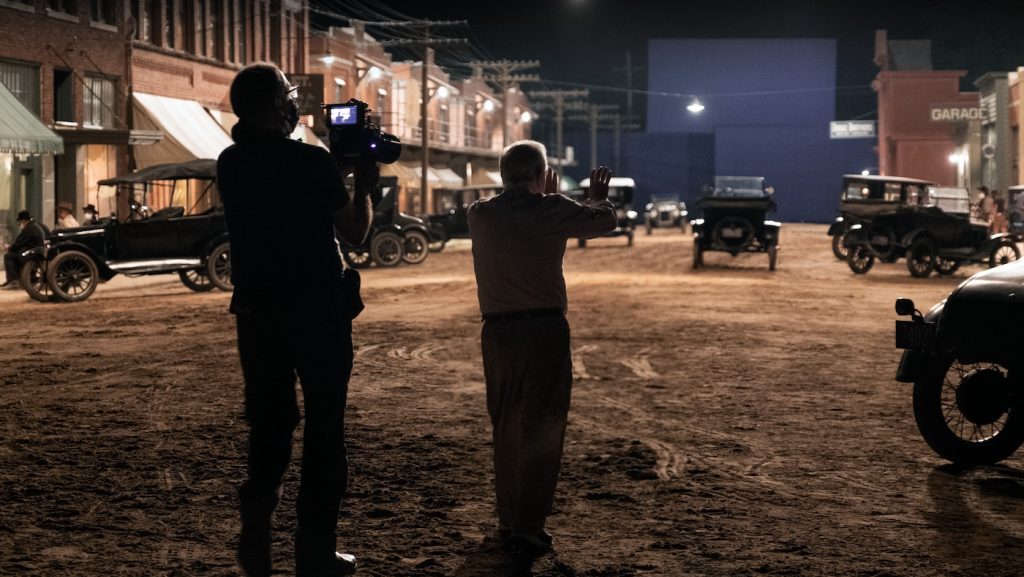 You were born in a small town in Illinois. Did that influence your designs in building the town of Fairfax?
I lived in the little town of Ipava, about 30 miles from Canton. I used to get my haircut at the pool hall. The barbershop had a pool hall. So when I read the script, thinking about Illinois, I got the idea of combining these two sets in the film. The pool hall and the barbershop. Then, when I looked at old maps of Fairfax, I found they had many times over the years had pool halls and barbershops combined. When I presented it to Marty, he was like, "Great, let's do it."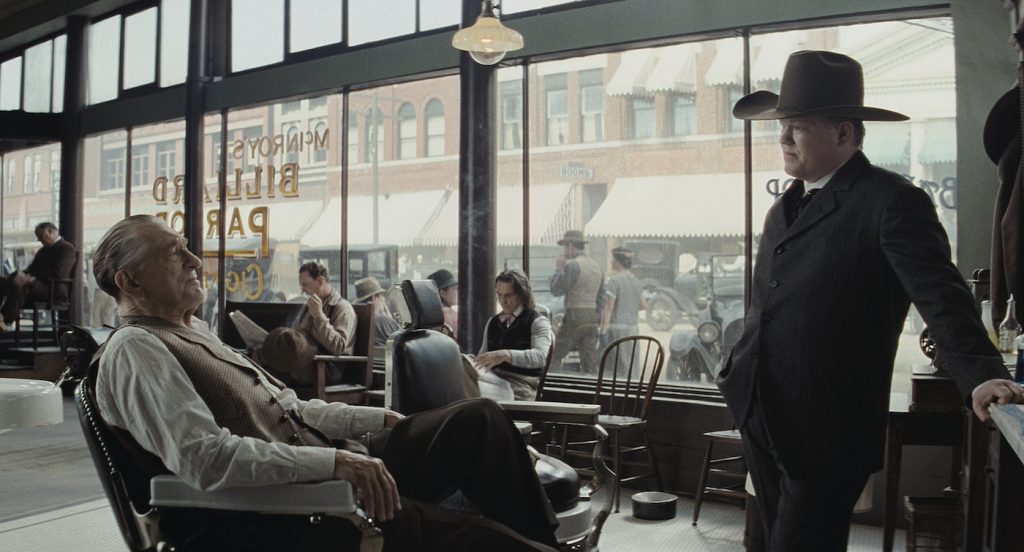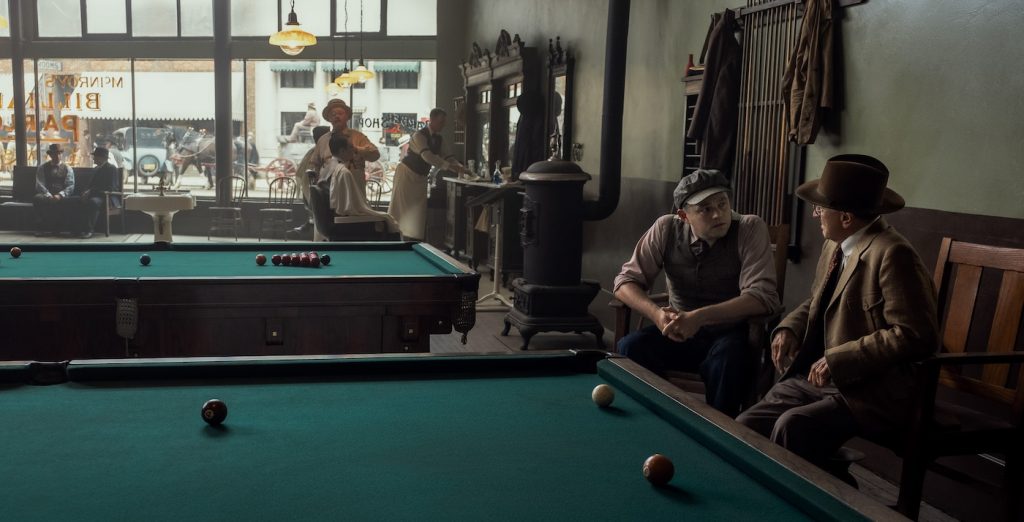 The home of Mollie's mother, Lizzie, plays an important part in the story. When researching the Osage way of life, how did you want to balance their traditions with 1920s décor?  
The house was the key to the whole thing to me. That's when I did a lot of research of my own and tried to find out where she lived. David Grann mentioned it in his book; though he never found Mollie's house, he imagined the way it would look. In my research, I actually found four of her houses. Some of them might be conjectured, but I did physically walk into one of them and looked through the windows of another. Another one burned down, and the fourth was in Claremore, which was after our story had ended. Finding out how they lived was really important. I visited houses in Gray Horse, and I found out that she didn't have her own house, and even though she was married to Ernest, she still lived in her mother's house in Gray Horse.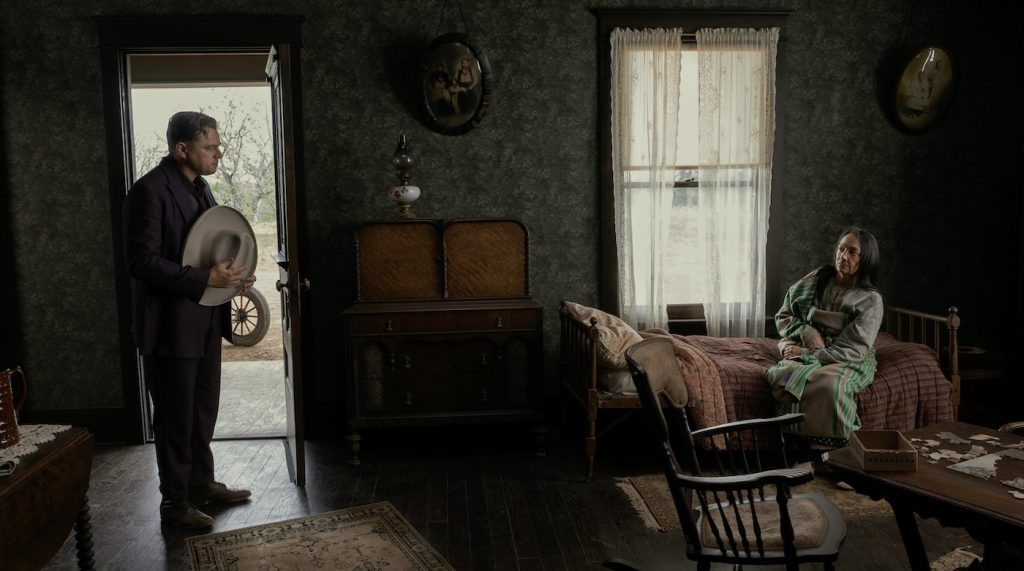 Was there any key to your design?
The key to the home was the porches, and the wallpaper was really natural – almost like you were living in a forest. The Osage, with their new wealth, spent it on cars and ceramics. They love pottery, so we put a lot of that in there. But for the most part, they were content with their life. The other thing was to make it different from Hale's house.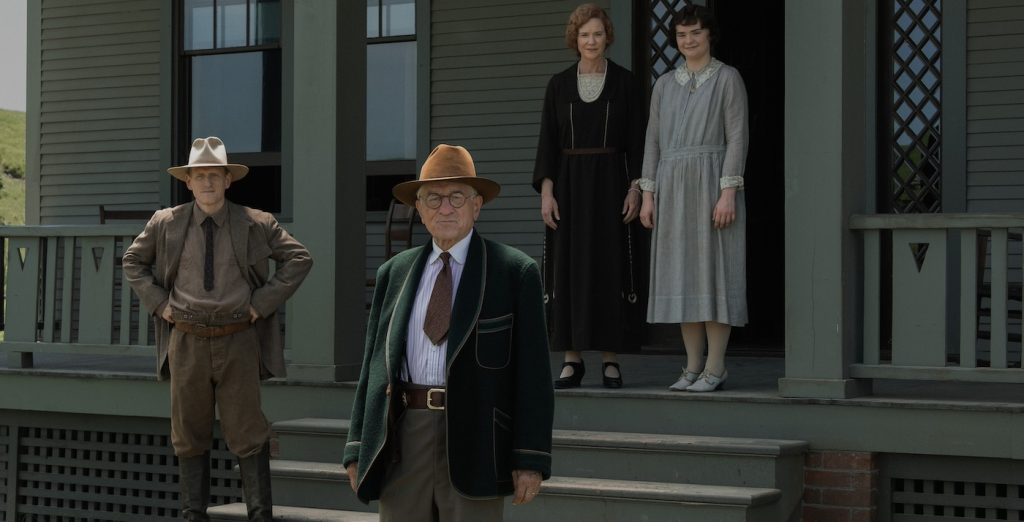 Since you mentioned differentiating William Hale's home, did you add any subtle nods that reflected his personality?
We made the house taller, sort of like he wanted to show that he was the king of the Osage hills. We did it in reds, while Mollie's home was mostly in greens. We added in different things that the Osage might appreciate, like paintings, sculptures, textured wallpaper, and fine furniture that the Osage at the time were just learning about. It took a while, once the Osage entered the white world, to find what treasures to make part of their life. Hale had a head start.
The color palette was very rich, and it seemed the vibrant colors might have been saved for the blankets the Osage wore. How did you want to approach color?
Jacqueline West [costume designer] and I have done ten films together. Researching with her is nothing but fun. The Osage love color. You see it in their own artwork from the time, the China they collected, their cars, and the colors of their blankets. I heard they loved to paint their cars. At the time, Henry Ford was making black cars. The insurance maps I found of Fairfax, you will see a paint shop or two where they would paint their automobiles. Oklahoma itself dictated some of the color palette itself. The prairie is so beautiful, and it's such a part of the Osage life.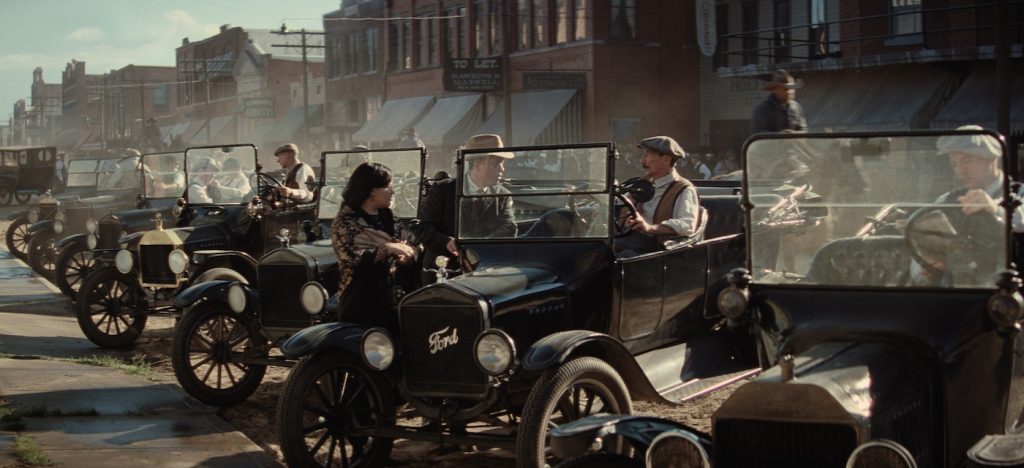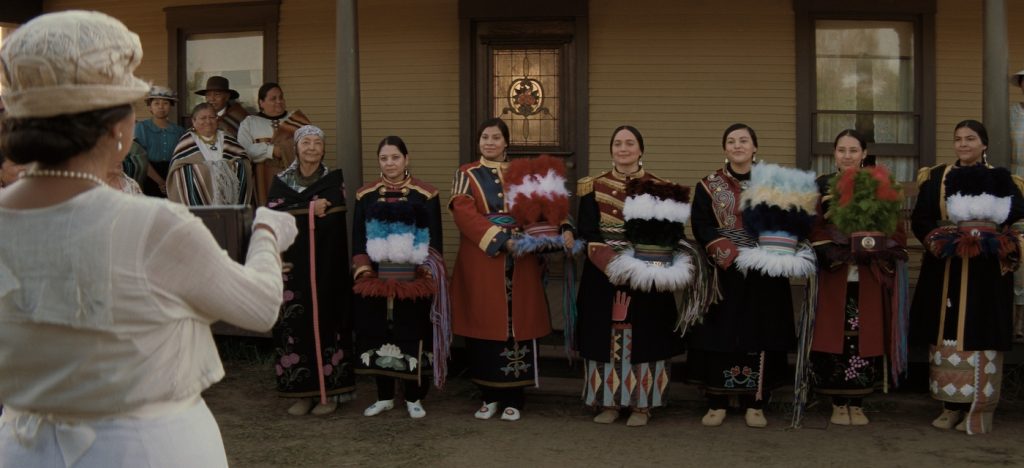 Killers of the Flower Moon hits theaters on October 20, 2023.
For more on Killers of the Flower Moon, check out these stories:
How Osage Tradition Influenced the Hair & Makeup in "Killers of the Flower Moon"
"Killers of the Flower Moon" Costume Designer Jacqueline West on the Power of the Osage Blanket
Featured image: Leonardo DiCaprio and Lily Gladstone in "Killers of the Flower Moon," premiering October 20, 2023 on Apple TV+.