How Osage Tradition Influenced the Hair & Makeup in "Killers of the Flower Moon"
There is perhaps nothing more important than authentically depicting the Osage in Martin Scorsese's Killers of the Flower Moon, a poignant tale based on real events where the oil-rich nation was devilishly deceived, manipulated, and murdered for their money and oil shares by the very ones who married them. Newspapers later described the tragedy, which lasted from 1921-1926, as the "Reign of Terror."
Scorsese and co-writer Eric Roth brought David Grann's best-selling novel of the same name to the screen with tremendous care and understanding. Helping to deliver this important story visually were hair department head Kay Georgiou (Joker) and makeup department head Thomas Nellen (Avatar: The Way of Water). The pair previously collaborated on The Patriot (2000) and the Coen brother's True Grit (2010). For Killers, they revitalized a 1920s look, combining Osage tradition, period fashion, and bygone aesthetics.  
Research laid the foundation for their success along with an open dialog with Scorsese, department heads, Osage consultants, and the many Osage crew members. "We had this incredible research office which was covered from the ceiling to the floor with pictures, references, and folders you could flip through," says Nellen.
The roots of the material came from longtime Scorsese collaborator (and executive producer) Marianne Bower, who had been involved in the project prior to principal photography. Georgiou tells The Credits Bower had been working closely with the Osage, collecting historical photos and research from different sources, including private collections from Osage families. "Marianne had this wonderful portfolio for us. Attached to that was the look of the film in terms of the period, so we had to do our own research regarding what the fashions were like during that time," explains Georgiou.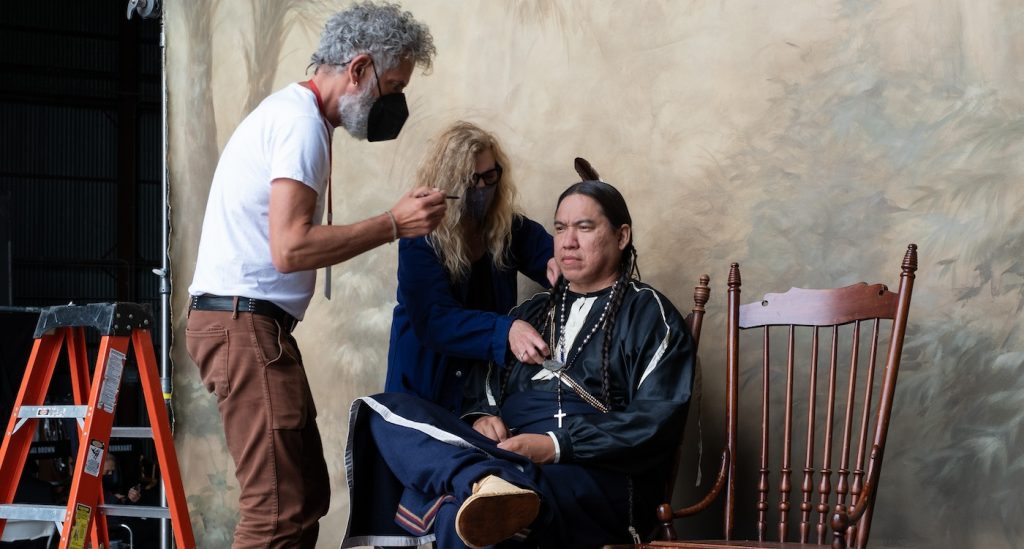 The wealth of the Osage afforded them the latest fashions found in Paris, London, and New York – designs that might have graced the pages of Vogue. However, the most significant piece to their silhouette is the traditional ribbonwork blankets they wrap themselves in. Collaborating with costume department head Jacqueline West (Dune, The Revenant) and Osage cultural consultant Julie O'Keefe was key in creating accurate depictions of each character for the story that follows a romance between Mollie Kyle (Lily Gladstone) and World War I veteran Ernest Burkhart (Leonardo DiCaprio) who has arrived in Fairfax, Oklahoma to work for his uncle and all-around businessman William Hale (Robert De Niro). As the plot unfolds, we meet Mollie's sisters, Anna (Cara Jade Myers), Reta (JaNae Collin), and Minnie (Jillian Dion), as well as their mother, Lizzie (Tantoo Cardinal). Georgiou and Nellen developed bespoke looks for each while collaborating with personal stylists for DiCaprio and De Niro.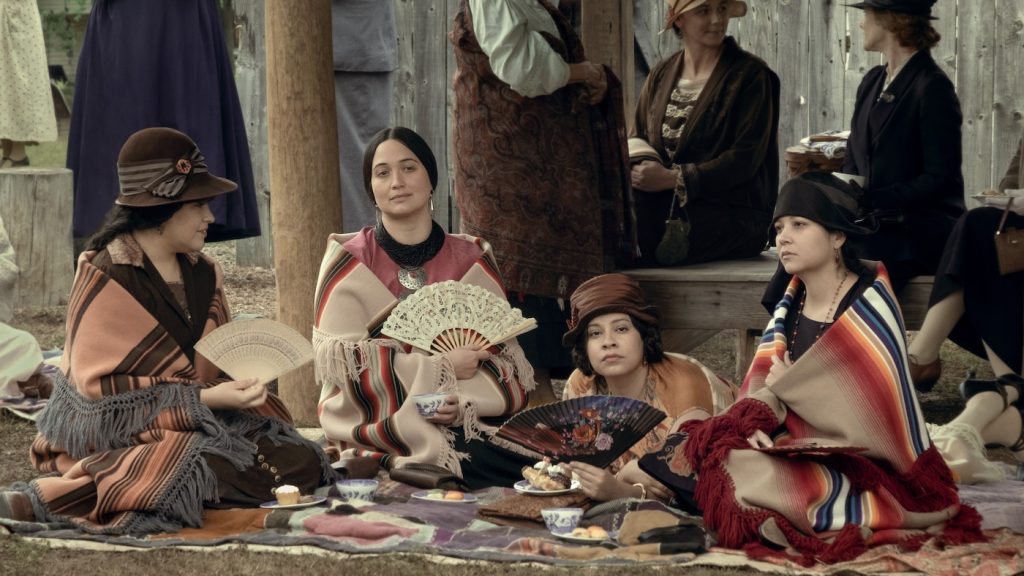 Of the four sisters, Mollie's style was the most traditional. Subtle makeup allowed for a natural glow, her long black hair draped down and, at times, in a single braid – a hint of lipstick for when she wanted to impress. Opposite is Anna, who had "one foot in the western modern world and one foot in tradition." Her coiled braids and pronounced makeup complimented her chic attire. "We wanted to do something that was very of the time with Anna's hair," says Georgiou. "We found a picture of an old silent movie star who had earphone braids, and we gave them to Anna for the film. She was much more westernized, but with all the sisters, they'd wear a traditional blanket that would ground them."
Nellen and Georgiou curated looks for other key Indigenous actors referring to photographs of the real person they portrayed. Makeup color palettes were also created from the range of colors found in costumes. "A lot of the costumes, especially for the Osage, had colors of their blankets, and of course, the eye shadow, eyeliner, and lipstick were all according to the period. It all had to blend together so it looked as natural as possible," Nellen says.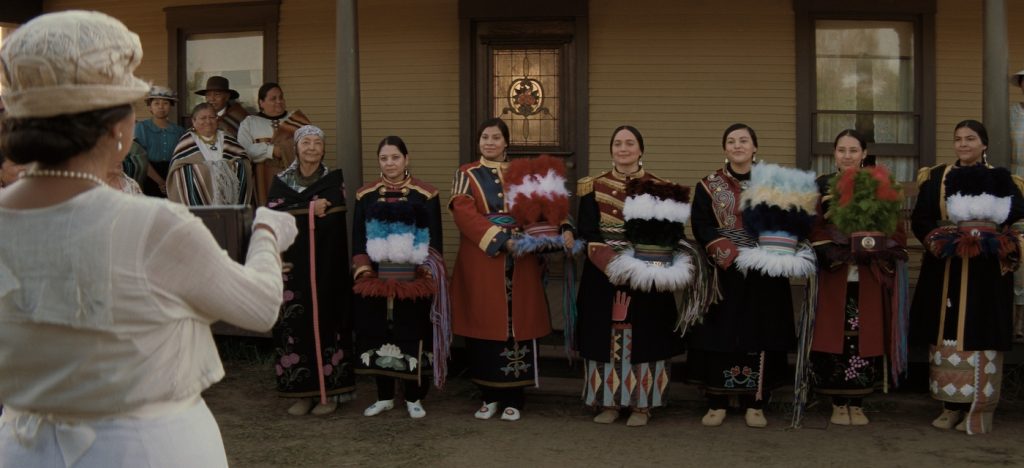 Georgiou maintained nearly 300 wigs for the entire cast, including background actors, often giving them perms to match the era. More than 40 roles were filled by Osage actors, and hundreds more as background players. To recreate the waist-long hair the Osage would have had during the 1920s, the hair department gave actors extensions when necessary. Georgiou credits having the right-sized department for such a large-scale film allowed them to pay closer attention to the details and delegate responsibility to a very capable team. "If we weren't sure how the hair should be for specific points in the story, like when the sisters are in mourning, we would ask Julie [O'Keefe]. We drew on her knowledge constantly for pieces of information," says Georgiou. "We also worked very closely with the Osage that were both in the film and in our crew. We relied on them enormously for information and input as to the look of the film."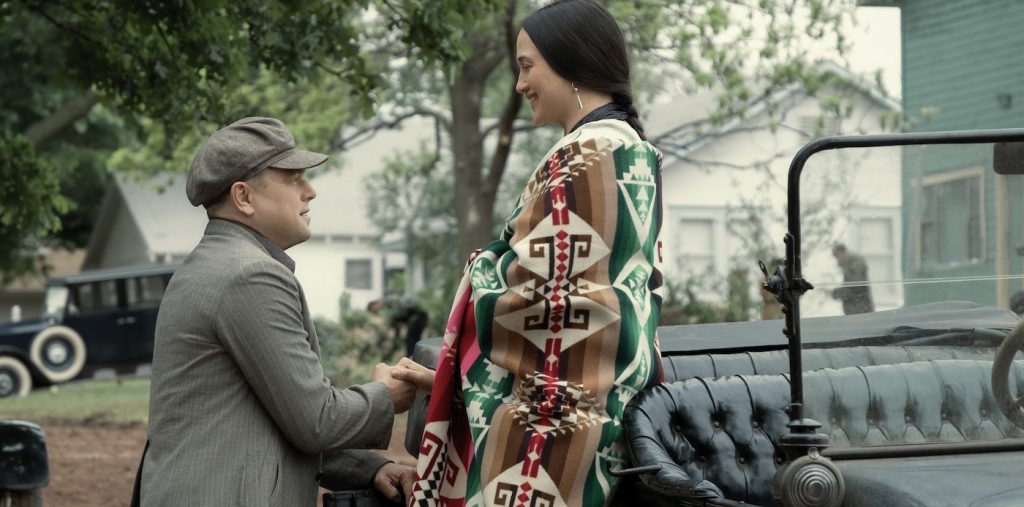 Besides contending with the blazing Oklahoma heat, which required hair and makeup to perform touch-ups constantly, Nellen says one of the hardest challenges was creating the appearance that little to no makeup was being used on certain characters. "A no makeup look doesn't mean no makeup. Sometimes, no makeup requires more time than actual makeup. Here, we have a situation where the time period is part of the story, and therefore the makeup, hair, and costumes are part of the story, but we did it without wanting to take you out of the story."
Killers of the Flower Moon arrives in theaters on October 20, 2023. 
For more on Killers of the Flower Moon, check out these stories:
New "Killers of the Flower Moon" Featurette Reveals How the Osage Language Deepened the Film
"Killers of the Flower Moon" Star Lily Gladstone Takes Center Stage in New Video
"Killers of the Flower Moon" Star Robert De Niro the Focus of New Character Video
"Killers of the Flower Moon" Character Video Reveals Leonardo DiCaprio's Ernest Burkhart
Featured image: A still image from "Killers of the Flower Moon." Courtesy Apple TV+