How Disney's 100 Year Journey Began With Four Pages and Four Signatures
The Walt Disney Company celebrated its 100th anniversary on October 16th. That's a century's worth of mythmaking and storytelling, from Snow White and the Seven Dwarfs (1937) to their upcoming animated feature Wish (hitting theaters on November 22), with a slew of iconic films, characters, a media empire, and theme parks across the world in between. The breadth of Disney's reach is hard to overestimate. Take the company's mascot, Mickey Mouse—Mickey is a global icon, immediately recognizable by people in every corner of the world. Disney's contributions to the world of entertainment are staggering, and any reckoning with the output must begin with their animated films.
Dumbo, Bambi, Cinderella, Peter Pan, Lady in the Tramp, Sleeping Beauty, One Hundred and One Dalmations, The Little Mermaid, Aladdin, The Nightmare Before Christmas (this Tim Burton classic, one of the boldest Disney releases of its time, is having its own 30th year anniversary on October 29th), The Lion King…the list goes on. And on. And again, these are just some of their most celebrated animated films, a list that doesn't include their Pixar movies, live-action films, television series, and more.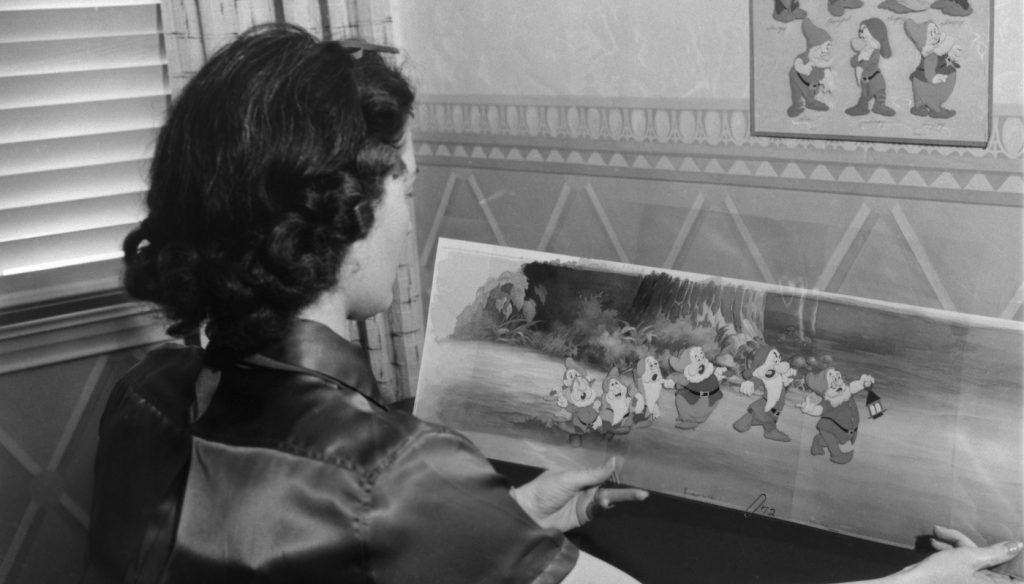 This huge universe of dream weaving, all these foundational stories populated by characters we feel we know well enough to classify as family or friends, or in the case of the likes of Cruella de Vil, Maleficent, Ursula, Scar, or Captain Hook, like worthy if worrisome adversaries, began with a simple contract that hardly ran four pages long.
Walt Disney had tried to develop two earlier animation studios in Kansas City, both of which failed. So, he packed up and moved west to Los Angeles to try his luck in the movie business. He couldn't find work acting or directing, so he turned to a pilot film he'd made in Kansas City and even convinced his brother, Roy, to leave behind a solid career in banking and form another animation studio together—the Disney Brothers Cartoon Studio.
When we interviewed Becky Cline, director of the Walt Disney Archives, she told us all sorts of magical stories about the props, costumes, photographs, and precious possessions that she and her team help catalog, care for, and lend out to current productions, curious museums and exhibits, and more. All of the assets in Disney's vast archives are there because of that original contract. She explained this founding document in greater detail during Disney's celebration of their centennial.
"The Walt Disney Company officially began on October 16, 1923, when Walt Disney signed a very simple contract in his uncle's Hollywood home," she said. "With this agreement, Walt and Roy Disney were able to produce and distribute a series of silent cartoons, the Alice Comedies. This opened a door to the development and production of 100 years of Disney magic that has enchanted the whole world."
The contract was with Margaret Winkler, a New York cartoon distributor, at 4406 Kingswell Avenue in Los Angeles, where Walt was living. The contract was signed by Walt Disney, Winkler, her future husband and later distributor of Walt's "Oswald the Lucky Rabbit" cartoon series, Charles Mintz, and Walt's uncle, Robert Disney. The Alice Comedies were silent cartoons that the Disneys made between 1924 and 1927, centered on a real girl who went on magical adventures in a cartoon wonderland. Alice was played by Virginia Davis, and her animated cat, created by Walt Disney and Ub Iwerks, was named Julius. A mashup magical world of live-action blended with animation—it sounds like the Disney we still know today, 100 years later.
For more stories on 20th Century Studios, Searchlight Pictures, Marvel Studios, and what's streaming or coming to Disney+, check these out:
"The Marvels" Teaser Tracks the Evolution of Captain Marve
Director Shawn Levy on Synchronicity Between His "Deadpool 3" and Secret "Star Wars" Movie
New "The Marvels" Teaser Reveals a New Superteam and an Old Ally in Nick Fury