Greta Gerwig Reveals "Barbie" Joys, Anxieties, and Teases Next Project
Greta Gerwig was on hand in London on Sunday to give a special talk at the BFI London Film Festival, interviewed by none other than Succession creator Jesse Armstrong. As you are no doubt well aware, Gerwig's Barbie is a historic success, becoming Warner Bros.'s most successful film in its 100-year history, a mammoth achievement. Barbie made an astonishing $1.4 billion at the global box office, becoming the highest-grossing film by a solo female director and the number-one movie of 2023.
Gerwig co-wrote (alongside Noah Baumbach) and directed this original look at Mattel's iconic doll (played, of course, but Margot Robbie, who also produced the film) as she endures a series of existential crises and goes searching for the source of ennui in the real world. The film, which featured a bevy of Barbies and Kens, including Ryan Gosling as Barbie's travel partner and wannabe boyfriend, also included one major musical and dance sequence, "I'm Just Ken," which Gerwig revealed to the audience in London was a major source of anxiety for her.
Even before Gerwig filmed the "I'm Just Ken" sequence, she told the audience that she'd had to explain what her goal with it was during a big meeting.
"It just said in the script, 'And then it becomes a dream ballet, and they work it out through dance,'" Gerwig said to Jesse Armstrong. "There was a big meeting that was like, 'Do you need this?' And I was like, 'Everything in me needs this.' They were like, 'What do you even mean? What is a dream ballet?' And I was like, 'A dream ballet? Where do I begin!'"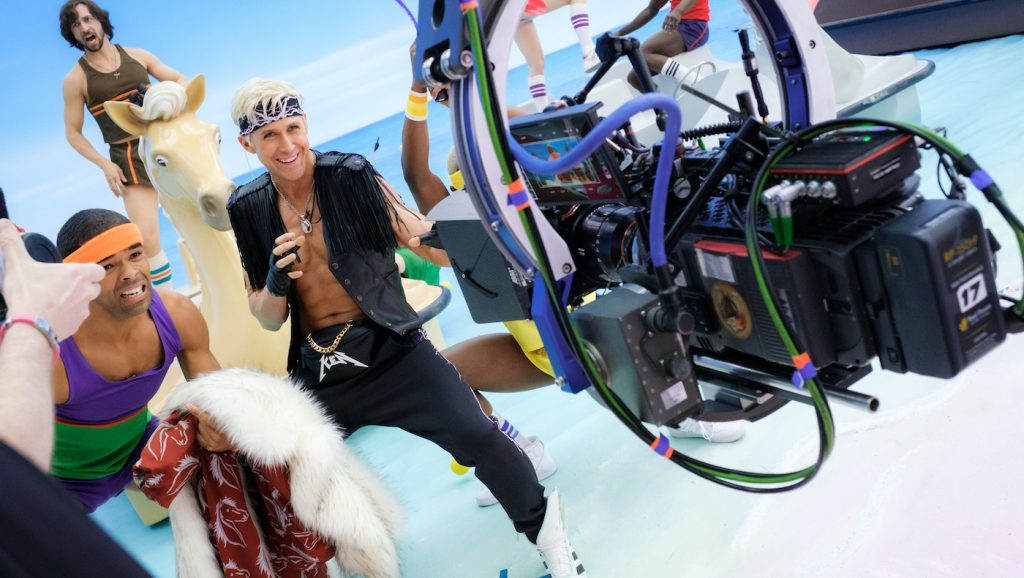 Once it was time to start shooting the sequence, Gerwig's nerves didn't subside.
"That sequence, in particular, was just filled with choices that thrilled me and made me so happy, but then I'd be driving home at the end of the day and thinking… 'Oh no!'"
Gerwig cited one of the most iconic singing and dance numbers in film history as a source of inspiration—and comfort.
"I was like, if people could follow that in Singing in the Rain, I think we'll be fine. I think people will know what this is. So that was the big reference point," she said. "Even though everything felt right to me and was giving me so much joy in the way we were doing it, it was also like, 'Oh no, this could be just terrible, but now I'm committed.'"
The song was one of the film's most beloved moments, hit Billboard's Hot 100 list, and amassed 5.2 million U.S. streams in its opening week. Gerwig also admitted that during the film's opening weekend, when it premiered on July 21 on the very same day as Christopher Nolan's Oppenheimer, which gave the world the Barbenheimer phenomenon, she would go to theaters in New York and stand in the back to gauge people's reactions to the film.
"I went around to different theatres and sort of stood in the back and would then also turn up the volume if I felt it wasn't playing at the perfect level," she claimed. At one such screening, she heard one woman howl with laughter over the joke about the Proust Barbie, one of the numerous specific one-liners she inserted in the film. "And I was like: 'That joke was for you!'"
Gerwig said she's currently at work on her next project, although not without fresh trepidation.
"I'm working on something right now, but I'm in the writing process, and it's hard, and I'm having nightmares," she said. "I'm having recurring nightmares."
For more on Barbie, check out these stories:
"Barbie" Surpasses "Star Wars: The Last Jedi" and is Now Available on Streaming
"Barbie" is About to Become the Biggest Hit in Warner Bros. History
"Barbie" Casting Directors Allison Jones And Lucy Bevan on Populating Barbie Land
"Barbie" Hair & Makeup Artist Ivana Primorac Conjures Personality From Plastic
Featured image: Caption: (L-r) MARGOT ROBBIE, ANA CRUZ KAYNE, Director/Writer GRETA GERWIG and HARI NEF on the set of Warner Bros. Pictures' "BARBIE," a Warner Bros. Pictures release. Photo Credit: Jaap Buitendijk