"Air" Costume Designer Charlese Antoinette Jones on Designing the Near-Jordan World of 1980s Nike
Except for a glimpse of his back, we never once see Michael Jordan in person in Amazon Prime's Air. This Ben Affleck-directed film, in which Affleck also stars as Nike founder Phil Knight, tracks the course of Nike's surprise successful bid for an endorsement from the greatest basketball player of all time, leading to the 1980s creation of Air Jordan sneakers, which, four decades on, are a multi-billionaire dollar icon of fashion history.
But the people who made that possible behind the scenes look little like what you'd expect. Championing a partnership with Jordan is Sonny Vaccaro (Matt Damon), a middle-aged dude in trousers that make you wonder why the garment industry persists in manufacturing such pants. Knight wears suits when he isn't working weekends in the signatures of early 1980s running gear, leggings under shorts, and abundant neon. On the other side of what becomes one of the most lucrative sportswear-sport star partnerships of all time isn't Michael Jordan, but his mother, Deloris Jordan (Viola Davis), who leads meetings for her son dressed in feminine, crisply tailored suits. And forget about finding a trace of aesthetic, athletic DNA on the shoe design team, led by Peter Moore (Matthew Maher), who skateboards to work in full mid-life crisis leather and designs the Air Jordan prototype wearing vaguely Nordic striped knitwear.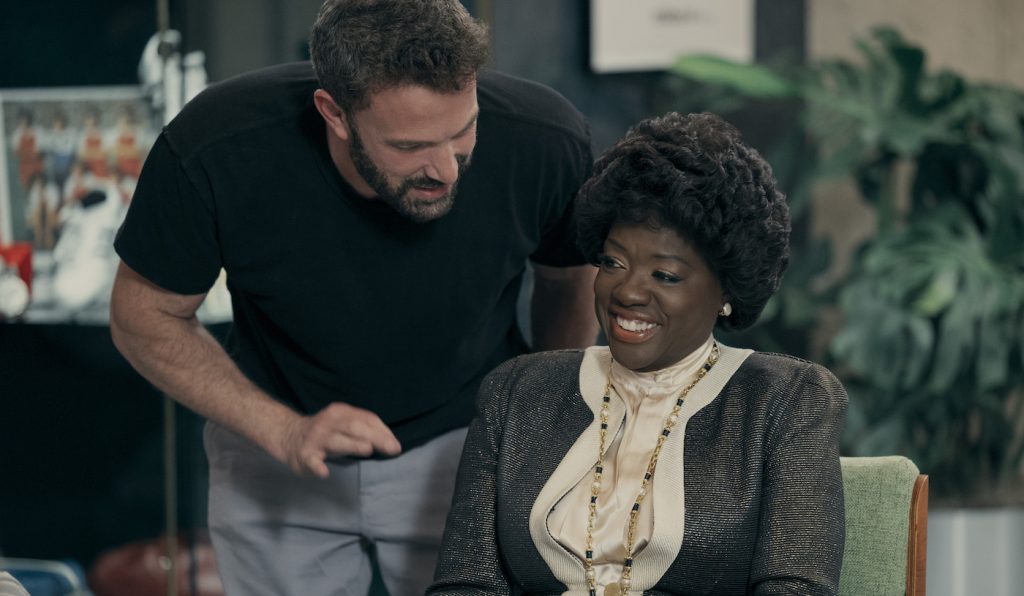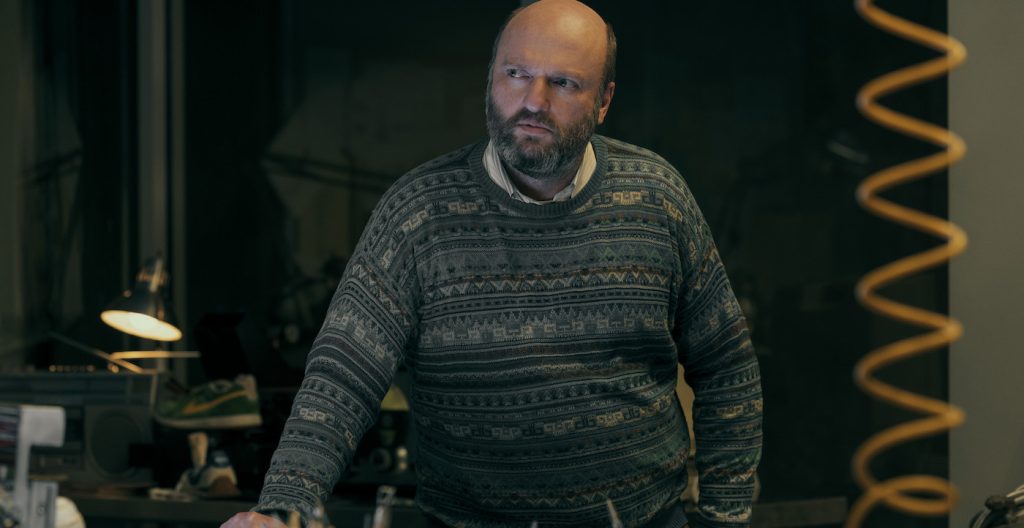 The vision behind these workaday characters who made the Air Jordan possible came from costume designer Charlese Antoinette Jones (Judas and the Black Messiah, Astronomy Club), who was tasked with creating a sense of place among various corporate entities who represent an aesthetic far cry from a pair of Air Jordans or even athletic gear in general.  We got to speak with Jones about the Nike of forty years ago, balancing snippets of historical archives with creative license, and her process for Deloris, by far the film's most fashionable character and the real driving force behind the Nike-Michael Jordan partnership that came to be.
How did you figure out the broad strokes of the looks for Air's main characters?
Ben had this really specific vision on how to showcase the difference between Nike, Adidas, and Converse. So, based on where we were, the color palette changed, and the styles of suiting and clothing changed. His biggest note to me was Nike's a scrappy startup. That was the direction for how everyone's dressed in the office. It's less put together than Adidas, which is so sterile and so corporate. Nike doesn't have a lot of money. People aren't coming in there in thousand-dollar suits, and they're not dressing over the top and wearing designer. They're also not wearing Nike gear. During that time period, you're not wearing gear you'd work out in to work. That's a faux pas. Phil comes in, and he has a full running look on, but it's supposed to be a Sunday, and Howard White [Chris Tucker] is dressed up because he just came from church. It was a lot more fun than having to put everyone in sports gear the entire film. We were always very clear: we're not making a Nike commercial, we're not making a Jordan commercial, we're telling the story about how Michael Jordan became the greatest player of all time with the greatest shoe of all time, and how it changed the business.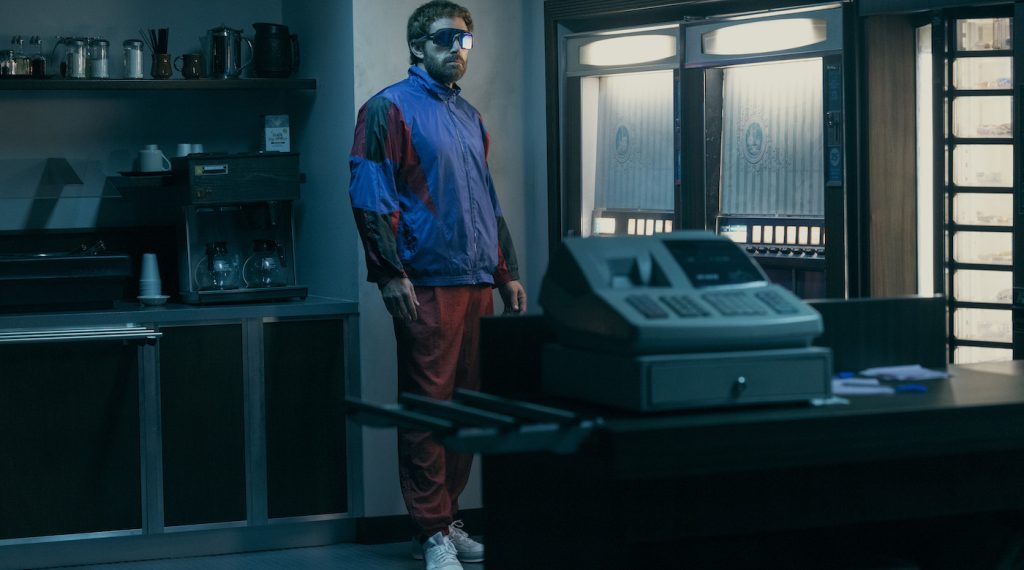 What was your process like balancing archival research versus creative license?
It was a combination of both. We had an amazing researcher who found photos, and he also had information and notes about the real people, which was helpful. For some people, we might have had three or four photos. From there, I had to use my research and my knowledge of menswear during that period and just come up with ideas based on what was happening in the story. For example, the only photos we have of Peter Moore are of him in a black turtleneck, and it just didn't work. His character was so interesting and so vibrant, and the way Matt Maher plays him is so interesting and so vibrant. So, I decided everyone who worked in the shoe lab would be a lot more colorful than the people upstairs working in the offices. They needed to be a little more fashion-forward, more stylish. I looked at a lot of images of Studio 54, various fashion weeks and magazines from the early 80s, and of artists like Basquiat and his friends. Peter Moore has on turquoise pants a lot. The shoe lab is its own world. The kooky sweater vests, the plaid shirts, the print on print — to me, that felt creative. With Deloris, there was tons of research. She liked to wear suits a lot, so I thought, let me play with that and push it further. Most of the costumes Ben wears as Phil Knight were recreated from research photos. And then Sonny, I got a lot of notes about him just being really casual. He's a basketball scout. I love polos, and I love golf polos. The polos became their own character, which was a lot of fun. When the real Sonny came to set, his wife was like, did you steal that from his closet?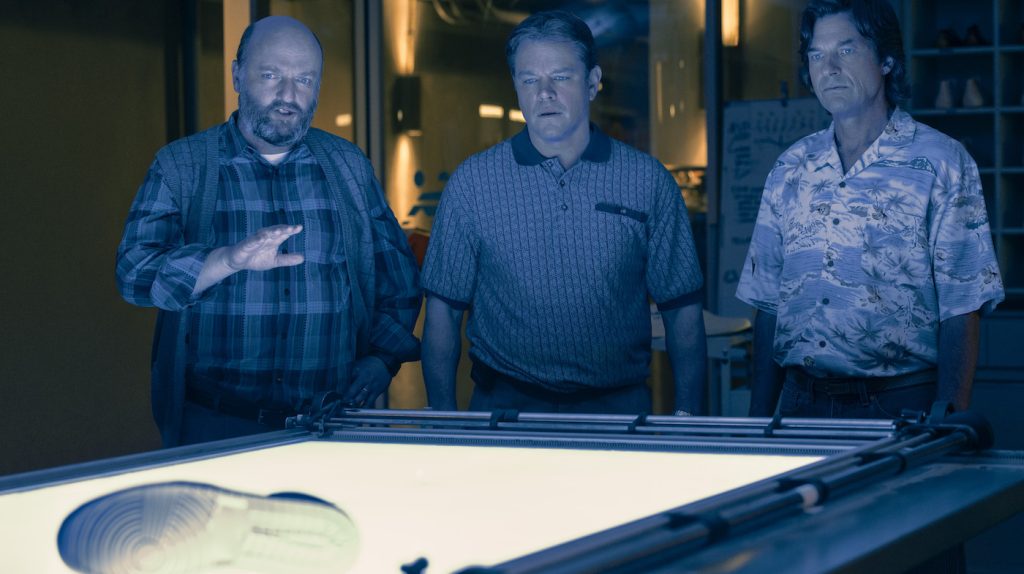 Sonny's signature polos are almost upstaged by his dad pants.
And they still make them, those pleat-front khakis. There are pieces that we made, there are pieces that we sourced that he wears, and there are pieces that are contemporary that are still in existence, like the Florsheim loaders. The pleat-front khakis are Dockers. For me, that's a lot of fun to think oh wow, there are still men who dress like Sonny.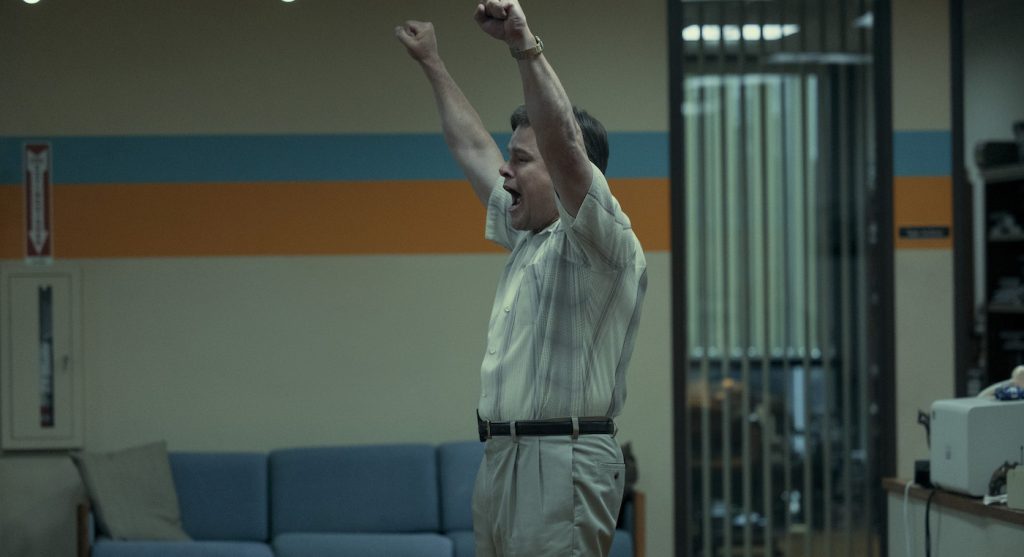 For a recent period piece like this, do you wind up doing more building or sourcing?
We built a lot. We built all of Ben's costumes except for the poster tracksuit look — that was an actual Nike archival suit that I sourced. We built the majority of Chris Tucker's suiting and shirting. We built a couple of Nike recreation polos for Sonny. We also built Deloris's look when she goes to Beaverton — the blazer, the beautiful blouse. Her necklace was designed and made by me and a pearl vendor I work with. We built Peter Moore's leather outfit that he skateboards in. It was a lot of fun. I would've built way more; we just didn't have time. I'm grateful we were shooting in LA. I have amazing resources and relationships with vendors, and we were able to find some really great stuff that ended up going on camera that was from the period.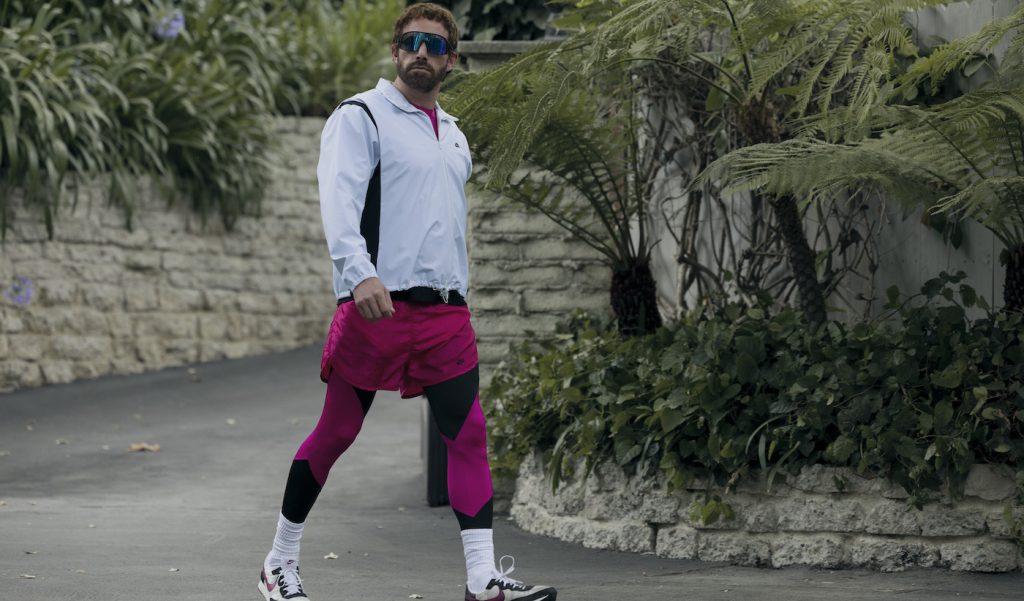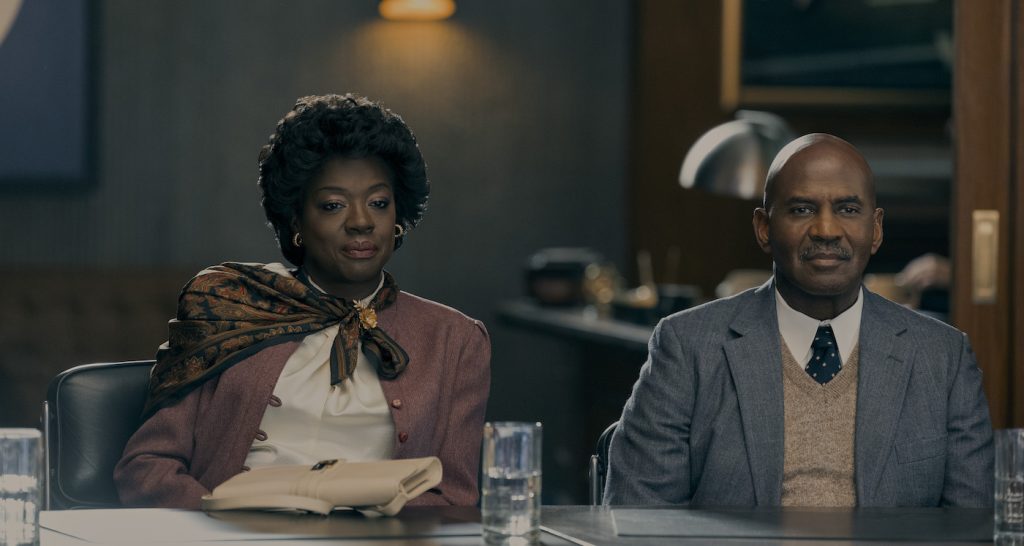 In terms of style, Deloris is the movie standout. How did you develop the range of fashion she wears?
The notes that I got about Deloris were that she was in charge and she was the boss. I wanted to make sure when she was out in the world with her son, with her husband, representing her family as a matriarch, she looked like she was in charge and she looked like she was the boss. She was really dressed up and really fashionable. Because we didn't have a lot of time with her, I wanted to make a statement every time we saw her. She's the only female lead in the film, as well. I wanted to play around with women's fashion during that time, for a woman of her age from North Carolina, and showcase what I knew because my family is from North Carolina. A lot of the women in my family dress like that. So, it was a lot of fun to recall these things and be able to put them on Viola Davis. I loved that contrast when we're at home versus when we're out at work, especially as women of color. At home, you can be more relaxed. We don't have to dress a certain way. Even her being able to make the deal in something comfortable in her home, I thought, was so profound. She's asking for what her son deserves, and she's in her kitchen, and she's wearing pedal pushers and a pastel-printed blouse. It's the quintessential 80s mom look, and she's like, give my son his residuals, or it's no deal.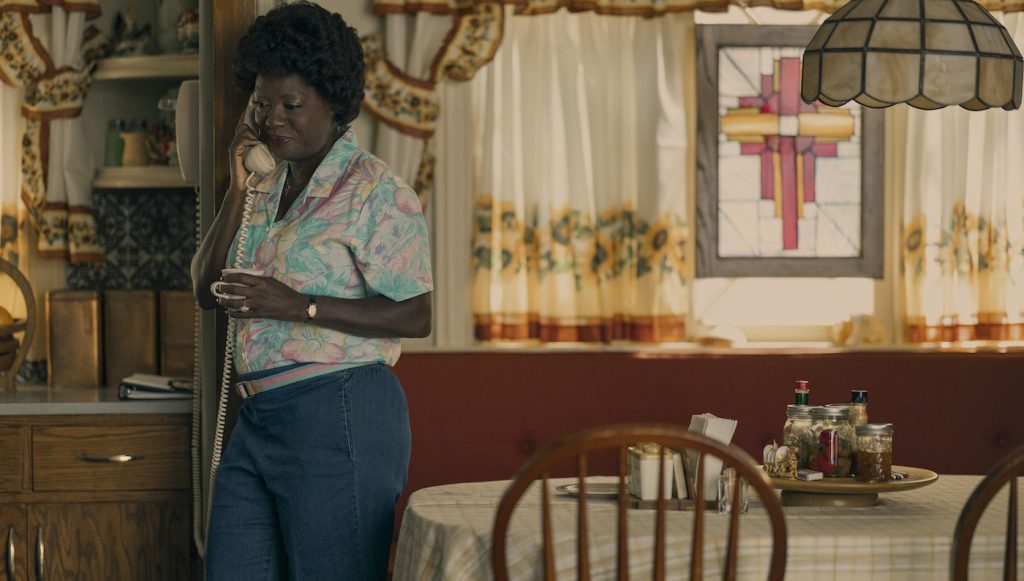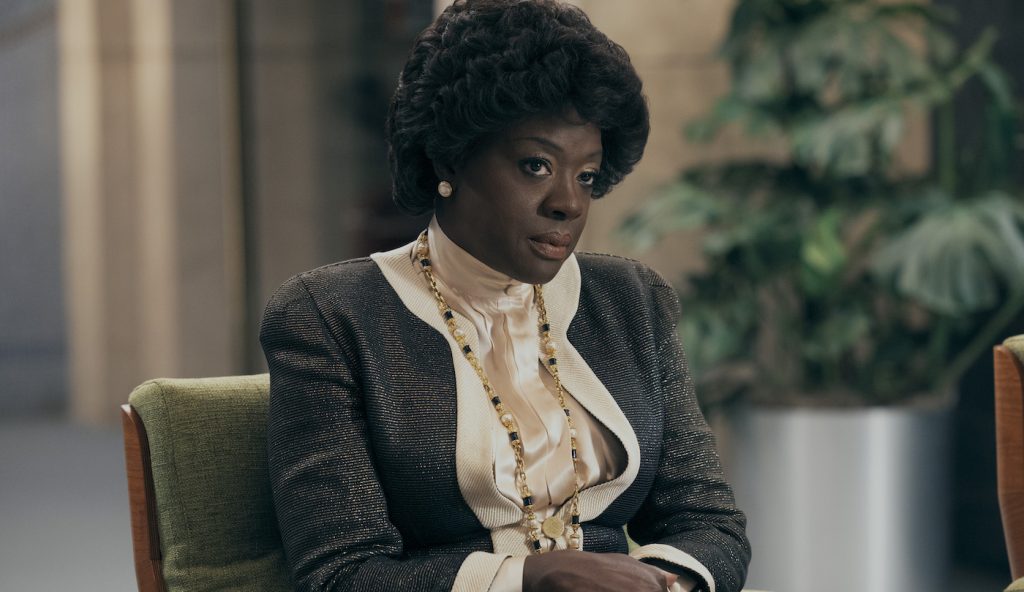 For more on Amazon Prime Video, check out these stories:
"A Million Miles Away" Co-Writer/Director Alejandra Márquez Abella on Capturing a Dream Come True
"Red, White, & Royal Blue" Co-Writer/Director Matthew Lopez on Crafting a Modern Love Story
"Swarm" Production Designer Sara K. White on Creating Fractured Spaces for the Celebrity-Obsessed
Featured image: Matt Damon as Sonny Vaccaro and Jason Bateman as Rob Strasser in AIR Photo: ANA CARBALLOSA © AMAZON CONTENT SERVICES LLC