"The Perfect Find" Director Numa Perrier on Creating Space For Romance With Gabrielle Union
The Perfect Find (now streaming on Netflix) begins with Gabrielle Union's New York City fashionista Jenna recovering from a bad breakup at her mother's house. What makes matter most is this is happening in the wake of the humiliating collapse of her high-profile career. But Jenna's not the type to pout, so she stages a comeback and, along the way, falls for a much younger man, Eric (Keith Powers). As rom-com fate would have it, handsome Eric just happens to come with personal baggage that could obstruct Jenna's professional future.
The woman in charge of this romantic comedy is director Numa Perrier, who made a splash writing, directing, and starring in the indie feature Jezebel. Based on her own experiences as a "cam girl," the film premiered at the 2019 SXSW festival. Afterward, Perrier received a Twitter direct message from uber-producer Ava DuVernay inviting her to direct an episode of the long-running drama series Queen Sugar. Then rom-com veteran Union reached out to Perrier about taking the reins for The Perfect Find.
Shot in New York City, The Perfect Find marks the latest pivot in an unusual journey filled with "lots of zig-zags," Perrier wryly acknowledges. Born in Haiti, she was adopted and grew up with seven siblings in a tiny Washington State farming community. "My family didn't go to movies, but I watched a lot of television," Perrier says. "I loved soap operas."
Speaking from her home in Los Angeles, Perrier talks about bonding with Union, capturing magic on the Brooklyn Bridge, and putting her indie experience to use in The Perfect Find.
You must have forged a strong connection with Gabrielle Union, given how effectively the two of you bring her Jenna character to life. You'd never worked with her before, so how did you and Gabrielle find common ground?
I was excited when I got the script [by Leigh Davenport] from her team because Gabrielle's not just an actress, she's an icon for our community, and I was looking to do a good messy love story in the rom-com space. When I met with Gabrielle here in L.A., we spoke for hours about this story. I had gone through a big breakup and big career upheaval a couple of years earlier and was just starting to get to the other side of it, so I deeply connected to this character. And Gabrielle's been in many rom coms but, in the last few years, opened up more and more [about her personal life] to her fan base and beyond. People love her for being transparent about the hardships she's had to navigate at her age and in this chapter in her career. Gabrielle wanted to translate that into her character Jenna, who's reinventing herself, or really getting back to who she truly is after facing these challenges. Gabrielle knows that [experience] like the back of the hand, and she wanted to finally show it in this rom-com space.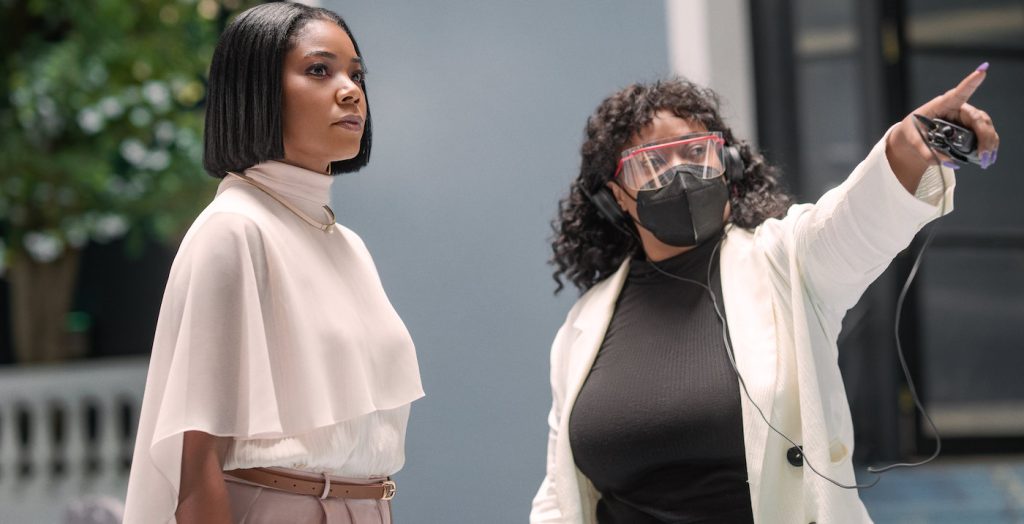 Production on The Perfect Find got delayed for a year because of COVID. How did you spend that time?
I spent that year doing a deeper dive into Gabrielle. I watched every movie I hadn't seen, re-watched movies I had seen, and saw every episode of Being Mary Jane. I got to understand Gabrielle's habits and how she likes to work. That put me in a stronger position to direct her.
So you arrive on set, and you're in charge of creating funny scenes. Coming from this intense indie drama Jezebel, how did you approach the comedy in The Perfect Find?
Jezebel was my coming-of-age story, a true story, but there were a lot of laughs in that theater because sex is funny, you know, and the things people do to meet their desires can be very funny. Here, it was important to create a space where our actors feel comfortable enough to improvise. Gabrielle is hilarious, and Keith Powers is also very funny. I just encouraged them to open up and be free. Since there were already good jokes in the script, between that and letting our actors do some improv on top of it — that's how we got there.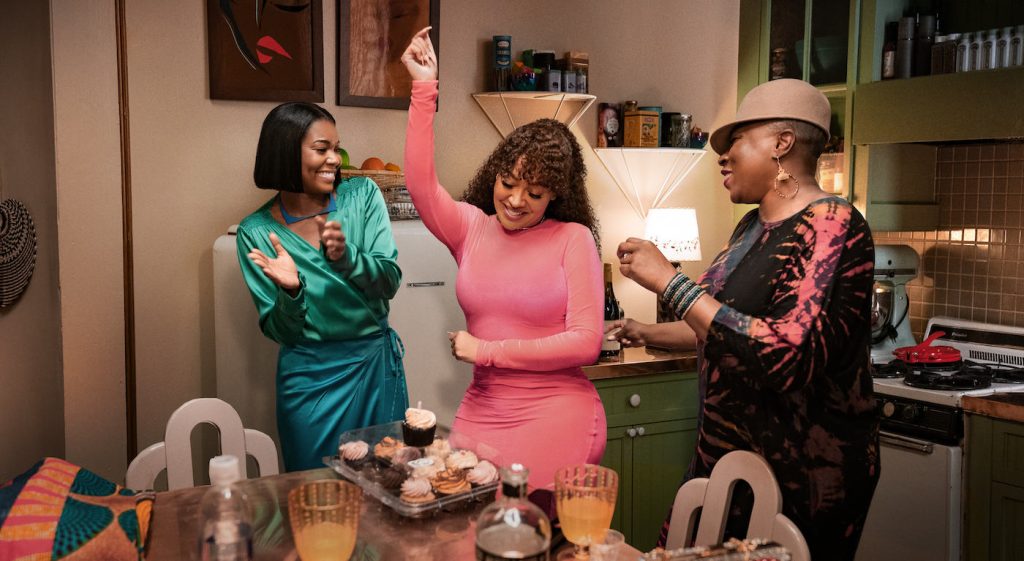 On the romantic side of the equation, one of the film's most affecting scenes takes place at night on the Brooklyn Bridge in New York. What was it like capturing this tender sequence between Jenna and Eric?
It was a dream come true to be directing my first studio feature in one of my favorite cities. I fought a lot to get everything we wanted out of New York. With the Brooklyn Bridge, we didn't have ownership of the full bridge, so there was going to be a lot of foot traffic, as there always is on a summer night in Brooklyn. But there was a thunderstorm that night. We almost had to shut down because the lightning might pose a danger to our crew. I remember walking on the bridge in the rain, praying to the sky, to mother nature, to the gods, "Please don't let that lightning come too close because this is the only shot we have to get this scene."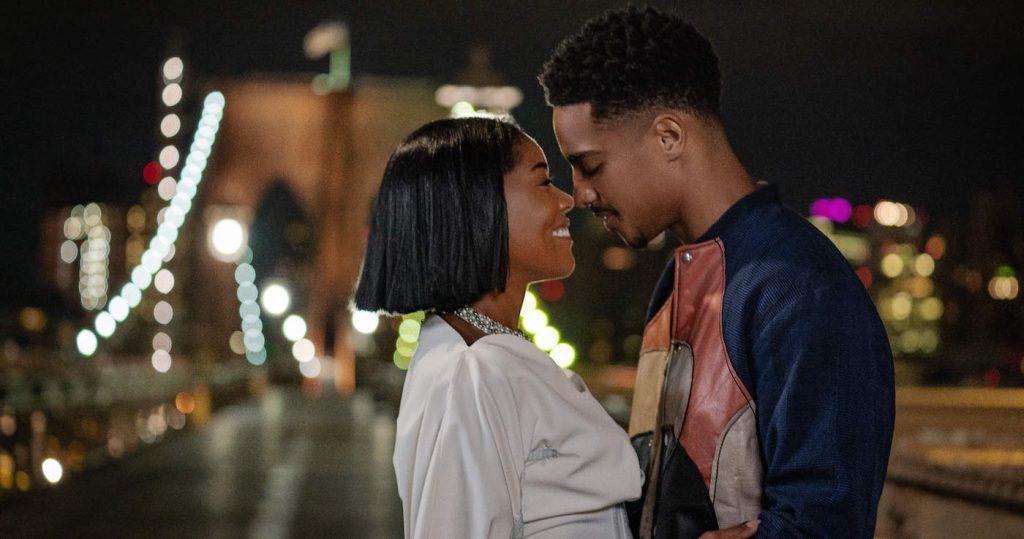 So what happened?
The rain stopped. The thunder and lightning stopped. We had this pocket of time to capture a beautiful scene, and it looked like we owned the bridge. Everyone who would have been walking across the bridge had gone home because of the rain. All our big stressful scenes came with backstory challenges that ended up making for a better film.
One rom-com rule seems to be: any time you want to make a scene feel more dramatic, add rain.
Add rain! Because rain makes you feel like cuddling, it's very romantic, the sound and everything, so yeah, the rain ultimately gave us more romance. The look of the rain gives it so much texture, and you see that throughout the film. There was a lot of rain.
Circling back to Jezebel, which helped create this opportunity to direct a big studio film, you went from being an actress self-taping yourself for auditions, to shooting a short film, to making your first feature. How did you make that leap?
The one slice of meat that you're missing in this sandwich is that I spent eight years as part of a collective called Black and Sexy TV, a YouTube channel where it was me and three other like-minded filmmakers. We made skits at first, then I said we should start doing episodic content and put out our own web series. I was in production every day of my life, seven days a week, with no days off. I either created, wrote, acted in, produced, or directed over a dozen series. But I also heard a voice telling me, "Go make your feature," and the voice got louder and louder. I had the script in my dresser, I pulled it out. We took a two-week hiatus from Black and Sexy, and I made my movie in ten days. I didn't feel nervous. I felt ready.
Does your indie film experience inform the way you operate on this big studio project?
When I came to Los Angeles, I took any class I could for actors. I'd go into the room to audition for people, but I also would self-tape, and that led to my first short film. I borrowed a Panasonic 24 P camera, went to the Rite-Aid, and bought a bunch of colored light bulbs. That's how we lit the scene. It was very hook-or-crook, indie do-it-yourself filmmaking. I still apply that [aesthetic] today. The producers come into my office, there's a problem, and I've got a solution because I'm used to solving problems all the time in this micro-budget land. You know, more money, more problems. But who better to solve them than an indie filmmaker?
The Perfect Find takes place in the fashion world. Do you consider yourself a fashionista?
I do, in a funny way. I used to collect vintage gloves, and that hobby turned into me designing my own collection of gloves during the early days of Black and Sexy TV. They were couture, elegant, and handmade. So I understand how hard it is to break into the fashion industry and how doubly hard it is to break in as a Black woman. With Perfect Find, I understood just enough of the fashion component of the story to be able to dig in.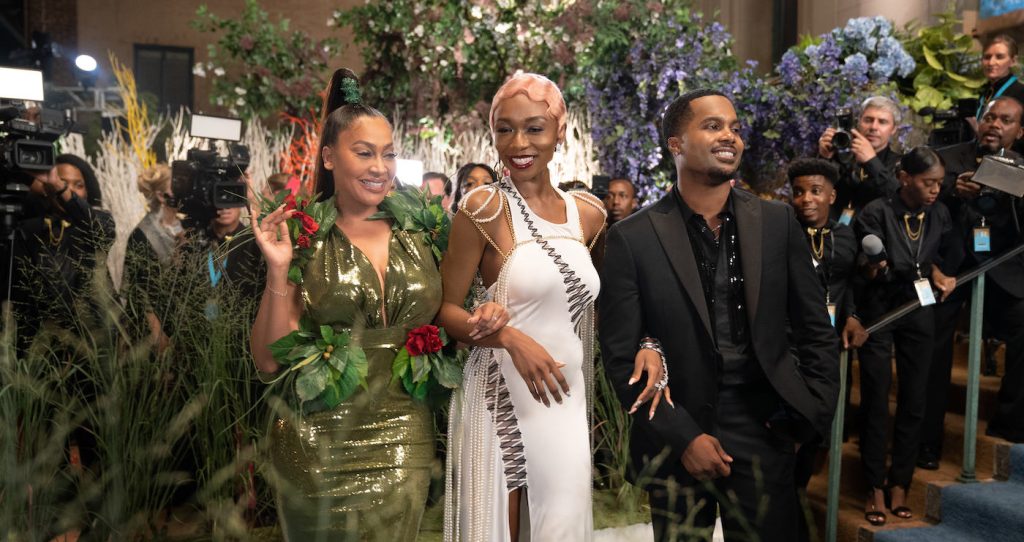 The Perfect Find follows the contours of a classic rom-com, but it's also grounded in the Black experience. You even reference Nina Mae McKinney, America's first Black movie star, by including a snippet of her 1929 silent film Hallelujah. Did you think of The Perfect Find simply as a romantic comedy, or did you specifically design it to be a Black romantic comedy?
Everyone can laugh and enjoy this, but I did The Perfect Find for the culture; I did it for Black women like me and anyone who loves us. "Come on, let's do this; it's a good ride to go on." In the past, I've not always known how I feel about labeling something Black or not. What kind of mother am I, what kind of artist am I, and does Black go in front of that? I've come to the conclusion that, yes, it does. It's important that we are celebrated and can run the full gamut, the full spectrum of things going on in our lives. So to answer your question, this is a very Black rom-com.
For more on big titles on Netflix, check these out:
"Extraction 2" Review Round-Up: Chris Hemsworth-led Action Film Punches Even Harder in Sequel
"Arnold" DP Logan Schneider on Shooting Schwarzenegger
"The Witcher" Season 3 Trailer Finds Geralt at the Center of a Storm
Featured image: The Perfect Find. (L to R) Gabrielle Union as Jenna and Keith Powers as Eric in The Perfect Find. Cr. Alyssa Longchamp/Netflix © 2023