Writer/Director/Star Numa Perrier on Her Autobiographical Sex Work Film Jezebel
Though filmmaker Numa Perrier only spent four years of her life in Las Vegas, those formative years being surrounded by adult vocations served as the backbone for her autobiographical '90s-set film, Jezebel (now available on Netflix). Not only did Perrier write, direct, and produce, but she also stars as her older sister (executive producer Livia Perrier), who used to work as a phone sex operator and with whom Perrier shared cramped living quarters. To play the screen version of her 19-year-old self, Perrier discovered and cast the wonderfully emotive Tiffany Tenille (in her first feature film).
Shortly after the death of her mother, Jezebel moves in with her sister and starts working as a live model for an adult site, as the token black girl. The film doesn't stigmatize sex work or depict its titular pen-named protagonist as a victim; instead, this coming-of-age drama tenderly navigates a young woman coming to terms with her own sexuality, financial autonomy, and the various physical spaces she occupies, usually clashing with the white men who both desire and disregard her. Perrier spoke to The Credits about the real-life stories that color the sequences in her film, the 1999 internet era she recreated, and the famous director that became her cheerleader.
I know this is a very personal story for you. You're essentially playing a fictionalized version of your sister, who was a phone sex operator. How did she guide you?
I asked for permission to play her. Many years have passed since our days in Las Vegas together and it really wasn't something we talked about much, or at all, once we both left the city. We started to establish a relationship with each other and one day she said she had some money to spare and wanted to support one of my films. I was like, "If you're serious, I want to make a film about when we lived in Las Vegas." Then I asked her if I could play her in the film and she immediately said yes! She became my first executive producer.
So you always had yourself in mind to play the older sister?
Not at first. In the early days, I didn't know if I would play anyone—or even myself. As time went on, like a good 10 years, it made more sense to me to play my sister since I was a little older by then. My sister really fascinates me. If I had read a script with a character like her, I would've really wanted to get that role. I was able to create this part for myself that I never had a chance to play. I had a blast learning her and asking her questions and becoming more intimate with her.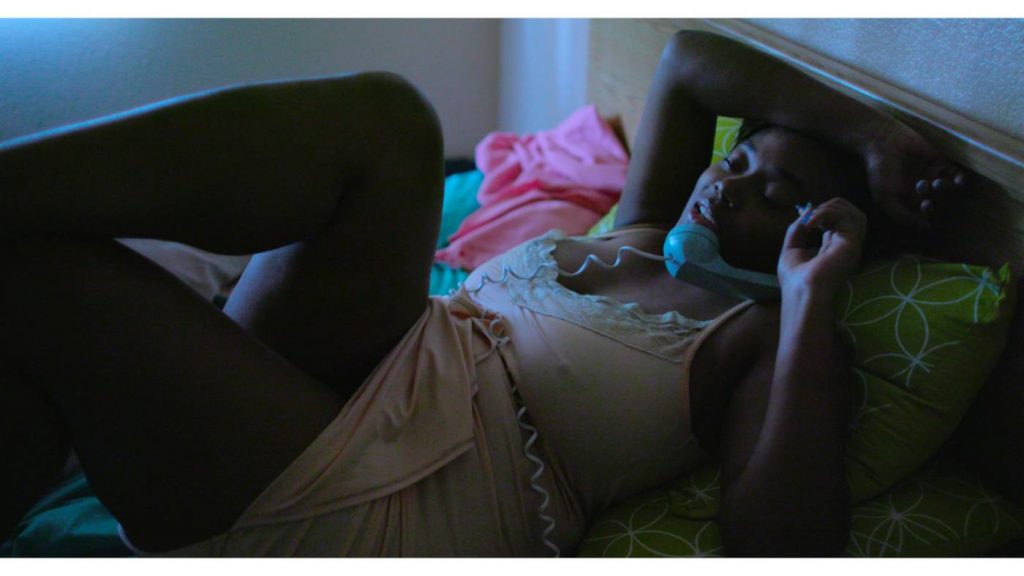 This movie has a very bold opening—with you on the phone with a client. Were you shy about shooting that scene?
I was only slightly shy about it but you just have to take a deep breath and jump in. I really did my best to lose myself in the character and the fantasy. I really trusted my team. When I watch it now, I squirm a lot, especially on the big screen.
Was sex work quickly normalized for you or did you have to teach yourself to destigmatize it?
It was very normalized. Las Vegas is a breeding ground in a way. There's a whole spectrum of what I would identify as "adult work." You could be a cocktail waitress wearing a G-string and pasties and that's not considered sex work, but it's very common in Las Vegas. If you're a girl or woman, you kind of know you have this commodity that's rooted in your womanhood and sexuality. It was normalized but I was definitely aware that not everyone felt that way, so when I moved to L.A., it wasn't something that I shared with people. I didn't want that to dissuade someone from working with me or being my friend or dating me.
Jezebel, a black woman, is very sexualized by the white male gaze, but you see her be exploited by the white man as well, at work and at home. Could you talk about those tensions in this film?
There was a tremendous amount of tension because I came into the household when my sister and her boyfriend already had their routine set up. We just didn't get along very well and I didn't feel like there were a lot of issues between us as far as him desiring me, but that scene in the movie where he makes a comment about her feet—that really happened. I thought that was his twisted way of invading my space. I didn't feel like I was safe in that moment.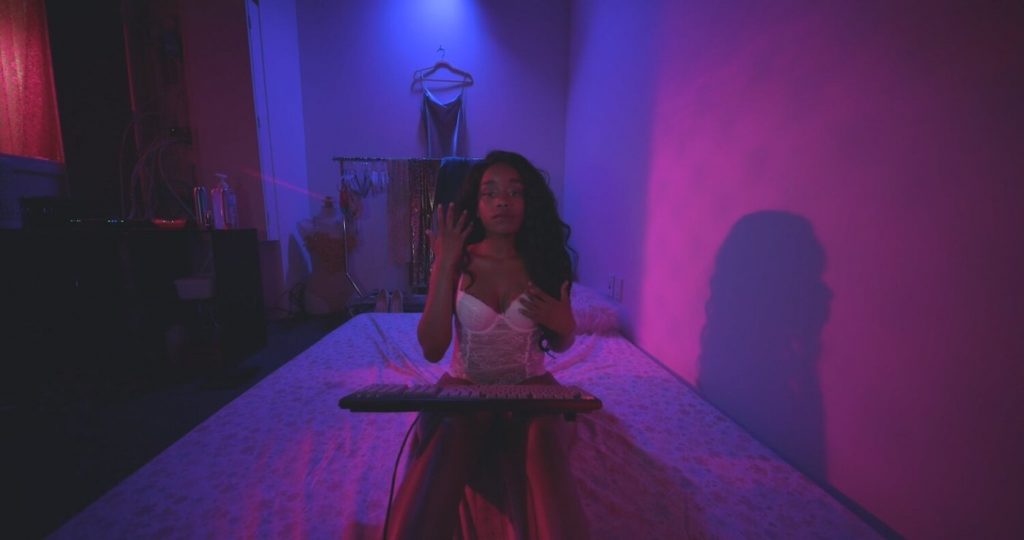 Jezebel is the token black girl among the cam girls. Is that accurate to your own experience?
Yeah, I was the only black girl there. That was a benefit to me in one way if someone was looking for that, but for other people, they don't want to see anyone who's black. They take out their hatred and racism on you. I became a vehicle for that, but also a spokesperson. It's like any job, really, when you're the only black person in a very white space. Everyone directs all those questions towards you. It's hilarious and agitating and reflective of all the biases around you. If you add on top of that, this layer of anonymity, they become extra brazen in projecting those things.
What would you say is quintessentially '90s about how you depict cam girl work in your film?
You were just typing to each other in a very basic chatroom. We had to search for those late '90s computers and keyboards. In a way, there was a very blue-collar structure to it. You were part of a system in the early days due to a lack of access to equipment.
Could you talk about choosing newcomer Tiffany Tenille to play you and what kind of direction you gave her?
It took some scraping to find her. I came across a short film Tiffany was in and she plays a character where she has very few lines but her presence was very striking, and so was her emotional range even without speaking. That was important because in the chat scenes, you're not hearing her talk. When I met her, I found out she had been following my work as well. The main guidance I gave her was to relax and not try to play too young or innocent. She innately has those qualities. The other thing she integrated really well was to keep a sense of play and discovery throughout. It's not a story of a victim, it's a story of a woman who's going through a rough patch, who's grieving, who's uncertain about her future. And she's curious about what this world is and enjoys enacting these fantasies.
This movie reminded me of Spike Lee's Girl 6, Tangerine, Cam…what are some of your favorite movies about sex work?
Girl 6 is one of my favorites and I had the opportunity to tell Spike Lee so. He actually was my mentor and cheerleader in the making of Jezebel. When I was making my film, he would reach out to me every day. He'd be like, "Did you make your day?" And if I didn't, he'd give me tips on how to catch up the next day. He'd congratulate me. I wouldn't call Girl 6 a direct influence style-wise, but I love that film. Stylistically, Secretary is more of an influence.
Could you talk about your production company, House of Numa, and what's in store next?
House of Numa is like a house where you're welcomed. In the film space what's coming out next is another personal project about my adoption called Blood Mother. It's a thriller about a woman who travels to Haiti to meet her blood mother for the first time. This is based on real experiences, so it's kind of a component piece to Jezebel.
Featured image: Tiffany Tenille in 'Jezebel.' Courtesy Array.