"Arnold" DP Logan Schneider on Shooting Schwarzenegger
What more can be said about Arnold Schwarzenegger that hasn't already been said? Plenty, as it turns out. Arnold, the three-part documentary (streaming now on Netflix), includes loads of archival footage, plus interviews with famous collaborators like Jamie Lee Curtis and James Cameron, but the core story comes directly from the world-famous bodybuilder-turned-movie star-turned-California governor. Filming intermittently over two years mainly at Schwarzenegger's Brentwood home, director Lesley Chilcott and cinematographer Logan Schneider also visited the Austrian village where Schwarzenegger grew up. "The house had no electricity or plumbing, but it was across the street from a castle and surrounded by this beautiful forest," says Schneider. "Until we did these interviews, I had no idea of the breadth of Arnold's journey."
Schneider studied film at Montana State University, made his mark as a DP with the Drunk History comedy series, then shifted focus to shoot documentaries about big personalities, including Chicago chef Charlie Trotter and rapper Tupac Shakur. Speaking from his Bozeman home, Schneider revisited his Arnold experience, including the tools he used to conjure Schwarzenegger's childhood and to capture the larger-than-life icon.
What were you and director Lesley Chilcott aiming for in making this documentary about one of the most famous people in the world?
We didn't want to do a hagiography where you're just golf-clapping him all the way.  We wanted this to be warts and all. Arnold was not a producer on the project, and I give him credit for letting Leslie tell a story that didn't shy away from hard things.
The archival footage is informative, but the heart of the story comes from Schwarzenegger himself, who's basically sitting in a room talking about his life. How did you structure the interviews?
We were originally scheduled for four or five days, but we wound up doing 10 or 12 interviews over about two years. He's a busy guy, and at one point, he went to Toronto for five months to film FUBAR.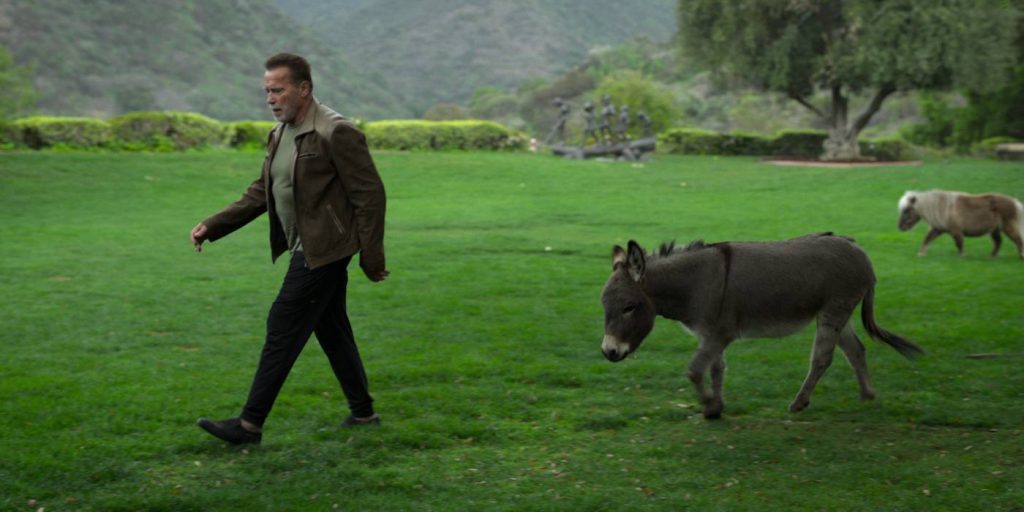 Yet it looks and feels like the session could have happened in one afternoon. How did you create that sense of continuity?
We tested the lighting on our first visit and made very precise diagrams for two setups, one in his office and one in the gym. We had as much crew continuity as possible to recreate the same lighting because we needed to match [previous sessions] side by side so that you'd never know. In making a documentary, unlike a narrative feature, how do you create something cohesive when you can't control the pieces? When you don't have a script, a production design, or a character arc? How do you build the rules, the guard rails to make it feel like one movie? To give this documentary a cinematic feeling, I used the same gear I would use on a feature narrative.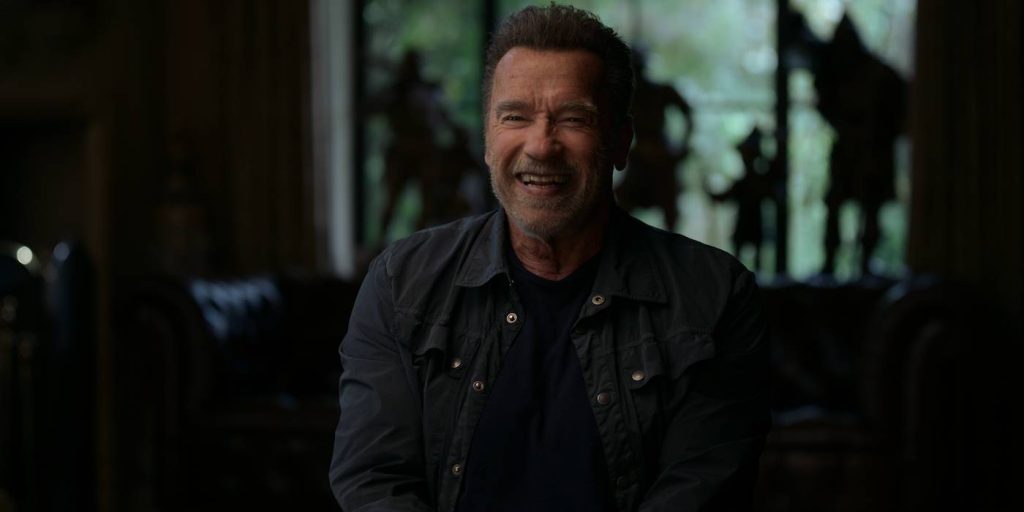 During the visit to Austria, when Schwarzenegger's sitting on the little bed of his childhood bedroom, you shot some very evocative exteriors and dramatic re-creations. What were your references?
When Arnold's talking about his childhood, we wanted to create the feeling of memories, so we built these LUT [Look Up Tables] based on movies from that era. One of our looks was based on [1956 Oscar-winning short film] The Red Balloon; another was based on The Sound of Music. And then, for the second episode, we created what we called the True Lies LUT, which was higher contrast and punchy [in the spirit of] eighties-nineties, big-budget action extravaganzas.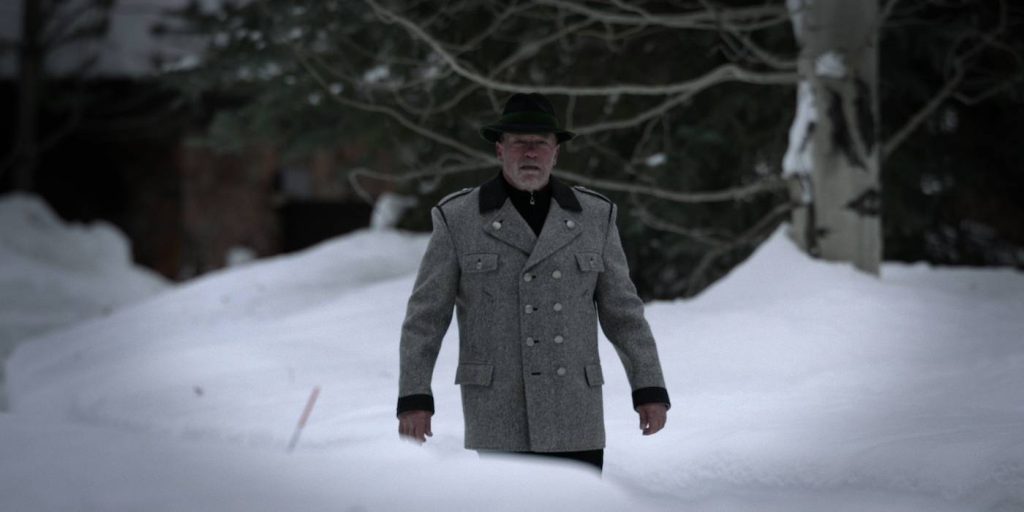 In Austria, your footage of the forest near Schwarzenegger's home has an almost fairytale quality.
That's actually inspired by Sofia Coppola's film The Beguiled. [French cinematographer] Philippe Le Sourd didn't expose for inside the forest; he exposed for only the sun creeping in. Based on that idea, we fogged up the forest at four a.m. and on this gorgeous morning, we were able to create a magical memory version of that dark forest.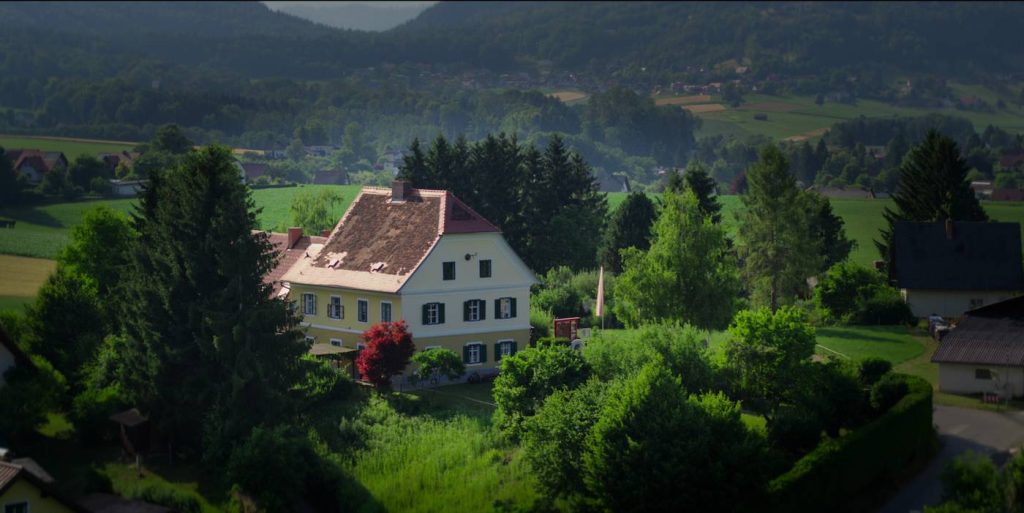 It's no secret that Schwarzenegger's father was a Nazi, but here, he describes how Austria's post-war "broken man" syndrome affected family life and this very strict upbringing.
It was fascinating to hear Arnold talk about the damage emotionally on people [experiencing] the shame of losing and being on this [wrong] side of the war.
His family lived on the second floor of the house?
His dad was the country policeman, so he got the second floor; the first floor went to to the forest ranger. All the beds and tables and everything had been put up in the attic, and everybody forgot about it until they made this house a museum.
In Episode 3 of the film, Schwarzenegger addresses a dark chapter of his personal life by talking about the affair with his family's housekeeper and the child he fathered with her. Was that tough to film?
None of us knew how that was going to go, but Leslie had built up enough trust to go into those harder places. I thought Arnold handled it quite well. He didn't try to re-direct – the classic politician [response] to answer the question you wished you were asked. That didn't happen. Schwarzenegger's 75 years old, and I think he wanted this to be a definitive life story. He wanted to put it out there rather than have people say, "Well, they left this part out."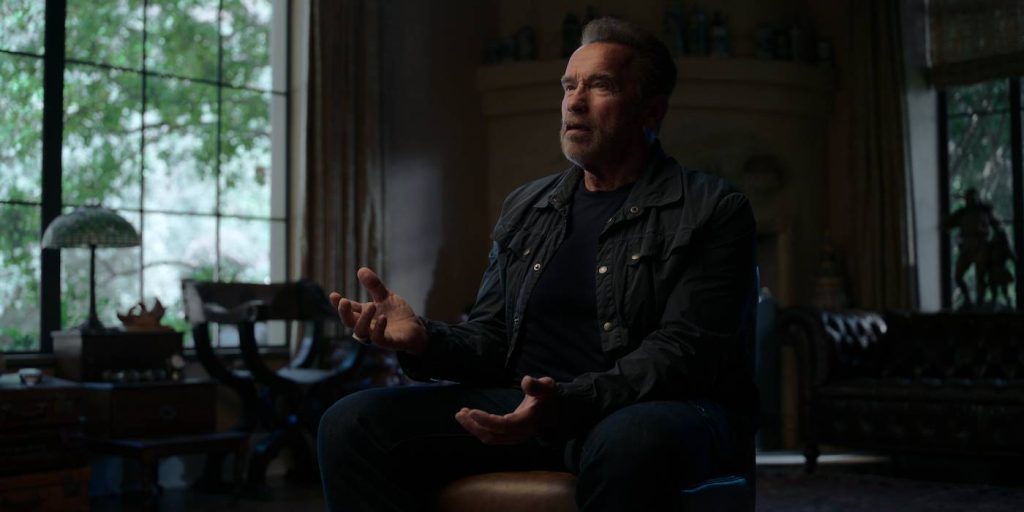 Even with all the talking heads, you lend this documentary a cinematic quality starting with the opening close-up of Arnold Schwarzenegger smoking a cigar in the hot tub. What kind of equipment did you work with?
I used the Mini ARRI, which is the same camera that Dune was shot on. We built the look around ARRI Signature prime lenses because they're so sharp and clean and high resolution in terms of colors and tonal hues. Bringing those tools into the documentary space is the price of entry for the high-end look.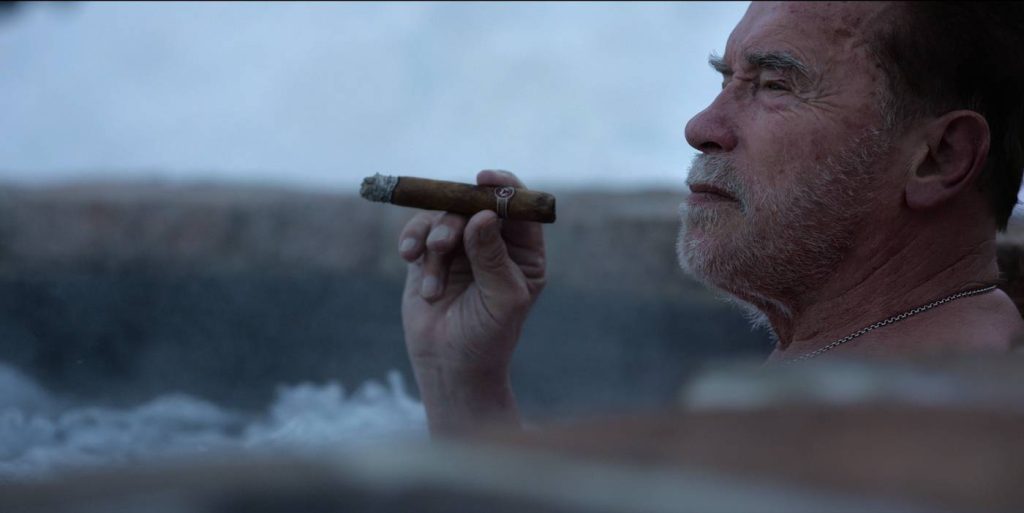 Circling back to the lighting, that seemed to help create this portraiture-like ambiance for the interior shots.
We had a very soft top light triple diffused so the light wrapped into the eyes and around his skin nicely. It's the kind of angled top light that you might see in The Sopranos or The Godfather, where you get this dramatic chiaroscuro that supports the emotional points of the story. Arnold's not vain, but he is a movie star, and he should look like a movie star, so we found a nice balance in the way the lighting brought out natural skin tone compared to what you'd normally get from LED lights.
Hanging out with Schwarzenegger between takes, do you have a favorite memory or two?
I got to ride in his tank, which is fun.
He has a tank?
Arnold has a tank he keeps in Santa Clarita. It's the same model tank he drove when he served in the Austrian army. He got permission from the Department of Defense to ship one over here, obviously, not functioning with a weapon. He likes to run over stuff. We couldn't lose that showman part of his personality which is baked into him at this point. He's still Arnold. It's not an act. During the lighting tests, we'd pulled out this couch, and the very first moment Arnold walked on set, he goes [imitating Schwarzenegger's accent], "The couch is no good for me. Couches make me slouch. slouching is a loser's position. I need a chair, so I am moving forward. I am always moving forward." He won over the whole crew in like eight seconds.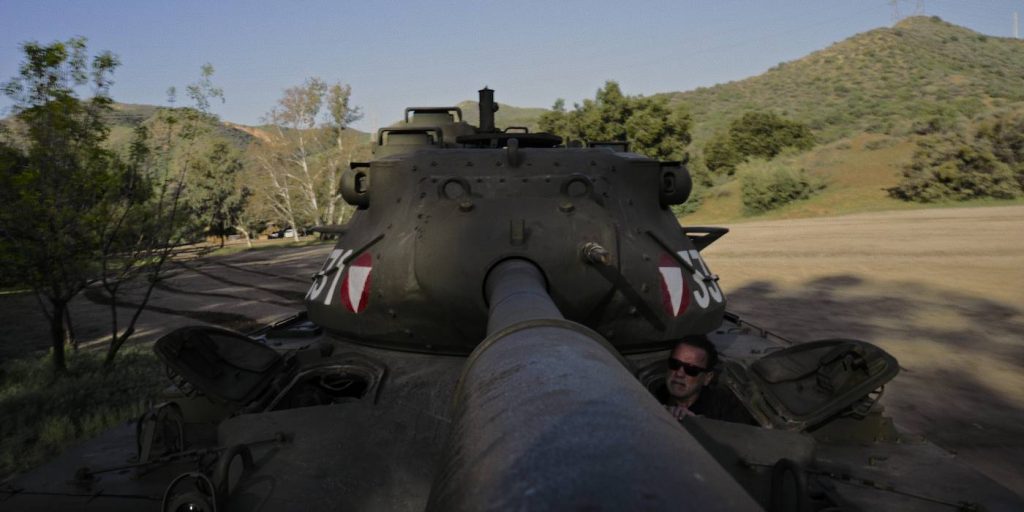 You do a pretty good Schwarzenegger impression.
Thank you. I've been working on it for years.
For more on big titles on Netflix, check these out:
"The Witcher" Season 3 Trailer Finds Geralt at the Center of a Storm
"Never Have I Ever" Star Maitreyi Ramakrishnan on the Final Season & Devi's Send Off
Zack Snyder's Sci-Fi Epic "Rebel Moon" Will Release as Two Movies & Have Director's Cut
Featured image: Arnold Schwarzenegger in "Arnold." Courtesy Netflix.