Provincetown International Film Festival Honors the Great Billy Porter
The irrepressible Billy Porter, actor, singer, and style maven, fit in perfectly with the quirky but sophisticated vibe of the Provincetown International Film Festival, which celebrated its 25th year June 14-18.
The Emmy, Tony, and Grammy award winner was this year's Excellence in Acting Honoree at PIFF. Audiences also got an early look at his latest film, director Bill Oliver's indie drama Our Son. Porter and Luke Evans portray husbands going through a divorce and fighting over the custody of their 8-year-old son.
To accept his award and engage in a conversation with author and film scholar B. Ruby Rich, Porter strode onto the stage at Town Hall wearing a long white linen tunic over black pants and adorned with chunky jewelry.
"I've always been a fashion person, always loved pushing the envelope," Porter told the crowd. "I observed in this business what worked and what didn't for people. Women get to play with looks and fashion and switch things up; men have to show up one way, or people question their masculinity which affects their paycheck. I took myself out of the masculinity game around 2005; it was not working for me. I thought, 'I'll never be masculine enough, so I'm going to the lane that is unoccupied and waiting until the world is ready.'"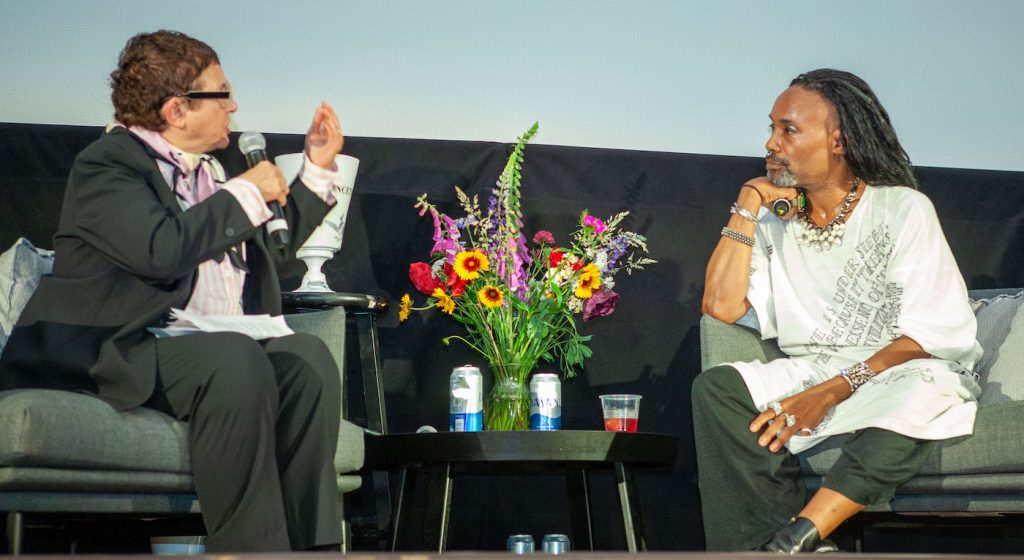 Porter first grabbed attention as a Tony Award winner for the Broadway musical Kinky Boots. But his popular culture breakthrough came with his performance as Pray Tell in the FX series Pose, which earned him an Emmy in 2019. Porter recently appeared alongside Camila Cabello in director Kay Cannon's Cinderella remake, playing the fairy Godmother. He's also featured in the year's hit comedy 80 For Brady.
Porter cited three disparate films that were major influences on him growing up in Pittsburgh: Spike Lee's School Daze; Steven Spielberg's The Color Purple; and Baz Luhrmann's Romeo + Juliet.
"I saw School Daze while I was in high school, and I'd never seen anything like it before. I was mesmerized. And it was a musical, low key but for real," said Porter. "The Color Purple is Out of Africa for Black people. It's epic even though it is trauma porn — Alice Walker, no shade — but what Spielberg was able to do was honor the history of the people. I love Baz Luhrmann! As a musical theater person, as a flamboyant person, he moves me with his unapologetic flamboyance. I trained [at Carnegie Mellon University] in the classics in the 1980s …. but what I love about Romeo + Juliet is it cracks open that classic text and puts it in a contemporary world so everyone on the planet could understand it."
Porter traced his origins as an entertainer, now an Oscar away from EGOT status, to singing as a five-year-old in the church. He acknowledged his immediate and extended family for putting him on a path to success in show business. "I am grateful for the angels in my life early on who swept in and showed me different perspectives. Often, for Black underprivileged kids, it's sports, but for me, it was the arts. They put me on the right road and taught me how to dream beyond my circumstance," he said.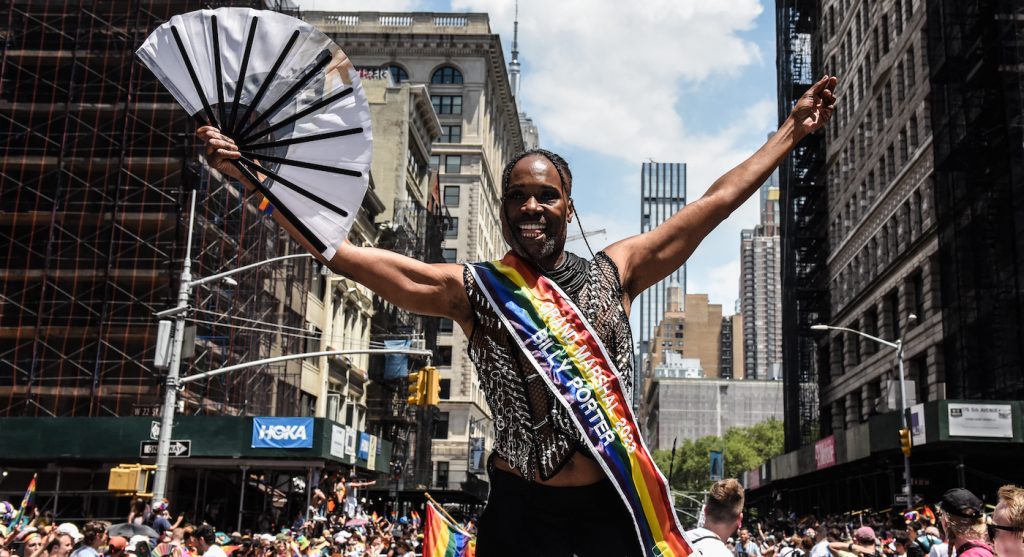 But, he added, "There was nothing that looked like me. By the time I got into Carnegie Mellon University for acting, they were putting stents on my wrists to make sure I would be perceived as masculine enough. It was 1987; they were trying to teach me to how to get work. The only [role models] were James Earl Jones, Denzel Washington, and Eddie Murphy — all straight and very often violently so. For the first 25 years of my career, I spent time trying to create space for something I'd never seen."
Porter discussed his much-buzzed-about new project, a biopic of the renowned writer and intellectual James Baldwin. Porter will star as Baldwin and co-write the film with Dan McCabe, based on the 1994 book James Baldwin: A Biography by David Leeming.
"I was pitching a Sammy Davis, Jr. project to Byron Allen [of Allen Media Group Motion Pictures], and he said, 'No. You have to do James Baldwin.' That's how it happened," said Porter. "I was [recently] at a party talking to a professor in Toronto, and he didn't know who James Baldwin was. That is unacceptable."
The cadence of Porter's speech and his measured but passionate response to Rich's question about his youth in the church indicated what he might bring to a portrait of the fierce orator Baldwin.
"I grew up in the Pentecostal church, a space that was as dangerous as it was inspiring," said Porter. "The fashion part, the love-your-neighbor part, there were so many things I got. But religion is man-made; spirituality is divine. God and the Bible have been weaponized … for the purpose of the power structure," he said. "I am a survivor of sexual abuse from age seven to 12, and you are preaching from the pulpit that I'm the problem? Don't get me wrong; this is not about bashing religion. It is about understanding how together we can hold the religious community responsible and build a different infrastructure spiritually."
Featured image: L to R John Waters, Bully Porter, Andrew Peterson, PIFF's programming director.