Director Kay Cannon on Bringing the Modern & the Funny to "Cinderella"
With her hilarious and critically acclaimed feature-directing debut Blockers, Kay Cannon expanded her renown beyond being the writer of the Pitch Perfect blockbuster franchise and writer/producer on hit shows like 30 Rock, New Girl, and Girl Boss. Cinderella, which premiered in theaters and on Prime Video this past September 3rd, is her sophomore release as director and looks like another crowd-pleasing hit. A musical that's a decidedly modernized take on the classic fairy tale, stars include Camila Cabello in the title role, Broadway superstar Idina Menzel as her stepmother, and newcomer Nicholas Galitzine as Prince Robert. It also features Billy Porter as the non-binary and magical Fab G, bringing signature flair and fabulosity in facilitating Cinderella's presence at the ball.
The Credits spoke to Kay Cannon about the production, how jokes and songs can be uplifting during a pandemic, and why an inclusive, gender-balanced cast and crew is so important to her.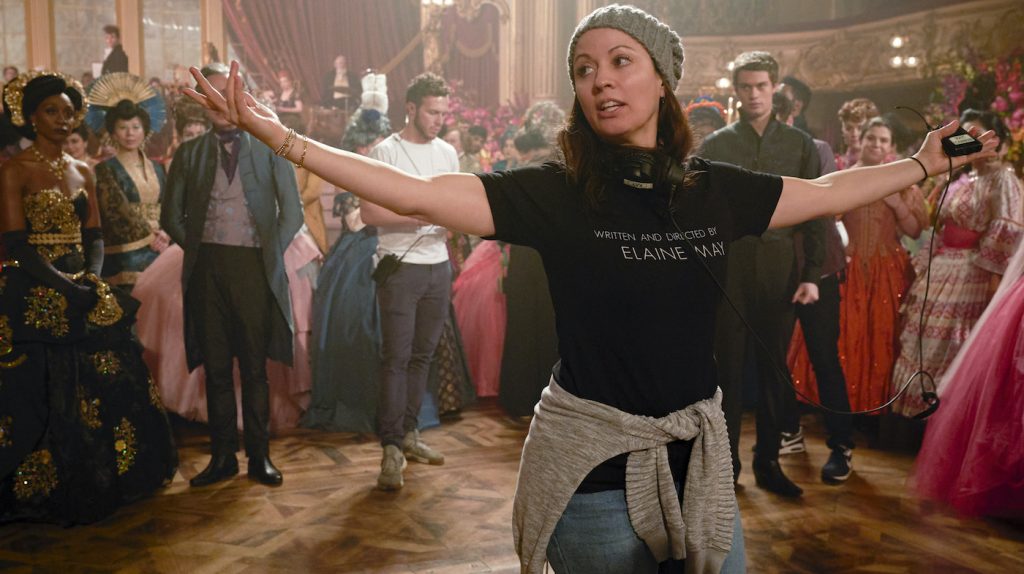 What is your own personal connection with Cinderella, and in what way did you use your own experience to craft this very contemporary version of the tale?
Well, I was not a fairy tale, princess-y kind of little girl. With Cinderella, in particular, there was just something about it, where she is waiting to be saved like she has no power. I was more of an E.T. kind of person. When James Corden approached me about writing the Cinderella story, and when he mentioned using contemporary songs, I thought, "Oh, that's interesting. I like that. It modernizes it, so I could retell or rewrite this story how I had always wanted it to feel, and make her more active, independent. She can have a dream and go after it, and save herself, and choose herself."
During filming, you had 'fun runs,' where the actors got to play and make any choice they wanted. How did fun runs make a difference in the production? 
What a fun run does, is it builds trust between the actors and me. For Camila, this was her first time acting, and she's in this big movie playing Cinderella. That's quite a first role. There was also Nick, having to sing outside of his comfort zone. Idina is a massive success, but in Frozen, she was animated. Here it's her, raw and vulnerable, and she's singing the song 'Dream Girl,' that shows her in a way she hasn't been seen before, that feels really empowering to her. I go, "I have it. I'm not going to move on until I have it. So now you know I have it, and now you can have a good time." It just made their shoulders go down, made them relax, and made them know they were doing the job I was asking them to do, and that we were getting it. I'm an improviser at heart, so it's less about them changing the words, and more about them feeling relaxed in their own skin, saying what was on the page.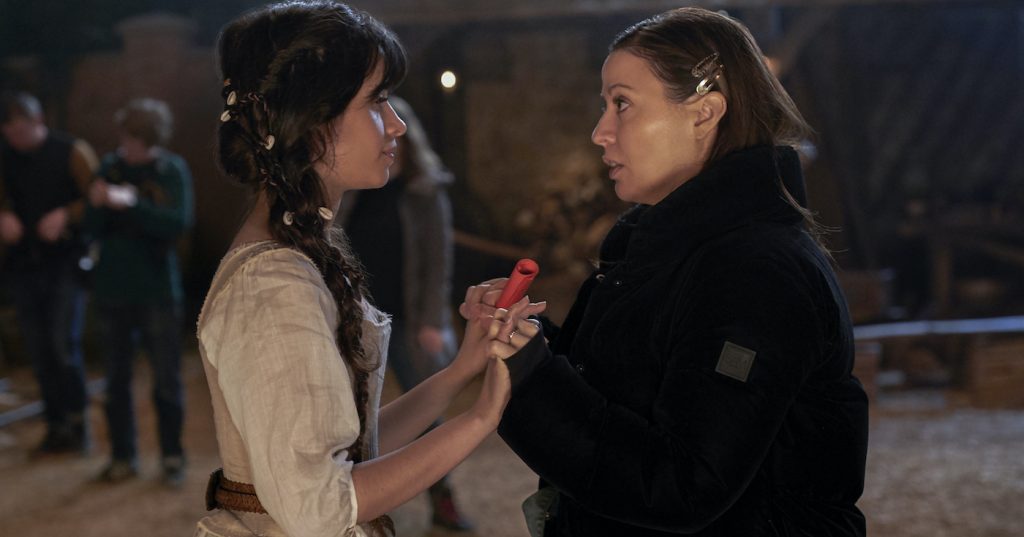 The ballroom scene is the culmination of all the visual choices in Cinderella—the huge beautiful space, the lighting and camera angles, the costume design, and choreography all have that joy, extravagance, and bright color. Can you talk about how that came together? 
The Kingdom, this kingdom that I've never named, is traditional in nature, but I wanted the ball to be more global. As Prince Robert says, 'There are people from all over the world who aren't as traditional in their thinking as those in The Kingdom.' I really used the Met Gala as my inspiration. I wanted it to feel like the Met Gala, with people from all over, with the designs of their dresses feeling really extravagant and beautiful. The ball was the combination of, like when Gwen stands up and she's wearing the dress that Cinderella designed, it's taking both the career ambitions and the romance, and in that one moment, combining them. I just really wanted it to be beautiful and romantic. But also, it's romantic in that his gesture, his ultimate act of romance to her, had to do with him believing in her, and giving her a platform for her career.
There are elements in Cinderella that are unexpected and delightfully specific to female representation. For example, Camila is Cuban-American, and the town crier has an all-female brass band. It also looks like you have a gender-balanced crew, including having a female composer, which is particularly rare. Why is female representation important to you as a director? 
It's everything to me. I'm the one making those decisions. When Ashley Wallen, our choreographer, asked, "What dancers do you want?", he gave me hundreds of dancers to choose from, and I was very specific. We have to have equal amounts of every race that we can find. I remember going back to them and asking, "Are there any dancers who were Middle Eastern? Go find someone Middle Eastern." It takes that. My editor, Stacey Schroeder, is incredible. She did Girlboss with me. That's where we met, then she edited Blockers. Sometimes they'll want to throw other people in front of you who are amazing, but Stacey is my person. I have to have her. You have to really consciously make that choice of having a more diverse, balanced production. You have to say, "This is what's important to me." And even in my writing, saying I want Princess Gwen, I want to create a character who, to me, is like a young Elizabeth Warren, or Hillary Clinton, someone who has the finger on the pulse of change and is a great leader but isn't getting a shot simply because of her gender. And then I don't know if you know this, but Jenet Le Lacheur, who plays Count Wilbur, is transgender. She just auditioned and I thought she was the best person for the part, but she is playing a man. That's important to me too, you know, and it was important to her, as well. And then we made sure that her stand-in and stunt person was also a female, playing this male character. It's making those little decisions that you might not think are that big of a deal, but they all add up. It's something I'm really passionate about, and I hope that someday we'll be beyond this, and we're not having the same conversation.
The whole film has a sort of effervescence, which requires a positive environment. That had to be difficult to maintain during a pandemic. What were some of the practical ways you fostered positivity on set? 
Well, all of us, cast and crew, because the crew had not worked for five months, everybody was crazy grateful to be working. The fact that we were doing song and dance also lifted everybody's spirits. So there was gratitude, and then fun song and dance. Before every first shot of every day, I would shout out, "Jokes and songs!", and then everybody would shout back at me, "Jokes and songs!" It was a reminder that we're getting to do this. It's just jokes and songs. People are fighting for their lives right now, and what we're making here is we're trying to bring happiness and joy to people. And so it was just fun and good, mixed with all this hard work. But the gratitude was no small thing.
Cinderella is in theaters nationwide and streaming on Prime Video now.
For more on Amazon Prime Video, check out these stories:
Final "Annette" Trailer Sheds Fresh Light on Cannes Crowd Pleaser
Amazon Reveals First Image From "The Lord of the Rings" Series
"Annette" Trailer Reveals Adam Driver & Marion Cotillard's Mysterious Musical
Final "Tomorrow War" Trailer Features Chris Pratt's Alien Foes
Featured image: Billy Porter and Camila Cabello star in CINDERELLA. Photo: Kerry Brown. © 2021 Amazon Content Services LLC