How "Kandahar" Location Manager Félix Rosell Mapped Out Gerard Butler's Afghan Escape
The road to filming Kandahar had to be built, literally. Directed by Ric Roman Waugh (Angel Has Fallen, Greenland), the espionage thriller stars Gerard Butler as CIA operative Tom Harris turned Afghanistan's Most Wanted after his operation is exposed by a whistleblower. Though the movie title references the Afghan city, it was Saudi Arabia that stood in for the picturesque landscapes seen in the film.
The production found footing in Al'Ula, located in the Medina province of the Middle East country, to film its striking desert sequences, many of which required supporting infrastructure to be built prior to shooting. "I can construct any road, anywhere now," says Félix Rosell, a Spain-based supervising location manager whose work includes Ridley Scott's Exodus: Gods and King, Denis Villeneuve's Blade Runner 2049, and the Emmy-winning Netflix series Black Mirror. It's in these arid vistas that Tom Harris, alongside his Afghan translator Mo (Navid Negahbhan), are hunted by outside forces, including a motorcycle-riding deadly assassin named Kahil (Ali Fazal).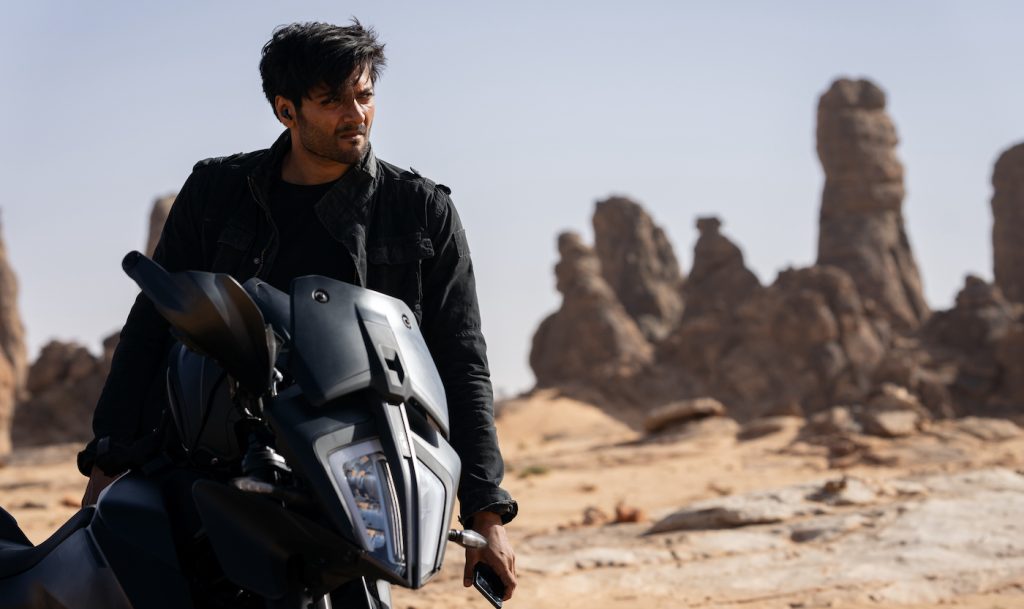 The screenplay comes from Mitchell LaFortune, a former defense officer who served in Afghanistan. In writing the story, LaFortune created the characters of Tom and Mo from people he met during deployment. "Mo is based on a real person: He was a translator that I worked extensively with in 2011 and 2013. He was a man I really wanted to write something great for — I thought that the sacrifices he made as an individual to keep us all safe was so inspirational," LaFortune says in the production notes.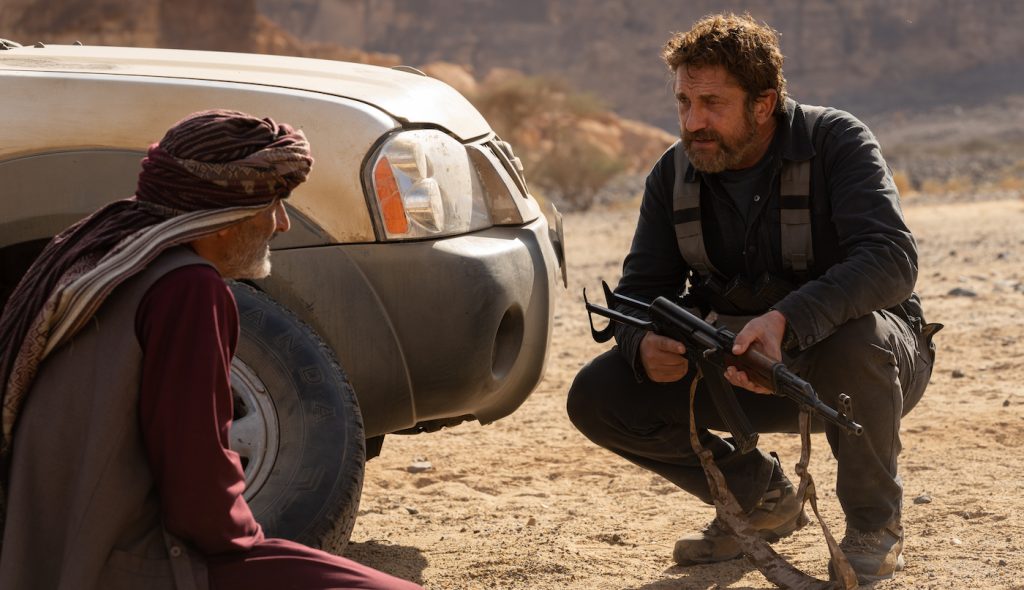 Rife with hair-raising action, it's the budding relationship between Tom and Mo that roots the harrowing narrative – one that layers humanity's deepest questions about a war-torn country. In mapping out their escape, Rosell was tasked with finding locations in and around Al'Ula to backdrop the Afghan setting. The Saudi Arabian city of Jeddah (approx. an eight-hour drive south) filled in for the livelier urban sequences.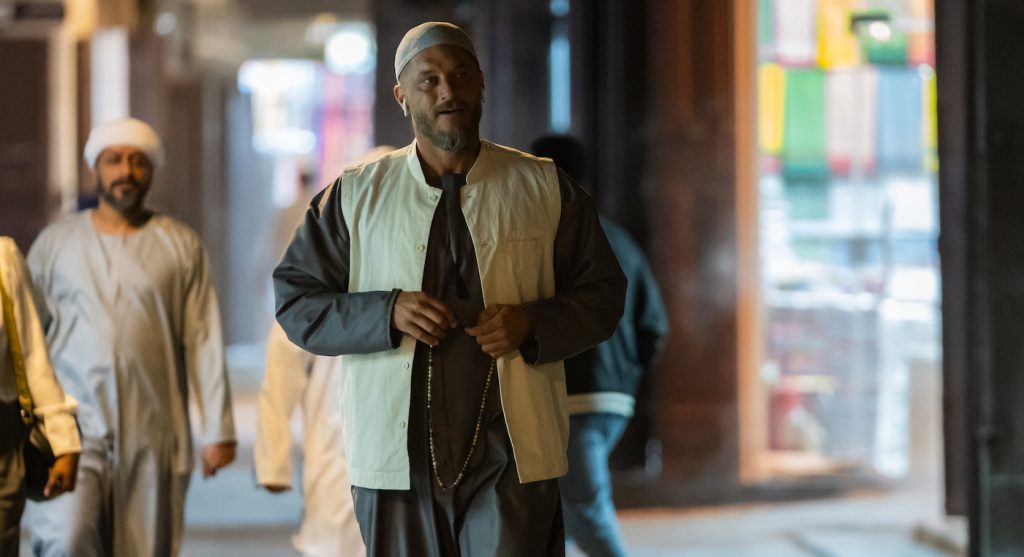 One hurdle for the production takes place inside a Tajik Militia Camp in the Farah province of Afghanistan. It's here Tom and Mo are imprisoned while heavily armed forces attack from the outside. Juxtaposing the adobe-style buildings and desert blue sky is a large area of lush crops that lead up to the barrier walls. Rosell found a nearby farm to stand in for the militia camp, which was reimagined by production designer Vincent Reynaud. "We had to create an irrigation system and plant the crops a few months before shooting just to make it green," he says. Because the scene has military forces ascending from all sides, roads were built not only for the vehicles in the sequence but for the production equipment filming the action.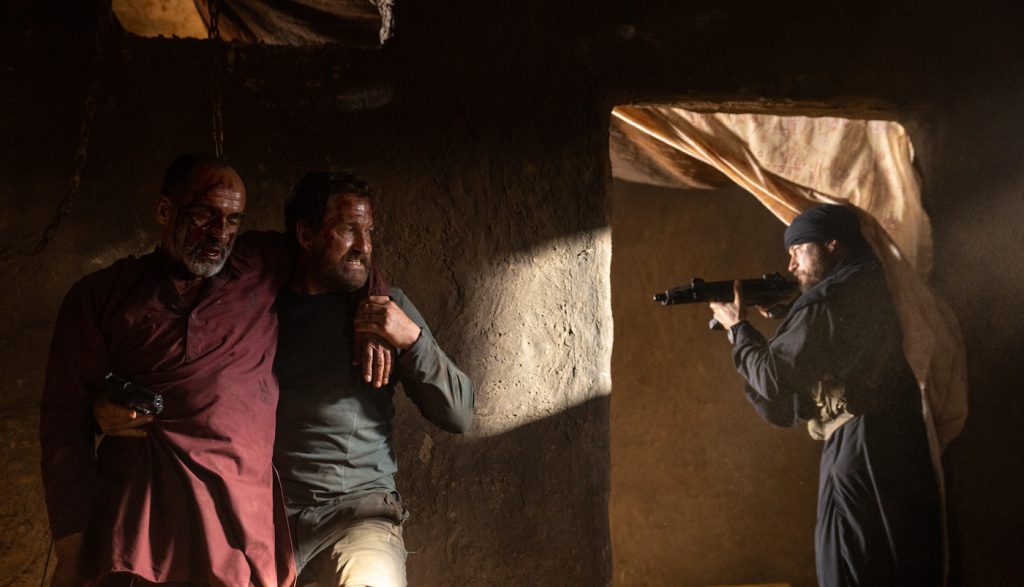 A key consideration to location scouting was logistics. "You cannot go too far away from the main cities because when you go in the middle of the desert, it can be a nightmare," says Rosell.  "The good thing for us is that Al'Ula has many different types of landscapes, and we were able to find everything within an hour from our base."
Another colossal sequence takes place adjacent to an active airport, a scene that has a number of explosions. Roads were created to the remote location, and the action choreography was meticulously planned. "The sequence was tricky because the fence that you can see in the scene belonged to the Al'Ula airport," says Rosell. "We had a few days that were quite tense because of the flights that were coming in and going out. We couldn't have anything exploding, and we had personnel inside the airport at all times to relay any emergency so we could stop."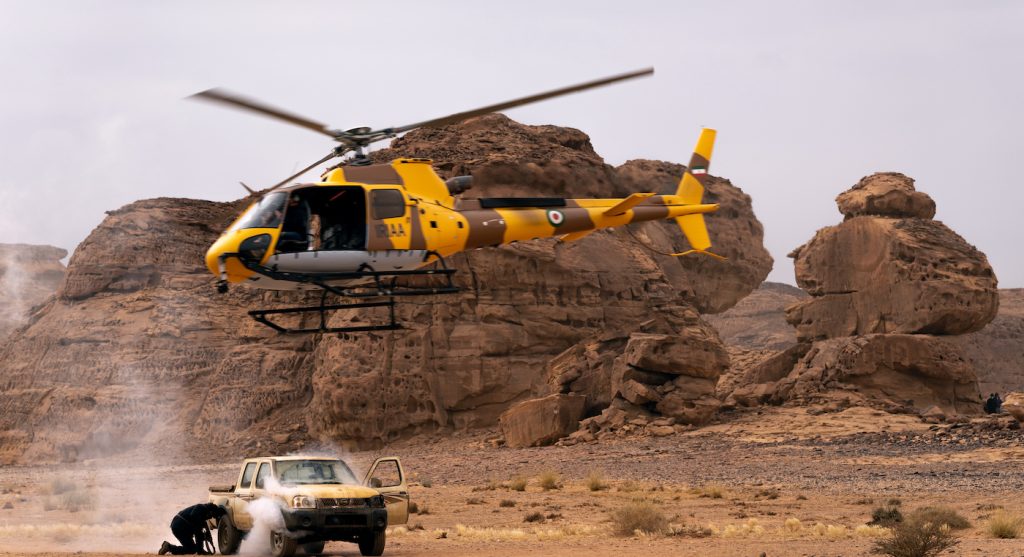 A similar moment of contention was a bustling escape sequence that was shot in Al'Ula's city center. "There's an explosion of a car in the middle of the town, so we had to talk to 250 shops and vendors doing business on those streets and made an agreement with them to make it work," says Rosell. "Having the support of all the shops and the people makes you proud to do all the work because it is such an important part of the film."
Rosell's guiding principle was to find locations that visually worked for the story, but at the same time, they had to be close in proximity. "We would have to do things the same day. One minute, we're shooting a scene of explosions, and then we would be shooting in secret houses. All of it had to be nearby but look like another place in another city," he says. The success of the production, Rosell says, started from the top. "Ric is a good director because he makes it clear what he wants. It makes it quite easy to work with him."
Featured image: Gerard Butler stars as Tom Harris in director Ric Roman Waugh's KANDAHAR, an Open Road Films / Briarcliff Entertainment release. Credit: Hopper Stone, SMPSP | Open Road Films / Briarcliff Entertainment