Get Spooked in New "Haunted Mansion" Behind-the-Scenes Set Visit
Director Justin Simien knows a thing or two about how to tease terror and delight out of a single story. In Haunted Mansion, the Bad Hair filmmaker teams up with another seasoned talent at combining chills with giggles, Ghostbusters screenwriter Kate Dipoold (she also wrote on Parks and Recreation and penned The Heat), to turn the iconic theme park ride into a proper feature. Now, in a new video released by Disney, the Haunted Mansion cast and crew reveal how they conjured their star-studded movie to life.
"I wanted everything to feel as if it came right off the ride," said Simien, as we see the intricate details of production designer Darren Gilford's set, which is picture perfect, from the busts to the wallpaper to the ghoulish candlesticks that look like little demons.
"You just felt like…this really feels haunted," says star LaKeith Stanfield, who plays Ben, a paranormal tour guide and one of the people hired by single mom Gabbie (Rosario Dawson) to help her exorcise her newly purchased mansion after she discovers that it's—wait for it—haunted.
"It's kind of amazing seeing the Haunted Mansion come to life," says Owen Wilson, who plays Kent, a priest, another one of the folks that Gabbie hopes can help her rid her new home of its spectral squatters.
"What we wanted to do is preserve the details that fans remember and expand the universe around them," Simien says. "The thing that makes the ride so cool is the mansion already has a history, and our characters are discovering it. For me, the secret to this movie was always going to be the ensemble."
Simien's gathered quite the cast to help him achieve his goal. Joining Stanfield, Dawson, and Wilson are Tiffany Haddish as Harriet, a psychic; Danny DeVito as Bruce, a historian; and Chase W. Dillon as Travis, Gabbie's son. The cast also boasts Dan Levy, Jamie Lee Curtis, Winona Ryder, and Jared Leto as The Hatbox Ghost. The gang all seemed to have a great time together. "It was fun to go to work every day," says Wilson.
Check out the video "Welcome Foolish Mortals" here. Haunted Mansion creeps into theaters on July 28.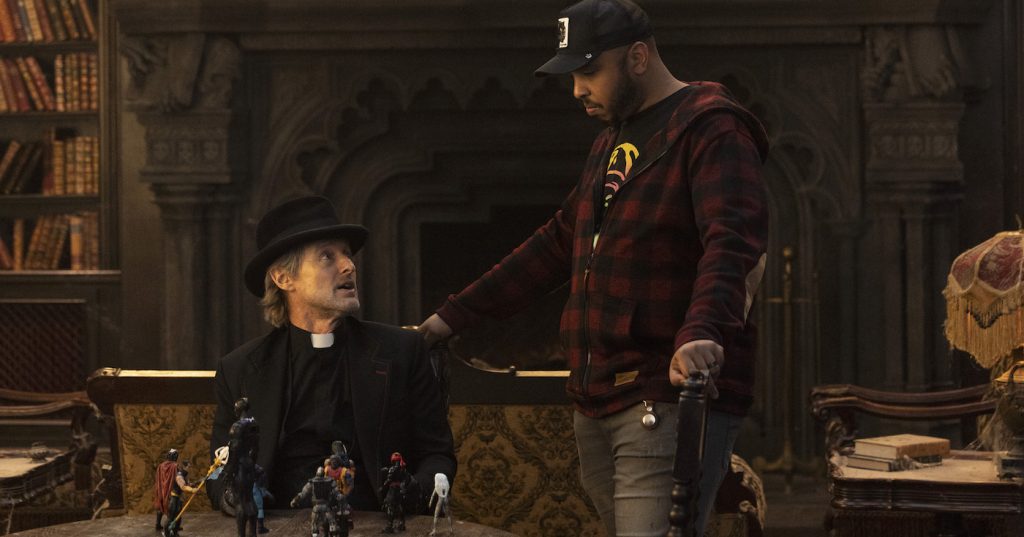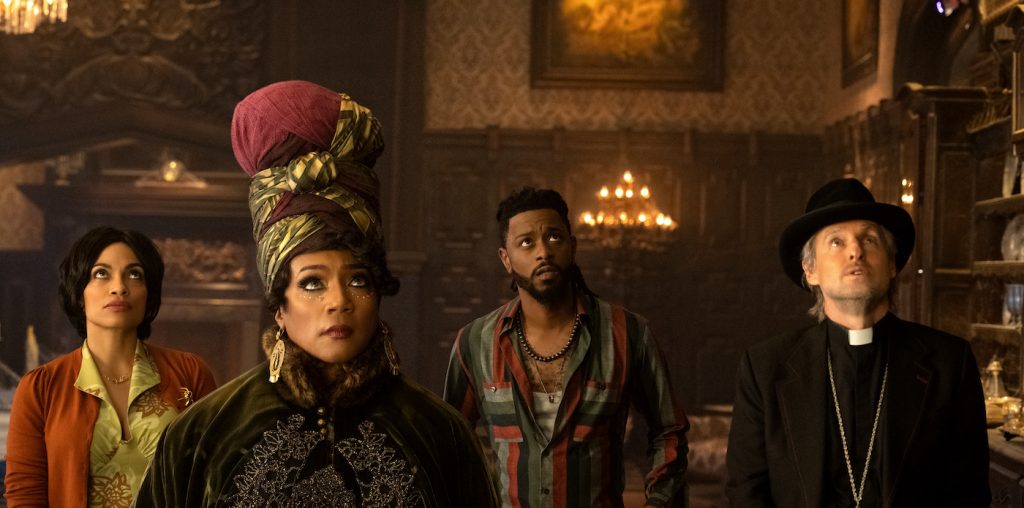 For more stories on Century Studios, Searchlight Pictures, Marvel Studios and what's streaming or coming to Disney+, check these out:
"Flamin' Hot" Screenwriter Linda Yvette Chávez Serves Up a Story Straight From the Heart
A New "Star Wars" Movie is Part of Disney's Upcoming, Reshuffled Film Slate
"Deadpool 3" Release Date Moved Up Six Months
"Flamin' Hot" Editor Kayla Emter Spices Up Eva Longoria's Tasty Biopic
Featured image: (L-R): Chase Dillon as Travis, Rosario Dawson as Gabbie, LaKeith Stanfield as Ben, Owen Wilson as Father Kent, and Tiffany Haddish as Harriet in Disney's HAUNTED MANSION. Photo by Jalen Marlowe. © 2023 Disney Enterprises, Inc. All Rights Reserved.