"Flamin' Hot" Screenwriter Linda Yvette Chávez Serves Up a Story Straight From the Heart
Linda Yvette Chávez tells the story of Flamin' Hot with faith, passion, and romance. The co-creator of the Netflix series Gentefied saw herself in the true story of Richard Montañez (Jesse Garcia), the Frito Lay janitor who dreamed of a snack that connected with his Mexican American community. With his great coach and partner in life, his wife Judy (Annie Gonzalez), Richard fulfilled his dream with Flamin' Hot Cheetos.
Chávez doesn't focus on a single person with a singular vision. With director Eva Longoria at the helm, Chávez crafted Flamin' Hot as a tale about how not just one man but a community can produce greatness. As the screenwriter explained to us during a recent interview, Richard's journey and burning desire to create something special resonated with her for creative, cultural, and familial reasons.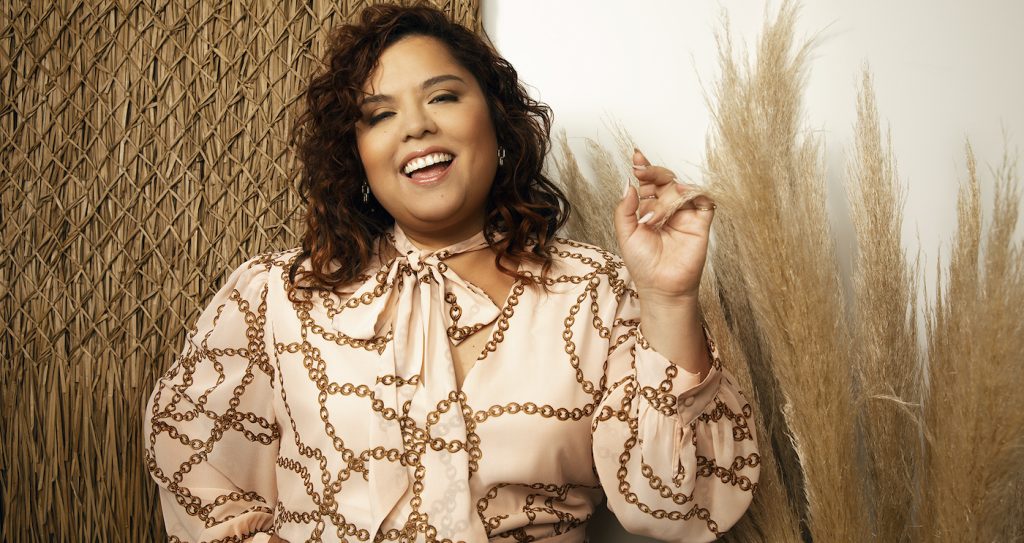 It's such a romantic story. Did you see this as much of Judy's story as Richard's?
A hundred percent. I met Judy and Richard together, and I got to hear how much she was involved in the whole process. In the movie, Richard says, "Everybody should get themselves a Judy," and he literally said that to me. He has this respect and gratitude towards her for being this person who was the one who always made him believe in himself.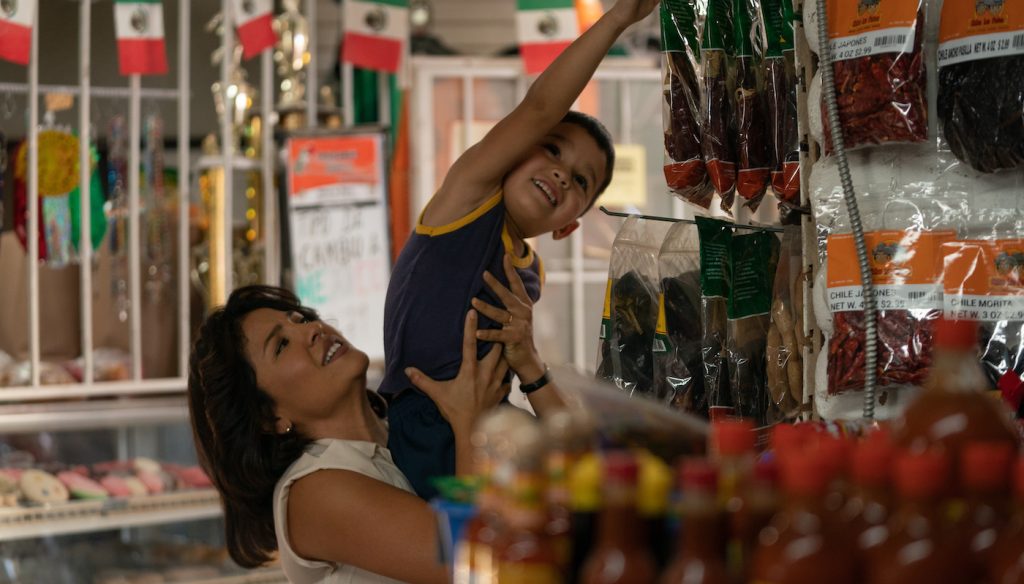 And what about when you spoke with Judy?
When I spoke to her, she would say, "Well, Richard did it. It was already in him. I would pray for him to see the gifts and talents that I knew he already had." For me, it was romantic to see that the two of them had created this life together. It wasn't just him. The fact that he was able to acknowledge that when I was speaking to him about it was so beautiful.  I'm a woman, I'm a Latina, and I know how hard we ride for our partners. I wanted Judy to have the light and the love and the spotlight that she deserved. For me, it was pulling out the heart between them and the struggle that they were in together throughout their lives.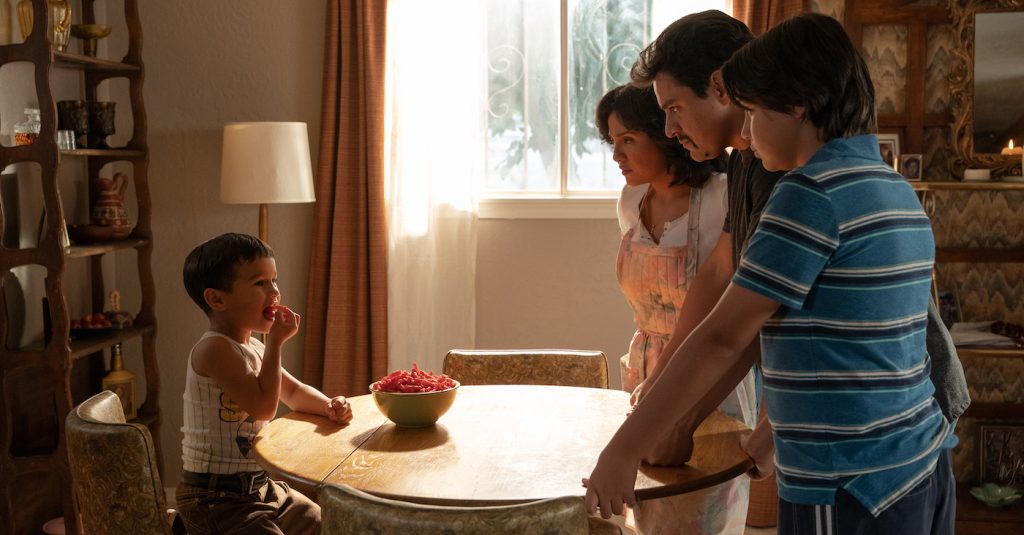 Speaking with them, how'd that help you capture their voices?
It's funny because I tell people Judy's really a Chola. She used to be a gangster, but when you talk to them now, they still have their street way of talking, but they're a little bit more elevated, a little bit more professional about how they speak. For me, half of the film is about who they were in the past, right? When we first were working with them, they didn't really want that past out for the world to see. They were like, focus on all the good things we did. Eva really wanted them to understand that the good only happened because they went through the bad.
In order to get that voice of that time period, it was a lot of conversations with them. You know, I'm like them. I have a similar background. I knew that that voice was in there and pulled it out of them as we had conversations. Being able to build that trust was a big part of the process for me. It was getting them to a place where they felt comfortable sharing things that they normally wouldn't be sharing.
As you said, you have a similar background. Obviously, the story is about fulfilling a vision. Personally and professionally, how'd you relate?
Eva says this as well, "Richard's story is my story." I grew up working class, dealing with gangs, and not sure of what the future would hold in terms of the community I came from. Talking to Richard was like talking to my cousins or my uncles or the people that I love. Also, Richard had to walk into rooms where he never thought he belonged. For me, when I was growing up, Hollywood was something that I would see from the back of my dad's truck minivan as we went through West Hollywood. He'd point to mansions and be like, "Someday, you'll live there." How, I don't know; I didn't know at the time that I could be a screenwriter. I just knew that there were these big dreams that we could maybe fulfill.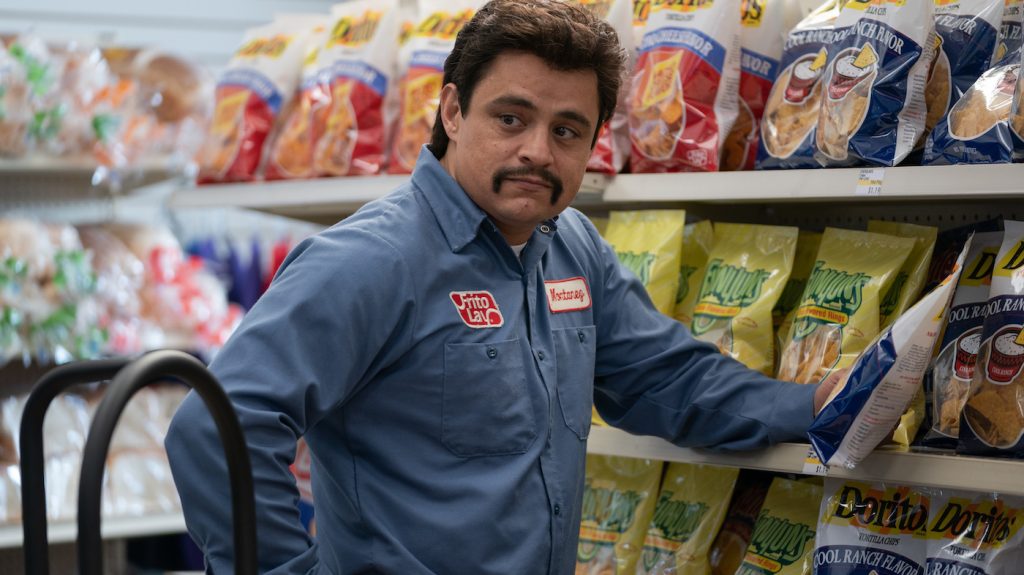 Were you writing as a kid?
I always wrote short stories, but once I started to build my career in the industry, I found that imposter syndrome is similar to how Richard deals with it. "Do I really belong here? Was that a dumb idea? Do I put this out into the world?" I went through that even with this script [Laughs]. We did one version, and then the pandemic hit, and I was going to do another version of it, which would be the one that would get us to the green light.
How was writing during the pandemic for you?
It was hard. It's hard to be creative when you're under high anxiety and think that you might die. I had to pull out this solid version of the story, and it was a spiritual experience for me to come through, sticking to my guns in terms of what this story needed to be and what I knew Eva's vision was for it.  Sending it off was terrifying because it's the version that I know from my heart where I come from, who I am, and how I know these people better than probably anybody knows them in the screenwriting world. What I've put down on the page is authentic and the story that I know is gonna resonate with audiences.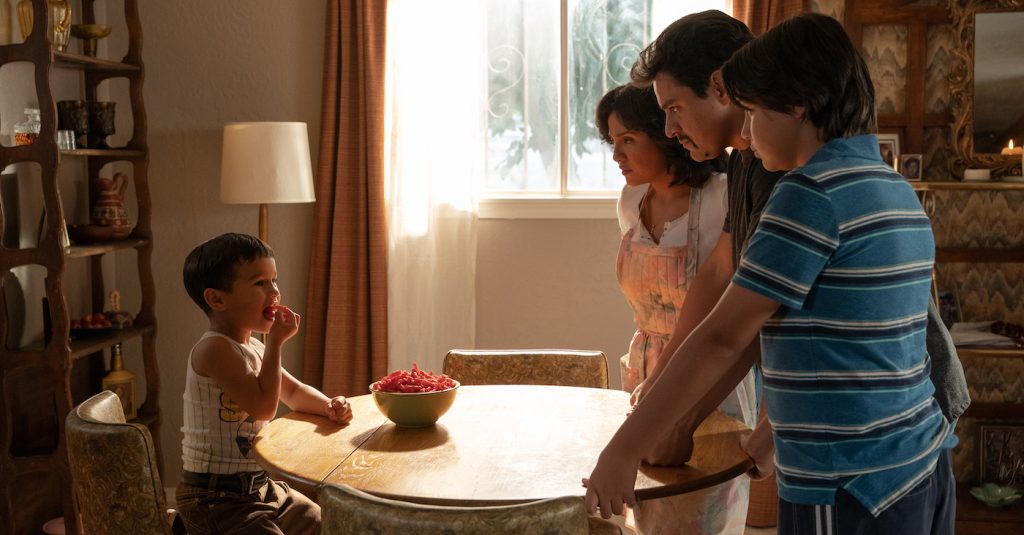 Was the reception to the script empowering?
It was such an empowering moment for me. I trusted what I knew the story needed to be in spite of so many voices coming at you. At a certain point, you have to go into your cave and shut the world out and say, "Let me put down the vision that I know that this story is," and that's what I did. Richard's story, his ability to rise to the top against all odds, that's my story. All the odds are against me to get to where I am, my career, and where I am in my life. Here I am, and I did it being authentically myself. I don't code-switch. I walk into pitch meetings, and I talk the way that Richard talks sometimes. When Richard says, "Sorry, I got a little hood at the end there," everyone who knows me says that's so me.
As you said, your childhood wasn't dissimilar to Richard's upbringing. You went on to study at Stanford, but would you say you learned just as much, if not more so, about writing from your upbringing?
Everything's valuable in a different way, but I was always the kid who was in the living room with my Tias. I was always with the adults. My mom and my grandmother, their storytelling abilities were next level. They spun stories that were dramatic and hilarious and frightening and like, oh my God, there's a ghost. I just had this natural curiosity and this strong love for my people. I'm in love with my people.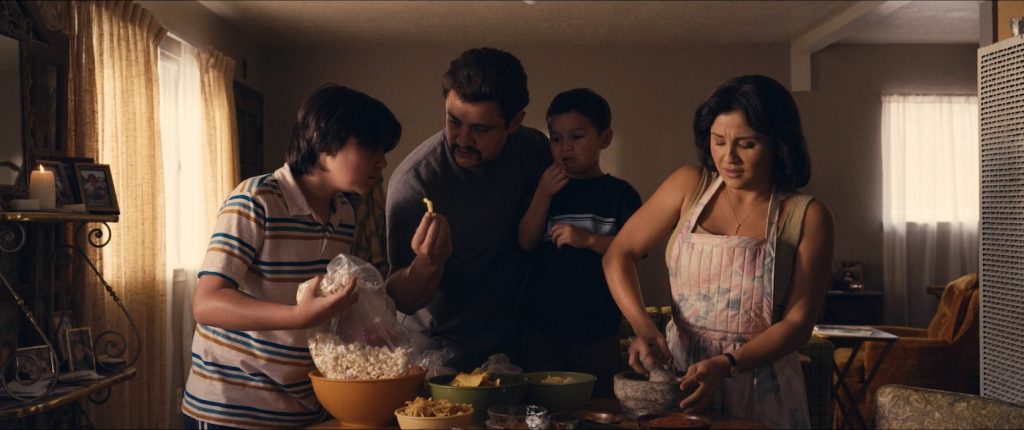 What were some valuable lessons at Stanford?
When I went to Stanford, I studied with Cherríe Moraga. The first course I did was Social Approaches Theater, and I got introduced to all these artists and writers who wrote from this place of activism, healing, and art being cathartic and healing for communities. I never knew art could do that until that point.
What'd you learn from Cherríe?
Cheríe was a huge influence. Cheríe is rebellious, like Chicana artists, and she was there during the Chicana rights movement. She was a lesbian queer Chicano who was out here killing it as a playwright. She taught me how to be authentic and connect with the stories that mean the world to me.
With Flamin' Hot, you tell a story about characters with faith, sometimes struggling with it, but you didn't write a religious movie.
Oh my god, a hundred percent.
Was that a fine line? Did you also find yourself asking a lot of religious questions? 
As a recovering Catholic, yes, I did, but I am a spiritual person, and I come from a family that's very spiritual. My spirituality is not a religious thing, but for Richard and Judy, their faith is important to them. With a film like this, you might wanna stray away from that cuz you don't want it to seem like a religious film or alienate people. The reality is faith is true for so many people in this world, and it was true for Richard and Judy. As a writer, to erase that from their story is to do a disservice to the story. I need to write them from a place of non-judgment.
What questions did you consider about faith in the process?
It wasn't only about faith in God; it was about Richard's faith in himself and Judy's faith in Richard. Can I believe in myself? Can I trust in myself and know that I'm gonna come out the other side?
And you made it through the other side.
I went through that dream. I understand the significance not only to the story but to storytellers who get to see someone who looks like me, someone who looks like Eva directing it. It doesn't happen often. I knew I had to kill this for that reason. I had to overcome whatever fear.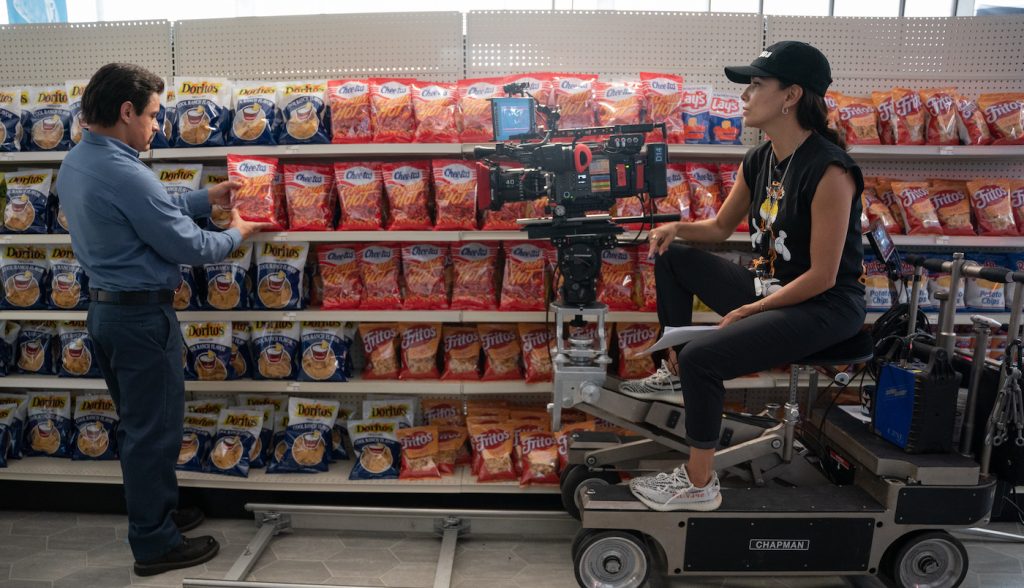 So, the power of faith worked in writing Flamin' Hot?
I believe we all have faith, whether it's in just ourselves, our own abilities, or high powers. We're all trying to find a reason to keep going, to keep fighting, to keep persevering, to keep believing in more. I think that's why this is a story that resonates with so many people.
Flamin' Hot is now available on Hulu and Disney+.
For more on Flamin' Hot, check out this story:
"Flamin' Hot" Editor Kayla Emter Spices Up Eva Longoria's Tasty Biopic
For more stories on Century Studios, Searchlight Pictures, Marvel Studios, and what's streaming or coming to Disney+, check these out:
A New "Star Wars" Movie is Part of Disney's Upcoming, Reshuffled Film Slate
"Deadpool 3" Release Date Moved Up Six Months
Featured image: Jesse Garcia, Annie Gonzalez, and Hunter Jones in FLAMIN' HOT. Photo by Emily Aragones. Courtesy of Searchlight Pictures. © 2023 20th Century Studios All Rights Reserved.