"Extraction 2" Director Sam Hargrave on Lighting Chris Hemsworth on Fire, That Helicopter Scene & More
Extraction 2 is one of the most relentlessly action-packed movies of the summer, with the excitement of an 80s action epic paired with explosive, cutting-edge stunts that rival the thrills of Mission: Impossible and John Wick. In the second installment of the smash hit Netflix franchise, Tyler Rake (Chris Hemsworth) is back from the brink of death and lets his emotions lead him into another dangerous covert operation. The movie's immersive style and never previously attempted stunts were led by director Sam Hargrave once again. Somehow, Hargrave upped his game from the first film.
In the first act alone, Hemsworth takes on a prison yard of attackers, catches fire, and keeps fighting. The actor was game to do the sequence as a practical effect rather than CGI. "I will take that as part of my legacy. The person who lit Chris Hemsworth on fire," Hargrave said. He added with a laugh, "The first person to light him on fire."
The eye-catching moment happens during a large-scale fight early in the film. Both the feat itself and the cinematic effect of the scene draw viewers in.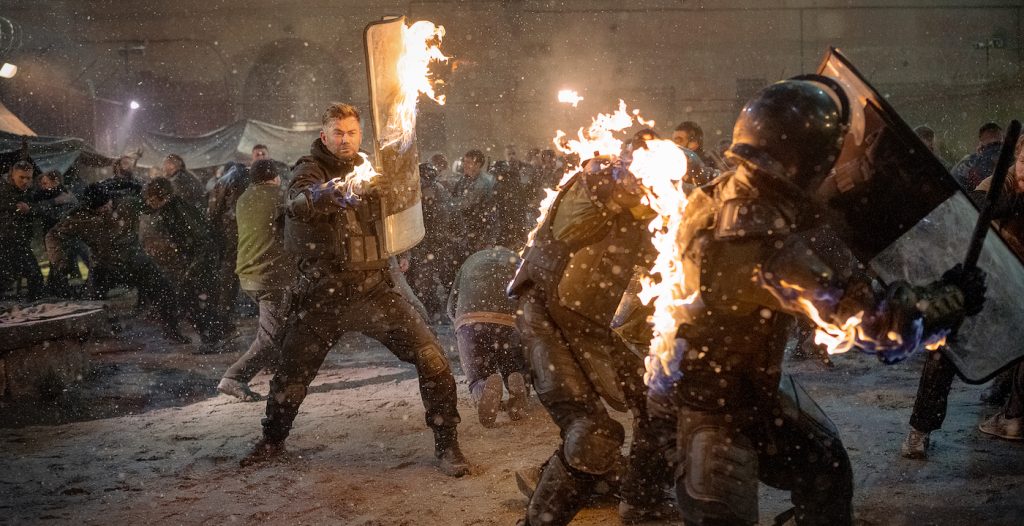 "I wanted to mix elements together on camera. It's snowing, it's nighttime, and then the contrast to that to get people excited, I thought, light him on fire," Hargrave said. "CGI fires wouldn't have the same reality. There are great companies that do some great work, and there are times that it would be really good, but for this, we needed it to be practical to work. Yeah, so—we lit him on fire. Now he can go down in the history of the action genre as an actor who lit himself on fire."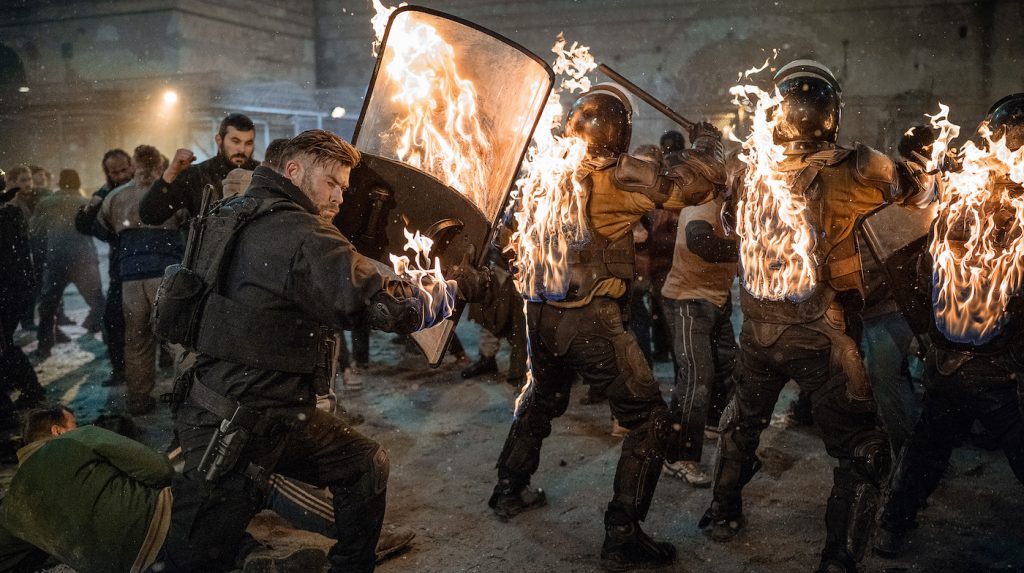 The camera plunges audiences into a hostile Georgian prison for a first-person view of Rake helping a young mother and her two children escape. The rescue attempts – or extractions – are a signature of the franchise. They're also more graphic in a hard R-rated style. As Tyler Rake fights his way through the prison to secure the safety of his two new charges, anyone who gets in his way is treated much the same way a mama bear treats someone who attempts to get between her and her cubs. 
The race to safety unfolds in a seemingly continuous shot, which makes for peak exhilaration. "We designed the oner to be experienced as one shot, to provide an intense, immersive experience for the audience. For logistical and technical reasons, we chose not to actually do the sequence in one shot but rather hide seamless edits at certain points to allow us to focus our energy and resources on the many challenging segments and then edit them together to appear like one continuous shot," Hargrave revealed.
The stakes escalate as the foot race gives way to a car chase. The camera swoops between vehicles for a thrilling and dangerous feel. The cuts are truly invisible, but they were necessary for logistics, Hargrave said. Shots are firing, cars are crashing, and actors are delivering dialogue. All that has to be seen and heard clearly.
"For the car chase portion specifically, we used a variety of different methods to achieve the dynamic shots I wanted," he explained. "We used handheld cameras on the front and back of a UTV, the operator – often me – strapped in for safety. We would pass cameras from one operator to another through the windows of cars. We used a tool we termed 'The Magic Scepter,' which was a small, RED Monstro camera on a stabilized head, attached to the end of a carbon fiber pole with a remote operator responsible for pan and tilt of the camera, giving us the hand-held feel that we wanted to maintain for the sequence. It was pretty awesome. It allowed us to get the camera into places a traditional camera car arm could not go, especially weaving in and out of the trees in the dense forest location."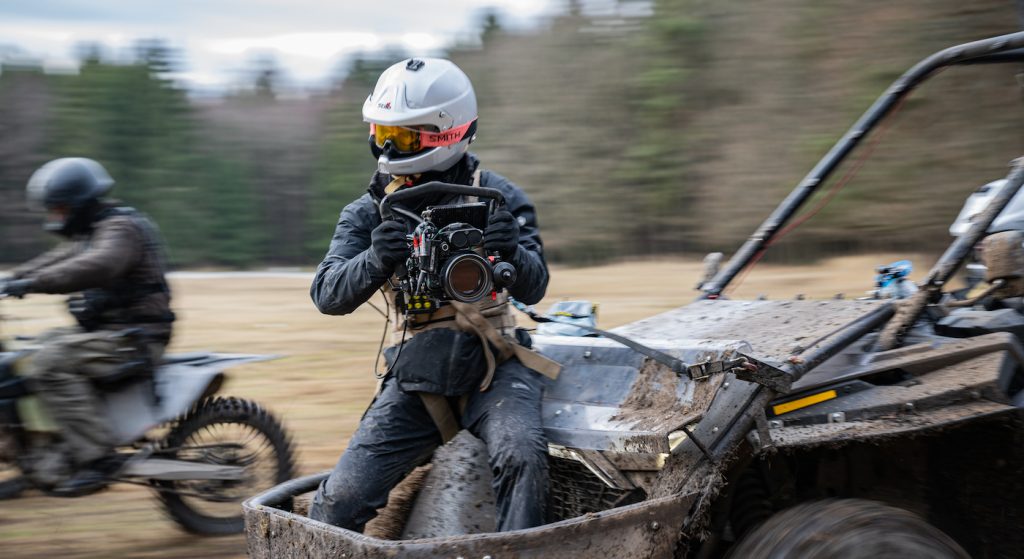 The most unbelievable and daring moment is so impressive that it doesn't even look physically possible. In fact, the stunt team wasn't sure that it was, but they were willing to try. Helicopter pilot Fred North, who Hargrave said is 'probably the best pilot in the world,' was eager to push the bounds of the craft with something new and unscripted.
"It was Fred's idea to land the chopper on the moving train," Hargrave credited. "In the script, the helicopter was meant to hover over the train and the bad guys 'fast rope' down onto the roof of the train. Still, a tricky thing to do. But when Fred came in to talk about that sequence, he pitched me the idea of landing the chopper on the train instead. I looked at him, eyes wide, and said, 'Can you do that?' He said, 'I don't know, but I'm pretty sure I can, and how awesome would that be?!' He was absolutely right. It was totally awesome!"
Hargrave had a front-row view of the once-in-a-lifetime event. "To capture that shot, I was operating the camera and had to walk right past the chopper as it landed on the train. I was 4 feet away from the body of the chopper as it landed. I could have reached out and hi-fived Fred as he landed, which I totally wanted to do. It was such an awesome shot. We saved the hi-fives for after we were safely back at base camp."
Impressing Hargrave with a novel stunt would be a challenge. Before making his feature film directorial debut with Extraction, he sharpened his action skills as an award-winning stuntman, stunt coordinator, second unit director, and actor. Avengers: Endgame, Avengers: Infinity War, and Atomic Blonde all appear on his lengthy resume.
"From a stunt perspective, there's a unique understanding of action," Hargrave said of ascending to the directors' chair. "Just being on a film crew, you have exposure. I think it takes 10,000 hours to become an expert. The more you do it, the more you're around it, the more you become an expert in that field."
The influence of action and stunts in cinema is profound. Hargrave noted that it even appears in our everyday lexicon. "We say 'cut to the chase.' Get to why we're here. Get to the part people came to see, which is the action. Stunts are vital to this art form."
Vital and historic. Action sequences pre-date talking pictures. Yet, the contributions that stunts make to film are often appreciated more at the box office than during award season.
"Action in movies has a long legacy that started way back before sound was recorded. People were doing action to entertain audiences," Hargrave explained. "Buster Keaton, Harold Lloyd, Douglas Fairbanks. It's really wild when you think about it, not to wax political, but the Oscar category. To have a facet of the filmmaking process — action or stunts — not be recognized when it's older than sound and also digital effects, which has a category. It's wild to have something so vital to the storytelling process and integral to cinema, and to have it not be recognized is quite interesting. The percentages of films in theaters or even on streaming services that have action in them, whether or not it's all-around action, that's what brings people to the film."
For all the incredible set pieces in Extraction 2, Tyler Rake is driven by his emotions. There are some tear-jerking moments between the punches and firefights. In the end, Hargrave just wanted to make a great movie.
"I think that action is really only as good as the connection you have to the characters," he said. "The more story and the more heart, you're learning something about the characters through the action. I really started when I was younger, I was interested in film as an art form, and even before I went to film school, I was making short little videos with my friends. It was that overall desire to create a story for people. It took a lot to get there and go through the stunt world, but that was always the goal."
Now in a professional capacity, Hargrave still credits his entire team for his successes. "Filmmaking is the most elaborate art form that I know of. You're working with so many people. It takes so many creative minds to make something like this viable."
Extraction 2 is now streaming on Netflix.
For more on big titles on Netflix, check these out:
"The Perfect Find" Director Numa Perrier on Creating Space For Romance With Gabrielle Union
"Extraction 2" Review Round-Up: Chris Hemsworth-led Action Film Punches Even Harder in Sequel
"Arnold" DP Logan Schneider on Shooting Schwarzenegger
Featured image: Extraction 2. Chris Hemsworth as Tyler Rake in Extraction 2. Cr. Jasin Boland/Netflix © 2023