Christopher Nolan's "Oppenheimer" IMAX Film Prints Are 11 Miles Long & Weigh 600 Pounds
Christopher Nolan is arguably IMAX's best living advertisement. While there are only 25 IMAX theaters in the United States, Nolan has repeatedly used large-format IMAX cameras on his films for years, committed, as he has said time and time again, to give audiences the most immersive experience possible. Now, with his upcoming historical epic Oppenheimer nearing its premiere date, we're learning a lot more about the lengths Nolan will go to capture his film on IMAX—about 11 miles long worth of film prints.
Nolan's upcoming deep dive into the story of J. Robert Oppenheimer (Cillian Murphy) will be rated R (his first R-rated film since 2002's Insomnia), as well as the longest film of his career, a little under three hours. The movie, which follows Murphy's Oppenheimer as he leads the United States' desperate rush to create the atomic bomb, created 11 miles of film stock that weighs in at around 600 pounds, as the AP reported. 
As Nolan recently explained in a new Oppenheimer video, "Oppenheimer's story is one of the biggest stories imaginable. Our film tries to take you into his experience, and IMAX, for me, is a portal into a level of immersion that you can't get from other formats." His longtime collaborator, cinematographer Hoyte Van Hoytema, explained how Oppenheimer uses the format not only for the major spectacles (like the Trinity Test, the first detonation of a nuclear weapon), but the quieter moments, too. "IMAX is a format of spectacle, it's made for vistas and the grandeur, but I got very curious to discover this as an intimate format," Hoytema said. "The face is like a landscape; there's a huge complexity and huge depth to it. How can we get this camera closer to people? How can we get this medium also as a very intimate medium."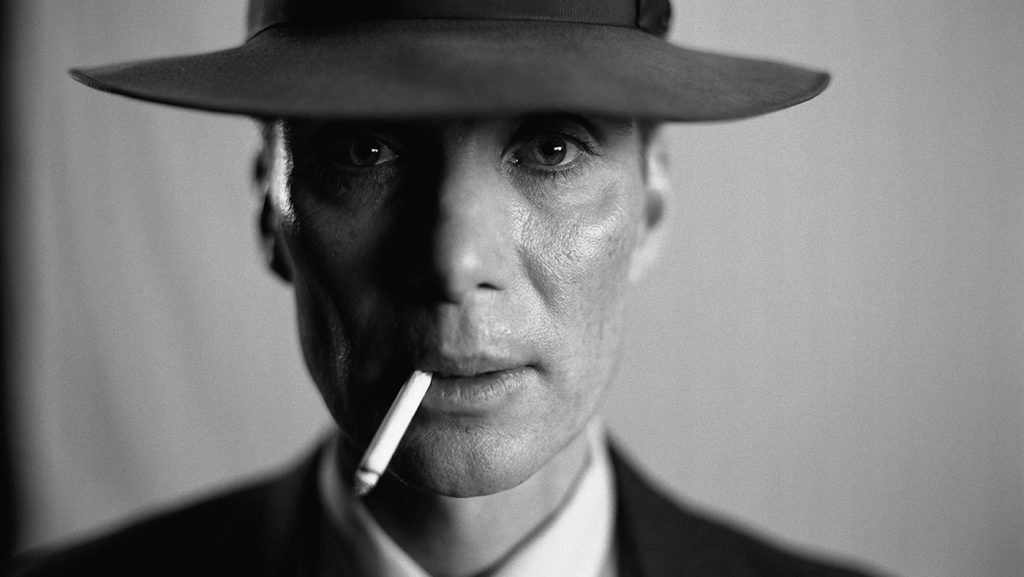 As for the big moment in the film—the Trinity Test—Nolan told the AP that it was essential to make sure its impact on viewers was never in question.
 "We knew that this had to be the showstopper," Nolan told the AP. "We're able to do things with picture now that before we were really only able to do with sound in terms of an oversize impact for the audience — an almost physical sense of response to the film."
And yet, for the Trinity Test, Nolan has already revealed the Oppenheimer team was able to simulate the explosion without using VFX. Practical movie magic, just the way Nolan likes it.
Oppenheimer opens in theaters, big and not quite as big, on July 21.
For more on Oppenheimer, check out these stories:
How Christopher Nolan Utilized IMAX Cameras for "Oppenheimer"
New "Oppenheimer" Trailer Reveals Explosive Footage in Christopher Nolan's Historical Thriller
Christopher Nolan Reveals Riveting "Oppenheimer" Footage at Universal's CinemaCon Presentation
First "Oppenheimer" Trailer Unveils Christoper Nolan's Atomic Bomb Drama
Featured image: Cillian Murphy as J. Robert Oppenheimer in OPPENHEIMER, written and directed by Christopher Nolan. Courtesy of Universal Pictures.