"The Magician's Elephant" Director Wendy Rogers on Her Charming Pixelated Pachyderm
Even in the time of Domee Shi, director of Pixar's Oscar-nominated feature Turning Red, women as sole directors of animated features are a rare thing. This is partly what makes it so refreshing to see Netflix's The Magician's Elephant is helmed by veteran VFX supervisor Wendy Rogers in her feature directorial debut. 
Adapted from Kate DiCamillo's award-winning novel and animated by Animal Logic, the story follows Peter (Noah Jupe), who inadvertently brings hope to his town through a quest to find his long-lost sister. A fortune teller (Natia Demetriou) tells Peter he must "follow the elephant," so when a magician (Benedict Wong) magically calls an elephant from the sky, Peter knows the noble beast is the key to a reunion with his sister. The king promises to give Peter the elephant if he can complete a series of impossible tasks. The whole town and all of Peter's found family root for him as he attempts to win the day and find his sibling.
There are 133 unique characters in The Magician's Elephant, as well as over 200 buildings designed to give fictional Baltese an aesthetic inspired by towns along the southern Spain/Portugal trade route. The Credits spoke to Wendy Rogers about this complex project, including the distinctive and angular character design and the realistic and evocative look created for the elephant of the title. 
You worked with producer Julia Pistor to bring Kate DiCamillo's award-winning book to the screen. Can you talk a bit about how you came to be involved? 
Absolutely. You know, I've been a visual effects supervisor in both live-action and animation for a long time, so I've worked very closely with some pretty amazing directors on a lot of animated projects, and I've wanted to direct for a long time. I had actually been attached to projects in development previously that didn't move forward. But I had met with Netflix through the process of pitching projects, and Netflix animation had a clear intention that they wanted to have more diverse voices and more diverse storytelling. They don't have a house studio style, they have a very eclectic range of projects and storytellers telling those stories, and so they had reached out to me to meet on The Magician's Elephant. I read the book and met with the producer—the book is incredible and absolutely captured me immediately, and I was really clear in my own head that I needed to tell the story. 
That producer was Julia Pistor—what was your collaboration like?
We were very in sync from the first meeting, and it's been an amazing journey with her. I think part of the thing I feel incredibly grateful and blessed for is just that the project came to me looking for a director. I had such passion for it. I really felt from the book these heartfelt moments during Peter's journey and his belief in the impossible, and the action that he took in that belief. Taking action in that belief is where the adventure lies, and just being able to have such a passionate kind of connection to the story, I think that always comes through when you're pitching. And so I was very lucky to get this opportunity and really grateful that Netflix had that sort of stated goal of increasing diversity.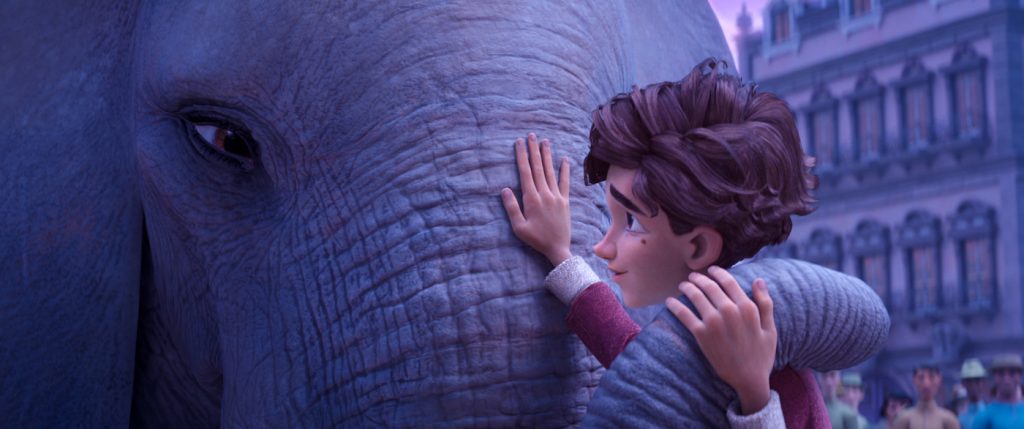 From your long career in film and your experience as a visual effects supervisor, what did you find most valuable in your directorial debut in animation?
Having been a visual effects supervisor previously and being so involved in the filmmaking on previous animations, I inherently felt I could really rely on the department heads because that's the role I'd had. We had production designer Max Boaz, we had an amazing production team at Animal Logic in Sydney, and an amazing visual effects supervisor and head of animation, and I really relied on that team. Being a director, you want to keep the big picture view, but you're making a lot of small detailed decisions every day, and I found that having been a visual effects supervisor made that process feel quite easy to me in some ways because I had been used to doing that.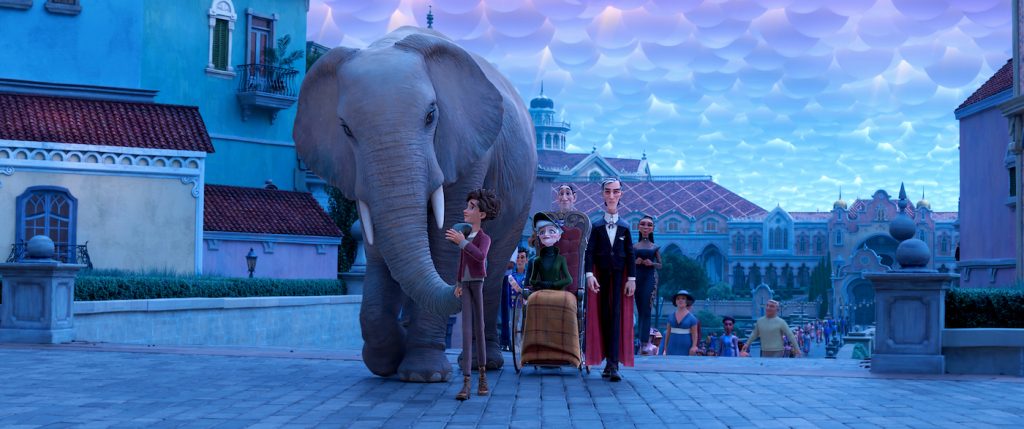 You've mentioned inspiration from artist Rebecca Dautremer, and you worked with, among others, character designer Brittany Myers on the project. What were some of the milestones in developing the finished look of Peter, Vilna, Leo, and the fortune teller? 
Rebecca Dautremer was very much an inspiration visually, in the textural qualities and also the imperfection of that gouache styling, which I really love. We had a whole range of characters that we needed to design that would fit together in this world while still being individual, unique, and different. When we started, we actually worked with quite a broad cross-section of character designers. We had a number of them exploring different chapters because we wanted to try a lot of different things quite quickly, and we wanted to have diverse voices trying those styles as well, but Brittany was going to be our main character designer.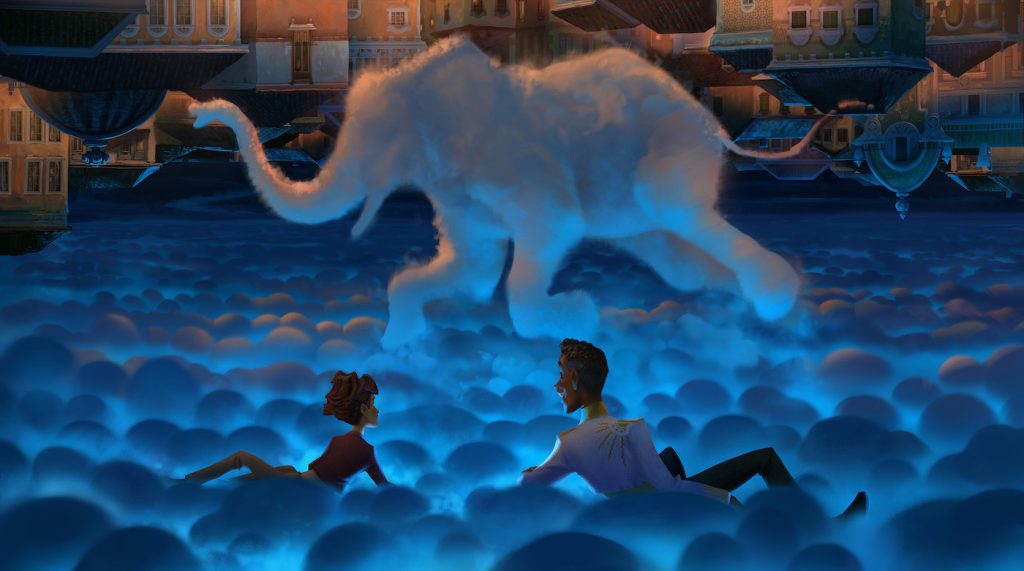 How did she help you achieve a cohesive look?
Brittany brought everything all together and did the final design for each of the characters. The angularity, long legs, thin limbs, and that quite strong bone structure, which I find really appealing, was really critical because I wanted to keep the animation very physically grounded. That way we had a place for the juxtaposition of magical realism. We're not a squash and stretch kind of animation style; I wanted the magic and the surreal qualities to play against that physicality. 
There's definitely a quality that feels like a traditionally animated interpretation of stop-motion animation. 
There's obviously a lot of action in the film, a lot of emotion, so we needed our characters to be able to emote, and I really wanted to have those moments of stillness where we could see the characters thinking. And that, to me, is a very stop-motion kind of sensibility.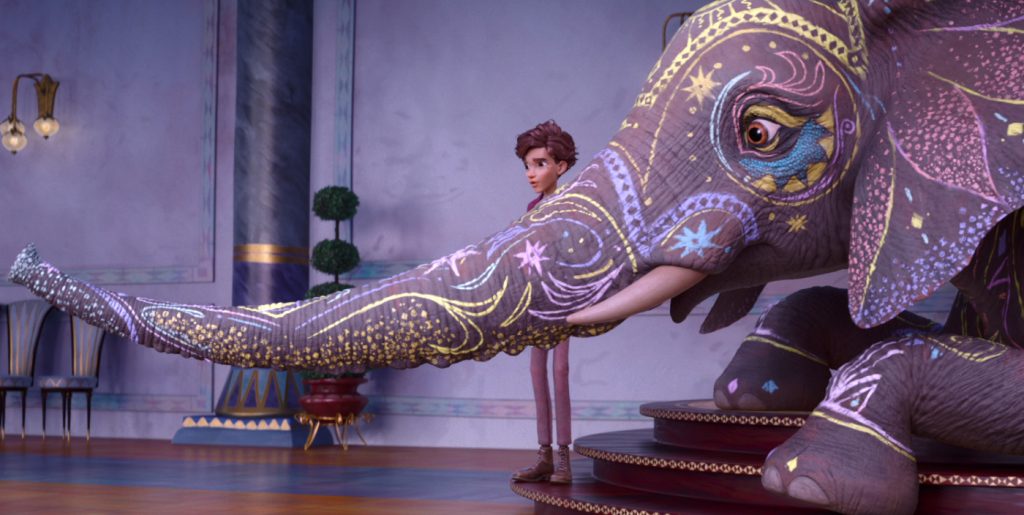 The elephant is designed in a very realistic way—what was the research like for capturing the titular pachyderm?
We had an elephant consultant, Dr. Joshua Plotnick. He's amazing. As we were originally talking about the design, he did a presentation about a lot of elephant behaviors and offered a lot of references. I wanted the elephant to be more physical than the other characters in the film because she's from somewhere else. She's yanked into this town, but she lives somewhere else. She's an elephant, so she feels like a strange presence and needs to feel really out of place. We wanted to keep her more physically real, recognizable as an elephant, even though our character designs are quite stylized. So Dr. Plotnick was amazing in giving us indications of what real elephant behaviors are. At the same time, he was very aware that we were creating a character that needed to work in our film, so we made some adjustments, like animating her to give her more expressiveness in her eyes. We let a little bit more of the eye whites be visible. We stayed very true to the kind of musculature and weight that a real elephant would have. The process then was building her with Brittany and with our art team and then having Animal Logic build the model and do all the rigging. I think they did a wonderful job. 
The Magician's Elephant is streaming now on Netflix.
For more on big titles on Netflix, check these out:
Oscar-Nominated Sound Designer Frank Kruse Makes Some Noise on "All Quiet on the Western Front"
"Descendant" Co-Writer & Producer Dr. Kern Jackson on Uncovering Living History in Mobile, Alabama
Documentarian Sam Pollard on Courting an Icon in "Bill Russell: Legend"
Featured image: THE MAGiCIAN'S ELEPHANT – When Peter (voiced by Noah Jupe), who is searching for his long-lost sister named Adel (voiced by Pixie Davies), crosses paths with a fortune teller in the market square, there is only one question on his mind: is his sister still alive? The answer that he must find a mysterious elephant and the magician (voiced by Benedict Wong) who will conjure it sets Peter off on a harrowing journey to complete three seemingly impossible tasks that will change the face of his town forever. The Magician's Elephant is based on Two-time Newbery Award-winning author Kate DiCamillo's classic novel. Cr: Netflix © 2023