"Turning Red" Co-Writer Julia Cho on Writing Pixar's Tender New Film
Pixar's new movie Turning Red follows straight-A student Meilin, whose perfect 13-year-old life implodes when she starts turning into a giant panda every time her emotions get out of control. Heir to a fierce ancestral spirit that's affected women in her family for generations, Mei (voiced by Rosalie Chiang) defies her domineering mother Ming (Sandra Oh) and joins her friends to see Four Town, a boyband that sounds very much like NSYNC thanks to the period-perfect pop songs crafted by Billie Eilish and her brother Finneas O'Connell. 
The red panda idea originated with director/co-writer Domee Shi in the wake of her Oscar-winning 2015 short film Bao. To develop the story into final form, Shi enlisted Julia Cho, a prize-winning playwright and TV writer whose previous credits include Fringe and Big Love. Schooled at NYU and Juilliard, Cho connected instinctively with the film's feisty little heroine. Cho states  in her bio that she "foiled her parents' expectations of respectability and normalcy." "That's how it seemed at the time," she elaborates. "My parents thought I would just be a professional, maybe an academic. The writing thing, they did not."
Speaking from a friend's guest house in Solvang, California, Cho, who has a ten-year-old daughter, describes her transition into kid-friendly fare, breaks down Pixar's famously rigorous approach to script development, and explains how she and Shi spent nearly four years revising their story until Turning Red hit all the right notes.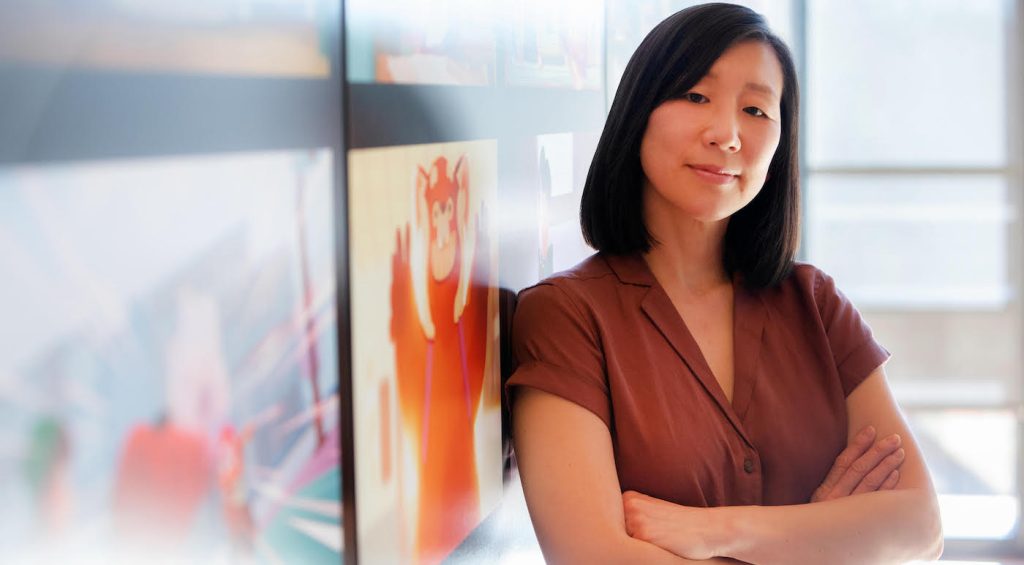 You wrote adult dramas for stage and TV before Turning Red. How did you find yourself writing about the adventures of a thirteen-year-old child?
Theater was the starting point for me. Mary Coleman, who's the head of development at Pixar, has a theater background and looks for writers far and wide. I had a play in Berkeley and learned that my friend Keith Bunin had worked on Onward. I went in and met with Mary Coleman. Until then, Pixar had always seemed like a faraway citadel.
Domee had started Turning Red when you joined her?
She had already pitched her story about this young girl who turned into a big red panda whenever she got upset, and the strong mother was already there. Domee was looking for another writer and I think she wanted a woman with an Asian background, so there was this convergence. I'd already seen Domee's short film Bao and it made me weep. I was excited.
How did you two hit it off?
On my first day of work in my office at Pixar, we were supposed to meet at 10 o'clock. She ran into my office at one minute past ten, out of breath. "I'm late, I am so sorry. I'm sorry I'm late." I'm like "You're barely late, I don't even know what you're talking about." I tease Domee about that because I can't remember the last time somebody I ostensibly work for ran because she didn't want to be late for me. It set a tone for the whole collaboration. No ego.
Pixar is famous for its rigorous story development process. Were you shocked to get so much feedback on your scripts from other Pixar talent?
It didn't actually feel foreign to me because, in theater, you workshop a play and see the whole thing acted out [for a live audience] and you go through many drafts. But Pixar does something I haven't seen anywhere else. For each movie, they create maybe five completely different prototypes. The script is storyboarded from beginning to end, acted out, with music, it's edited — it's almost exactly like the whole movie except without computer-generated animation. You're almost making five or six fleshed-out storyboards for every one movie that makes it to the screen.
You'd have screenings for these prototypes?
We had multiple screenings, before Covid, where hundreds of people would watch the latest version. There'd be intensive notes sessions from our executive producer Dan Scanlon and Pete Docter [Pixar's chief creative officer responsible for Up, Soul and Inside Out]. We'd get feedback not just from the higher-ups but several hundred people who would to these screenings. When we saw [questions] that came up again and again, we'd figure out how to steer the story toward something that's most satisfying for everyone.
So, a lot of re-writes.
We had the bones of a story, but it was very different from the final movie as it is now. The things our characters did, the things they wanted – – all of that changed. There was a lot of breaking the story and un-breaking, re-writing, throwing away that script, re-writing again. It was a long process built on trust and we eventually reached a kind of shorthand.
Mei's friends are smart, funny, and multi-ethnic. They include South Asian Priya, Korean-Canadian Abby, white girl Miriam, and their Black classmate Tyler. Were you cognizant about creating such a diverse cast of characters?
We were mostly cognizant of wanting to be true to our experiences. Domee especially grew up in Toronto, which is a city of immigrants, so it was natural for her to give all of Mei's friends different backgrounds. The fun part was figuring out their voices and which of our own friends they're based on? I don't remember when Mei's posse of friends snapped into focus but it felt like one day these girls just showed up.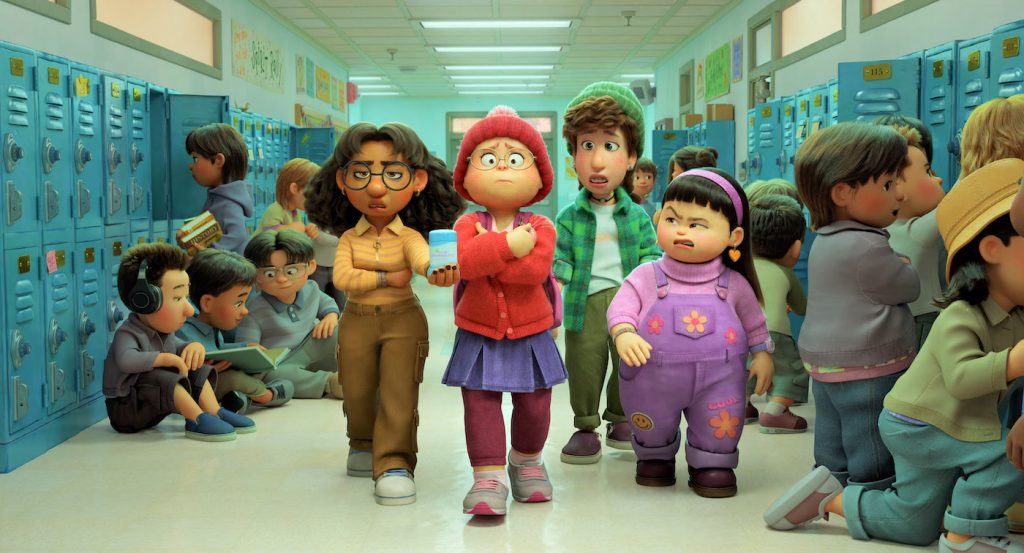 Mei's mother Ming is such a force of nature! Fleshing out the complicated, sometimes hilarious relationship between mother and daughter, where did find inspiration? 
I grew up feeling like my mom was the whole world and Domee was super-close to her mom, so we bonded over that. My mom is smaller than me but much more powerful [laughing]. To this day I think she could out-hike me, out-do me on any score. A lot of [those feelings] went into Ming and we had a lot of fun taking our own stories to the nth degree with Ming. We tethered her to the reality that our moms were huge personalities but always loved. Having that as our North Star helped us push back against people who'd say "She's too much." And we'd say: "Have you met our moms?" [laughing]
Mei's big goal, plot-wise, involves the Four Town boy band. Were they in the script from the get-go?
The boy band element was always there but at first, it was more on the side. Mei had all sorts of different goals. At one point she wanted to go to boarding school! It took a long time for the story to feel felt a little more universal: here's a girl who just wants to see her favorite band with her friends. Once we locked into that, the movie got more fun, and more real, with just as much passion as you would have for any kind of noble goal.
It's so cute to see Mei and her friends swooning over the boys in Four Town, which leads me to wonder: When you were growing up, who was your favorite band? 
Duran Duran. I remember thinking they were all so dreamy. All of my friends chose either Simon [LeBon] or John [Taylor] to crush over.
For more on Pixar, check out these stories:
Watch The Trailer For Oscar-Winner Domee Shi's Debut Pixar Feature "Turning Red"
Official "Luca" Trailer Reveals Pixar's New Sea Creature Feature
Art Director Daniel Lopez Muñoz on Finding Pixar's "Soul"
Featured image: WE'VE GOT YOUR (FLUFFY) BACK – In Disney and Pixar's all-new original feature film "Turning Red," everything is going great for 13-year-old Mei—until she begins to "poof" into a giant panda when she gets too excited. Fortunately, her tightknit group of friends have her fantastically fluffy red panda back. Featuring the voices of Rosalie Chiang, Ava Morse, Maitreyi Ramakrishnan and Hyein Park as Mei, Miriam, Priya and Abby, "Turning Red" will debut exclusively on Disney+ (where Disney+ is available) on March 11, 2022. © 2022 Disney/Pixar. All Rights Reserved.