Documentarian Sam Pollard on Courting an Icon in "Bill Russell: Legend"
This week, LeBron James broke Kareem Abdul-Jabbar's all-time NBA scoring record, but one superstar stat seems unlikely to be eclipsed any time soon: the late Bill Russell's collection of 11 NBA Championship rings. One of the league's first Black players, Russell led the Boston Celtics from 1957 through the sixties. The team's reign culminated in 1969 after Russell became the league's first Black player-coach and led the Celtics to a come-from-behind victory over arch-rivals the Los Angeles Lakers. To celebrate the fiercely competitive six-foot-nine center, documentary maker Sam Pollard directed Bill Russell: Legend, now streaming on Netflix.
Russell, who died in 2022, used his platform as a sports hero to champion civil rights. Honored with the Presidential Medal of Freedom in 2011 by Barack Obama, Russell marched with Martin Luther King and fought racism at the hands of Boston-area suburbanites who resented his presence in their mostly-segregated community. The two-part series, narrated by Jeffrey Wright and Corey Stoll, tracks Russell's evolution as an athlete/activist through archival clips; interviews with NBA superstars including Steph Curry, Chris Paul, Magic Johnson, Jerry West, Larry Bird; and commentary from critics like Nelson George, who contextualize his impact on American culture.
Speaking from a New York City hotel room, Pollard delves into the thrills of making a biopic about one of his childhood heroes.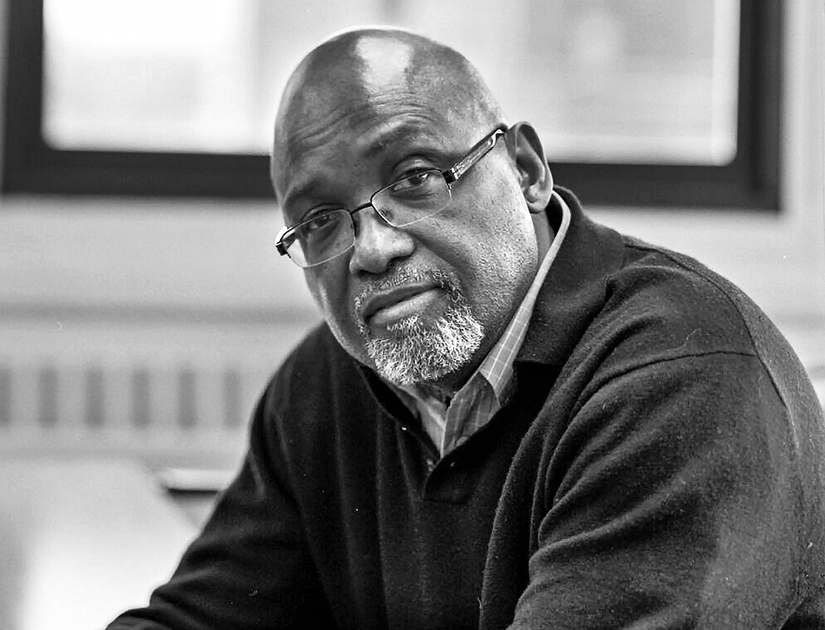 The documentary features lots of archival game footage featuring Bill Russell in his prime. Did you grow up watching him and the Celtics on TV?
Oh yeah. I remember watching him starting when I was ten years old. Every time we heard Bill Russell was going up against Wilt Chamberlain, we were like wow. In my neighborhood, East Harlem, we used to have discussions about who was the better center. And for me, I always said Bill Russell.
Wilt scored the most points, but Bill Russell won the championships.
Bill was the winner. He had the brains.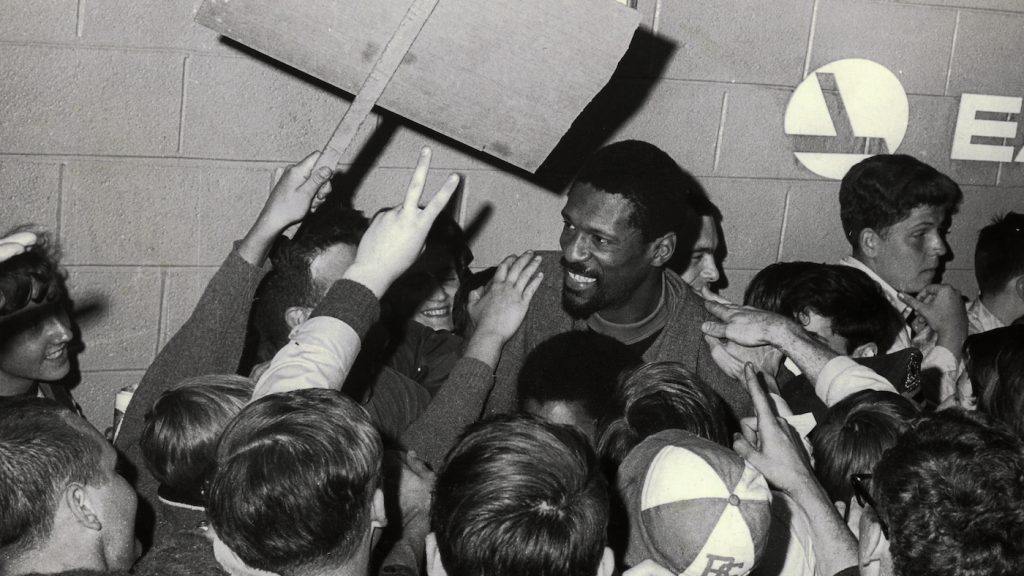 Their rivalry was legendary but your documentary points out that Bill Russell and Wilt Chamberlain actually liked to hang out together when they weren't competing on the court.
Up until 1969, any time the Celtics came to Philadelphia, Wilt would invite Bill over to his house. When they'd go leave the house, Wilt's mother would say, "Don't beat up on my son." Which is ironic because Bill was six-nine and weighed 40 pounds less than Wilt, who was seven-two. Who's going to beat up on who?
How did you go about piecing together the life and times of Bill Russell?
There were many books about Bill Russell including his own autobiographies, so I did a lot of reading. Once we understood his trajectory from Monroe, Louisiana to Oakland, California to the University of San Francisco to the 1956 U.S. Olympics to the Boston Celtics, I brought on a team of people to help visualize the story. That included our wonderful archival producer Helen Russell, who did a deep dive to find fantastic footage of Bill Russell going all the way back to the University of San Francisco. You have to do a tremendous amount of homework before you shoot anything.
And then, of course, you conducted interviews. That must have been fun.
It was one of the great pleasures of my long career to sit in a room and interview Julius Erving, Bill Walton, Isiah Thomas, and Larry Bird. And Shaquille O'Neal! Listen, man: I'm six-four, and there I am in Atlanta at 5:30 in the afternoon. Shaq comes in and I'm like "What? This man is huge!" Same thing in California when I went to interview Kareem Abdul-Jabbar. I have a picture of me next to Kareem. I look like I'm five-three!
When he wasn't busy playing basketball, Bill Russell threw himself into the civil rights struggle.
He did. Bill Russell's evolution as a phenomenal basketball player parallels the rise of the civil rights movement. Some people might blinders on and say "I'm only going to stick with what I know," but Bill wasn't going to just stand on the sidelines. He became an active participant.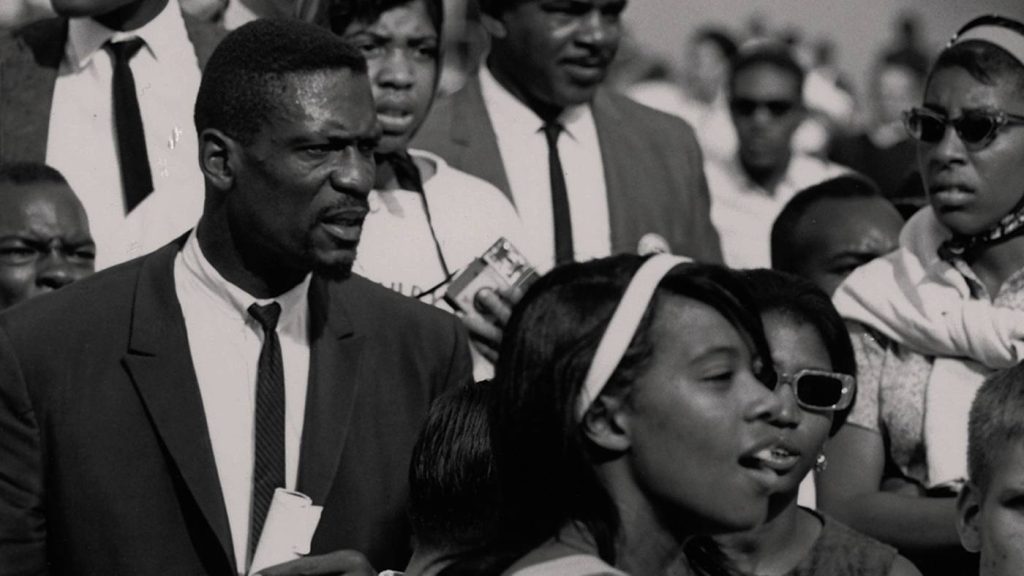 Bill Russell had personal reasons to fight racism, given his experiences in the Boston suburb of Reading, right?
After a couple of seasons, Bill bought a home in Reading where he hoped to live a comfortable life with his family. But there was resistance because he was Black. It wasn't the same level of Jim Crow [racism] as in the south, where he was born, but there was de facto segregation in the north. At one point someone broke into his house, defecated on his bed, and wrote things on the wall. And when Bill decided to move to another house, there was resistance from the community saying they didn't want him there. These kinds of things fueled him and made him an angry black man. He took that anger and focused it on his game. And he took that anger into this [civil rights] movement. We see him going to the march in Washington listening to Martin Luther King, going to Jackson, Mississippi at the behest of [slain civil rights activist Medgar Evers' brother] Charles Evers, you see him speaking out about the Boston busing issue, you see him with other Black athletes like Jim Brown and Kareem Abdul-Jabbar at the Cleveland Summit, where Muhammad Ali articulated why he didn't go into the military service. Bill was front and center. That took a lot of guts.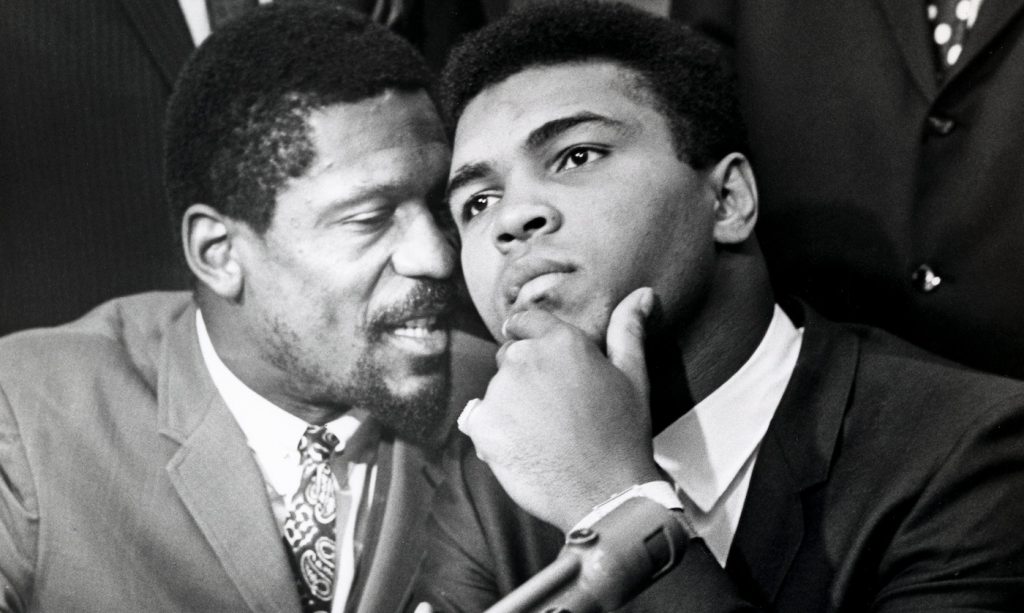 Russell even led an impromptu civil rights protest in Lexington, Kentucky when the Celtics were supposed to play an exhibition game there. Can you talk about that incident?
Lexington was segregated at the time. When Bill and the other Black players went down to the hotel restaurant, they were refused service. Bill told Red. Red told hotel management, Bill and [Celtics teammate] Satch Sanders went back to the restaurant, the man said, "We'll let you eat here." Then Bill said, "Oh we're just kidding, we're not really with the team." And they were refused again. Then Bill got the support of black players from the other team and they refused to play the game, so you had two all-white teams in this exhibition match. None of this was calculated. It's just something that happened and Bill took a stand.
Bill Russell had his own way of doing things. He refused to give autographs. And even after all his success with the Celtics, he was not necessarily super popular with fans and sportswriters.
He was not well-liked. That's one reason he had this level of resentment toward the Boston fans. That's why he said, "I loved playing for the Celtics, but I didn't love Boston."
Bill Russell's mother died when he was just twelve years old so his father raised him. How did that impact Bill's character development?
It's very simply this: Growing up in Monroe, Louisiana, Bill saw his father as a stand-up Black man. After his mother passed away, his father raised Bill and his brother, which was unusual at the time because usually children would be sent to go live with one of their aunts.  Bill admired and respected his father and this gave him the ability to say "I'm going to stand up for things too."
Your film showcases the fruitful collaboration between Bill Russell and Celtics coach Red Auerbach. How did Russell benefit from Auerbach's guidance?
Red Auerbach understood that every player had his own skill set and knew how to use that skill set to its best advantage for the team. He didn't bring on Bill Russell because he thought he was the greatest shooter. He saw Bill's ability to be a great blocker, a great rebounder who could get the ball down the court to someone like K.C. Jones or Bob Cousy and they would score the basket. When he explained that to Bill early on, it took the burden off. Nowadays in basketball, it's about who's the best three-point shooter on the team. But Bill Russell wasn't about being a great shooter. He's about being a great defender.
Is it true, as the documentary reports, that Bill Russell got cut from the junior varsity team in high school?
Yeah, he did get cut.
How could that possibly be?
Think back to the time — it was a different way to play basketball. His USF coach saw Bill jumping up and said, "No you have to stay on the ground. Play a horizontal game." This coach didn't realize that Bill Russell was revolutionizing the game of basketball. As the critic Nelson George says in our film, Bill Russell, Elgin Baylor, Oscar Robertson, and Wilt Chamberlain brought to the NBA a Black athlete aesthetic. It was a completely different way to play the game.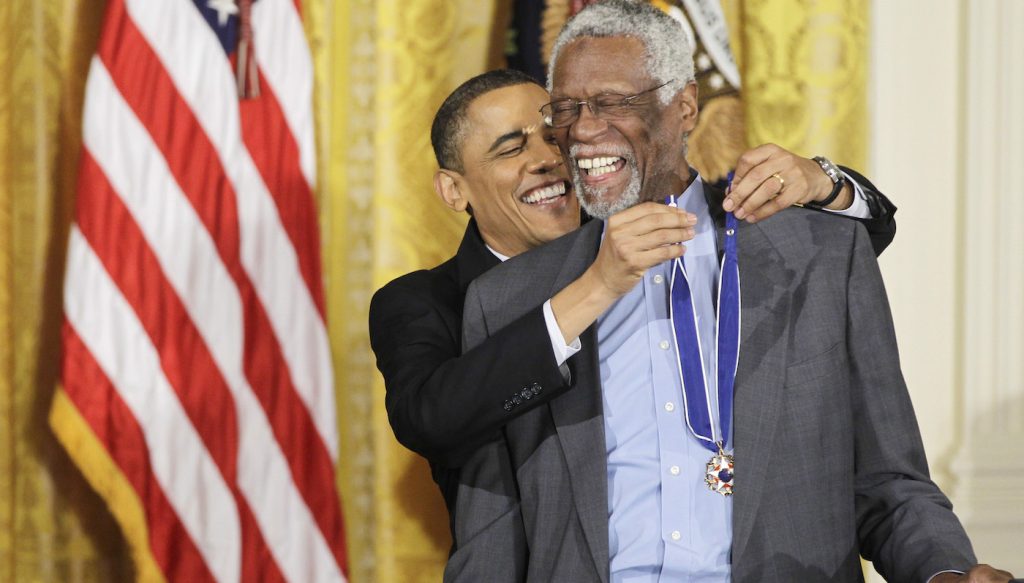 Featured image: Bill Russell, member of the University of San Francisco basketball team, shows how he scores baskets on Feb. 23, 1956. The 6-foot, 10-inch center, ranked one of the best, has helped his team win 20 straight games during the current season. Cr. AP Images/Courtesy of Netflix