"Scream VI" Costume Designer Avery Plewes Gives Ghostface & Co an NYC Style Upgrade
Scream VI costume designer Avery Plewes was a big part of successfully moving the franchise out of Woodsboro and into the stylistically and energetically amped up New York City. The sequel goes big in every possible regard.
For a terrifying sequence set on Halloween night aboard a subway train, Plewes made 200 costumes to create a claustrophobic environment. Plewes and her team even produced one costume as a loving nod to directors Matt Bettinelli-Olpin and Tyler Gillett's Ready or Not. The delightful 2019 horror-comedy was the costume designer's first collaboration with the duo. "I adore them so much, too," Plewes said. "You want to deliver and do your best on every project, but when you have a beautiful working relationship with someone, you don't want to do the 150% you normally strive for. You want to do it at 300%."
We spoke with Plewes about crafting the most stylish slasher in the venerable franchise.
Let's start with Sam's (Melissa Barrera) bomber jacket.
So many people love the bomber.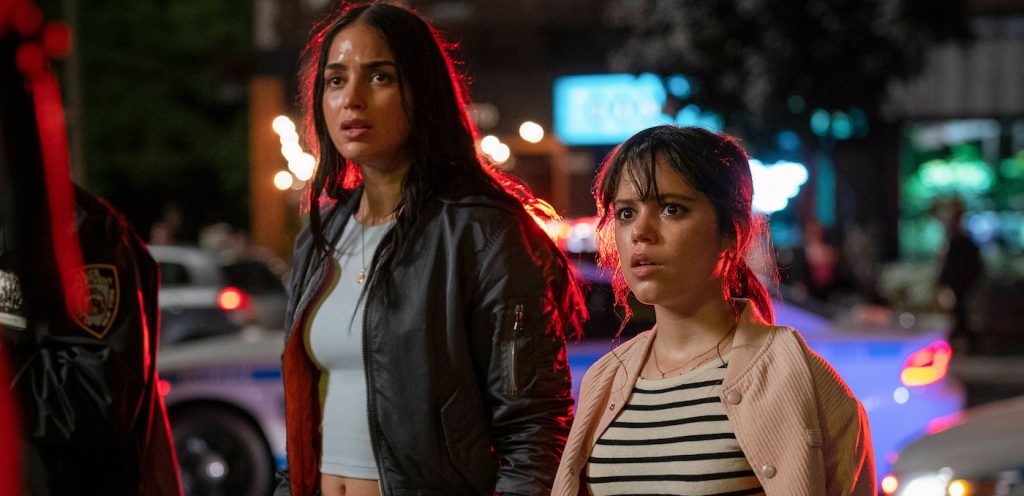 I'm one of those people.
(Laughs) Oh, cool. Melissa [Barrera] came in early for a fitting. We tried a bunch of stuff that just didn't have the Sam vibe. I was told by the filmmakers when they first developed Sam that they were going for a sort of Linda Hamilton vibe, like tough and utilitarian. So, we went to an Army surplus store because that's where you start. It's your classic Alpha Industries jacket. I have one that's vintage and semi-destroyed from years of use. I originally bought it for a movie I was doing with Kristen Stewart for her to wear, but she never wore it. I kept it because it was just so great, and I had it with me in Montreal. I brought it in, because it does something really interesting in the back; it's disfigured in a way that it looks good. We copied the pattern of it and we also took out all the lining, because those jackets are typically bulky. We were filming in August for October, and I didn't want Melissa to suffer. How Melissa stands is very commanding, too, so the combination of her presence and the bomber was something special.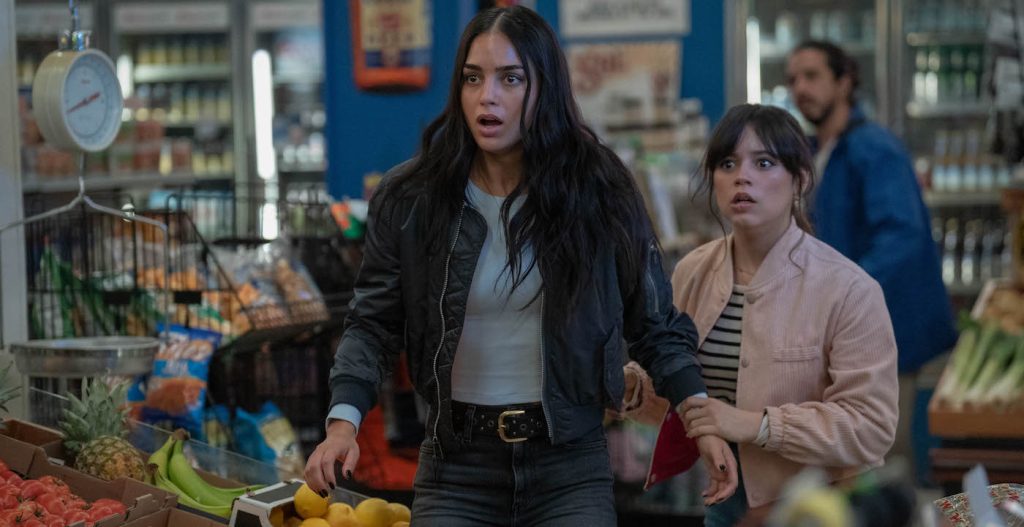 How about Tara (Jenna Ortega)? She had a small role in the previous film, so how'd you want to define her with her costumes?
I loved working with Jenna. She's very quiet, but everything she says has intention and is very deliberate. She approaches her character in an intellectual, thoughtful manner. In the last movie, Tara wore a lot of pink, soft colors, and her costumes felt very innocent. I think that's what she struggles with from Sam, who sees her as an innocent baby. A lot of times in cinema, we see these female characters presented as innocent wallflowers, but Tara's not. There's something special about seeing a strong female character who dresses in sort of an innocent way. It doesn't have to be one or the other. And so, that's what I loved about Tara and kept her in the baby tones. Then you see her do crazy sh*t.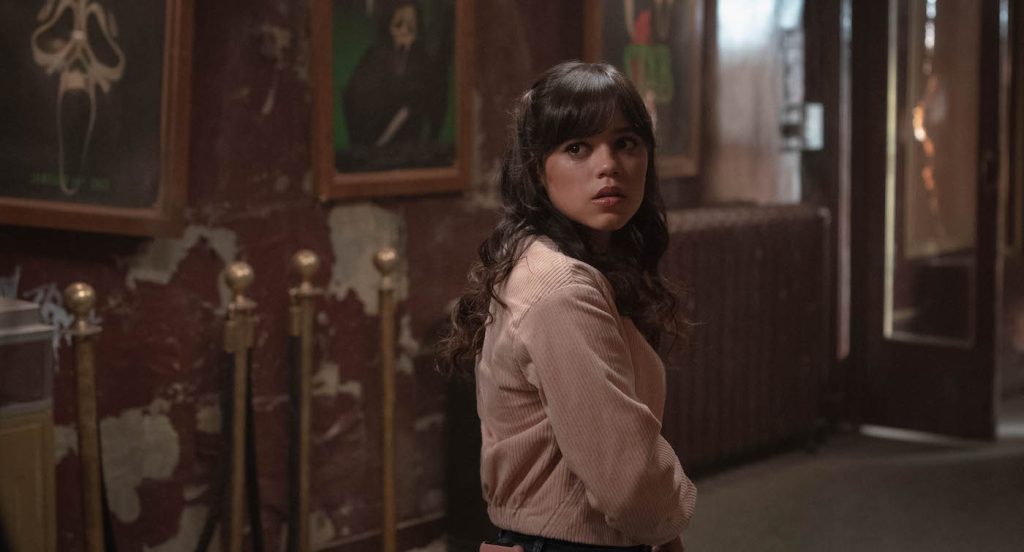 This movie is so much about the franchise's history, but for the core four, as they call themselves, how'd you want to deepen their identity and style as the series' new leads?
I wanted it to feel like it would make sense. Moving to New York, you could have a full identity change and become someone else, but I wanted the audience to believe these are the same people. I developed what they would look like a year later in New York: how they would present themselves in a more metropolitan environment. They have more access to more street style. You know, walking through Soho, they might see things that inspire them a little more sartorially than in Woodsboro. It's a little bit updated, a little bit more metropolitan, but also not so far that it's a fashion movie because that would be distracting,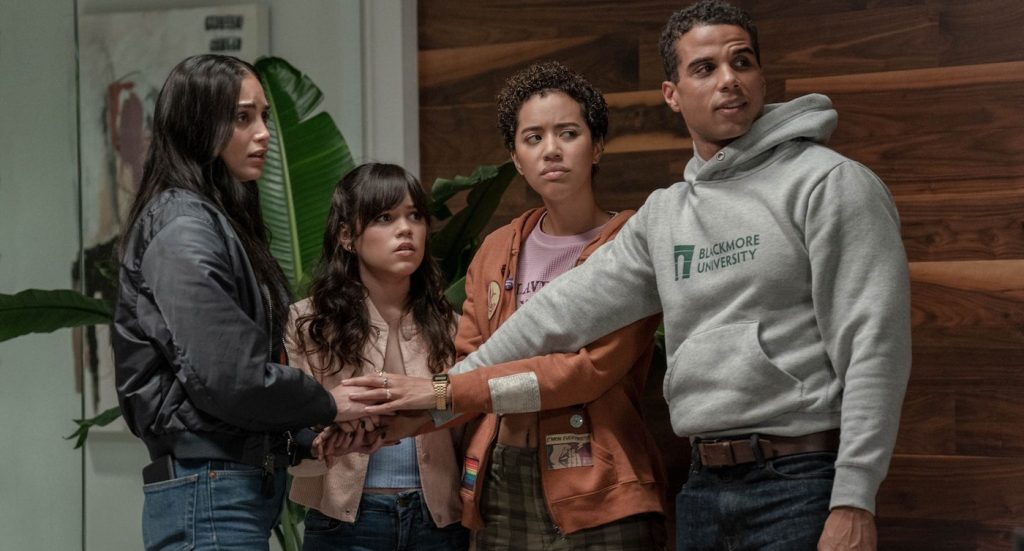 How about for the extras? Even though you shot in Montreal, how'd you want the background performers to create the sense we're in New York City?
Well, on the subway, there are drag queens, and that was me (Laughs). I lived in New York when I was the core four's age, so I had a sense of how you would feel during that time and how exciting it is. You're exposed to this whole new world of vivid people from all walks of life. The subway scene was my child. As soon as I read that, I was like, this has to be perfect because subways in New York are a core part of New York's being. What killed me was we couldn't put in sports teams. I couldn't put Yankees' hats in the movie. Like, that's New York to me, but some things that we just couldn't do.
And you designed all those Halloween costumes?
Halloween is similar to a national holiday in New York. For the subway scene, it has to look bananas. Then I was like, there have got to be drag queens on the subway in the sequence because you don't have one without the other on Halloween, in my opinion, in New York. The subway scene didn't shoot for quite some time, but it was one of those things that I knew we had to get right. A lot of people don't care about extras in general in film, but Radio Silence does. I think bad extras make or break a project.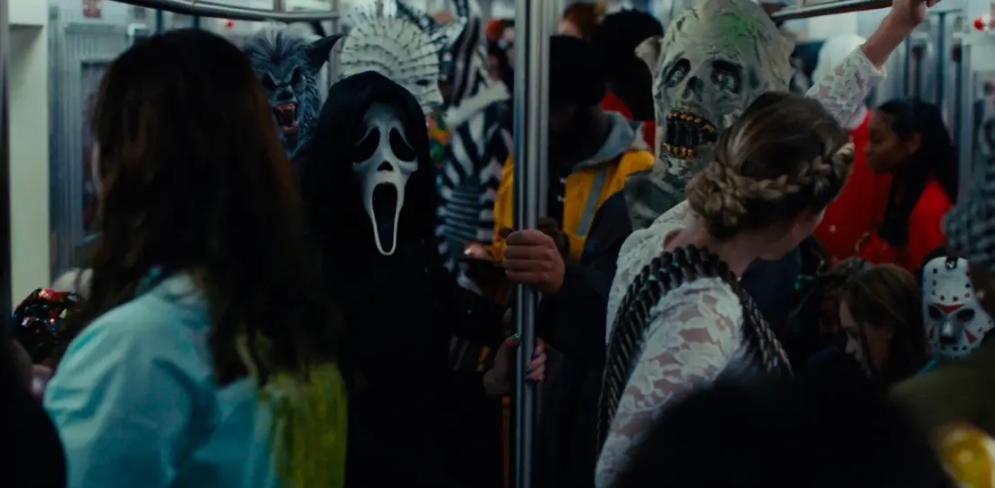 They can take you out of the movie.
It's super distracting. A lot of people want the extras in generic clothing that will fall away so we can just stay focused on the leads. In New York, everyone's a character. The generically dressed people you usually see in New York are tourists. A big thing for me was the extras and planning out our dream Halloween costumes to see in the Scream universe.
And you got to do a nod to your work on Ready or Not.
As costume designers, we always wanna recreate and duplicate something to the most beautiful, perfect degree. I had to unlearn that for the Halloween costumes. I had to make them feel like someone cobbled it together. With the Ready or Not costume, I can't do the perfect version of it. Even the sneakers are the wrong shade of yellow.
Speaking of Ready or Not, how'd you settle on the dress for Samara Weaving in Scream VI's opening?
I knew that sequence had to be bang on because Scream fans are going to this movie with a certain expectation. If you're disappointed in the first scene, you're going to be like, okay… I know how [the cinematographer] Brett [Jutkiewicz] shoots things, so I had this visual in my head of how she would present and how she would be in silhouette for part of it. I imagined Brett was going to shoot this opening slightly like a noir, and that's the beauty of working with people you've already worked with; you have certain stylistic expectations of what they're going to do, so I knew it was going to be this beautiful cinematic moment. I think Radio Silence was a bit on the fence about the color of the dress in fitting photos. It looks different than how it does on screen and felt a bit aggressive in the fitting photos. I knew in my heart that it was the dress with the silhouette and the color. With blood on it, this will be great.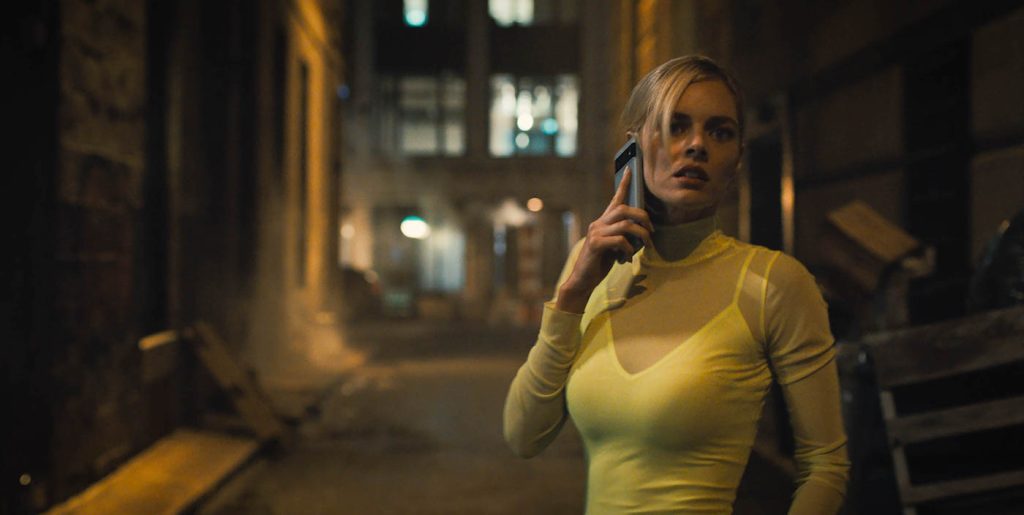 With Scream fans, they are going to question everything. With that kind of fanbase and over 20 years of history, is there added pressure working on a Scream movie?
It's funny because I was very nervous to do the movie when I got asked to do it. Now, it was a f**k yes for me because I love Radio Silence. I would do anything for them. I would do a short film for free at this point, although they're not doing that anymore. They have the number one movie at the box office, but that tells you that I'm ride or die for them. But I was intimidated. My husband was just like, 'This isn't even a question. In what world are you even entertaining getting out of this?' I mean, at no point was I thinking about how to do that, but you can tell, I get very in my head about things. I'm the costume designer version of Larry David.
(Laughs) It's good to think things through.
You know what it is, I care, and I know how much the fanbase cares about these characters and the franchise. I wanted to make sure that I could deliver. When I started my research for the museum, I was like, oh yeah, these people know everything. Thank God for them because there were so many facts and random details about even the soles of Ghostface's boots from past movies. I don't know any other franchise that would have this level of information on the internet. It's crazy.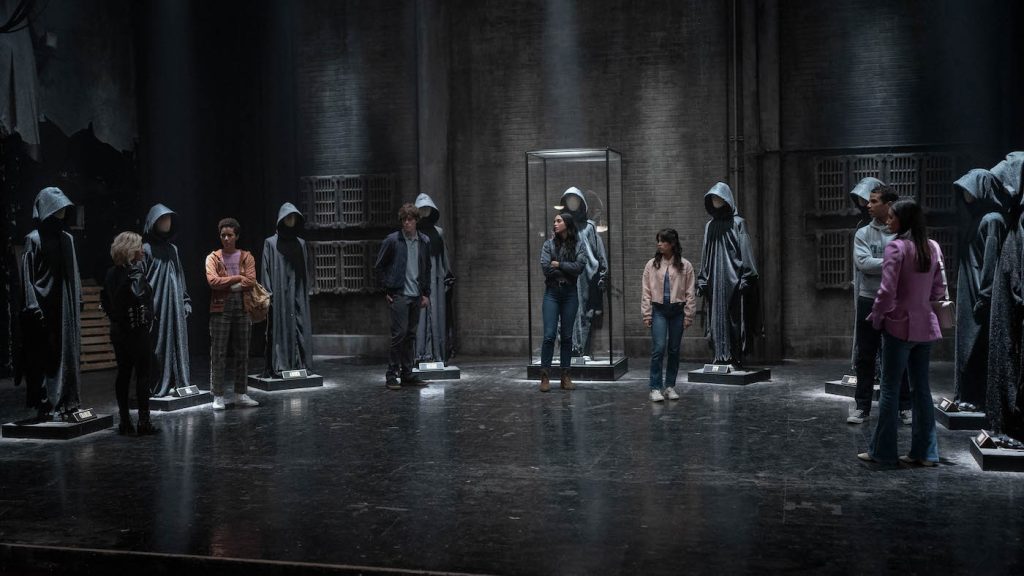 What did you learn from the camera tests about how the Ghostface costume works best on camera?
We did a camera test with Brett. I come from a family of artists, so I understand lighting and how color will look on camera. Both my parents are beautiful artists, and their medium is paint. I understand these impressionist paintings and how you need the highlights and lowlights. I treated the brokedown Ghostface masks like an impressionist painting. You don't know it looking at it, but they're painted on top; that is how we got that effect. There are a lot of lowlights and highlights in certain areas, so the way Brett lit it, it was more ominous and terrifying.
Camera testing helped us with that because we realized some things needed to be more creepy. The Ghostface robe is the same body as the last one, because their favorite part of the last one was the robe that [costume designer] Emily Gunshor had done. I changed the hood a little to feel more full and heavy, because Radio Silence's whole thing is Ghostface needs to take up as much space as possible.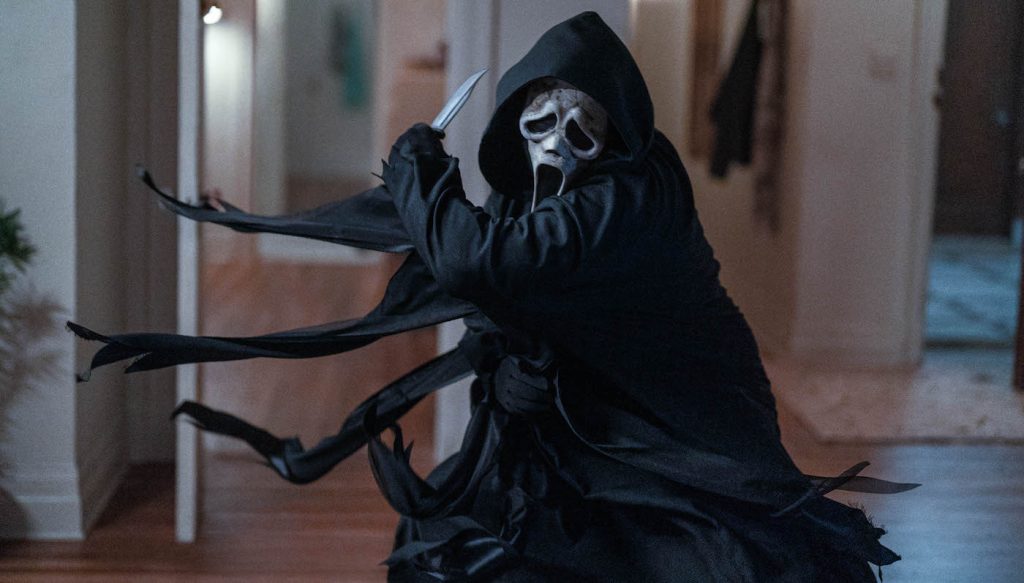 For more on Scream IV, check out these stories:
"Scream VI" Editor Jay Prychidny on Stitching Together an Epic Slasher
"Scream VI" Cinematographer Brett Jutkiewicz on Framing Scenes So They Cut Deep
"Scream VI" Review Round-Up: A Clever, Homicidal Shell Game in the Big City
Featured image: Ghostface in Paramount Pictures and Spyglass Media Group's "Scream VI."