How Ready or Not's Editor Amped up the Emotional Stakes
Directors Matt Bettinelli-Olpin and Tyler Gillet's Ready or Not has been getting rave reviews. They've taken a simple childhood game and turned it on its head, to devilishly delightful results.
Samara Weaving plays Grace, a young woman enjoying her wedding day. She joins her husband Alex (Mark O'Brien), whose wealthy family built their empire on board games. Grace must take part in a tradition for newcomers: playing a family game. Drawing from a deck of cards, she chooses hide and seek which, unbeknownst to her, is a game where the family has to hunt her down and kill her. To piece together the film's puzzle-like structure, the directors looked to editor Terel Gibson.
"The script was unlike anything I read before," Gibson says. "The tone was so unique and it encapsulated everything I enjoy…dark humor, pace, something unexpected. Not knowing if something is going to work or not excites me more than a traditional movie where you can tell where it's going in the first ten pages."
Attaching to adept storytelling has been the mantra for Gibson, who climbed the editorial ladder the old school way, starting out as a production assistant running film back and forth from Philadelphia to New York on Beloved (1998) from director Jonathan Demme (The Silence of the Lambs) before sliding into second and first assistant roles on Little Miss Sunshine, Pride and Glory and The Fighter, among others.
He gives credit to early mentors Andy Keir, Carol Littleton, Suzanne Spangler and Pamela Martin, who took the time to "teach a kid who never worked in editorial before." When Martin received an Oscar nomination for The Fighter, Gibson decided to take the leap towards lead editor. "I thought if not now, when?" Since that leap of faith, Gibson has cut dozens of films, including Boots Riley's excellent, surreal Sorry to Bother You.
The challenge for Ready or Not was detailing characters the audience would care about while avoiding the pitfalls of constant action. "We didn't want the story to feel like it was shot out of canon where you never see the dust settle," notes Gibson. "It could have worked different ways but we wanted to clue you in on what's happening to the characters on an emotional level. It's the idiosyncrasies that elevate the material and gives you something special."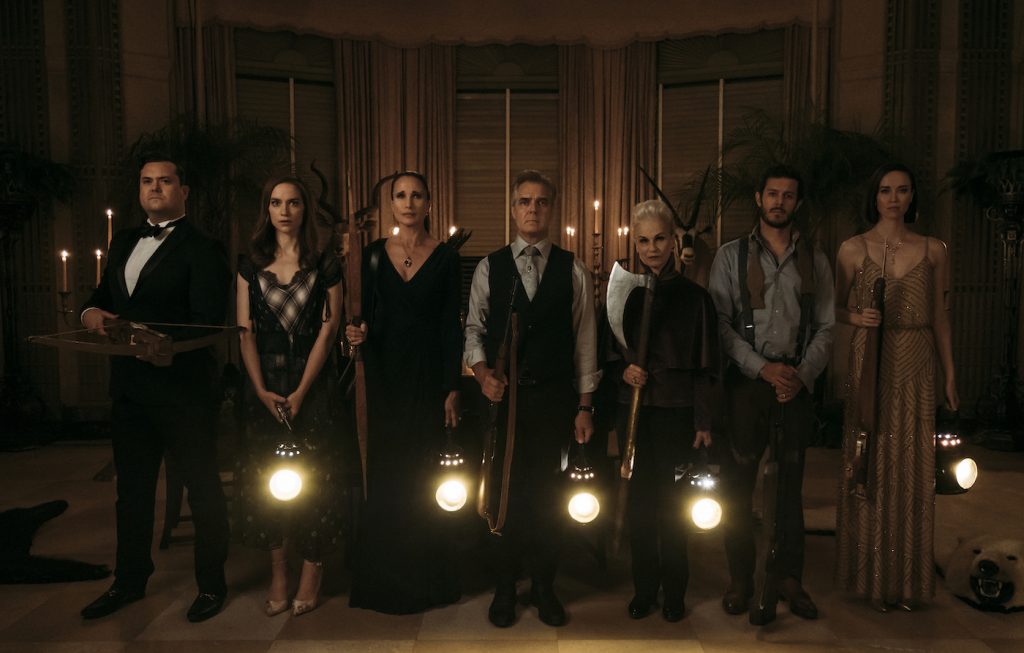 The character clues start to unravel during its tightly-paced cold open where a camera follows two boys running through the hallways of a sprawling home. It establishes multiple characters' backstories, including Daniel played by Adam Brody, the brother of Alex. The scene also establishes the mood, tone, and texture to the looming dread. "Cold opens can be tricky. You don't want to set up the audience with false expectations or give them something that can throw them off balance by the time it ends and the movie starts," Gibson says.
Besides backstory, the editor navigated character themes, balanced plot points within a large ensemble cast, and as one might expect from the genre, created gripping moments to bring you to the edge of your seat.
One instance, in particular, is when Grace realizes this isn't a fun game of hide-n-seek but that this family is out to kill her. Grace and Alex are tucked behind a bed inches away from the family standing over a dead body that was mistakenly shot thinking it was Grace. As the family discusses how to remove it so Grace doesn't see it, we're immersed in the growing feeling of terror in Grace's eyes as she covers her mouth trying not to scream. "We spent the most time on that scene and cut it a number of ways," Gibson says. "What occurred to us was that you really want to be with Grace and her subjective point of view. It's our closest thing to a Hitchcock moment where you're with the character and you're seeing how it's affecting her rather than imaging it."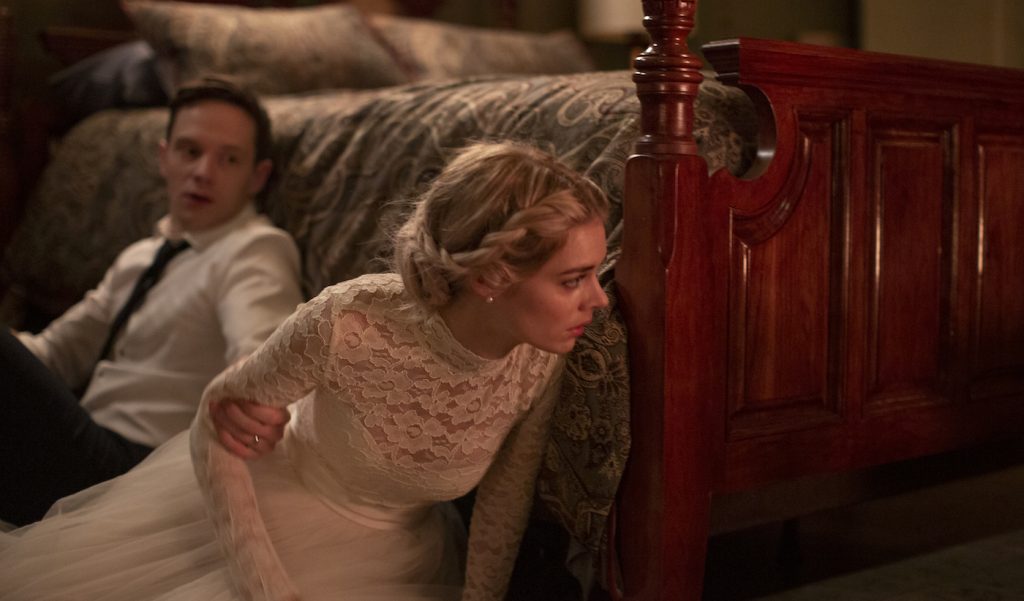 The film's character themes were intertwined to plot points – one being self-reflection. Grace starts off as a seemingly shy and happily married bride before turning into a gun-wielding badass in survival mode. The moment is pinned when she finds herself looking into a mirror. "It's almost like you're breaking the fourth wall but you're not," mentions the editor. "When we see Grace walk up to the mirror holding a gun and her wedding dress is ripped to shreds she's thinking exactly what you're thinking… 'holy shit, how did I get here?'"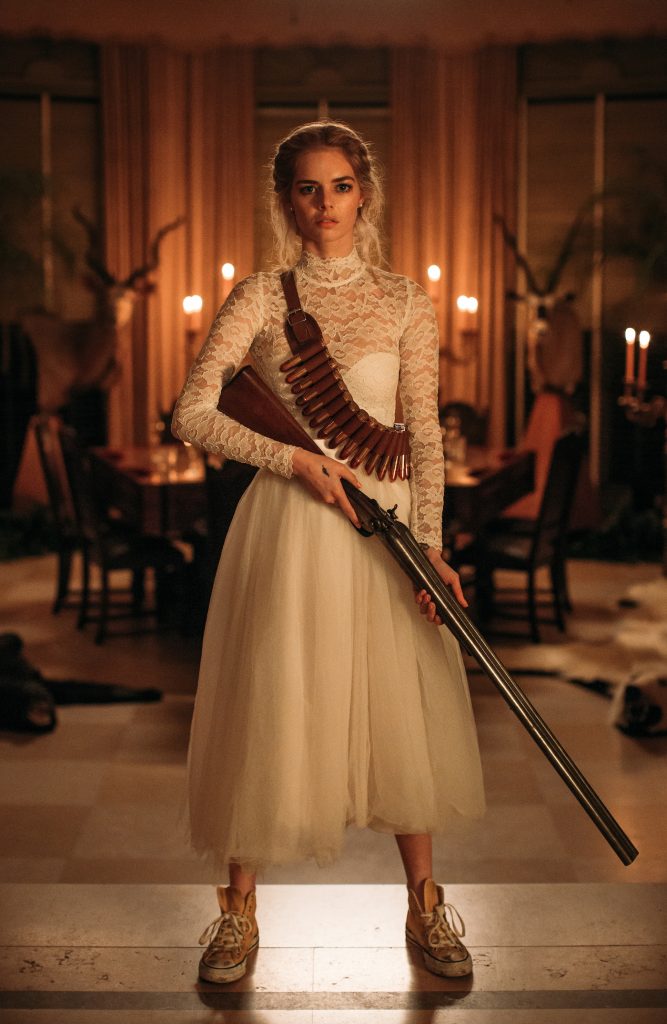 It was also important to the editor that the audience learned exposition organically and "to get info across so it didn't feel like medicine." He did so by harnessing the unexpected moments in the story.
For the film's bloody fun, Gibson treated it as something inevitable and left breadcrumbs to lead you to it. "Tone management was a big topic of discussion during the edit," he says. "There is violence in the film but it's not over the top in a grotesque or gory way. What helps us sell it too is the incompetence of the family who doesn't want to be doing what they are doing. They're not good people but they're not reveling in the violence. They are just self-involved and do what's best for them – even if that means being psychopaths."
Ready or Not hits theaters on August 21, 2019.
Featured image: Samara Weaving in the film READY OR NOT. Photo by Eric Zachanowich. © 2019 Twentieth Century Fox Film Corporation All Rights Reserved