"The White Lotus" Executive Producer Reveals Season 3 Almost Certainly Set in Asia
After Mike White's deliciously biting satire The White Lotus delivered an immensely satisfying Sicily-set second season, there were whispers, some provided by White himself, that season three was headed to Asia. Now, series executive producer David Bernard has essentially confirmed it during a keynote chat at the Berlinale Series Market.
"We've tried to work in Asia a lot, and hopefully, season three will be our chance to make something happen there," the Emmy winner said during his address.
Season one of the hit series was set at the titular White Lotus resort in Maui, Hawaii (most of the action was filmed around the Four Season Resort there), while season two was shot in Sicily. Bernard said the huge success of season two, which was structured as a murder mystery after the opening episode revealed multiple people would die, would hopefully prove once and for all that internationally-set shows can draw a ton of attention.
"U.S audiences have been very closed off but hopefully, the success of The White Lotus shooting in Italy and being half in Italian and others shows like Money Heist that have worked around the world will make them more outwards looking," said Bernad.
Bernard also revealed that the character of Ethan, played by Will Sharpe in season two, was initially supposed to be filled by Netflix's Monster: The Jeffrey Dahmer Story star Evan Peters.
Ethan Spiller is a young, successful, and dreadfully uptight young man on a vacation with acerbic wife Harper (Aubrey Plaza), his alpha male college buddy Cameron Sullivan (Theo James), and Cameron's seemingly cosseted, blissfully unaware wife Daphne (Meghan Fahy). It's Daphne who literally bumps into a dead body in the first episode of the season while swimming, and for the remaining episodes you keep a very close eye on this foursome's progressively fraught relationships, searching for clues about who might die (and who might be the killer). It's hard to imagine anyone but Sharpe in the role now, but it was very close to being Peters' role.
"That part was the last part we cast in the season, and originally it was supposed to be Evan Peters, but for whatever reason – scheduling or timing – it didn't work out," Bernard said. "We were really trying to figure how to cast that part so it didn't feel like familiar casting. We were in Rome auditioning Italian actors, and I was jetlagged Googling at 4am and I came across Will Sharpe in Giri/Haji, which is a brilliant show in the UK. I'd never seen him before and he was just incredibly talented. I looked at his other work and realized he was kind of a chameleon."
The second season of The White Lotus was that rare thing for a modern viewing audience—appointment TV. Every Sunday night, many, many people dutifully made sure they caught the latest episode when it aired for fear of not only missing out but having a twist or, worse still, a major reveal ruined by a friend, a family member, or a stray headline. Considering what White and his talented cast and crew have managed to do with Hawaii and Sicitly, the idea of season three set in a White Lotus ski resort in Japan, for instance, is delicious. Wherever The White Lotus season three is set in Asia, it will certainly be one of the most coveted TV gigs to nab, and will once again be appointment viewing when it airs on HBO.
Sadly (and spoiler alert!), we know one person who won't be making the trip to Asia for season three. We're grateful, however, that we got to spend time with Tayna in both Hawaii and Sicily. Remember, kids, if you're going to jump off the side of yacht, make sure you take your heels off first!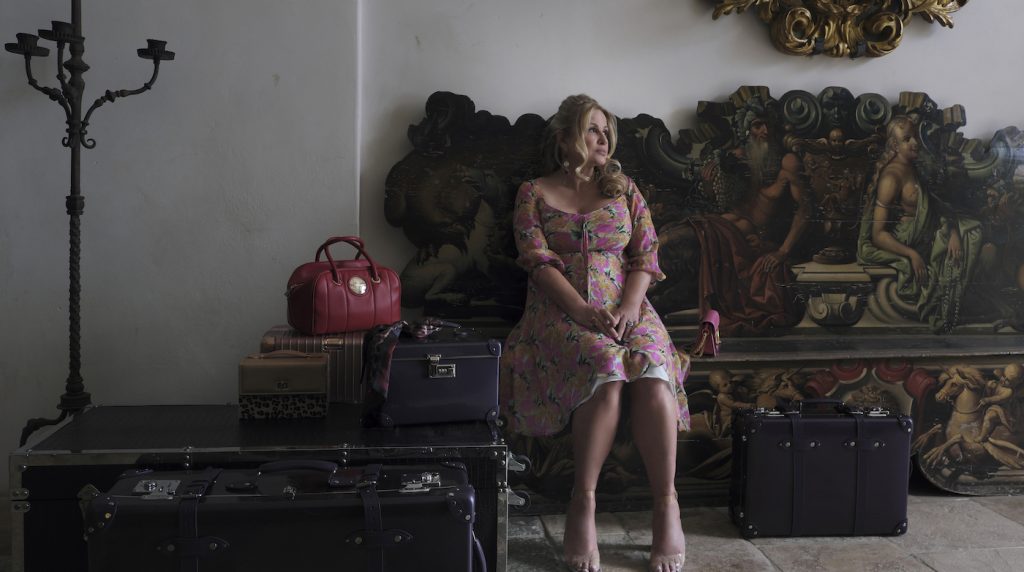 For more on Warner Bros., HBO, and HBO Max, check out these stories:
M. Night Shyamalan Headed to Warner Bros. in First-Look Deal
Sequels of "I Am Legend" With Will Smith & Michael B. Jordan & "Constantine" With Keanu Reeves in The Works
First Look at Lady Gaga as Harley Quinn in "Joker: Folie à Deux" Revealed
"The Flash" Posters Reveal Michael Keaton's Batman in Iconic Cape & Cowl
Featured image: Will Sharpe and Meghann Fahy in "The White Lotus." Photograph by Fabio Lovino/HBO