"I Wanna Dance with Somebody" Composer Chanda Dancy on Scoring Whitney Houston's Complex Life
When the shortlist for the 2023 Oscars was announced, composer Chanda Dancy was included for her work on the film Devotion. If she is nominated, she'll make history as the first Black female composer to be nominated for an Academy Award. Dancy brings that winning streak into 2023 with her score for the new film Whitney Houston: I Wanna Dance with Somebody, directed by Kasi Lemmons and starring Naomi Ackie as Houston.
The film celebrates the rise of one of the greatest female pop vocalists of all time, showing both Houston's public persona as the performer fans around the world fell in love with and the private woman who struggled with her identity, substance abuse, and her place in the world. The composer's lush orchestral score is based on two distinct themes that represent the public and private Whitney.
In a chat with The Credits, Dancy talks about those themes, as well as her experience working with Kasi Lemmons. She also shares her own memories of hearing Whitney Houston for the first time.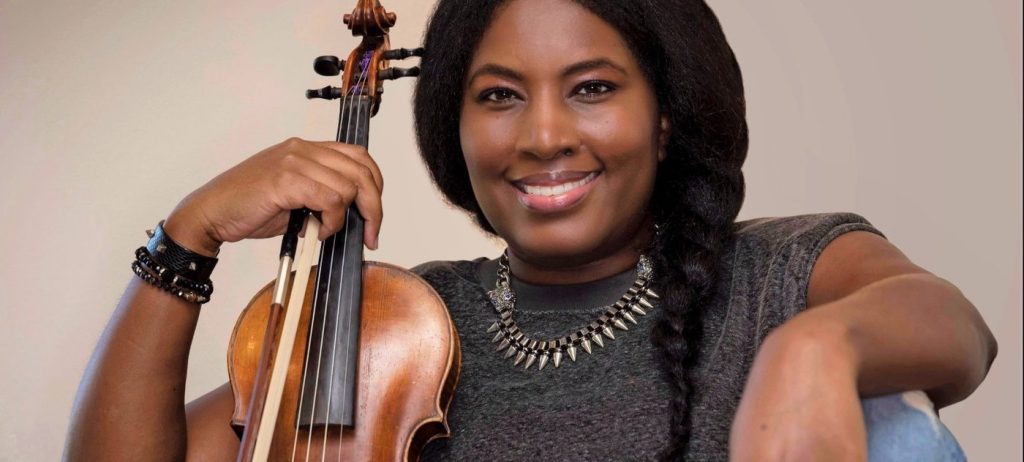 What was your starting point when you began work on a film about one of the most iconic, talented stars of all time?
My view of Whitney has always been just the epitome of glamour. In my head, I imagined her cascading down staircases dripping in diamonds and with the voice of an angel. So when approaching the score, I really had a lot of that in mind, how glamorous and amazing she was. Kasi and I talked a lot about that. Whitney went through so much during her time on Earth. Fame wasn't always kind to her, but that's not why we fell in love with her. We didn't fall in love with her because of the gossip, it was the spark, the voice, the glamour, that vision of the singing princess. With the score, there were two main things that we wanted to do. We wanted to rekindle for the film's audience that glamour and the love her fans had for her, as well as respectfully address some of her darker moments.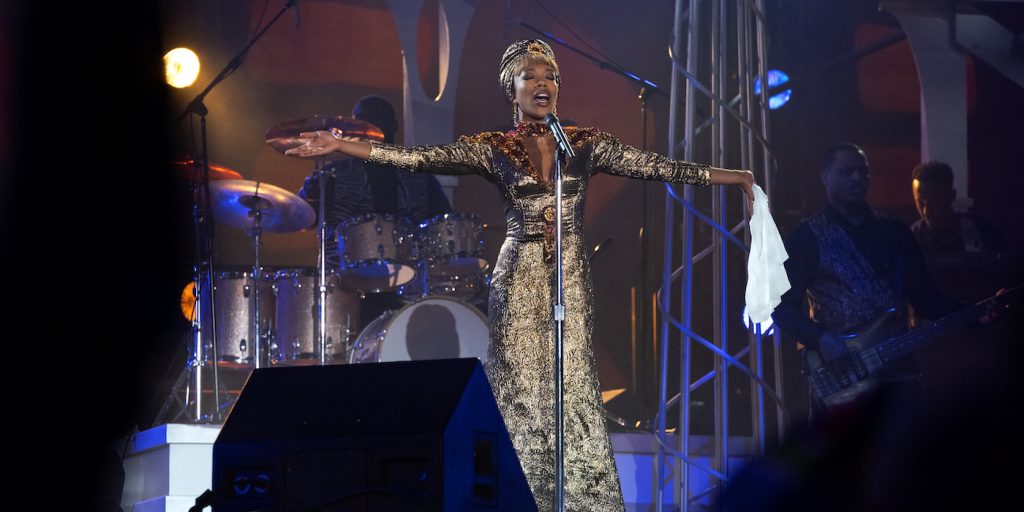 Do you have specific memories from your own upbringing that you could call upon? Do you remember the first time you ever heard her?
Definitely. It was one of those moments you never forget. It was actually the very first time I heard her version of "I Will Always Love You". I vividly remember I was in middle school, and we were having a field day, the kind of thing where we weren't in class but outside doing athletics. Then we had a little party, and that was the first time we were allowed to listen to the radio on the school campus. It was sanctioned by the teachers. We were listening to our favorite radio station, and "I Will Always Love You" came on. That was the very first time I heard it. I remember in the very beginning being perplexed because it started a capella. This is my first time just really experiencing that feeling like, "Oh, she's just singing by herself." And then it just swells. And I'm like, "Oh, my God, this is the best song ever." 
Can you talk a little bit more about Kasi Lemmons bringing you into the project?
Kasi and I met through Zoom, where I remember we giggled and walked down nostalgia lane. I was already a huge fan of hers ever since Eve's Bayou, so this was another "Oh, my gosh!" moment. I was hired on the spot. Essentially, Kasi said, "I'm not gonna listen to any other composers." Our collaboration was perfect from the very beginning. The three of us sat down via Zoom; me, Kasi, and Daysha Broadway, the editor. We talked about how much Whitney meant to us and how important our roles are on this project in paying respect to not only her but also her family and the people who are still around. It's so easy to lose sight of that, as if she was just a Greek goddess on Mount Olympus, and this was all a long time ago and nobody's affected, but there are very real people who will be affected by what we do in this film, so it was important to us to rekindle the love people had for Whitney and tell her story without going into TMZ territory.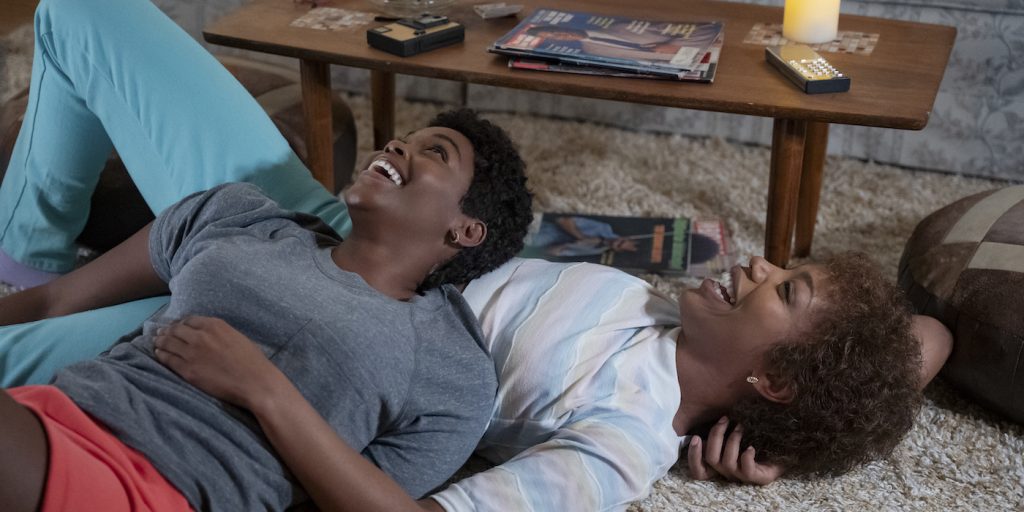 The score is anchored by two main themes, the genius theme and the waltz theme. How did they take shape?
The genius theme actually came out very quickly. What you hear in theaters is the first version. It didn't take as much effort, relatively speaking. That's obviously because I've always been such a fan. Coming from that standpoint, the genius theme, which represents Whitney's onstage life, her glamour, and how we felt as fans towards her, came about very quickly. With the waltz theme, Kasi actually knew Whitney and knows her family members, so she had much better insight into how it should be. The waltz theme represents Whitney's private life and all of its twists and turns. so had to be a bit more nuanced. It was a complicated waltz melody, and it was important that it not be too dark. It's okay to have a little touch of maybe the angst that Whitney went through but not beat us over the head with it. It definitely did evolve to the version you hear now. 
The score, on the whole, is very emotional. How did you temper the various elements not to become overly sentimental? 
I have a really great example of that. This whole score is an orchestral score, and how you have the actual musicians perform on their instruments will completely change the intensity. They could play the exact notes written on the page but slightly softer, and suddenly the cue becomes not as overwhelming as if they just played the same notes a little louder. In one scene in particular, Whitney is talking with the bartender, and he's saying, "You're the greatest." She has this memory of being on stage, and then you hear the genius theme on a solo piano first, in this memory flashback of her onstage, and then it turns because Whitney is nervous about actually being able to pull off performing for Clive and all these people again at Clive's party. She hears the photographers and sees the flashes and all these celebs, and everyone has all these expectations, and she's not sure she can do it. At that point in the cue, the orchestra comes in, and it was the exact same notes that the cue was written in, but I told the orchestra to play with their mutes on. There's a mute that you can put on stringed instruments that make their sound softer, so it's not overwhelming.  It's more subdued. The difference between having the orchestra playing normally and playing with those mutes was stunning. I remember Kasi was very cognizant of this cue in particular, saying, "It can't be too much, or it'll go into schmaltzy territory. We really don't want that." The first take of the cue was probably on the edge of a little too much, and then I told the orchestra to put on their mutes, and Kasi's face, when we recorded with the mutes, said it all. It was like, "Yes. That's it!" So those are the types of things that we, as orchestral composers, have to constantly consider. 
Is there a way this film has had a lasting effect on you?
I wouldn't say it has changed me as a composer, but it has helped me as a human by making me even more sensitive to what we do to affect one another. As I said, there's a difference when you're writing music for an icon whose family and everyone is still around, and still very much invested in her image, and still very much grieving. Grief is complicated, and you must be respectful. Yes, I honor Whitney, and I hope she's smiling down from heaven, but also, there are people who are here and miss her and love her so much. They must feel loved and respected as well. That is the big thing that I can take away from this project.
Whitney Houston: I Wanna Dance with Somebody is playing now in theaters nationwide. 
Featured image: Naomi Ackie in TRISTAR pictures I WANNA DANCE WITH SOMEBODY. Photo Credit: Emily Aragones. © 2021 CTMG, Inc. All Rights Reserved.