"George & Tammy" Costume Designer Mitchell Travers on the Power Couple's Fashion Forward Approach
When George Jones and Tammy Wynette sang, the nation listened. The chart-topping talents performed some of the most memorable songs in country music history and their love story rivaled any of their lyrics. Together, they shaped the industry amid the rise of television and against the backdrop of a rapidly changing American landscape. Showtime's limited series George & Tammy, created by Abe Sylvia, captures the tumult and triumph of their decades in the spotlight.
Costume designer Mitchell Travers threaded the needle between life and legacy as the characters established a show business style and took their work home with them.
"George (Michael Shannon) is sort of going back to his roots and Tammy (Jessica Chastain) is on the rise," Travers described. "So, you get to really understand that it is a show, and it is a performance from the songs to the clothing to the stage. Everything was designed for audience consumption, but then you get these really great moments of Tammy at a piano in a tank top, and it's really human and humble and country. There's something really wonderful about that for me that you get both sides of these very public figures."
Opposing trajectories tug at the fray between the two from the very beginning of their relationship. Jones was well established in his career when he fastened on to Wynette's talent, but explosive stardom lay ahead for her. An infusion of domesticity gives the series a raw glimpse into their reality.
"We have so many great instances of him just on the lawnmower, and it's a great contrast between this man we've gotten to meet in rhinestones to a man in an old hunting jacket and a tee shirt on a lawnmower," Travers noted. "For Tammy, you get to see the reverse where she starts from humble beginnings and just skyrockets to be one of the biggest names, not only in country music, but she had a foray into dance music in the 90s as well. There's a real creation of a star that you get to experience with Tammy and the unraveling of a star with George in parallel."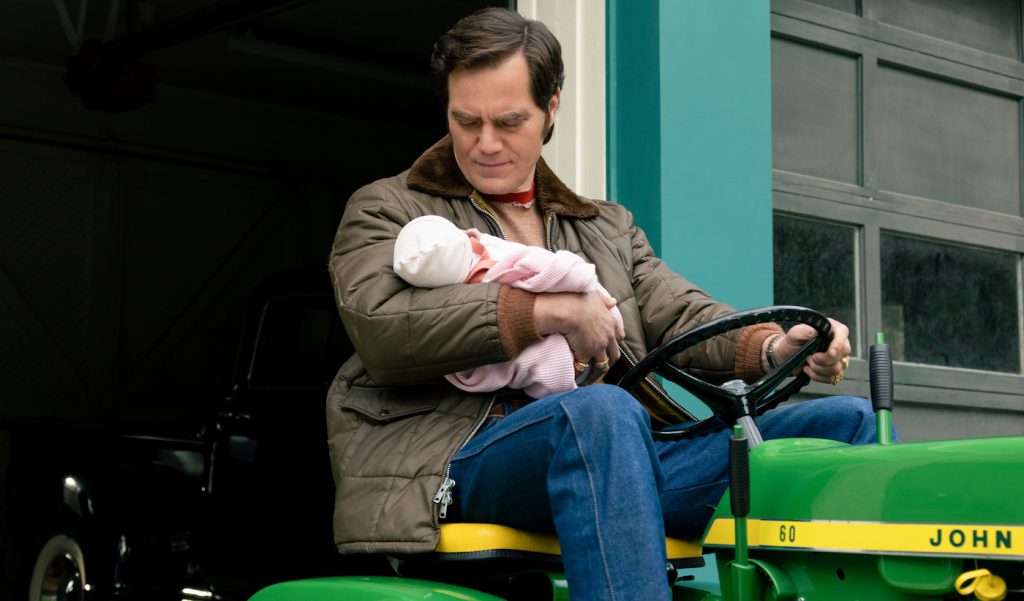 Jones was an early pioneer of the infamous Nudie's suits that came to define Nashville fashion in his time. The custom western wear played with traditional cowboy silhouettes drenched in glitzy and audacious patterns. The flashy designs were perfect for creating a dreamy aura around the larger-than-life performers who wore them.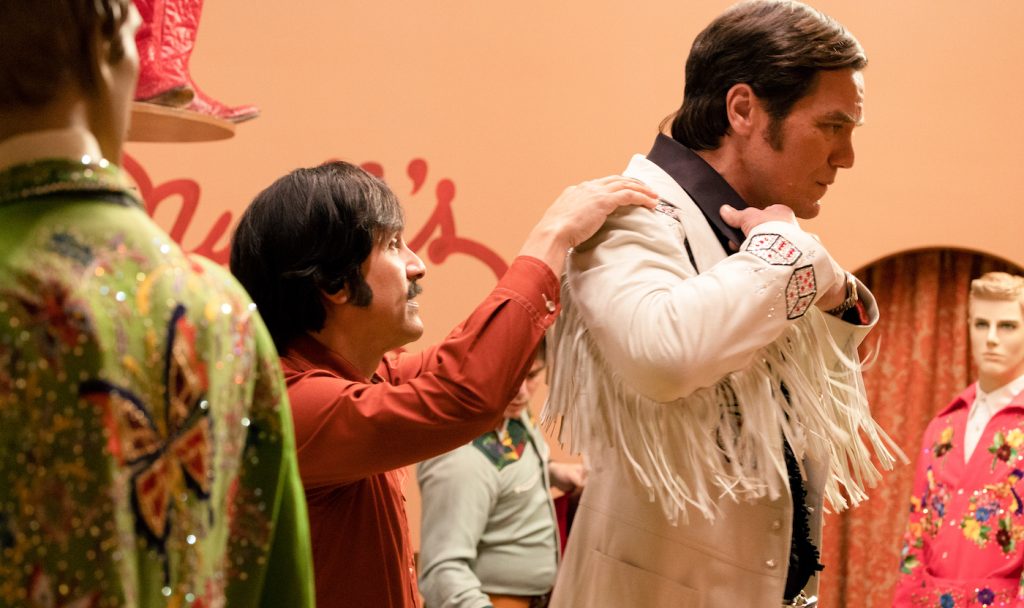 "George's style, I can't believe it's not more of a touchstone for country artists now because you look back and see some of the things that George was doing in the late 60s and the early 70s, and it was super forward," Travers noted. "He was doing these incredibly fashionable things at the time."
The couple played a major role in glamorizing country music as Nashville fanned out from radio to television screens. Delivering an experience that was as vivid in viewers' living rooms as it was in person required memorable performance attire.
"Nudie famously started adding rhinestones to his suits so that when these performers would come out on stage, everyone felt like they got to see these people live, and there was a genuine star quality to country performance," Travers described. "That's where the idea for these Nudie suits comes from was to try to make sure that everybody in the audience got to see them and experience them in real life. I think that the television only brought that feeling closer where you could see the muscles in their neck twitch as they sang. It felt like you were right there with them."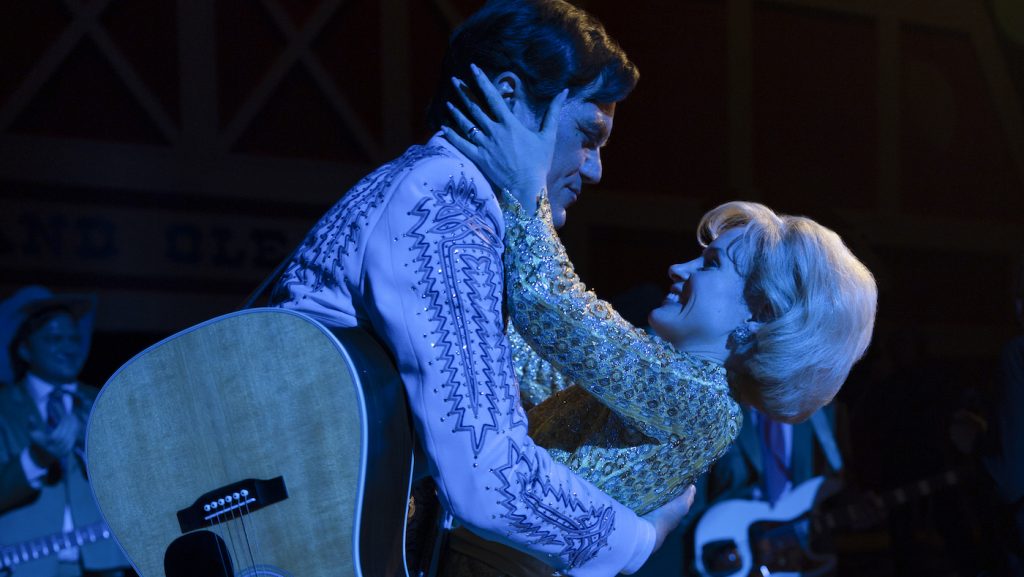 Wynette's costumes grew and evolved as her fame increased and fashion trends became bigger and bolder. "With that came bigger collars, bigger jewelry, bigger rhinestones," Travers said. "Tammy's sleeves get huge at a certain point in history, or the straps on some of her dresses or bows. In the beginning, they were playing for the back row of the house, but over the course of their careers, I think they started to learn how to play for the camera, which was a really important part of their fame."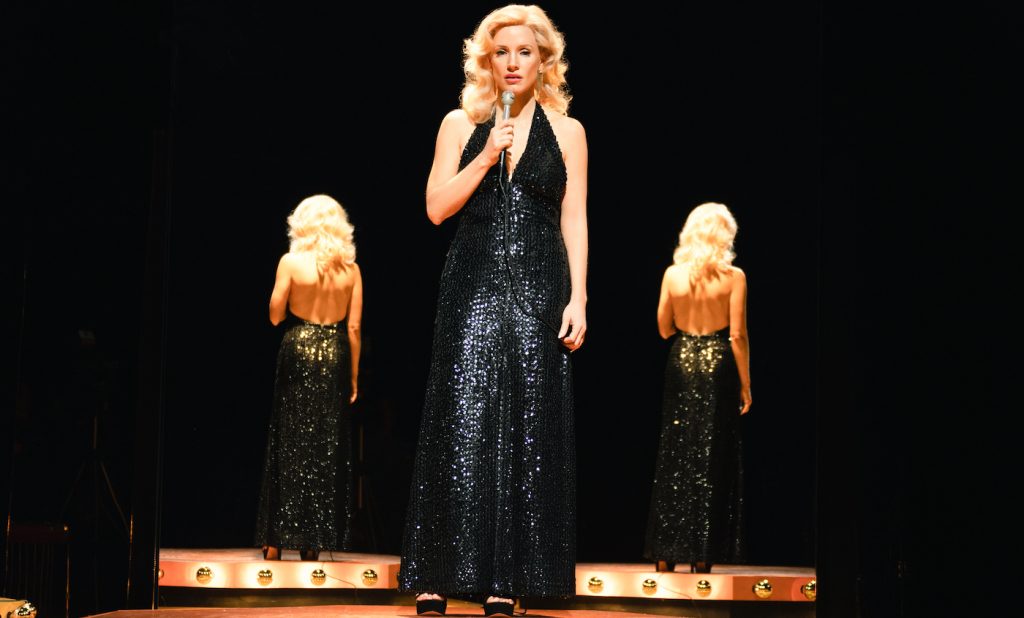 Jones and Wynette not only reached the highest levels of country music but also enjoyed impressive longevity. They navigated major cultural shifts from the 1960s to the 1990s while maintaining a devoted fan base and reaching new listeners. That opened Travers to a huge span of retro looks that appear on the show.
"How much plaid can you put on camera before you're fatigued? It's a balance," Travers laughed. "Taking these individuals and a couple through all these decades was great fun because each decade offers you something to play with. The injection of jewelry and turquoise and silver comes up in the mid-70s, then as you start to make room for the 80s when big business starts to come in and women are working. There's just so much history that you want to put in the show to help people feel like they're back there. Or for people who weren't alive then, you want to give them everything that was happening. All the history, all the trends. But we serve little snapshots of each year. It's hard not to put everything in and just distill it to its essence in every scene."
Both romantic and professional partners, Jones and Wynette were legendary solo acts but often appeared together – even after ending their marriage. The pair put detailed consideration into their image. That unity was often expressed through their costuming, which Travers used throughout the series to signal their ever-changing dynamic.
"There were times when they would match their costumes perfectly to one another," Travers said. "I loved to imagine the conversations they had on a tour bus or waiting for a flight where they were planning their outfits together. I really think that one of George's love languages was matching. I think it was his way of identity and partnership. For me, it was great fun to design these matching ensembles for the two of them when things were really good. And then when things weren't so good, try to visually pull them apart and create some distance just with the clothes alone."
Travers' team built many of the costumes, but several of the pieces were truly vintage. In their search, the costume team even made a historic discovery. One vintage dealer that Travers collaborated with exclusively sources sequined and beaded gowns – attributes that would describe much of Wynette's attire.
"She and I were working together to source items for the musical performances, and she discovered the exact gown from the 'Tammy's Touch' album released in April 1970," Travers recalled. "Jessica and I had a marathon first fitting, as she has so many costumes in the series. I, of course, pulled out Tammy's gown to show her, and she had to try it on. I had a 'Country Greats' playlist going in the fitting, and just as we finished zipping up the dress, Stand By Your Man came on shuffle, and we all got goosebumps!" 
After the show wrapped, Travers returned the dress to its rightful heir – Jones and Wynette's daughter, Georgette Jones. "I'm certainly not going to hold onto that," he insisted. "It's not mine to keep, but I just felt like the universe was on our side as we were hunting at all these incredible vintage resources that we found some of this stuff that was as authentic as it gets."
Travers described the wardrobe he assembled as "a little Tammy Wynette department store." He and Chastain would wander the aisles gathering inspiration for the character.
"With each layer that we put on, a little more Tammy comes up," Travers observed. "And every time we try something new, we learn a little bit about what we want this character to be. Obviously, there's a ton of reference that we can lean on, but it's really important that you help the actor find their portrayal of it."
New episodes of George & Tammy are available to stream every Friday on the Showtime app.
For more on George & Tammy, check out this interview with series creator Abe Sylvia:
"George & Tammy" Creator Abe Sylvia on Crafting a Complicated Love Story
Featured image: (L-R): Jessica Chastain as Tammy Wynette and Michael Shannon as George Jones in GEORGE & TAMMY, "The Grand Tour". Photo credit: Dana Hawley/Courtesy of SHOWTIME.