"Babylon" Composer Justin Hurwitz Deconstructs His Oscar-Shortlisted Score
"I'm very obsessive, and I can only do one thing at a time, so when Damien has a movie to work on, I go all in." That's composer Justin Hurwitz talking about his ongoing collaboration with filmmaker Damien Chazelle, and clearly, the laser vision has paid off. Hurwitz started working on his Oscar short-listed score for Babylon back in 2019, a few years after winning two Academy Awards for the Chazelle-directed La La Land. He also scored Chazelle's acclaimed 2014's jazz-themed feature Whiplash and his 2018 epic First Man.
Hurwitz started taking piano lessons at age six, composed original music by age 10, and studied music theory at Harvard University. There, he met Chazelle. In their freshman year, Hurwitz and drummer Chazelle formed a band called Chester French. By the time the group had signed with Pharrell's label, Hurwitz and Chazelle had quit, re-directing their talents toward making student films together.
For Babylon, starring Brad Pitt, Margot Robbie, and newcomer Diego Calva as fierce talents struggling to navigate Hollywood's silent movie era, Hurwitz wrote more than two hours of music, including four dozen cues featured on the film's soundtrack album. 
Speaking from his home studio in L.A., Hurwitz, flanked by a synthesizer and a piano, talked about recruiting a wild saxophone player he found on YouTube and explains how he blended modern production with 20s-era jazz instrumentation to drive the movie's fever-dream party sequences.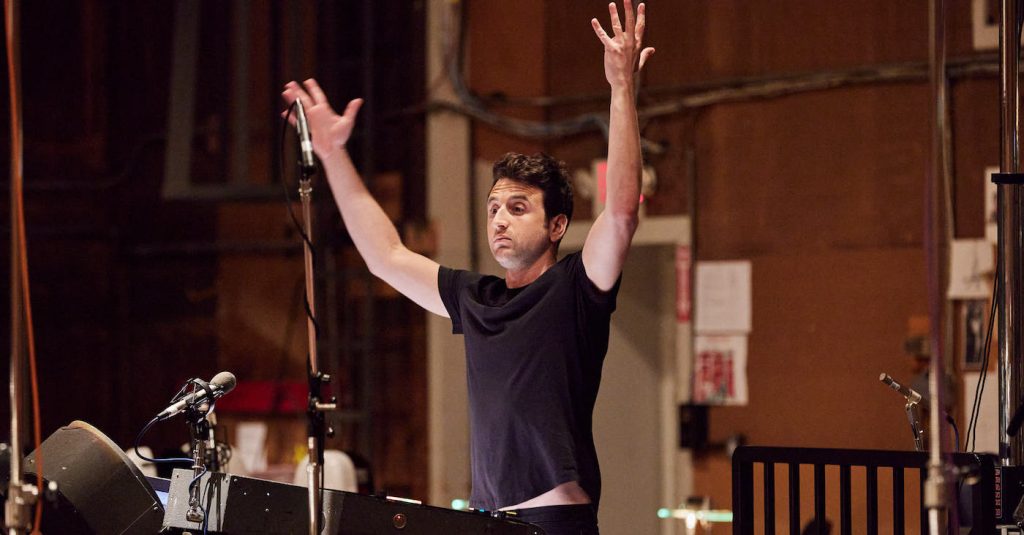 Your Babylon music cues manage to evoke a twenties jazz feel without sounding retro. How did you approach that synthesis?
The party music instrumentation is basically a 1920s jazz band, cheated up with a slightly bigger horn section – – two trumpets, two trombones, and three saxes. There was probably a four-on-the-floor kick drum back then but not as forward [in the mix] as we've done it, so that seems modern. I also did a lot of riff-based writing, taking inspiration from rock and roll bands like the Rolling Stones and AC/DC.  Where their songs are written around a riff played on an electric guitar, we've given the riff instead to unison horns, so the music has a muscular feel different from the lighter style of jazz we think of as the twenties.
It's a compelling mixture: jazzy horns arranged like rock riffs and set to the kind of driving rhythms you might find in electronic dance music.
Yeah, Damien put together a playlist at the beginning. There were like 90 dance music and EDM tracks, some sixties jazz, some Latin inspired pieces — all sorts of stuff, but it really wasn't twenties music.
So you didn't go back and listen to recordings by people like Duke Ellington or Louis Armstrong?
No. I actually avoided music from that period. We wanted a more wild feeling. Damien brought up the idea that music we think of as "twenties" was just a sliver of what was actually being played at the time. Recording on wax or whatever was very new, and very few people had access. There was actually a much more vibrant music scene at parties and clubs and underground music places where people are really sweating and going for it. So we tried to imagine the kind of music that was being played at the time but was never recorded.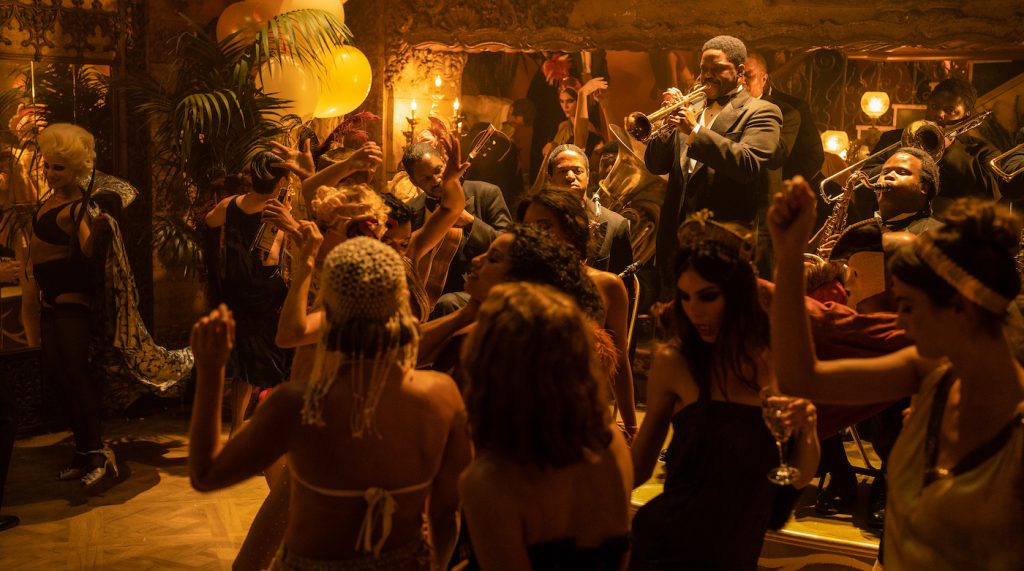 To capture that wild feeling, I believe you came across a great saxophone player online?
For the wild sax solos at the opening party, I worked with a player named Jacob Scesney, who I'd never worked with before. Our vocal contractor sent me a YouTube video of him playing a small jazz club, and I thought he was perfect. Then for the dance sax, I found this guy Leo Pellegrino searching YouTube. I was writing early demos for a baritone sax using this [pointing to the synthesizer]. I went searching for "Does anybody play dance music on a sax?" And Leo does exactly that. There are viral videos of Leo busking in New York subways, kicking his legs and spinning around as he plays the sax. For one cue, "Herman's Hustle," we remotely recorded Leo playing his baritone sax from Philadelphia, where he lives, and then you've got this great drummer Peter Erskine here in L.A. with his snare and cowbells and woodblocks doing awesome stuff. It was exciting to pair them together. I've never done a score with this many moving parts. 
A lot of film composers score one or more movies a year, but you don't work that way?
I'm very slow, first of all, and I obsess over every detail, so it takes me a long time to find stuff that I think is good enough, that Damian agrees is good enough. It starts here at the piano with the melodies. We go through a lot of iterations, we talk about arrangements and instrumentation. I'm very lucky that Damien thinks about music early in his process and allows me to build the score with him. And I do need a lot of time to feel like I'm doing my best work, so I'm glad I get to start early.
How do you match the music to the sequences?
Damien hand-draws storyboards, hundreds of pages, then he cuts these stick figures to my demos on Final Cut Pro or whatever he uses. Then I refine the demos to the length of his storyboards, or sometimes he changes the timing of the scene to fit the music if he thinks that's worth doing.
Most of your Babylon cues include a contemporary element, but your re-creation of "Singin' in the Rain" sounds like a straight-up homage to 1920s-era music.
Yeah, that was a fun task. Everybody thinks of "Singin' in the Rain" from the 1952 Gene Kelly movie, but it's actually a much older song used in a revue from 1929. You can find the recording on YouTube, but it's very crunchy. I tried to pick out the harmonies; I heard a xylophone that kind of poked out, and it's definitely a jazz band with a horn in the rhythm section. I did my best to interpolate that arrangement based on what I could hear. And then it was about trying to get that flavor out of the choir.
Many women and men sing together at the top of their lungs in the original and in your re-creation. How did you approach the vocals for "Singin' in the Rain'?
I started by demoing it right here. I'm a bad singer. I'm not being humble. I'm a truly horrendous singer. But I did a bunch of vocal tracks, crudely tuned it to the right pitch, then got my friend Riki to sing the female parts. Twelve of me, twelve of Riki. Then we brought in a great choir, 16 or 24 singers hired by our great vocal contractor Jasper Randall. But Damien figured that the people singing in our Babylon sequence are actors in rain slickers — it shouldn't be a perfect choir with perfect vibrato. It should be a little rough around the edges. So we blended in my amateur demo vocals with the professional singers to strike that balance.
You brought in three different trumpet players to provide the solos for Babylon musician Sidney Palmer, portrayed by Jovan Adepo. Did you also create themes for the Margot Robbie and Diego Calva characters Nellie and Manny?
Yeah. It's a bittersweet tune which is actually a slowed-down version of the baritone sax dance piece [earlier in the movie]. We harmonized it and used three different pianos. One was a beautiful Steinway with a very warm tone. The second piano was a slightly out-of-tune spinet with tacks in hammers, which add a twang. And then the third piano was an extremely out-of-tune upright. When we blended the three pianos together, it gave us this mixture of sweet and sour. Like Nellie and Manny's relationship, it felt fragile and broken.
Can you talk about some of the other musical styles featured in Babylon?
There are a few cues we recorded with a 98-piece orchestra. On the hilltop, when Brad Pitt's character has this big kiss, we've taken one of the score themes called "Gold Coast Rhythm" and turned it into a Wagnerian-inspired orchestration. At a fancy party later in the movie, we have a Bolero-inspired piece that grows more and more insane. In the scene where we first meet Tobey Maguire's character, we have a Greek folk-sounding piece on guitars followed by a Hawaiian orchestra piece, both playing twisted versions of tunes we've heard earlier in the score. Then the Tobey character takes us to a set piece where we have these creepy Gregorian sorts of vocals, and under that creepy male drone are pitched gongs playing a twisted version of the "Voodoo Mama" tune, which was Nellie's big dance piece at the Wallach party. Damien and I love to establish our themes early and then bring them back in all sorts of ways. For this sequence, Nellie's life is on the line, so it felt right to bring back a piece of music that represented her, even if it was really disguised.
For more on Babylon, check out these stories:
"Babylon" Production Designer Florencia Martin Conjures Hollywood's Decadent Early Days
How The "Babylon" Sound Team Built a Sonic Bacchanal
"Babylon" Official Trailer Finds Brad Pitt & Margot Robbie Living the High Life
Featured image: Jovan Adepo plays Sidney Palmer in "Babylon." Courtesy Paramount Pictures.