Best of 2022: "The Woman King" Director Gina Prince-Bythewood on Her Singular, Sweeping Historical Epic
It's that time of year—we look back on a few of our favorite interviews from 2022 in our annual year-end list.
When director Gina Prince-Bythewood's most recent film, The Old Guard, premiered on Netflix in July of 2020, the critically acclaimed action drama became one of the top 10 original launches in the platform's history. Prince-Bythewood is following that with one of the most anticipated films of 2022, the historical epic The Woman King, the story of the Agojie, an elite all-female warrior unit charged with protecting the African Kingdom of Dahomey in the 1800s. Inspired by true events, The Woman King stars Viola Davis, who also executive produced the project and had a significant impact on getting the film made. 
The Woman King follows Davis as General Nanisca, who is preparing a new group of young recruits and readying them for battle under the direction of King Ghezo (John Boyega). She is aided by fierce fighter and Agojie lieutenant Izogie (Lashana Lynch) and Nanisca's second-in-command Amenza (Sheila Atim), who presides over rituals of initiation and preparation for battle. Recruits are made up of those rejected by their family, such as Nawi (Thuso Mbedu), and captives who choose to join the sisterhood of warriors, like Ode (Adrienne Warren).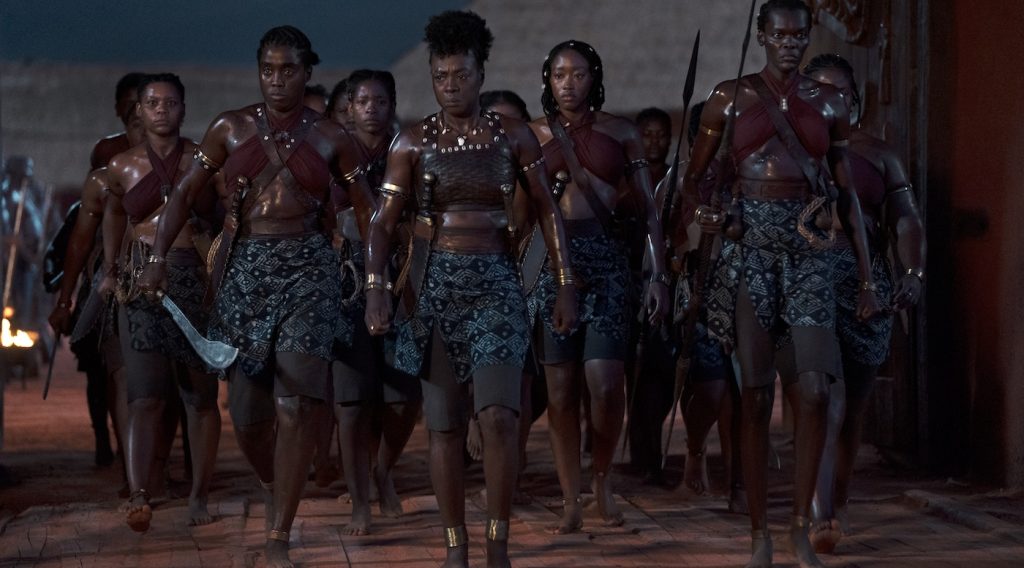 There have been no previous films like The Woman King. The release of an action film starring a nearly all Black and female cast, and led by Davis, an actor over 50, is a rarity indeed, but if the advanced buzz and its 98% Rotten Tomatoes rating is any indication, it may offer proof that audiences want what The Woman King has to offer. 
The Credits spoke to Gina Prince-Bythewood about the casting and filming of a project that further shows her as a director talented at integrating action with character development and storytelling.  
The performances in The Woman King are so compelling. Casting is one of your superpowers. Viola was already attached to the film when you signed on, and she's spectacular. Can you take us through the casting of Lashana, and in what ways she surprised you with her performance? 
Absolutely. When I read the script, I knew immediately that I wanted Lashana Lynch in the film. I had seen the speech she gave at Essence Black Women in Hollywood, and that was also at the time when the trailers for No Time To Die had started coming out, and she just looked so badass. I believed her in those trailers, and of course, she was in Captain Marvel, but it was what she said about the type of films she wanted to do and the type of work she wanted to put in the world. I was just so inspired and felt like I wanted to work with her. Then we met, and it was such an immediate connection. What we wanted to do with the character of Izogie is so specific, and I love the character on the page, but Lashana inspired me to give her more, not only in dialogue, humor, story, and backstory but also in action. She was one that Danny [Hernandez] and I, our fight and stunt coordinator, could trust implicitly. We knew if we designed it, she could do it.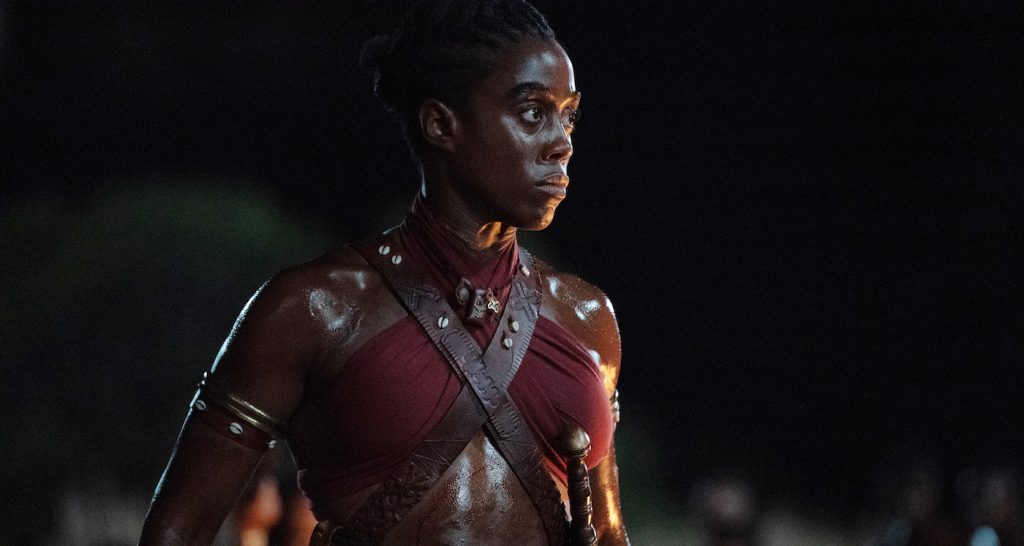 Viola was 56 when production began, and a starring role for a Black woman in film, especially one over 50, is exceedingly rare, but she does some of her best work in The Woman King. Can you talk about some of the aspects of your collaboration with her and how the character was built and delivered through the production?
I am so grateful to her. Viola, along with [producers] Julius Tennon and Cathy Schulman, fought so hard for this film, and part of it was fighting for her to have an opportunity to play a character like this, which she's never been offered. Nothing has ever been written like this. She's a genius and deserves all the choices, and the reality of our industry is that you don't get them as a Black artist, so she created her own. It was really beautiful to build her character Nanisca with the back story that Viola created. That's a movie in itself. She goes deep into character so that she knows who she is on a molecular level. A lot of our interaction after that was building a relationship between her and Thuso. That was me having them train together to connect, to get to know each other, to rely on each other, and to push each other. And it was getting her comfortable being able to do her own fighting and stunts.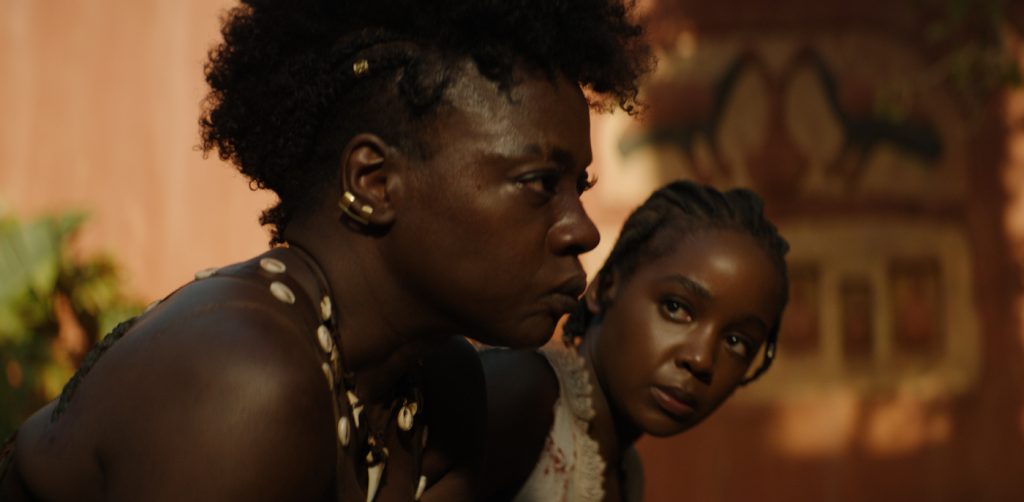 Fighting in the way that was required as Nanisca had to be new to her. 
She had some fear in terms of doing that. She hadn't done anything like that before. She wanted to know and trust that we would make her look good, and we did. We weren't going to put her in our box. We were going to let her build her box and build our action and fighting around it. What is Viola really good at? Well, she is hella strong, so let's put that into Nanisca and her style of fighting. It's going to be different than Thuso, who is small in stature, but uses speed, or Lashana as Izogie, who's just feral and will decimate you. That was the fun part of the specificity, me being an athlete, having kickboxed for a couple of years, being able to impart that into Viola and that character and let her know what it feels like when you're about to fight and what it feels like to be in a fight. On the acting side, she's brilliant. It was certainly in the fighting and stunts that I was able, I think, to provide the most direction.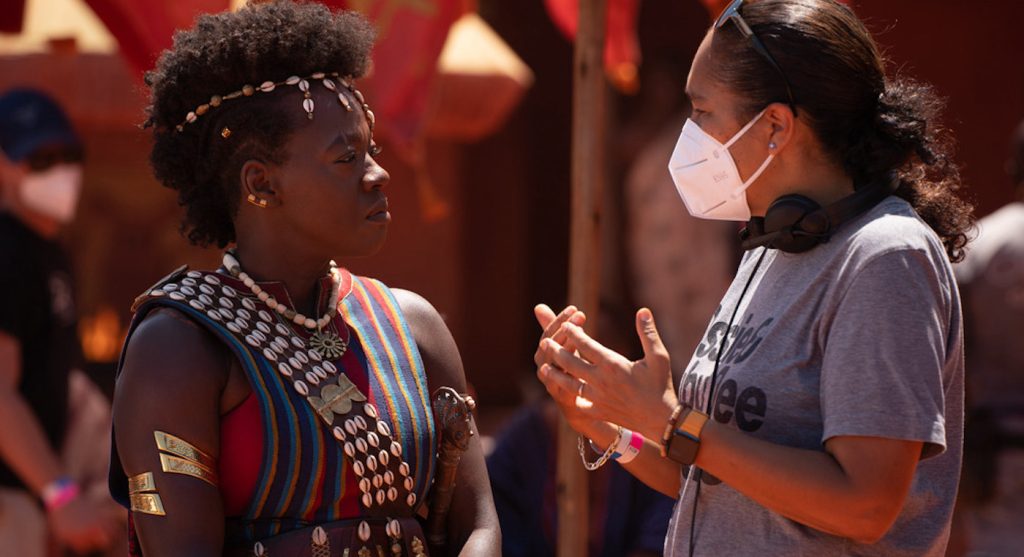 The battle dance is incredibly complicated. What was involved in the training and the filming of it? 
It was very funny to tell the actors, "Hey, on top of everything else you're doing, we have a couple of dances that you have to learn." And then they watched the choreography, and you'd see their eyes glaze over like, "Oh my God, we're gonna do that?" But we had incredible choreographers. I told them, "They are not dancers. They all have rhythm and the passion to learn, but you are teaching them really intricate, choreographed sequences and some of them involve singing in another language at the same time." It was a lot. I went to as many rehearsals as I could because it's inspiring to watch the progression and to see them getting better and better. I told them on set when it came time, they'd been rehearsing in private. The choreography is only half of it. What really makes the battle dance is the aggression that you bring. All these moves like neck slashing and stabbing, that's what they really did. And so I told them,  "To bring that, you have to start on volume 10." I remember the first time on the day we shot it, the entire crew was watching to see what it looked like. They went through the dance and went at, I would say, 80 percent, and the entire crew erupted into applause because it was so beautiful and powerful. 
There's a sense of joy and ownership among those involved in this movie. The experience must have been very positive. 
So many of us knew what we were doing was special because it was different and we hadn't seen it before. When you have collaborators like I had on this, all of whom were women and people of color, all my HODs, everyone brought such a level of passion to be able to tell the story, and everybody was empowered. They had a voice in rooms where they weren't the only ones for the first time, amongst their own, and feeling valued. That brings out even more in people, and it was such an inspiring environment.  When you believe, when it's more than a job, you just get really great work out of people.
The Woman King is in theaters now.
For more on The Woman King, check out these stories: 
"The Woman King" DP Polly Morgan on Lensing Viola Davis in Gina Prince-Bythewood's Thrilling Epic
Viola Davis Reigns Supreme in "The Woman King" Trailer
Featured image: Viola Davis stars in THE WOMAN KING. Courtesy Sony Pictures.