Best of 2022: How "Nope" Production Designer Ruth De Jong Built & Bloodied the Haywood Ranch
It's that time of year—we look back on a few of our favorite interviews from 2022 in our annual year-end list.
There was a moment when writer/director Jordan Peele and production designer Ruth De Jong realized they were going to shoot Nope practically. Tucked in the Agua Dulce area of California's Santa Clarita Valley is the Firestone Ranch, which would become the setting for the Haywood home where OJ (Daniel Kaluuya) and his sister Emerald (Keke Palmer) discover an unexpected visitor living in the sky above them.
"The property is this huge basin surrounded by these hills, which makes it even scarier because there's no way out," says De Jong, who reunites with Peele after their work on Us (2019). "When we found this ranch, we knew it was epic and decided to shoot everything practically."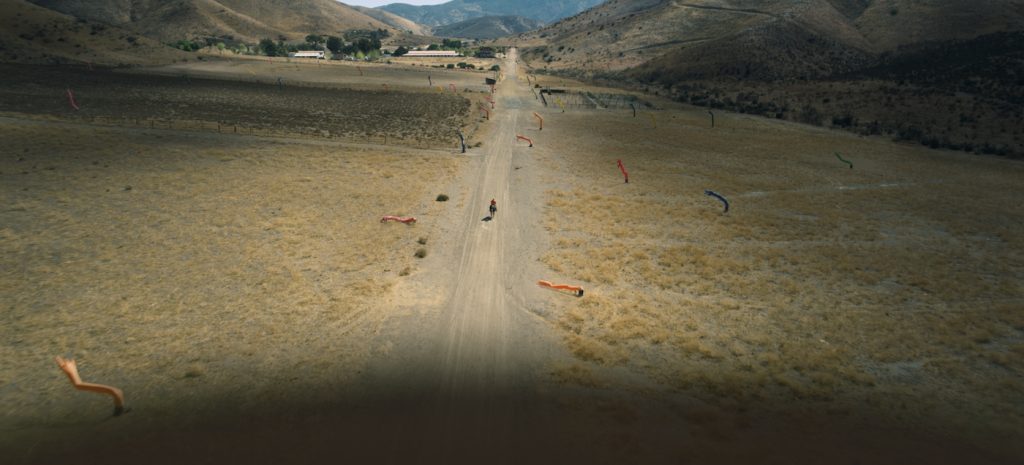 De Jong designed the ranch from the ground up, researching mid-1800s to 1900s farm houses up and down the California coast and central valley. The end result is a mash-up of different homes that influenced her and set designer Jim Hewitt. "It has a bit of an East Coast vibe, but it's very true to ranches in California," she notes. "I wanted it to melt into the landscape but be iconic."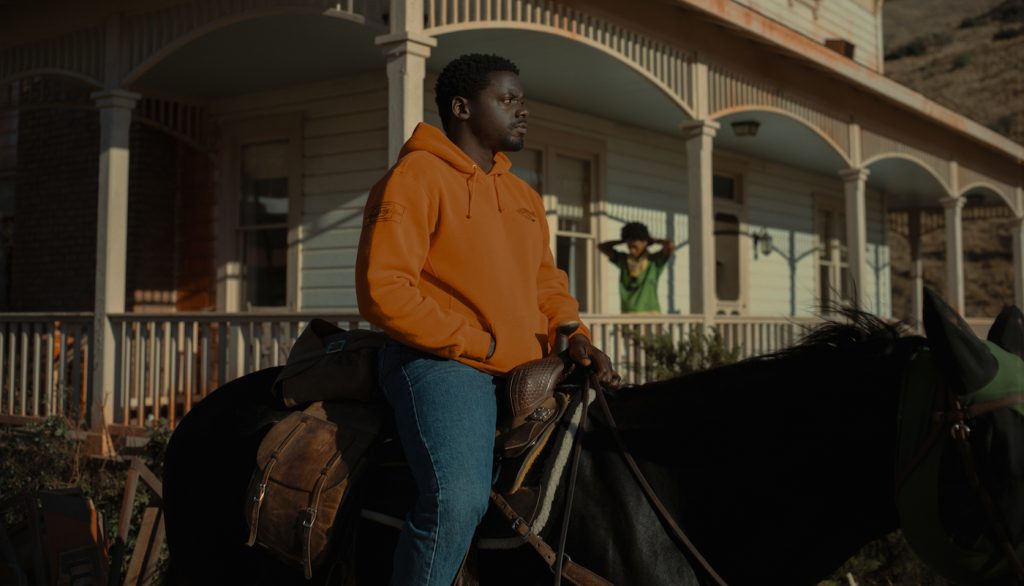 Every detail of the home was grounded in authenticity. De Jong also designed livable places for all the horses within existing arenas and stalls found on the property. "I came up under Jack Fisk (The Revenant, There Will Be Blood) as his art director for ten years, and he is so enthralled about his approach to making things real and true to life. I think that's now ingrained in my DNA. When I was building the house, the first person I went to was our cinematographer Hoyte [van Hoytema], and I asked if there are any constraints I needed to consider. He was like, 'Ruth, you design the house you want, and I will shoot the house you design.' That was really freeing and incredible because it allowed the house to be completely real. We went six feet into the ground and made everything completely structurally sound for the crew to bring dollies up to the second and third floor."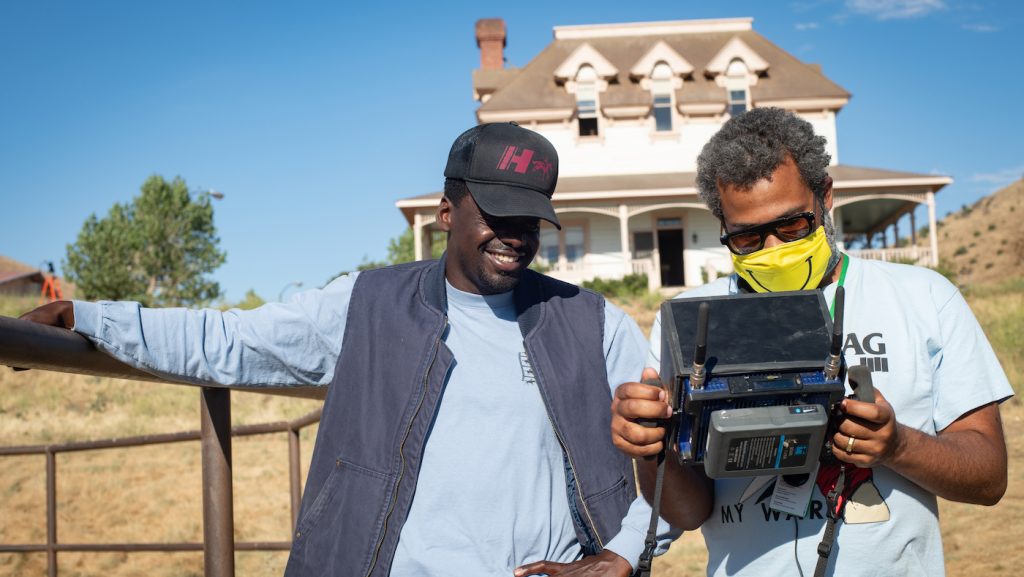 De Jong also dove into the background of the characters to develop the design. "Because a ranch like this would be pretty pricey in this day in age, we thought about how the Haywood's could have afforded this on a horse wrangler salary," she says. "We said that their father [played by Keith David] bought the house but didn't fix it up. It has the same vintage wallpaper from the owner's back 50-60 years ago. The furniture is kind of schlubby and the kitchen has a vintage stove and standard appliances." Set decorator Gene Serdena filled the home with minimal pieces that had come with them through life – a not too little, not too much approach.
Another key aspect of the ranch was giving Peele and van Hoytema the opportunity to shoot 360-degrees interior and exterior. "I get involved in all aspects of filming, not just how to build the house, but how the crew is going to use it," says De Jong. "I didn't want any bogies or base camp to be seen from any angle. To make your movie, every minute of everyday matters. Jordan is such a great proponent of that and said everything on the entire ranch is a hot set."
The approach paid off, especially for a climactic scene near the end of the movie where the house becomes covered in blood because of the entity in the sky attacking them. To pull off the sequence, a vast rain bar system was created along with gallons of food-grade blood that would be dumped onto the house. Over the course of several days, production shot all the interior house shots where Emerald and Fry's electronics guru Angel (Brandon Perea) are stuck inside as the entity circles above OJ, who is hiding out in a van. Then working with special effects and visual effects, they saturated the earth and house with blood to show the aftermath of the following morning. "All of that was practical," notes the production designer. "Even the stuff we strapped on the roof. We were throwing everything up there, a wheelchair, and an ice cream machine. It was a lot of fun to shoot."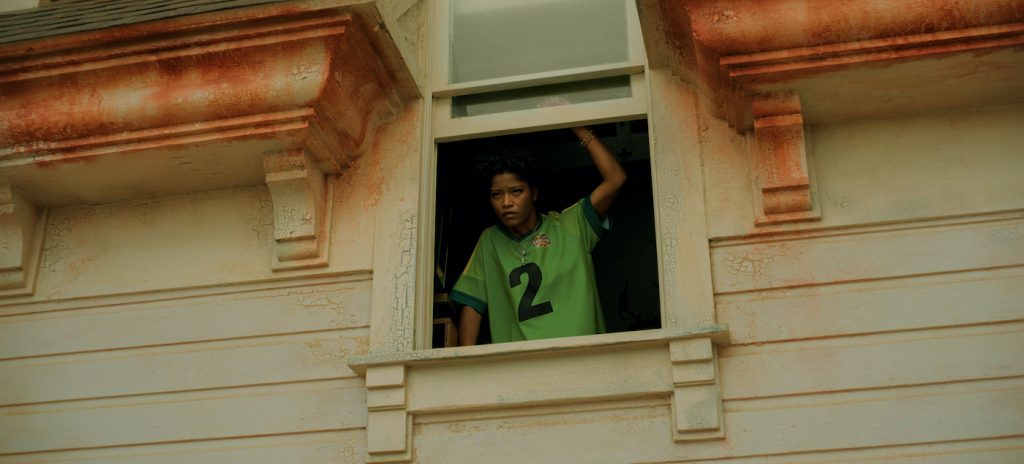 Looking back, De Jong is proud that they never skimped out on doing things practically. Even all the Sky Dancers that were placed in the field to alert the characters of the entity were practical. The electrical department came up with a way to control each one through an iPad. "It's so satisfying to do a movie as practically as possible," she says. "It's an achievement." 
For more on Nope, check out these stories:
"Nope" Editor Nicholas Monsour Dives Into the Macabre of Jordan Peele's Sci-Fi epic
"Nope" Cinematographer Hoyte van Hoytema on Capturing the Epic Scope of Jordan Peele's Latest
First "Nope" Reactions Say Jordan Peele's Latest Stunner is Out of This World
New Video Details How Jordan Peele's "Nope" was Shot With IMAX Cameras
Daniel Kaluuya & Keke Palmer Highlight New "Nope" Trailer & Inside Look