"Black Panther: Wakanda Forever" Composer Ludwig Göransson on the Score's Secret Weapon
One of Black Panther: Wakanda Forever director Ryan Coogler's closest collaborators throughout his entire Marvel journey has been composer Ludwig Göransson. Beginning with Coogler's 2018 Black Panther, Göransson has been by his side, helping him breathe life into the music and sounds of the fictional African nation of Wakanda. Along with other key collaborators like costume designer Ruth E. Carter and production designer Hannah Beachler, Göransson's talent has helped Coogler create the most immersive, richly detailed, vibrant world in the entire Marvel Cinematic Universe.
For Wakanda Forever, however, the stakes, emotions, and challenges were even higher than on the first film. Chadwick Boseman's death at the age of 43 in August 2020 devastated the Black Panther family and millions of his fans around the globe. Göransson, who had read the initial, T'Challa-focused script for Black Panther 2, approached the re-tooled story, which Coogler and co-writer Joe Robert Cole agonized over in the wake of Boseman's death, with serious trepidation. So much of the sounds of the original Black Panther, and many of its major compositional themes, were centered on T'Challa. Göransson and the rest of the Black Panther team had to find a way to tell a new kind of story that would be focused on grief and heartbreak. Art imitating life, on set and in the music studio.
Göransson succeeded, as did Wakanda Forever. Collaborating with megastars (Rhianna and Tems) and lesser-known but no less vibrant talents from Mexico, Nigeria, and beyond, the composer created a singular score for a blockbuster focused primarily on grief and the way the women of Wakanda processed that grief and found a way to carry on.
We spoke with Göransson about finding the sound of Wakanda Forever in ancient graves, music studios in Mexico City and Lagos, Nigeria, and why it was the simplest instrument, the human voice, that became the score's secret weapon.
What were you thinking musically when you read the revised script for Wakanda Forever after Chadwick passed, after reading the original script written from the perspective of T'Challa?
In the beginning, I had no idea how I was going to do this. In the first movie, a lot of the things that we recorded in West Africa, like the talking drums and the themes, were so tied to T'Challa and Chadwick. After I read the second script, I was talking to Ryan, and I was like, 'Are we going to re-use any of these sounds and themes?' So I wasn't sure how to go about it.  So my approach instead was to start off with a completely new component and culture: Namor and the Talokans.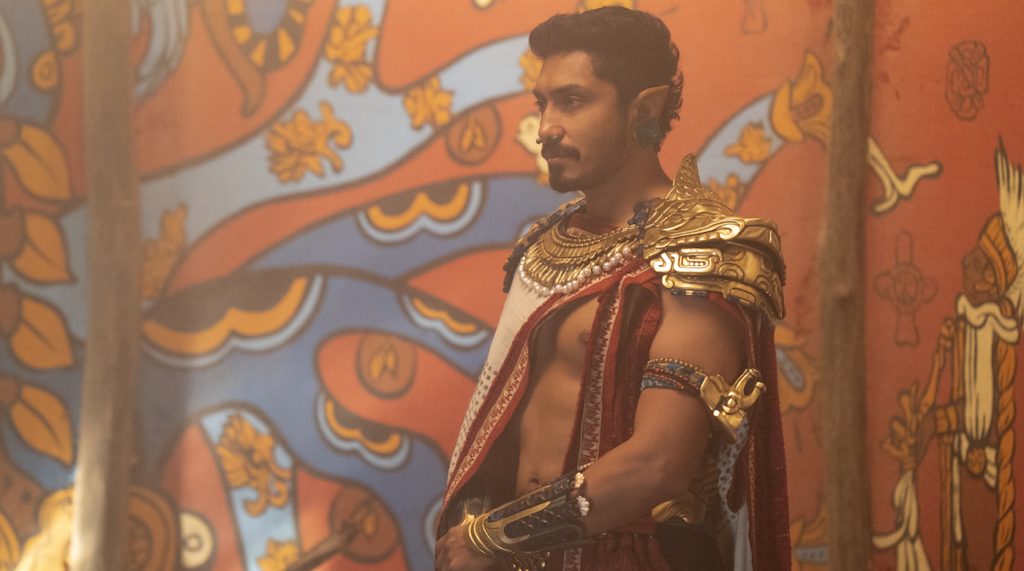 How did you approach creating the soundscape for this vast, secret underwater empire? 
Namor and the Talokans were inspired by Mayan culture and history. I quickly realized that much of that history was erased; the Mayan music, dances, and books were all erased by force. So we don't know exactly what it sounded like; there's nothing scribbled down, and obviously, there are no recordings. In Africa, for example, those traditions are all passed down from generation to generation. But with Mayan culture, they were not allowed to play their instruments or even sometimes speak their language. So, I went to Mexico City, started working with some music archeologists, and tried to reimagine what the Mayan sound and music were like.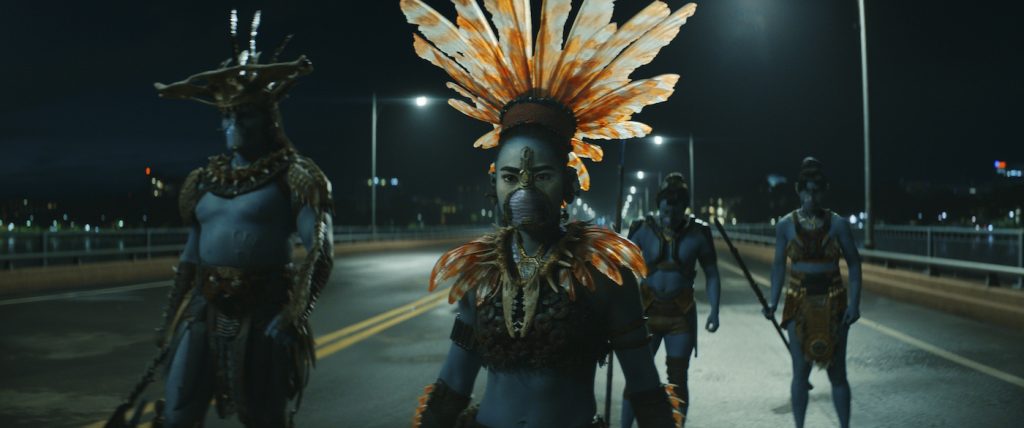 And what did you learn?
They've found instruments in the graves, like flutes, and you can see on the flute holes where the fingerprints were and which intervals were used the most. You can look at the codex and see different formations of musicians in the drawings, like five musicians playing seashells and three musicians behind them playing turtle shells. So through that research, we started to record and reimagine what Mayan music could sound like. That was an incredible journey because I got to work with these fabulous musicians and was introduced to many instruments I'd never seen before.
What were the instruments?
There's a flute called The Flute of Truth, which is almost like a dog whistle. It's played at such a high pitch you can't be in the same room as the performer because it's almost like torture. So that's how it was used, they would play it for someone, and that person would have to tell the truth; otherwise, they wouldn't stop. When the conquistadors came with their guns, the indigenous people didn't have those weapons, but they had these instruments, so they would play these super loud flutes and paralyze them.
Which we see in Wakanda Forever when the Talokans use these flutes to hypnotize their enemies. What about the seashell? 
The seashell became Namor's main theme. So every day, I was recording these musicians and archeologists. At night, I recorded contemporary Mexican artists, singers, songwriters, and rappers to work on the songs for the movie. This was very different from what I did with the previous Black Panther and very different from what I've done so far in my career. For Wakanda Forever, I was tying together the songs with the score and making a completely immersive sound experience where you can't tell the difference between which is which.
How did you actually marshall this vast archive of instrumentation and performances into a coherent score?
It can be a lot, but while I'm recording this material, I'm constantly sending it to Ryan while he's shooting, and we have this back and forth. Then it was kind of magical a lot of the time, seeing how the songs fit in. In Namor's origin story, we have a song that became a siren song with Quintana singing this beautiful melody. Then I worked with the rapper Mare, and I remember being in the studio, and she was blowing into the mic. I asked her, what if you start whispering your raps? Then in the film, there's this underwater birth scene, and we put the mouth blowing there and the whispering there, and it was just a very cathartic, magical experience.
You've got the kora (a West African stringed instrument) and traditional African drums like the saber and djembe; you've got the flutes and seashells, the orchestral instruments, modern synthesizers, and more. Would you say there was any single instrument or sound that ties the whole score together?
I would say the thing really threading it all together is the human voice. We have some incredibly powerful female voices in the movie, with characters singing or humming, and then the Dora Milaje are doing ululations. When I was sitting down listening to the soundtrack and putting it together, I was listening through the score and thought, 'Oh my God, it's like there's a voice through everything.' Then when I watched the movie, it didn't strike me how many vocals were in there; it felt natural. Like Shuri's theme, the first time you hear it, she's sitting by the river with her mother, Ramonda. First, you hear Ramonda's theme, and that's actually Rhianna's "Lift Me Up."
Then a split second later, Shuri's telling her side of the story. She says she just wants to see the world burn because she couldn't save T'Challa, and that voice turns into Jorja Smith's voice singing a different melody. Shuri is split between spirituality and technology, she doesn't know which path to take. But as she grows and finally finds herself, technology is the one thing that brings the Black Panther back to life. She uses that element, and that voice and the melody turn into a crazy distorted synthesizer to go with that side of her choice, the technology side of her.
You collaborated with so many musicians for this score, including Rhianna, Tems, Senegalese singer Baaba Mal, talking-drum player Massamba Diop, Mexican singer Foudeqush, and a community of Mayan rappers—how do you approach these collaborations?
It's funny because when I started recording in Mexico, people were like, 'You're working on Black Panther; why are you recording in Mexico?' So obviously, I had to tell them what the movie was about, the Mesoamerican storyline, and as soon as I did that, they thought it was fascinating. So everyone there immediately connected with it. Then when I went to Nigeria and Lagos, I went with Ryan, and it was almost like when we landed, people there knew immediately. They were so ready for it, already knew what they wanted to do, and were so pumped up. It was just about finding the right voices and doing the work.
Black Panther: Wakanda Forever is in theaters now.
For more on Black Panther: Wakanda Forever, check out these stories:
"Black Panther: Wakanda Forever" Hair Department Head Camille Friend on The Sequel's Stunning Looks
How "Black Panther: Wakanda Forever" Cinematographer Autumn Durald Arkapaw Used Light & Shadows
"Black Panther: Wakanda Forever" Production Designer Hannah Beachler Reveals Her Guide to Talokan
Featured image: A scene from Marvel Studios' Black Panther: Wakanda Forever. Photo courtesy of Marvel Studios. © 2022 MARVEL.