"Glass Onion: A Knives Out Story" Editor Bob Ducsay on Cutting a Razor Sharp Whodunit
Award-winning editor Bob Ducsay has been cutting blockbusters for decades, including 1999's The Mummy and 2015's Godzilla, and has worked with Rian Johnson since 2012's Looper. He edited both The Last Jedi and Johnson's first film in the Benoit Blanc series, Knives Out, in 2019. Glass Onion: A Knives Out Mystery, which hits theaters on November 23 and then Netflix on December 23rd, marks Ducasy's 10th year as Johnson's collaborator. Together, the two recently won the Variety Collaborators Award at the Middleburg Film Festival. 
In order for this ensemble mystery to succeed, the tone of Glass Onion, which like Knives Out has been lauded by critics, has to keep a tight balance of suspense, humor, and drama. It is Ducsay, working in partnership with Johnson, who must maintain the story's nuance and attention to character to maintain the very finely calibrated balance required by a whodunit.
The Credits asked Ducsay about his longtime collaboration with Johnson and his work on Glass Onion, which has placed him as a potential contender in the 2023 Best Editing Oscars race. 
You've been collaborating with Rian Johnson since Looper in 2012. How has working with him shaped you as an editor?
In many, many ways. The thing about the relationship between a director and an editor is it's very nuanced. There's so much micro stuff going on, the way a filmmaker works, and so you learn stuff, inevitably. I've been doing this for a long time, but every film is a new adventure, and you learn from the movie and you learn from the director. I think one of the most important things, and I don't wanna say learned, but appreciated about Rian, is how in the construction of the edit, he places such a high emphasis on simplicity. I've always thought that was just generally a good goal. Why do you cut? What is it that you're trying to do by, in a 24th of a second, switching what the audience is seeing? 
A million things could go into that decision.
The thing is, there are judgments that you can make that cause you to cut that if you now have the guidance that you should always be keeping it as simple as possible, the emphasis might change a little bit. By that, I mean I might look at something, and I might want to cut away because I have this great reaction of somebody, and it does enhance the scene in a way, but is it enough to trump the goal of simplicity? That's always on my mind when I'm cutting, and not just Rian's movies. That's something that came from an emphasis that he puts on editorial, which I couldn't appreciate more because it's not a minor thing. It's actually a very significant thing.
Rian edited his first two films. Do you try to think like a director sometimes, as he thinks like an editor sometimes? 
Well, first of all, he understands the job really well, so that's always a benefit. The more someone understands what you do, the better you can communicate about it, so I see that as nothing but a big plus. Regarding the interaction, I think it took a little while for him to adjust to not cutting his movie when we did it first on Looper, but he came very quickly to see the advantage of it. To your question about whether I have to think like a director, I try to do that with the specific director I'm working with. When I'm working with Rian, and this is especially true now that we've worked together for a decade, and over time because your job is to interpret the director's vision, the question is how do we want the movie to be? The better you understand the nuance of that, the better everything works, especially in my job, because you're making so many small choices. This take versus that take, be on this person versus that person, use this sound versus that sound, I mean, it is tens of thousands, if not hundreds of thousands of micro-decisions in putting a movie together for the first time.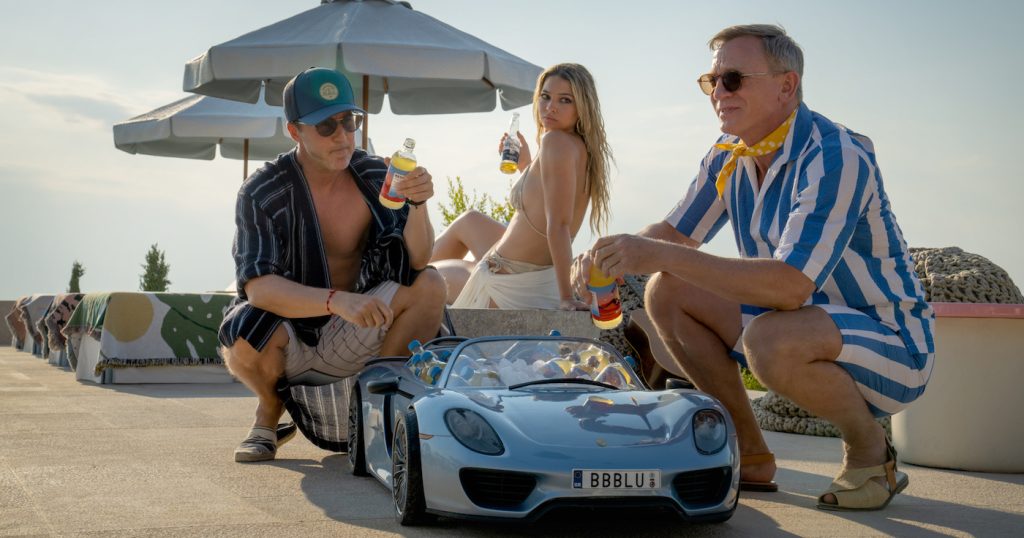 Having worked together for so long has, I imagined, helped in getting the editing done efficiently.
The better you know somebody, the better you understand their instincts and their goals, and the more you can be on the same page earlier, which is nothing but advantageous. At the same time, I still have to bring something to it, and you can't always be second-guessing, and our taste and our judgment get more and more aligned on every single movie, but it's not 100%. Those things that are me versus Rian, those are the extra things that you can bring to it, but it's always within the focus of delivering his point of view, delivering his vision, and taking care of the movie. It's absolutely a symbiotic relationship. I'm gaining from him all the time, learning, getting more insight, but he's also gaining and understanding the additional things that I bring to that idea, the enhancements that go beyond if he sat and did it himself. He's gaining another point of view, another aligned point of view, but another point of view that is not exactly his.
Collaboration makes all art better. 
Absolutely, because collaboration is a huge part of moviemaking, right?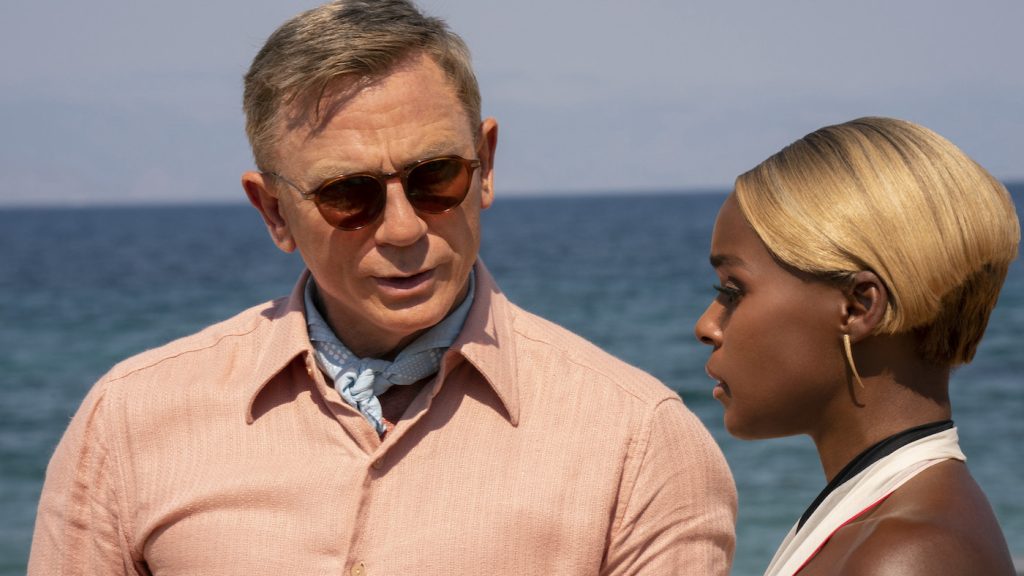 You have characters in Glass Onion who are representative of what we're dealing with in our society now. That could have led to something over the top but doesn't, for example, with the close-up speech by Edward Norton as Miles Bron. It must be really tricky to edit leaning into the tone you're after and keeping that balance of comedy, suspense, and drama. 
Here's the thing, with tone in general and with the approach, it's not just the characters, but the overall tone of the movie that is always one of the more complex things that you do. If there's violence in the film, is it too far for the kind of film it is? It's not that you don't want dynamics in the film, you absolutely want dynamics. You don't want to just be safe, but it has to be the right feeling for the movie. The same thing is true of the characters in the film, and it's especially fun in a movie like this because you have many different actors that take very different approaches to things, and you want to kind of tune the whole thing up so that it feels all of one, and unified.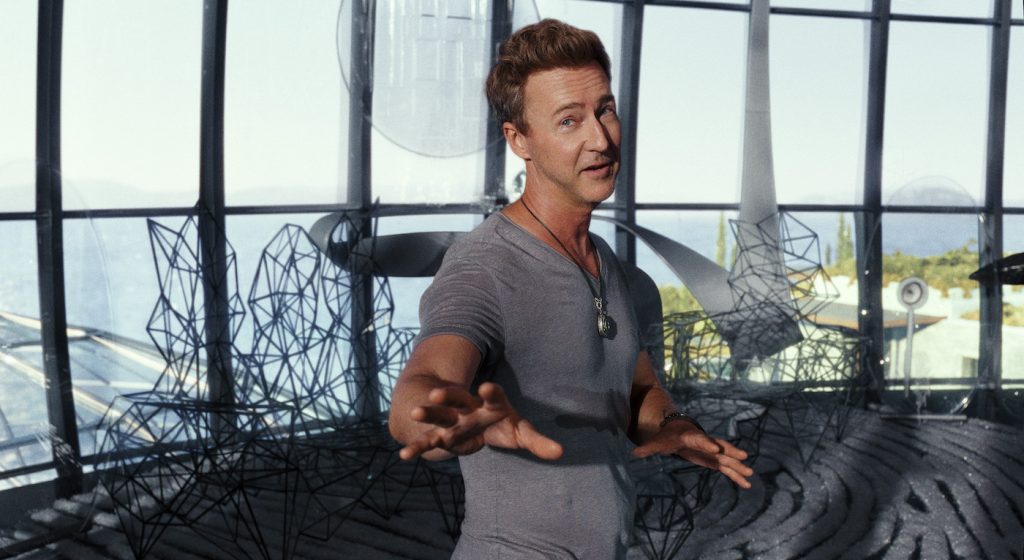 Rian has to wrangle that great ensemble cast. 
Exactly. A big part of that is what Rian is doing on the set with the actors, how the actors are interpreting things on their own, and the casting. All of those things are incredibly critical, in how it all works in the film, but there is an enormous amount of detailed work that's done. We should be bigger here, we should be smaller there. All these actors are giving you wonderful things, but sometimes it's too big, sometimes it's too small. So we might realize we really need to change a take, so we need to find something that is less of a thing, something that's smaller, or sometimes it's just taking it out because it's the line that does the damage, not the way it was performed. It's the greatest fun of a film like this when you have a big ensemble cast of great actors across the board. Every single one of them just gives a brilliant performance, but I get to go in there and tune things.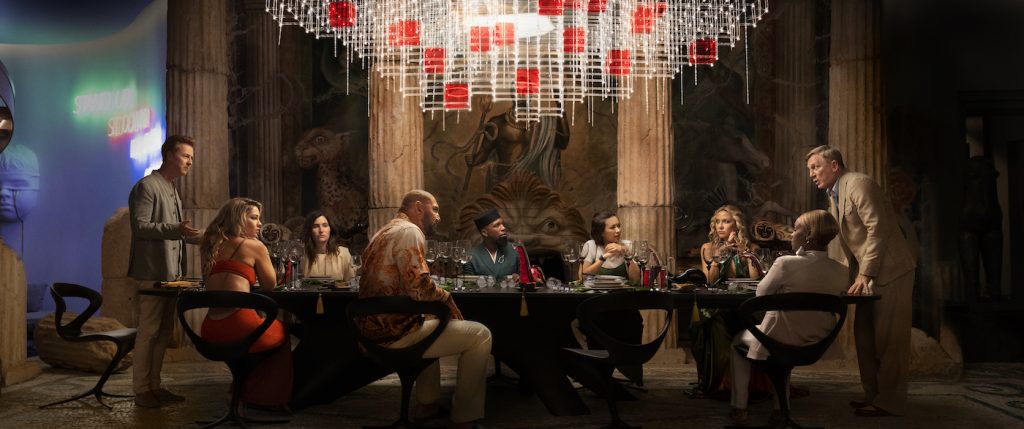 Glass Onion: A Knives Out Mystery releases in theaters on November 23rd, and streams on Netflix on December 23rd. 
For more on big titles on Netflix, check these out:
"Glass Onion: A Knives Out Mystery" Writer/Director Rian Johnson Unpeels His Whodunit
Visit the Dreamworld With Jason Momoa in New "Slumberland" Trailer
"Guillermo del Toro's Cabinet of Curiosities" Production Designer Tamara Deverell's Twisted World
Featured image: GLASS ONION: A KNIVES OUT MYSTERY (2022) Jessica Henwick as Peg, Daniel Craig as Detective Benoit Blanc and Janelle Monáe as Andi. Cr: John Wilson/NETFLIX