"Black Panther: Wakanda Forever" Reveals Stunning New Image of Namor
Marvel Studios has been known to pull a fast one when it comes to villains. Recall Ben Kingsley's supposed villain Mandarin in Iron Man 3, a demented and terrifying terrorist who seemed to be the world's biggest nightmare and Tony Stark's biggest headache. It turned out that the Mandarin, in this case, was actually an actor named Trevor Slattery, pretending to be the dreaded supervillain at the behest (really, demand) of Guy Pearce's truly demented Eric Savin. Now we're not suggesting that something similar is going on with Tenoch Huerta's Namor in Black Panther: Wakanda Forever—there is no way Namor isn't the real deal—but there's an excellent chance he's not a villain in the strictest sense of the word. In fact, we know he isn't.
Take this new image, revealed by Marvel Studios, which gives us our closest look yet at Namor. We know that Wakanda Forever will find Namor at odds with Wakanda and that in the aftermath of T'Challa's death (a situation written into the script after the tragic passing of Chadwick Boseman), Namor and his people have a very specific beef with the African nation. Yet Huerta, who played Rafa Quintero in Narcos: Mexico, has gone on record saying he doesn't view Namor as the villain, but rather as a proper antihero. As Huerta told Empire Magazine, "Latin-Americans are always the bad guys in Hollywood movies. And now we are the heroes — or an antihero, in this instance."
Namor is the king of Talocan, an underwater kingdom that has been kept as secret as Wakanda had—that is, until T'Challa revealed Wakanda to the rest of the world. The implications of that decision are to be explored in Wakanda Forever, and one of those implications is Namor feels like Talocan is now in danger. Namor wants to protect his people the same as T'Challa did and the same as the new leaders of Wakanda will continue to do. His collision course with Wakanda won't be a psychopathic bid for dominance or a "cleansing," as we've seen from Marvel villains in the past, but likely a king doing what he thinks must be done to protect his kingdom.
The full image of Namor speaks to the way the character was drawn from the incredibly rich history of Mesoamerica. For Namor, Talocan is as sacred as Wakanda was to T'Challa and is to Shuri, Nakia, Ramonda, and the rest of the nation's leaders. And proud people pitted against each other make for a different kind of superhero experience, one where your rooting interests might be muddied.
Check out the full image here: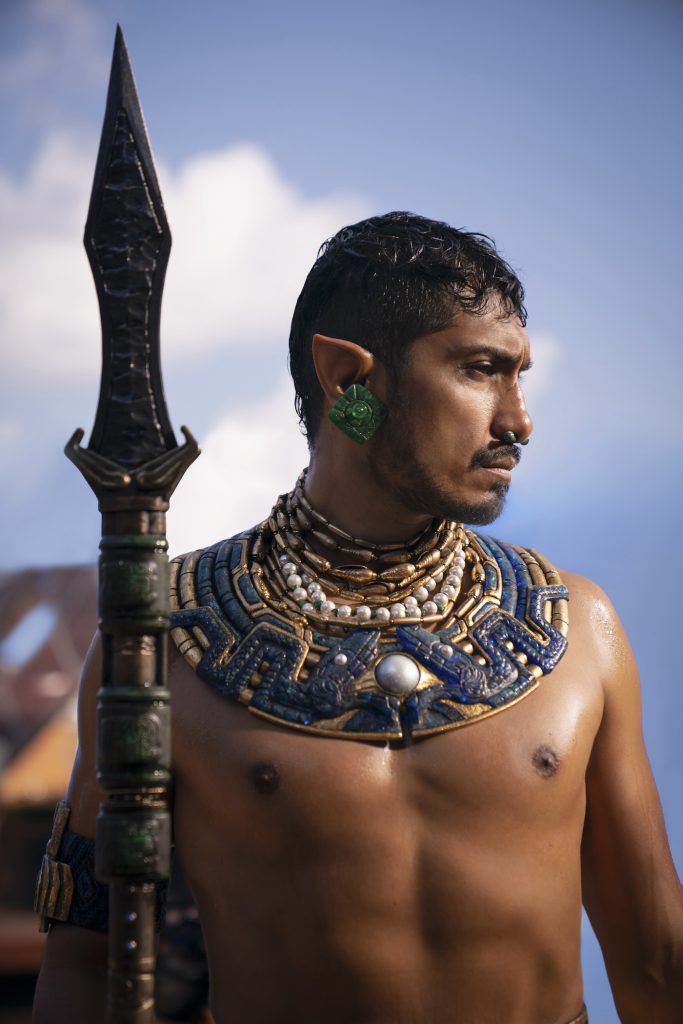 Black Panther: Wakanda Forever arrives in theaters on November 11.
For more on Black Panther: Wakanda Forever, check out these stories:
Lupita Nyong'o on the Bittersweet Beauty of "Black Panther: Wakanda Forever"
"Black Panther: Wakanda Forever" Teaser Sees Shuri Telling Namor to Bring It
New "Black Panther: Wakanda Forever" Video Reveals Shots of Ironheart, Kingdom of Talocan & More
New "Black Panther: Wakanda Forever" Images Hint at the Future of the MCU
Featured image: Tenoch Huerta Mejía as Namor in Marvel Studios' BLACK PANTHER: WAKANDA FOREVER. Photo by Eli Adé. © 2022 MARVEL.