Best of Summer: "Stranger Things 4" Music Editor Lena Glikson on Cutting Kate Bush's "Running Up That Hill"
As we've done for the past few summers, we've compiled a few of our favorite interviews to highlight in this last week of August. This is by no means a comprehensive list, but a little taste of some of the great conversations we've had during these hot summer months. Bring on sweater season. 
From the get-go, Netflix hit Stranger Things has excelled in the art and craft of needle drops. Encompassing eighties classics from David Bowie's "Heroes" in Season One to "Everlasting Love" in Season Three, song choices curated by three-time Emmy nominated music supervisor Nora Felder have consistently amplified the characters' emotions to uncanny effect. 
But nothing in Stranger Things' previous hit list prepared audiences for this summer's zeitgeist-smashing anthem "Running Up That Hill." Recorded in 1985 by British singer-songwriter-producer Kate Bush, the track drives Episode Four's heart-rending montage featuring Max (Sadie Sink) as she fends off the monster Vecna. Viewers were swept away by the psychodrama and propelled "Running Up That Hill" to the top of the charts 38 years after its release. A video of the sequence posted on YouTube has generated more than ten million views and counting.
Like many viewers of Stranger Things, the series' music editor Lena Glikson had never heard "Running Up That Hill" until she was tasked with synching the song to the picture. She explains, "I didn't grow up in America so certain songs in the show that were internationally famous I definitely recognized, but some of the songs, like "Running Up That Hill," were completely new to me." 
A Russian native, Glikson played piano and sang from an early age, moved to the U.S. to study film composing at Berklee College of Music, then found her way to Los Angeles, where she worked her way up to become a music editor on Joker and A Star Is Born before joining the Stranger Things team for Season Four. Speaking from her Los Angeles home, Glikson talked about cutting "Running Up That Hill," making the move from Russia to Hollywood, and working with the Duffer Brothers to "massage" Kyle Dixon and Michael Stein's Emmy-winning synth scores. 
Vintage pop songs are embedded in Stranger Things' DNA but "Running Up That Hill" introduced Kate Bush to a whole new audience, including yourself. What was your reaction when you first heard the song?
I loved it. Just the fact that "Running Up That Hill" is so unique, we had to make sure that it plays beautifully so there were many many revisions I did just to make it fit the picture. [Producer] Shawn Levy, who actually picked the song, and the Duffer Brothers and the picture editor Dean Zimmerman—they all had to agree on the way it should sound within the episode, so there was a long process in getting to that point.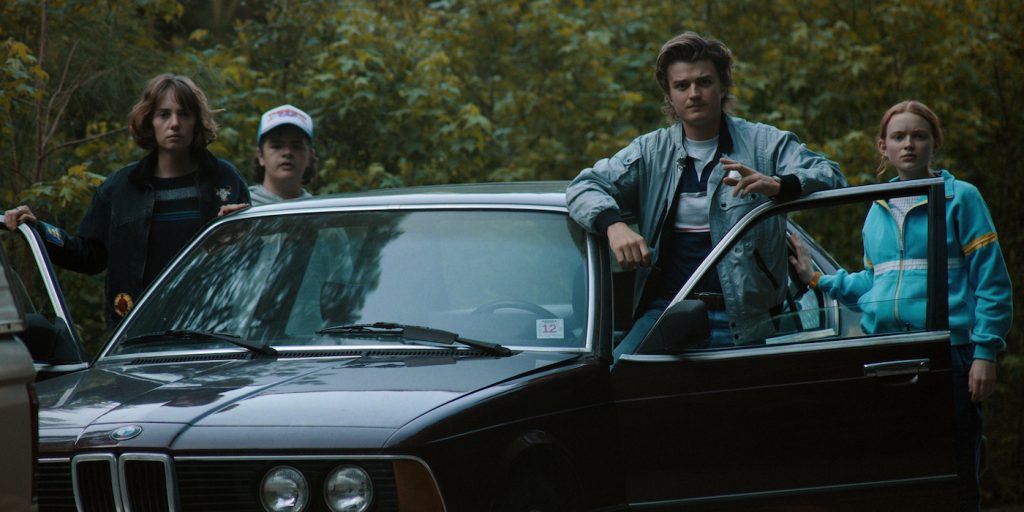 What did that process entail?
My job was to massage the edits and so all the cuts match the picture 100 percent. For me, it was also about creating the build toward the end, because it's not only the song—there are additional orchestral stems composed by Rob Simonsen and recorded by the London Contemporary Orchestra. Dean created a little mock-up and then building in additional tracks from these different stems, and different orchestral instruments, became a big part of my job. Especially during the [flashback] montage with Eleven and Max, it was very emotional for me because I really love those characters. 
At the end of the sequence, this quiet piano solo reprises the song's melody as the sun sets. Was it exciting to edit that shift in dynamics?
One of the arrangements already contained those piano notes, which sound so gentle, so delicate. They have a lot to do with who Max is and bring us back to the essence of her character in a way. Especially in this scene, the dread, the pain, and then the fact that she got saved — I was so worried about Max not coming back to life, it's an amazing moment to hear how this quiet piano brings such a tumultuous scene to a close.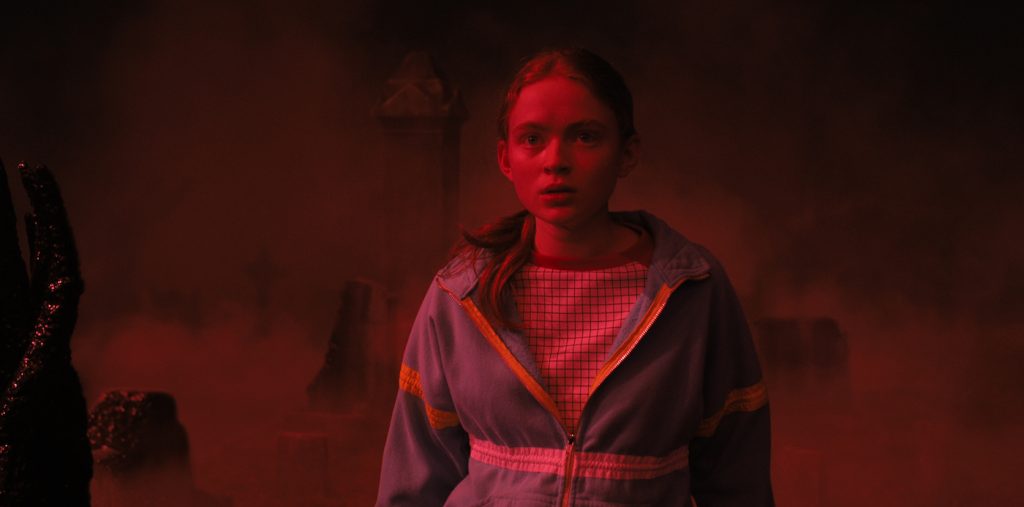 Besides working on "Running Up That Hill" and songs like "Psycho Killer," Journey's "Separate Ways" and The Cramps' "I Was a Teenage Werewolf," you also edited scores by Emmy-winning composers Kyle Dixon and Michael Stein. What was that like?
Working with Kyle and Mike was very interesting because they don't come from the film world; they come from a band. That gives them a certain kind of flexibility about trying different things.  I interacted with them quite a lot because I was kind of the bridge between the Duffer Brothers and the composers, to make sure Kyle and Mike knew exactly what they wanted. I'd translate the brothers' notes into musical language, technical stuff like "Let's use sixteenth notes here instead of quarter notes." 
Those pulsating sequencers create such a spooky vibe.
In terms of tone, it's pretty dark, for sure. And even though we all know Stranger Things for having lots of synth music, I also cut some nice classical pieces. For instance in Episode Six when everyone's playing at Suzie's house, we have Violin Concerto in D Major by Korngold playing on top of that scene. I loved cutting that to make sure it lines up with all the little changes. I also cut a long piece by Philip Glass when Nancy's walking through Victor Creel's s house.
That's a thoughtful tip of the hat, given that Glass pioneered the style of sequencer-based music that Kyle and Michael specialize in for the show.
Yeah.
Long before Stranger Things came along, you studied piano and voice from the age of six in your hometown of Voronezh, Russia. Then you got into Berklee College of Music, one of the best music schools in the United States. How did that happen? 
I wanted to become a jazz singer and I also acted in musicals. I figured the best place to embrace this culture was the United States. 
Musical theater! What was your favorite role?
I was part of a company that did original music by this incredibly talented composer from Kyiv and a director from St. Petersburg. My favorite role was playing the godmother in our vampire remake of Cinderella called Halloween Story. It was pretty dark. 
Evil characters are so fun to play.
Oh yeah. And what I do now on the post-production side as a music editor—part of why I'm able to do movies like A Star is Born is that I have that background as a vocalist. I know how your face looks when you sing a certain sound and what the vocal position is, so doing lip-synch for musicals is my huge specialty.
How did you transition from Berklee to Hollywood? 
After graduation, I came to Los Angeles, sent out sixty or seventy applications, and got a wonderful internship with music editor Nick South who's worked a lot with composer Rolfe Kent on romcoms like Freaky Friday and Illegally Blond. Nick taught me all the key command shortcuts and talked about the diplomatic parts of our job, like, literally, how to write an email. After a couple of months, he offered me a position as an assistant in his studio, which I did for a year and a half. 
And now you can add Stranger Things to your resume. What's the key lesson you've learned along the way about what it takes to be a good music editor?
It's a hard skill to develop because you only learn by practicing, cutting, temping, tracking, and assembling things to fit the scene better. You have to serve the picture. Sometimes there are tiny things you do to make the cut work, like a tiny bit of time-stretching so the downbeat happens exactly on the cut. It's a very kind of OCD type of work to make sure everything's perfect. And of course, you're talking to the director or showrunners so you understand the emotional content of the scene. It's always about empathy.
For more on Stranger Things, check out these stories:
"Stranger Things 4" Makes History & Crosses Billion-Hour Viewing Mark
"Stranger Things" Season 4 Volume 2 Trailer Teases Feature-Length Final Episodes
How the "Stranger Things" Sound Team Creeps You Out
"Stranger Things" Casting Director Carmen Cuba on Finding Season 4's New Faces
Featured image: STRANGER THINGS. Sadie Sink as Max Mayfield in STRANGER THINGS. Cr. Courtesy of Netflix © 2022