"Top Gun: Maverick" Now the Biggest Film in Paramount Pictures History
Eight weeks into its release and Top Gun: Maverick continues to go Mach 10.
The Tom Cruise-led mega-blockbuster soared yet again this weekend, adding another $19.2 million from 65 overseas markets, bumping it up to $619 million internationally. Add another $617 million domestically, and you've got $1.23 billion (and counting). It's official—Top Gun: Maverick is now the highest-grossing film in Paramount Pictures history.
Maverick continues Paramount's hot streak, with the studio notching hits this year with Scream, Jackass Forever, The Lost City, and Sonic the Hedgehog 2. With Top Gun: Maverick, they now have a film that is racing to catch some of the most successful movies and franchises in history. Maverick is hot on the heels of The Fate of the Furious, which sits at the 20th spot on the all-time list at $1.238 billion. Tom Cruise can also say he took out Iron Man, as Maverick has edged past Robert Downey Jr's Iron Man 3, which garnered $1.21 billion.
Cruise, director Joseph Kosinski, and a deeply committed cast and crew took what could have been a vanity project—it had been 36 years since the original Top Gun, after all, and there was no guarantee enough new fans would join those of us who recall the original fondly in theaters—and made it into a gotta-see-it-on-the-big-screen experience. To ensure that the film was worth the ticket price, Cruise, Kosinski, and the rest of the team delivered real stunts, with real Navy pilots and real Navy planes, and a storyline that connected to the original and then surpassed it. That commitment to creating an old-school movie spectacle with big stunts, big emotions, and big payoffs has obviously paid off big time.
If you've seen Top Gun: Maverick already, the question might be whether it's time to see it again. It's still playing in theaters, in case you hadn't heard.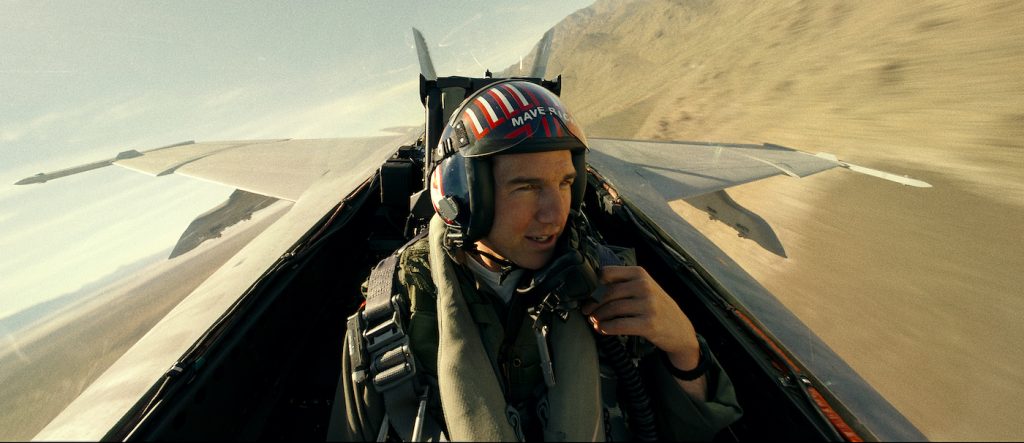 For more on Top Gun: Maverick, check out these stories:
How the "Top Gun: Maverick" Sound Team Ingeniously Captured Raw Emotion Mid-Flight
"Top Gun: Maverick" is the Highest Grossing Movie of the Year
"Top Gun: Maverick" Makes History — Again
Tom Cruise's Historic "Top Gun: Maverick" Opening Weekend
Going to Flight School With "Top Gun: Maverick" Stars Glen Powell & Greg Tarzan Davis
Featured image: Tom Cruise plays Capt. Pete "Maverick" Mitchell in Top Gun: Maverick from Paramount Pictures, Skydance and Jerry Bruckheimer Films.