Isabelle Huppert on the Beauty & Depth of "Mrs. Harris Goes to Paris"
Isabelle Huppert, one of the world's undisputed queens of stage and screen, has won nearly every award an actor could possibly receive. In France, she is an Officer of the National Order of the Legion of Honor, an Officer of the National Order of Merit, and a Commander of the Order of Arts and Letters, the highest honors given to citizens of the country. She is now co-starring in the ensemble cast of Mrs. Harris Goes to Paris, which is releasing in theaters on July 15th. The film is directed by Anthony Fabian, who co-wrote the screenplay based on Paul Gallico's 1958 novel. 
Lesley Manville stars as English housekeeper Ada Harris, a widow living in post-World War II London. Mrs. Harris's desire to make her dream of owning a couture Dior gown a reality sends her on an adventure in Paris. She heads for the storied House of Dior with her hard-earned money, determined to buy a dress. There, she is met with a series of setbacks, not least in the form of Madame Colbert (Huppert), the intimidating manager of the fashion house. Undeterred, Mrs. Harris faces every obstacle with aplomb and determination, changing all those around her in the process. 
Huppert brings her usual nuance and complexity to the role of Madame Colbert, who has secrets and many layers to shed on her way to greater joy. In fact, all the characters transform through Mrs. Harris's presence. The Credits chatted with Isabelle Huppert about her inspiration for the character and the experience of working on her latest film.  
It feels like everyone can make some kind of connection to the characters in Mrs. Harris Goes to Paris. My own connection is to your character because my French grandmother was the head of publicity for Christian Dior in the 50s. Who did you have in your life who was an inspiration for Madame Colbert?
I didn't have someone in particular, but my family was, in a way, connected to the world of fashion. My great-great-grandmothers were famous fashion designers and had one of the leading fashion houses at the turn of the 20th century. They were called the Callot Sisters (Callot Soeurs). Some of the dresses are still exhibited at the Metropolitan Museum. They were very famous, but the company no longer exists. It's funny because as I'm talking to you, I'm just making the connection. Since I started doing interviews, I didn't even think about saying it. Because you talked about your grandmother, all of a sudden I realized I have my own connection, in a way, to the fashion world, even if I don't have any of their dresses, because they're all gone or in museums. Sometimes I have a dress in a film I'm in, and it's a Callot dress, which is wonderful.  
You've said acting happens when it's the right person in front of you, and it's clear in the scenes with Leslie Manville that you're creating sparks together. Were there rehearsals?
No, we didn't have rehearsals. Actually, we didn't even have any readings of the script. It was very, very well written and the dialogue really was good. The director Tony Fabian relied on our skills. We just wanted to do it, and we had such pleasure in the experience, that was enough for us to do it well, I guess. The whole situation was very clear, and Tony created such a great script that it was easy for us to deliver our performances.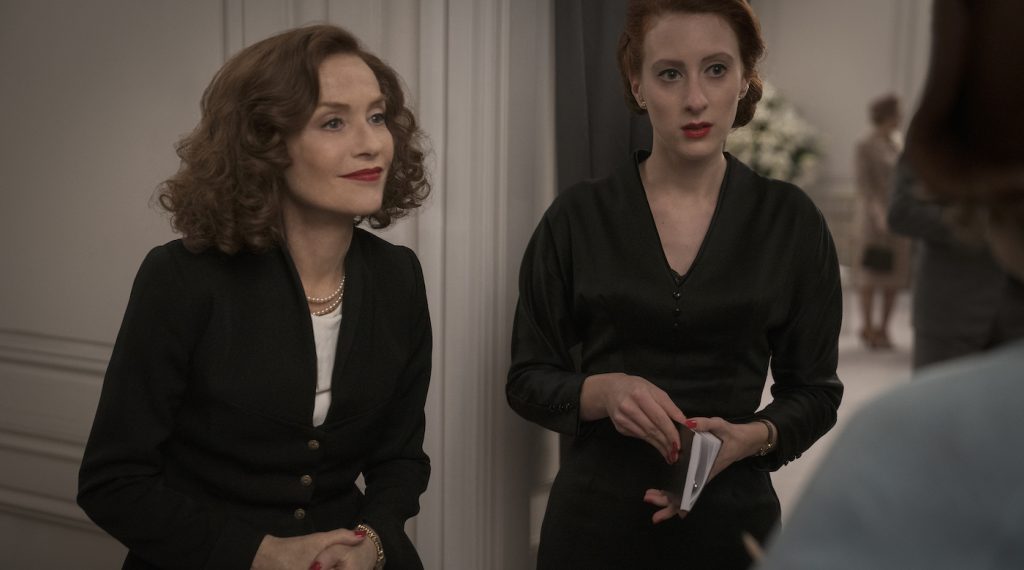 Cinematographer Felix Wiedemann collaborated with the director to create a feeling of a musical without music. How did you experience that concept of creating a sort of choreographed film with so many performers in scenes like the fashion shows?
Well, I think that the art of mise-en-scene is, by definition always a kind of choreography. Even if you have two people in a room, it's always a way of having people moving in space in a given frame, which is the frame of cinema, so it's always a choreography. Sometimes in this film, it's more complicated, because in certain scenes we have more people involved, like at the end of the film and in all the fashion show scenes. But it's the art of mise-en-scene to give the ensemble a vision of the movie and preserve and highlight every single movement for each character. That's one of Anthony Fabian's great talents. 
The film really evokes the Technicolor movies from the 50s, many of which had fashion shows, but it's quite deep, too. There's grief and hope. 
What I really like about the film is it takes you back to the imagery and the magic of a certain time, but it also has so much depth. It is not just something light and superficial that talks about clothes and fashion, It's much more than that. It says a lot about people's lives and dreams, and the importance of trying to achieve your dreams and strive to have a better life. In a way, Mrs. Harris is a revolutionary character. She changes people's lives.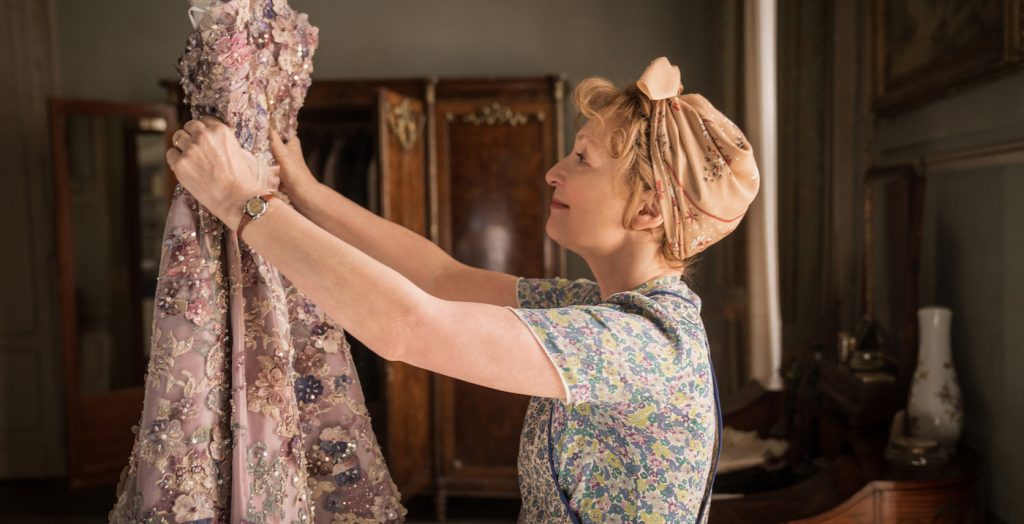 Some of the depth of this film is expressed by the complicated representation of a post-war French woman. 
I didn't just see her necessarily in the specificity of a French woman, but more as any woman of the Western world, not necessarily only French, but all women of the post-war period.  My character, for example, is a working woman. Of course, in the end, you find out something behind the surface, but she is a hard-working woman. She's not just staying at home. She has a certain social position in her life. She needs Mrs. Harris to reveal something about herself, and that's what's beautiful in this film, that Mrs. Harris is really a bridge for her, and not only for her but for many people in the house. She urges them to change their views on life and helps them find the confidence to change their lives. She is the catalyst. She makes that possible. 
As to Madame Colbert, what would you say is her hierarchy of concerns? What drives her choices?
I think at the beginning of the film, she does not even know or isn't recognizing her concerns, or rather, what's important to her. Her hierarchy is a bit superficial, because she only sees life in terms of being the servant of the boss, and wants only to please Monsieur Dior. Her vision is, in a way, completely blurred by this, so she doesn't see Mrs. Harris coming. She can't imagine for one second that a woman like this should be allowed into that world. For her, it's inconceivable, until Mrs. Harris becomes the catalyst she is, shifts Madame Colbert's consciousness, and allows many more choices for her. 
Mrs. Harris Goes to Paris, which is a feel-good film, was in production during the pandemic. It's interesting that it centers on the importance of compassion and on dreaming of more for ourselves, and those around us. How did that resonate with you and the rest of the cast and crew? 
We didn't really have discussions, but there was certainly the same kind of inspiration for all of us who decided to do the film. When we read the script, we had a clear view and understanding of what the film meant. But interestingly enough, we shot the film during the second part of the pandemic, so we felt very privileged being able to go on working. We shot the film in Budapest. It seems so long ago. It's been a year and a half ago, already. I think the confinements blurred all sense of time. We felt very grateful for being able to go on working when the situation was still so difficult for so many people, but at that time, productions had started filming again. I think we felt even more enthusiastic about doing it, and the message of being open and compassionate, and the beauty of Mrs. Harris meant so much more after such a difficult time for everyone.  
For more on Universal Pictures and Focus Features projects, check out these stories:
New Video Details How Jordan Peele's "Nope" was Shot With IMAX Cameras
Daniel Kaluuya & Keke Palmer Highlight New "Nope" Trailer & Inside Look
"The Black Phone" Co-Writer/Director Scott Erickson & Co-Writer C. Robert Cargill Wring Our Nerves