Pixar Unveils First Look & Release Date of New Feature "Elemental"
We've got a while to wait until Pixar's 27th feature film, Elemental, hits theaters, but it's never too early to get a sneak peek at what the vaunted animation studio is up to next. As you might have guessed, Elemental will focus on the four elements, only in Pixar's hands, they'll be living together in a city. The first image, a piece of very gorgeous concept art, depicts fire (named Ember) and water (named Wade) walking down the street of a city itself inspired by the elements. Director Peter Sohn (The Good Dinosaur) will helm the film, based on an idea he had.
Elemental will focus on Wade (described as, wait for it, a go-with-the-flow type of guy), and Ember, a more fiery character, as they explore the big city. They'll also be living with two more elements representing earth and the wind, and in classic Pixar fashion, these four very different beings will come to understand that they're not as different as they think they are.
Sohn was inspired by his upbringing in New York. "My parents emigrated from Korea in the early 1970s and built a bustling grocery store in the Bronx," he said in a statement. "We were among many families who ventured to a new land with hopes and dreams—all of us mixing into one big salad bowl of cultures, languages, and beautiful little neighborhoods. That's what led me to Elemental."
The image reveals Wade and Ember enjoying the sights (at least Wade seems to be enjoying himself) in a city that's rendered with an elemental design itself, including beautiful foliage on the buildings, water elements, and even fire, seemingly contained, in bands around a building on the right.
"Our story is based on the classic elements—fire, water, land, and air. Some elements mix with each other, and some don't," Sohn added in his director's statement. "What if these elements were alive?"
We're going to find out. Elemental is due in theaters on June 16, 2023.
Check out the full image here: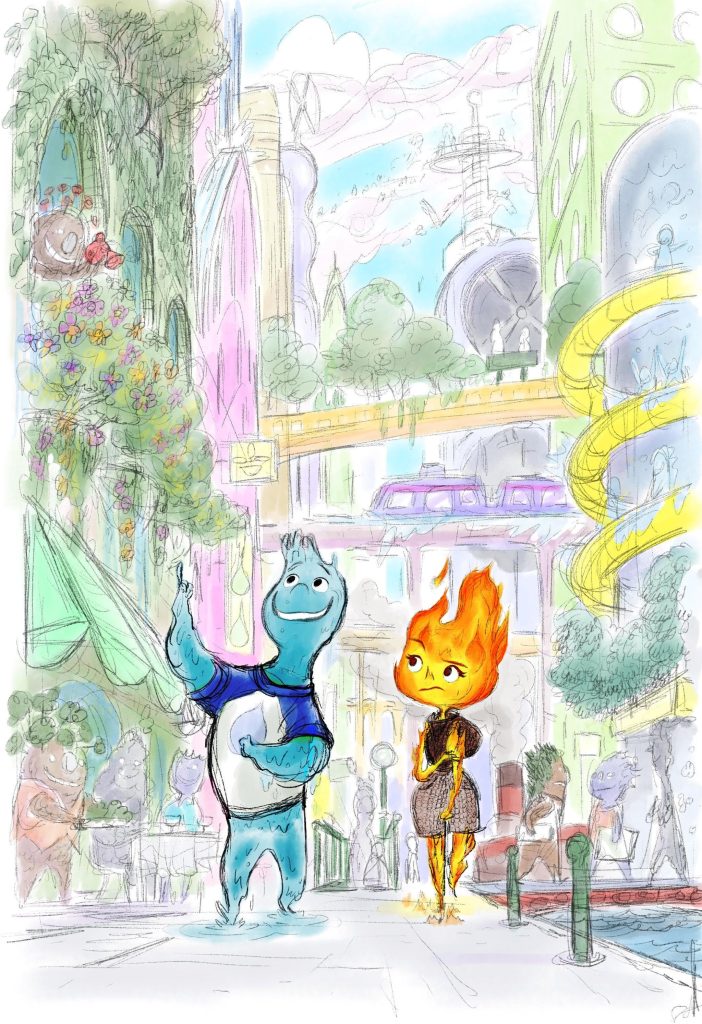 For more on Pixar and Walt Disney Studios, check out these stories:
A New Special Look at Pixar's Chris Evans-Led "Lightyear" Reveals Cosmic Adventure
"Moon Knight" Composer Hesham Nazih on Capturing the Sounds of Ancient Egypt, Modern Cairo, & Marvel 
The "Avatar: The Way of Water" Teaser Trailer Made a Huge Splash
"Rise" Trailer Reveals Disney+'s Original Film Based on Giannis Antetokounmpo's Life
Featured image: "Elemental" concept art. Courtesy Pixar.