"Moon Knight" Composer Hesham Nazih on Capturing the Sounds of Ancient Egypt, Modern Cairo, & Marvel Magic
Marvel's Moon Knight recently concluded its first six-episode run (a second season is possible). Marvel's latest Disney+ series centers on a mild-mannered British gift shop employee named Steven Grant (Oscar Isaac). Steven learns in the very first episode that he shares a body with an American mercenary named Marc Spector, who works as the human avatar for the ancient Egyptian god Khonshu (voiced by F. Murray Abraham). With the help of Steven and Marc's mutual love interest Layla El-Faouly (May Calamawy), they have to stop religious zealot Arthur Harrow (Ethan Hawke) from unleashing the Egyptian Goddess Ammit so she can purge the world of all who have ever or will ever perform an evil deed. Season one was a wild, weird, and wonderful triumph, and now fans are clamoring for confirmation that they'll see more of Isaac as the complicated superhero, and Calamawy as El-Faouly, who is now following her own hero's journey. There are so many unanswered questions, not least about the fate of the villain Harrow and the introduction of a new mysterious presence during the end credits.
Egyptian filmmaker Mohamed Diab, who led the directing team, believed capturing the essence of both ancient and contemporary Egypt was central to the success of the show. To that end, he hired award-winning Egyptian composer Hesham Nazih to create the score for Moon Knight. It was his first major English language project and his first foray into the Marvel universe. The Credits spoke to Nazih, who is known for incorporating traditional and ancient Egyptian elements in his scores while maintaining a very contemporary sound, about capturing a world of Egyptian Gods and Goddesses, Marvel superheroes, and the sounds of contemporary Cairo.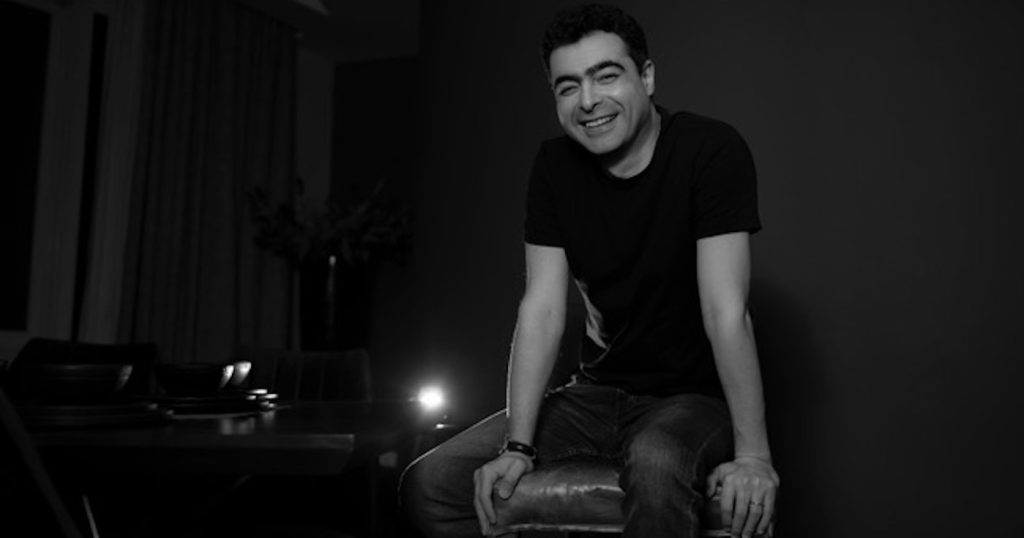 Cairo feels so alive and present in Moon Knight, it's like another character in the show. The city is both ancient and very contemporary. How did you go about bringing life to it, and capturing the vibrancy of the city? 
If you listen to the album, there's a cue called "She Is Here", and halfway through it, you'll find a kind of electronic dance music in it. It was a fight scene on the rooftops of Cairo. That's the closest type of music for describing the life of the city. Cairo is a very vibrant, very dynamic city, a vast city. It contains so many different styles and eras. When you drive for 10 minutes outside the city, you step into a place that is thousands of years old, and then you hop on a bridge and go across the city and find yourself in a new, just developed neighborhood. It is truly the city that never sleeps. It's always on, 24 hours a day, and it's full of sounds like car horns, coffee shops, loud music, people talking, drinking, eating, and chatting. It's a very upbeat scene, so describing Cairo musically, it has to be vibrant and both ancient and very modern, and that's what I tried to do in "She Is Here".  
The music for Arthur Harrow's theme had to be a challenge because he is not just bad, he really believes what he is doing is for the greater good. 
He's not a typical villain. It's not just about evil, he's pursuing his beliefs. He thinks he is serving the world, stopping the bad things from happening before they even happen. Hypothetically, this sounds like a good idea, but it's going to create so many worse things before achieving this principle. He's one-minded. He is one of those villains that makes some sense at the time, which is even worse because that makes him eviler without him even knowing.  Musically, Ethan and I discussed many times that the theme for Harrow has to have an otherworldly motif that describes him as an accomplished man, not just an evil figure.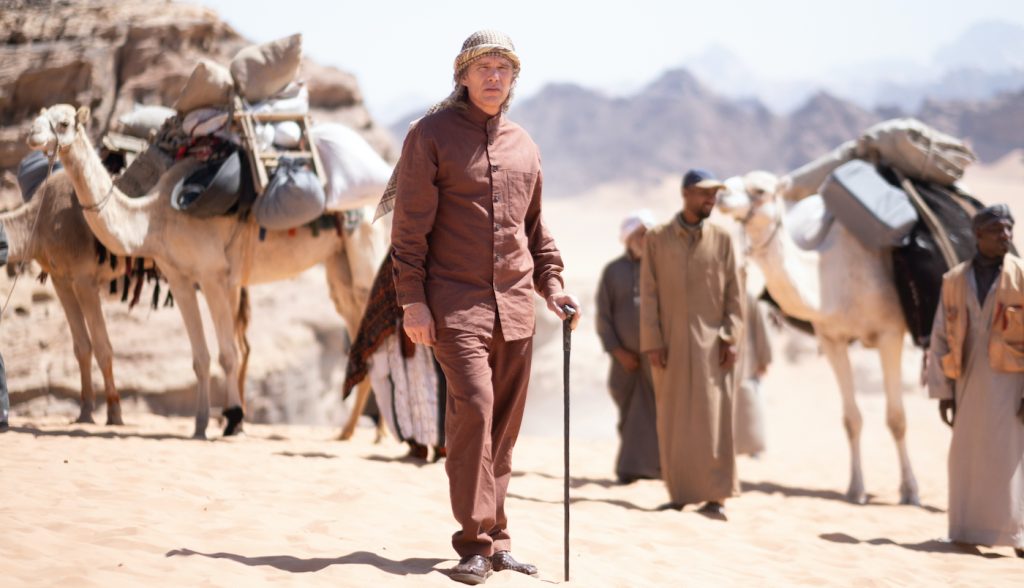 And how did you achieve that? 
I opted for a very minimal motif that may resonate with listeners as building in very unsettling movements.  It is very repetitive and goes in a spiral way as if someone is coming closer to you slowly but steadily, that you cannot resist or stop. This was my approach to Harrow.
Singing is such an important aspect of Egyptian music. You incorporated choirs and singing in quite a bit of the score, including chants sung in ancient Egyptian.  Why is that such a valuable element to the finished score?
You're right about the value of singing in Egyptian culture. It is so much a part of our daily activities. We are a singing people, and we sing in almost everything we do, in all ceremonies and festivities.  We even have a very touching kind of singing called laments in which you mourn the deceased by singing. So when I first thought of how I would bring the Egyptian essence to the music, I thought of the vocalists.  I looked for little phrases from the ancient Egyptian language to be sung within the music, and I came across the few words that are, in essence, praising words for Egyptian ancient kings on their enthronement. It's usually carved on the cartouche and the back of the throne of the Egyptian king. I added some choir to the music, and then those elements got bigger and bigger, and halfway through I realized that the vocal element had become, not just an integral part of the music, it had become the music itself, where the orchestra plays around them and supports them. It's an important tool that helped me deliver the sense of massiveness needed to complement the story.  
There are also Egyptian instruments woven into the traditional orchestra, some of them ancient, like the Rababa, which is an ancestor to the violin, and also the Arghul and the Mizmar horn, both of which belong to the woodwind family. Why did you choose those in particular? 
I've used them all in various recordings before, and the reason why I chose those is that there are so many Middle Eastern instruments used in a wide spectrum of the Pan-Arab and Mediterranean regions. You can find them in Moroccan and Turkish music. Those instruments you just mentioned, the ones I used, are historically Egyptian. You find them in other countries, but they are essentially Egyptian. They are very ancient, and the amazing thing about them is they haven't changed at all since they were used back 5,000 years ago. They were engraved on the walls of the temples, and they are still used in modern music today. It's amazing to me that they've existed and been used for thousands of years. They each have a very unique timbre and unique characteristic that is so Egyptian, just the sound of it and the way the players play it, no matter the theme or line you give them, will unwillingly inject the soul and spirit of Egypt towards this musical line, so they're fantastic in all senses.  What's more, they sit perfectly well within the orchestra and blend incredibly well. So many ancient instruments across the world have a fantastic sound, but when used in the orchestra, you need to minimize or eliminate some sections of the orchestra to make room for them.  These ones, no. They sit so well, in so many different orchestral domains. These are the reasons why I chose them. 
You've said the workflow and the system at Marvel are very different than your experience as a scoring artist for Egyptian film and TV. How so? 
I set my own schedule. It's my own workflow. With Marvel, there's a big team of music editors, and it's more organized about deadlines. When I write music for the Egyptian audience or the Pan-Arab audience, it's not like writing music for the Marvel audience, which is huge. There are lots of differences between Marvel and my previous experience, but we all aim for the same goal. This experience has been a joy, because we all, everywhere in the world, are aiming for those unforgettable moments that we try to create on the screen for audiences. 
All 6 episodes of Moon Knight are streaming now on Disney+.
 For more on Moon Knight, check out these stories:
"Moon Knight" Costume Designer Meghan Kasperlik on Minting a New Marvel Superhero
"Moon Knight" Early Reviews Highlight Fresh, Funny, & Ambitiously Unique Marvel Series
How Oscar Isaac Figured Out How to Play His "Moon Knight" Character
New "Moon Knight" Clip Reveals Ethan Hawke's Villain Arthur Harrow