"Moon Knight" Costume Designer Meghan Kasperlik on Minting a New Marvel Superhero
Moon Knight was a particularly intriguing challenge for costume designer Meghan Kasperlik. Coming off an incredible piece of work with her designs for the gritty crime series Mare of Easttown on HBO, where Kasperlik was key to helping Kate Winslet fully embody a detective in Delaware County, Pennsylvania (as a DelCo native, I remain amazed by this series on every level), Kasperlik plunged into the realm of superheroes, Egyptian mythology, and the massive Marvel Cinematic Universe with Moon Knight.
Yet the series, which just finished its six-episode run on Disney+, offered unique challenges for a Marvel project. For the first time in a Disney+ Marvel series, Moon Knight would feature a character not seen before in an MCU film. Oscar Isaac does double duty in the series, starring as a fidgety museum gift shop employee named Steven Grant who happens to also be Marc Spector, an American mercenary who works at the behest of the Egyptian God Khonoshu. Marc Spector then takes on the superheroic persona—and super-suit—of the titular Moon Knight.
The challenges for Steven and Marc—reconciling their clashing personalities, dealing with a very demanding Egyptian God, trying to wrest control of their body from the other—increase tenfold when Arthur Harrow (Ethan Hawke) shows up determined to dispatch them while he completes a quest to release the Goddess Ammit. Harrow's reasoning? Through Ammit, he will be able to cleanse the planet of all evil-doers (or so he claims), based on a questionable calculus that goes by another name—mass murder.
We spoke to Kasperlik about jumping into the Marvel fray, designing Moon Knight's costume, and how she handled creating the looks for a talking hippotamus who also happens to be the Goddess Tawaret.
So talk to me about plunging into the Marvel Cinematic Universe, and doing so with a brand new character.
I've been wanting to work with Marvel for a while now. Creatively, you get to do some really amazing things. But I always like to do my own take on it, I like to be very involved from the beginning. So it was really great that my first venture into Marvel happens to be one where we've never met this person in the MCU on screen before. When I heard it was Oscar, that was just a no-brainer. Also, I've worked with cinematographer Greg Middleton before—we did Watchmen together.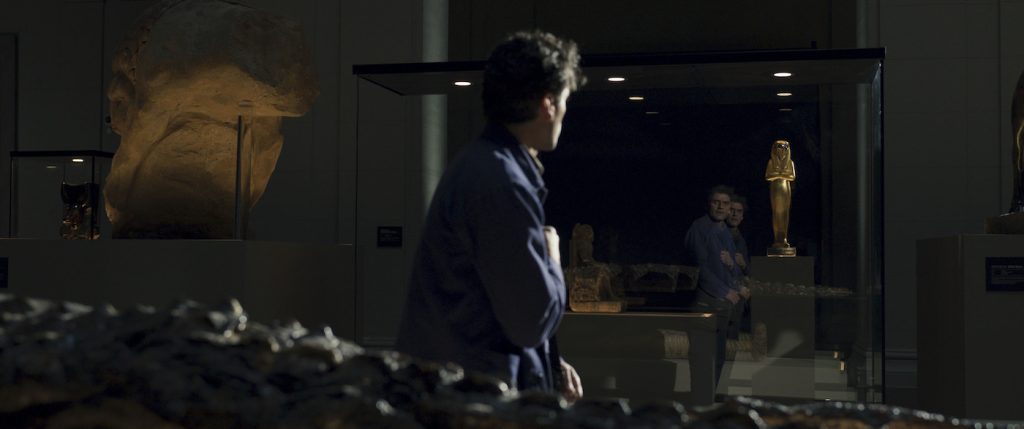 How much did you rely on the comics?
We used the comics, but I didn't go as heavy into the comic as I did with Watchmen, because the graphic novel was really Watchmen creator Damon Lindelof's Bible. For Moon Knight, we referenced the comics, but we were also asking ourselves, 'How do we take it to the next level? How do we bring these two-dimensional characters to life?' What helps is that Oscar's performance is just phenomenal throughout. So it was like, I need costumes to work with that. How can my work be up to that level?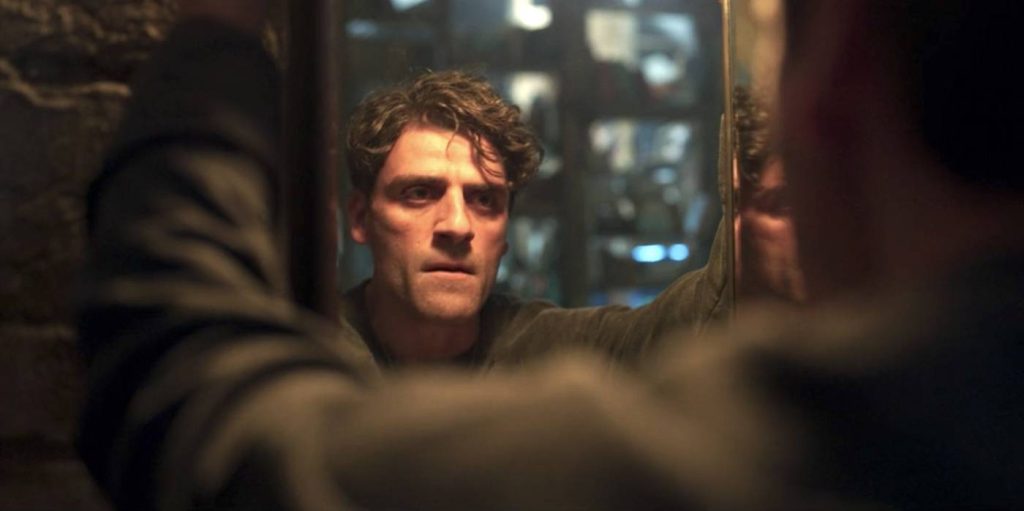 I imagine designing for Oscar's character must've been a lot of fun because he plays essentially three people. He's a nervous Brit as Steven Grant, a no-nonsense American mercenary as Marc Spector, and a superhero as Moon Knight. 
So we started off with Steven, who was in Brixton, in London. That's kind of a cooler area, but obviously, Steven is not super cool. So in the London scenes, we have Oscar in baggier pants and clunkier shoes. You really saw the transformation into Steven happening with Oscar. I could see it happening in the fitting. But there are hints of Marc and Moon Knight in Steven's clothes. For example, his socks might look white, but they're actually cool gray socks, which is a nod to the Moon Knight character. And then with Marc, he needed to blend in. I didn't want the clothes to be as stylish, because Oscar has a friend that does Special Ops and he was telling me that when a person is a mercenary, they need to blend in.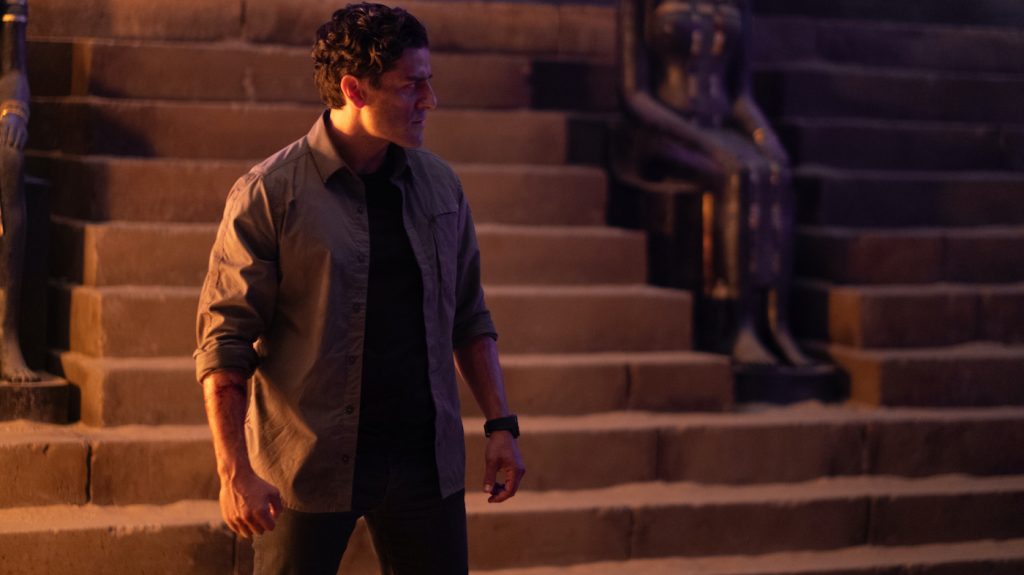 How did you accomplish that mercenary look?
So one interesting aspect is, that you actually don't put a mercenary in black because you will notice black, so you put them in tans, browns, and charcoal grays because that blends into a crowd. So we have Marc in this brown jacket when we first see him. Then I also put him in a light gray hoodie as an ode to Moon Knight, too.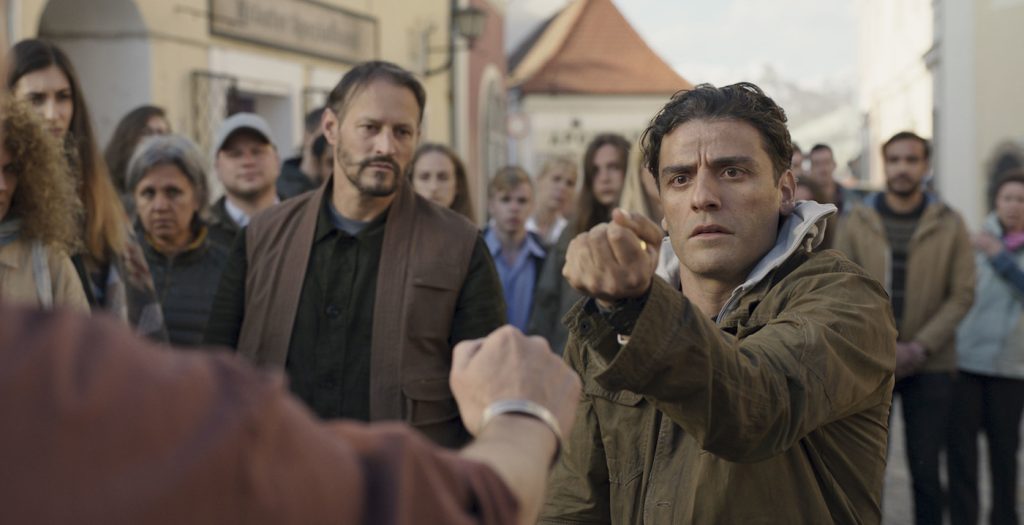 How did you go about designing the Moon Knight super-suit? It has a mummified wrapping element, a cloak, and so many more little details.
Marvel has a great development team that starts the process. Oscar wanted to have a very strong presence in the suit. So there were some alterations to the mummy wrappings. I love a lot of texture in my designs. So there are multiple layers of 3D printed textures on the Moon Knight suit, there were 803 individual pieces on it, with a lot of patterning and a lot of cutting. Not to mention the crest, which is partly inspired by the God Khonshu. And then underneath the lining of the cape, there are hieroglyphics—those are Khonshu's oath of vengeance. Moon Knight is kind of like this substantiation of this God. They're mirrored in ways. So there are lots of different elements in that suit that equate to a new kind of superhero.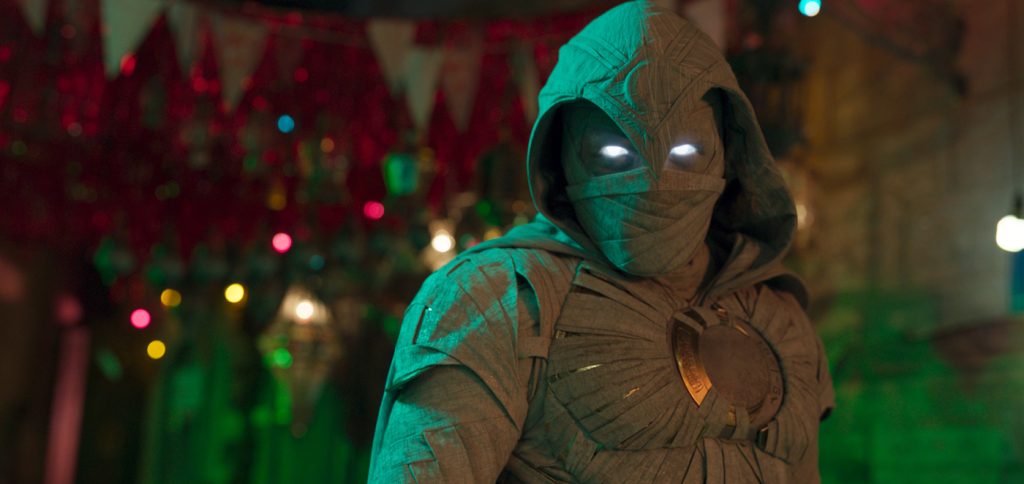 And what about the color of Moon Knight's super-suit?
In the comic, Moon Knight says something like, 'I wear white, so you can see me coming.' So we did that, while still keeping a little bit of the little gray and making it a little dingier, but you can still see him.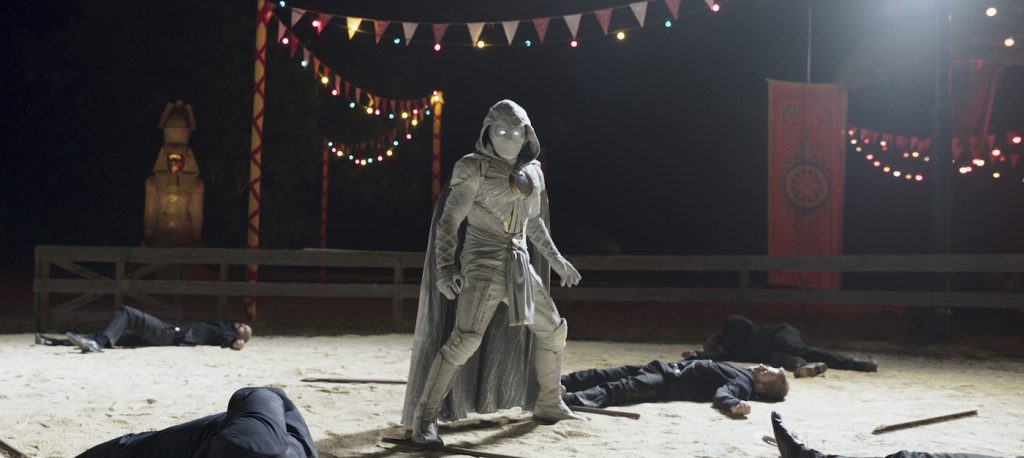 What about when Steven is inhabiting the Moon Knight suit and becomes Mr. Knight, and instead of the caped super-suit, it's a literal suit?
It's a white three-piece suit in the comics, and coming in I was slightly terrified because a white three-piece suit can go very wrong, like you're suddenly in a wedding singer scenario. So that was another suit that I wanted to make sure had a lot of texture because I knew we would be filming outside, and I didn't want when the light that hits it to go flat. So the fabric is actually white, it's an upholstery fabric that has some texture. And then it has a little silver thread throughout so that when the light hits it, it'll help bounce it off in a way that like gives it a little shimmer. Then the lapels are similar to what Khonshu wears on his chest. Khonshu has these like leather straps that criss-cross his chest, like bandoliers, and the print on the lapels of the Mr. Knight suit are like those bandoliers. Also, the buttons on the waistcoat are Khonshu's symbol. I had an in-house metalsmith working on multiple things, and one of them was the buttons. He made more than 200. I mean, the level of detail is, is astonishing.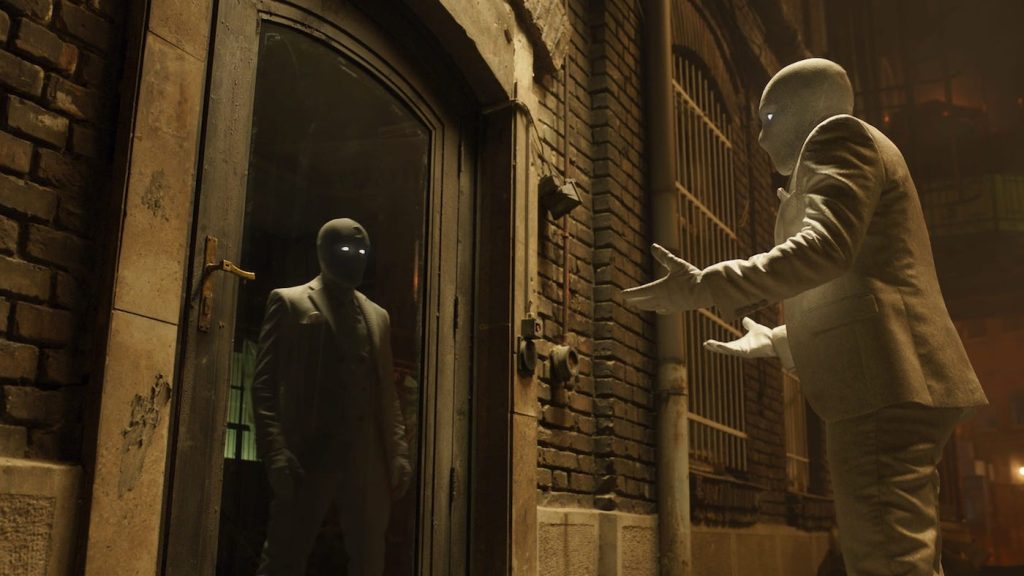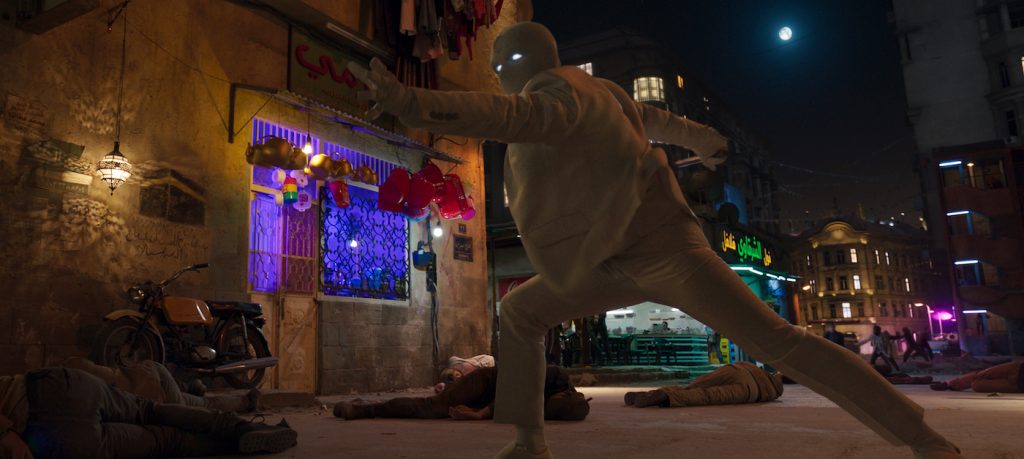 How much input do you have when the character is largely computer-generated, like Khonshu or Tawaret (Antonia Salib), a Goddess who takes the form of a talking hippo?
All of the CG characters in the show are fully made costumes that were worn on set. With Tawaret, the hippo, I had a metalsmith who made her headpiece, this crown which means mother and birth. Then there are hieroglyphics on her costume, there's a handmade beetle on her chest, and there's her jewelry, like the rings she wears and her bracelets. So everything was completely constructed and made, and Tawaret's episode was a bit more playful and fun, and definitely the most colorful episode.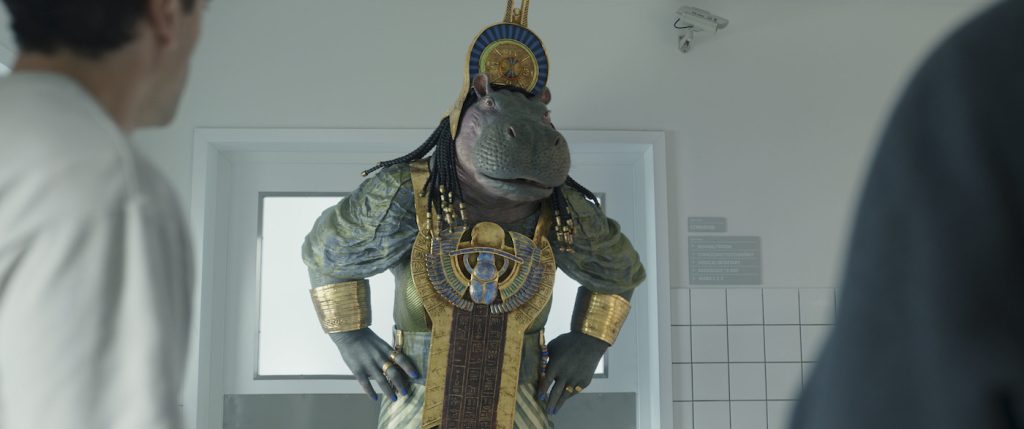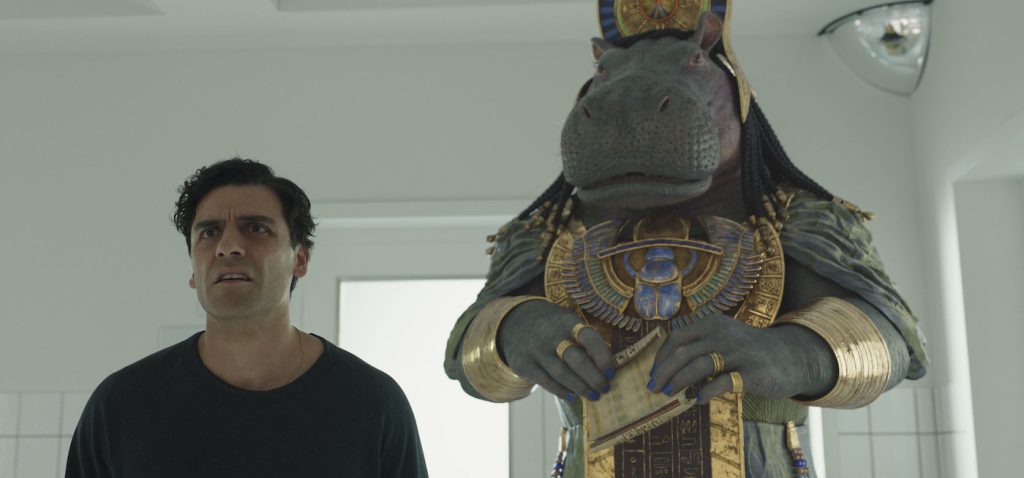 Then there's the villain, Arthur Harrow, played by Ethan Hawke. I've read that he was modeled a bit on the Branch Davidian cult leader David Koresh?
I spoke to Ethan at length about the character. We had really great conversations. Sometimes actors come in and you just start the fitting and talk while you're doing it. Ethan and I had like a really good sit-down for probably an hour and a half, two hours, to really discuss who this character is and where we wanted to go. I sent him over renderings of like my thoughts, and we talked about Arthur Harrow, who's a cult leader, but he's a part of the people, he brought in like the monk-like thing. We did talk about David Koresh, and about cult leaders in general, and often they dress very simply. They're very plain, but they might have an interesting haircut or they wear glasses or, in Arthur Harrow's case, have a cane. So we went with these Monk-like linen clothes. We knew he'd be going to the desert, so we kept it simple. But if you go back and re-watch, you'll see we have a few different shapes and a few different colors.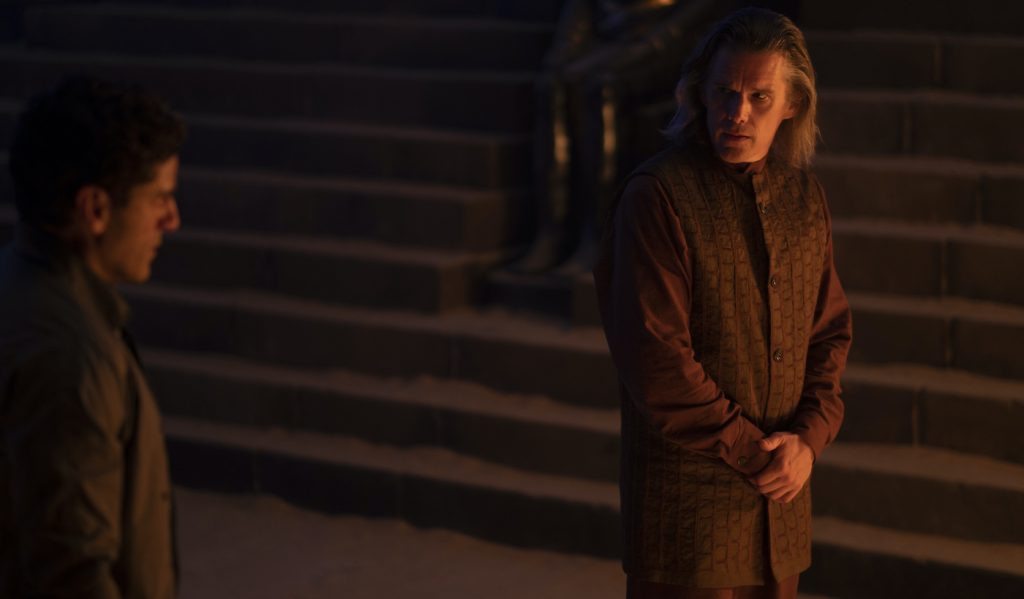 And his sandals?
Those were my idea. I wanted to bring in a weird element, those sandals are a little clunky and unexpected. He also wears bracelets that you don't see very much, but they've got engravings that are like the Death Prayer Book.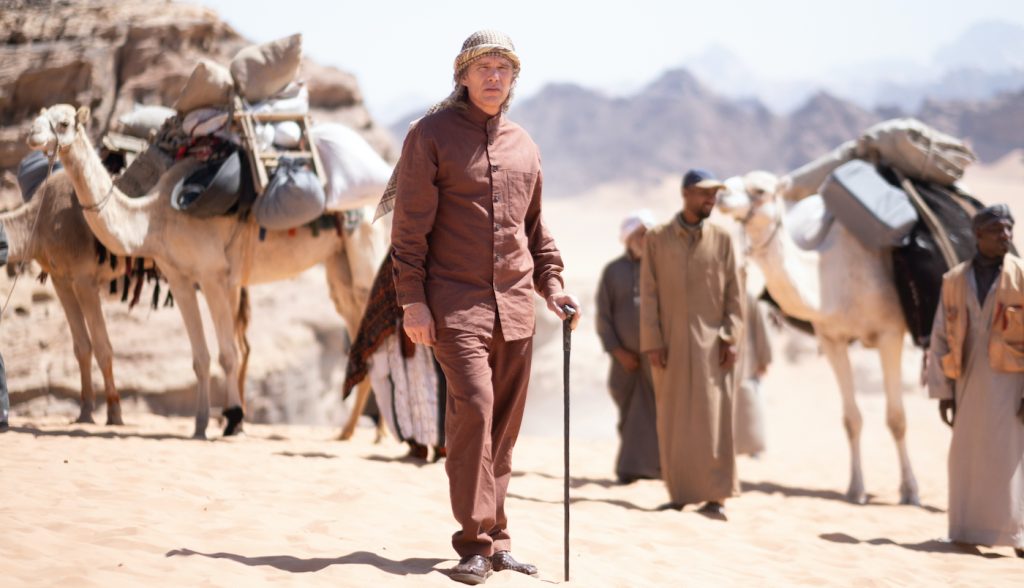 Finally, May Calamawy's Layla El-Fouly is a badass, a romantic interest, and by the end, a superhero in her own right. How did you approach her look?
Yeah. So Mohammed Diab, our director, had a very strong request of wanting to show Egyptian women in a powerful way. In our story, Layla has lived in London for a while, but even though she's left Egypt, she still has that culture, while she made her life in London. So it's a mix of both cultures while being a badass. I wanted to make her a little bit sporty, but not in a stereotypical way with the leather jacket and tight jeans. We've seen that a lot. So I brought in a little color and played with texture and pattern. I just wanted her look to have a different feel than maybe some other action women that we've seen. And May is lovely and amazing, so it was really exciting to build a character with her.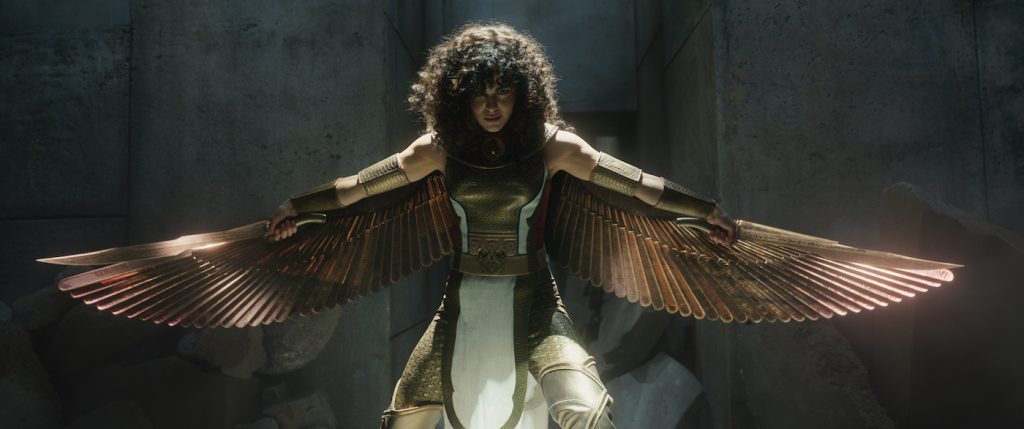 Featured image: Oscar Isaac as Moon Knight in Marvel Studios' MOON KNIGHT, exclusively on Disney+. Photo courtesy of Marvel Studios. ©Marvel Studios 2022. All Rights Reserved.