First "Indiana Jones 5" Image + Release Date Reveals Indy's Back on the Hunt
Harrison Ford made an appearance at the Lucasfilm panel at the Star Wars celebration to make a very big announcement—Indiana Jones 5 will hit theaters on June 30, 2023. Along with that big news, the first image from the hotly-anticipated film, from ace director James Mangold, has also been revealed. It shows us Indy in silhouette, flashlight in hand, his iconic brown fedora on his head, moving across a rickety-seeming bridge (Indy loves rickety bridges) on a fresh case.
So what is the mission Indy's on? Plot details are non-existent at the moment, but what Ford was able to tell the crowd was the film is nearly done, and the legendary John Williams is providing the score. Williams himself joined the event to conduct a live orchestra to play the Indiana Jones theme to bring Ford to the stage. Williams also played the Obi-Wan Kenobi theme, giving the audience a two-for-one treat they won't soon forget. Obi-Wan Kenobi arrives on Disney+ on Friday and will focus on Obi-Wan (Ewan McGregor) a decade after the events in Star Wars: The Revenge of the Sith.
There's a ton of excitement surrounding Indiana Jones 5 thanks to Ford's return, the incredible supporting cast, and the involvement of Mangold, whose last two films, Ford v Ferrari and Logan, were masterclasses in taut, tension-filled storytelling.
Joining Ford in the cast are Antonio Banderas, Phoebe Waller-Bridge, Mads Mikkelsen, Boyd Holbrook, Shanuette Renée Wilson, Toby Jones, and Thomas Kretschmann. Steven Spielberg, the longtime Indy director,  is on hand as a producer alongside Lucasfilm president Kathleen Kennedy and Simon Emanuel.
Check out the first image here: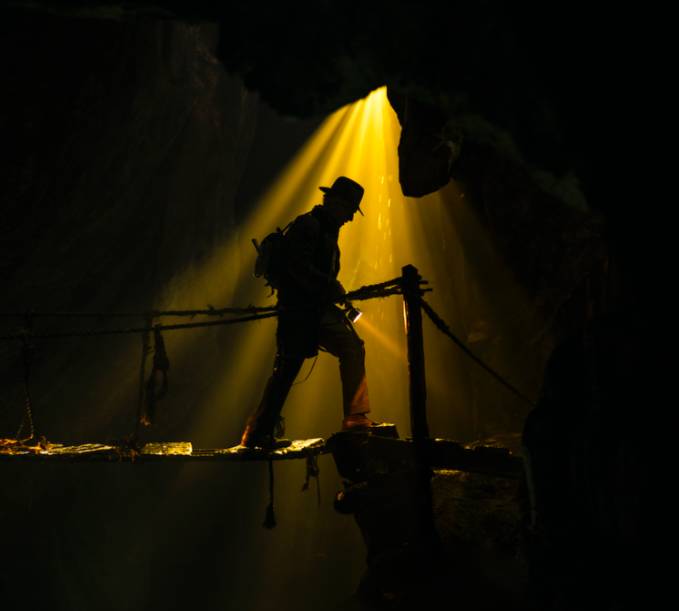 For more on all things Star Wars and Indiana Jones, check out these stories:
First "Andor" Trailer Reveals Diego Luna's Big "Star Wars" Return
"Indiana Jones 5" Has Wrapped Filming
Mads Mikkelsen to Join Harrison Ford in "Indiana Jones 5"
The First "Obi-Wan Kenobi" Trailer is Straight-Up Thrilling
Featured image: Harrison Ford in a scene from the film 'Indiana Jones And The Temple Of Doom', 1984. (Photo by Paramount/Getty Images)