Vin Diesel Reveals Title of "Fast & Furious 10"
Vin Diesel has made it official. Not only did the star of the Fast & Furious franchise reveal the title of the 10th film in the franchise, but he also shared that the first half of the final two-part installment has begun production.
Diesel took to Instagram to reveal that the tenth film in the franchise will be called, appropriately enough, Fast X. The post also revealed that Diesel was sharing the news on "Day one…" which means that production has officially begun on the movie. Fast X will be massive, as every fresh installment has been bigger and more gonzo than the last. Not only will the stunts and narrative lunacies be pumped up (consider Fast 9 sent Tyrese Gibson and Chris "Ludacris" Bridges' characters into space), but the cast will be boosted by two big stars in brand new roles.
Diesel revealed, back on April 9, that Captain Marvel herself, Brie Larson, will be joining Fast X. This means Fast X will boast two major movie stars—Larson and Jason Momoa—in brand new roles alongside the stalwarts of Diesel, Michelle Rodriguez, Tyrese Gibson, Chris Bridges, and Sung Kang. Also returning for the tenth film is Charlize Theron, as the villain Cipher. Fast X is being helmed by the franchise's most seasoned director, Justin Lin, who also serves as producer.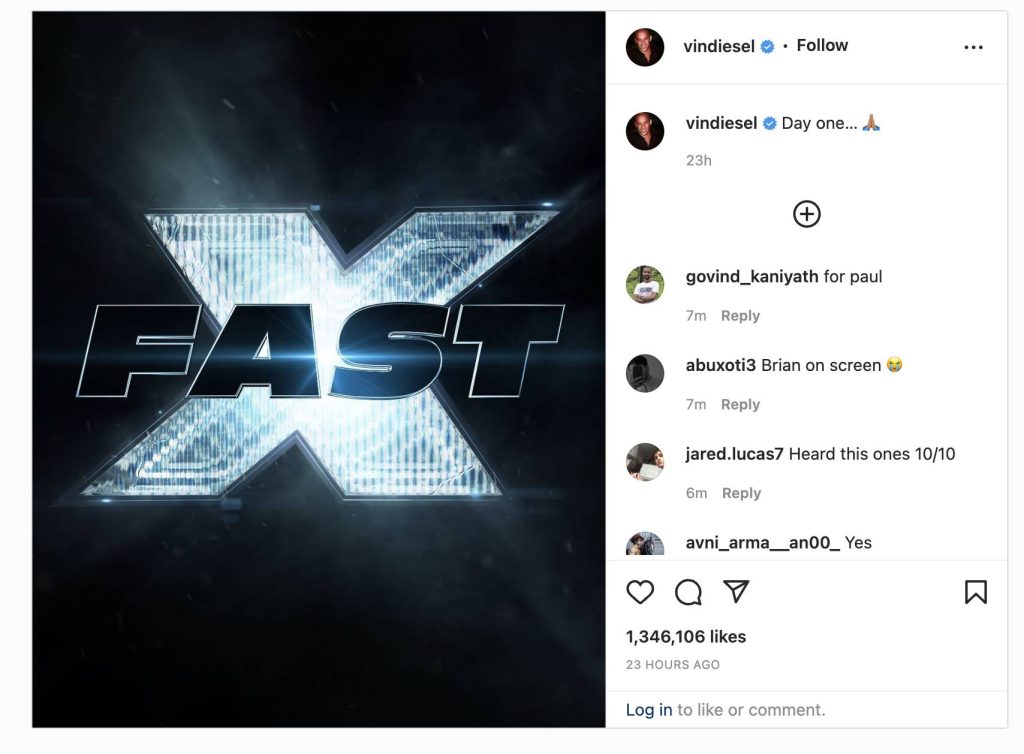 Fast X is set to be filmed back-to-back with the eleventh, and supposedly final, film in the now decades-long franchise. Yet don't worry, gearheads—the Fast universe will zoom on through spinoffs.
Fast X is due to race into theaters on May 19, 2023.
For more on the Fast & Furious franchise, check out these stories:
Jason Momoa in Talks to Join "Fast & Furious 10" as a Villain
Justin Lin Says "Fast & Furious" Saga Will End With One Chapter in Two Movies
"Fast & Furious 10" Will Roar Into Theaters in April 2023
Going Pedal To The Metal With "F9" Stunt Coordinator Andy Gill
Watch A Bunch of Cars Get Demolished in "F9" Car-Nage Featurette
Review Roundup: Director Justin Lin Takes "F9" Into Glorious Overdrive
Featured image: Vin Diesel is Dom Torretto in "F9." Courtesy Universal Pictures.