Behind-the-Scenes With Five Female Singaporean Creators
"The last three years were an eye-opener because of the pandemic," said Michelle Chang, managing partner at Singapore-based Mochai Chai Laboratories. "We are the post-production house at the tail end. If the producers stop producing, we are dead. The good thing was my business partner Chai Yee Wei has the foresight of not putting all our eggs in one basket. He has built a digital restoration lab. As luck would have it, a lot of distributors came to us because streaming platforms were buying catalog content and they need to up-convert into a compatible format for the streamers. That business suddenly shot up, while the post was down. The lesson learned was to bring in new revenue streams to keep the business alive."
Chang was one of five Southeast Asian creators who shared her insight on the challenges and opportunities amid the global pandemic at a panel to celebrate International Women's Day. Held on March 8 at the Projector X in Singapore, it was the first in-person event organized by the Motion Picture Association (MPA) since the outbreak of the pandemic.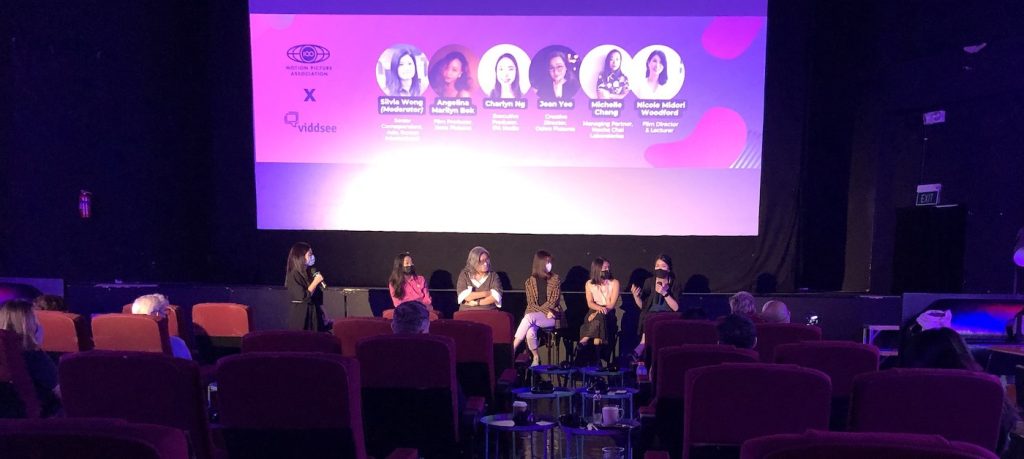 Her fellow speakers were producer Angelina Marilyn Bok at Xeno Pictures, executive producer Charlyn Ng at IFA Media, creative director Jean Yeo at Ochre Pictures, and film director Nicole Midori Woodford.
Yeo, the creator of popular Singapore drama series Lion Mums and Last Madame, acknowledged that the pandemic has forced her to take a long hard look at the situation, which made her realize that being able to work became a topmost consideration. 
"One of the critical decisions we made before the first lockdown was to buy a studio. We knew that locations wouldn't be forthcoming and there would be restrictions," she said, adding that having an in-house studio will allow her and her team to film in a comfortable, unrestricted and safe environment. "It's been the best decision. That we're able to work is half the battle won."
Last Madame was named best Asian drama at Busan's Asian Contents Award in 2020 and was on Netflix's top 10 most-watched list for several weeks. Yeo is now working on the second season, which is a prequel titled Sisters Of The Night.
Another ongoing project is the train hijack drama Third Rail, which is billed as one of Singapore's most expensive local dramas. Yeo's new studio has come in handy as the set of a train operations control center and a 140-meter long tunnel. 
Like Yeo, Woodford continued to work through the pandemic, getting two projects off the ground. She directed The Excursion, one of the episodes of HBO Asia's horror anthology series Folklore 2. "The pandemic got me to be more focused," Woodford said. She wrote the script during lockdown, and had only one month to prep before the cameras started rolling in January 2021. 
She shot it in eight days on Pulau Hantu, an island in the south of Singapore, with strict COVID restrictions in place. "It's an important learning experience. How do we create a cordial and respectful environment on set when everyone is stressed? I know the team was trying to support me. I saw a different side of production," she continued.
When The Excursion premiered at the Tokyo International Film Festival in October last year, she did an online Q&A, instead of showing up in person, due to the COVID-induced travel restrictions. No doubt she missed going to film festivals, but she was glad to know that the Japanese audiences responded well to the episode. 
After The Excursion, she shot the Singapore leg of Last Shadow at First Night in November. That was her debut feature, which was pushed back for two years from 2020 during which she had to keep rewriting the script as her teenage Japanese actress was growing older. Now she is planning to finish the Japan shoot next spring.
Ng, from IFA Media, was equally productive during the pandemic, having produced a Thai drama series Forbidden for HBO Asia. The first two episodes of the eight-part series premiered at the Busan International Film Festival in October. But it was not without interruptions.
Ng explained that the filming location was in a remote village in Thailand and the shoot took longer than expected because of two lockdowns. One of the lockdowns coincided with Songkran, the Thai New Year festival, and the production team had to leave the village and travel to Bangkok to keep everyone quarantined in a hotel. She counted on the support of the Thai partners and the understanding of HBO Asia to ride out the challenges.
Ng also mentioned that prior to Forbidden, her company IFA Media, which was set up by two war journalists, has handled many foreign productions, including many acclaimed documentaries, HBO Asia's Taiwanese drama series The Teenage Psychic and its sequel, and more recently the Vietnamese feature film Maika, which premiered in Sundance in January this year.
Mocha Chai Laboratories has recently concluded filming of the sci-fi romantic comedy Venus On Mars in Taiwan. "We're lucky we are able to do the project," said Chang who put together a team during the lockdown. Two months before the pandemic started in December 2019, she and Chai pitched to CJ ENM HK during Asia TV Forum & Market (ATF) where they also met Phil Tang from Taiwan's Greener Grass Production. 
Venus On Mar will subsequently become the first of three scripted series backed by CJ ENM HK (the regional office of Korean media conglomerate CJ ENM) and Infocomm Media Development Authority of Singapore (IMDA), with Tang on board as producer. Despite the travel restrictions, Chang, who directed, and his cinematographer Derrick Loo traveled from Singapore to Taiwan where they worked with a Taiwanese cast and crew on the drama series. 
Producer Bok from Xeno Pictures is currently wrapping up the post-production of three short films from different directors, with a feature film The Beast From The Trees in script development. 
She has a word of advice for her female peers working in production. "It's been a male-dominated industry for many years. Speaking from my personal point of view, sometimes I've been undermined when people question my capability. I have to stand up for myself as a producer and as a female in general. I have to rethink the way I produce films and extend the protection to all the female peers on my set."
Fellow producer Ng concurred that she gets judged by her short stature and her young look, especially when working in China. 
Chang advised, "Never allow yourself to be bullied. Start from the self and nip the problem in the bud when it happens. We can just say that it's unacceptable, don't talk to me like this. People who bully are full of insecurities. They don't know how to deal with a talented person like you."
The Excursion director Woodford, who also teaches film production and scriptwriting at the Nanyang Technological University in Singapore, is happy to have more females taking leadership roles. "It's important to see what the next generation is coming up with. They may be shy and reserved, but they are also talented. I always encourage them to step up to direct and produce." 
For more stories from International Women's Day, check these out:
Telling Stories With Singapore-Based Producer Si En Tan
Smiely Khurana is Leading the Sustainability Charge in Canada With Reel Green