"Jockey" Director Clint Bentley on Finding the Right Narrative Track
Director Clint Bentley and his co-writer Greg Kwedar always wanted Jockey to sit in that sweet spot between gritty naturalism and emotional lyricism. Coming from a documentary background, the filmmakers worked hard to "get best of both worlds," said Bentley. It began with the old-fashioned legwork of observing the rituals and characters at the track where they shot Jockey and earning the trust of the real-life trainers and riders whose stories and lives are the backbone of the film.
"What we discovered with our first film [Transpecos, 2016] and then committed to fully in the second, is building these stories from the dirt up; coming into a community, pulling the curtain back, and really gaining a deeper understanding of the place and the people who inhabit it," said Kwedar. 
"It was always a question of how to make it feel tonally one film rather than two things smashed together," added Bentley. "A lot of the credit goes to [cinematographer] Adolpho [Veloso]. It was just Adolpho and first assistant cameraman Jonas Costa walking around together. The impact of the camera crew was so small … we were the size of a documentary film crew so we could get into situations and just disappear into them."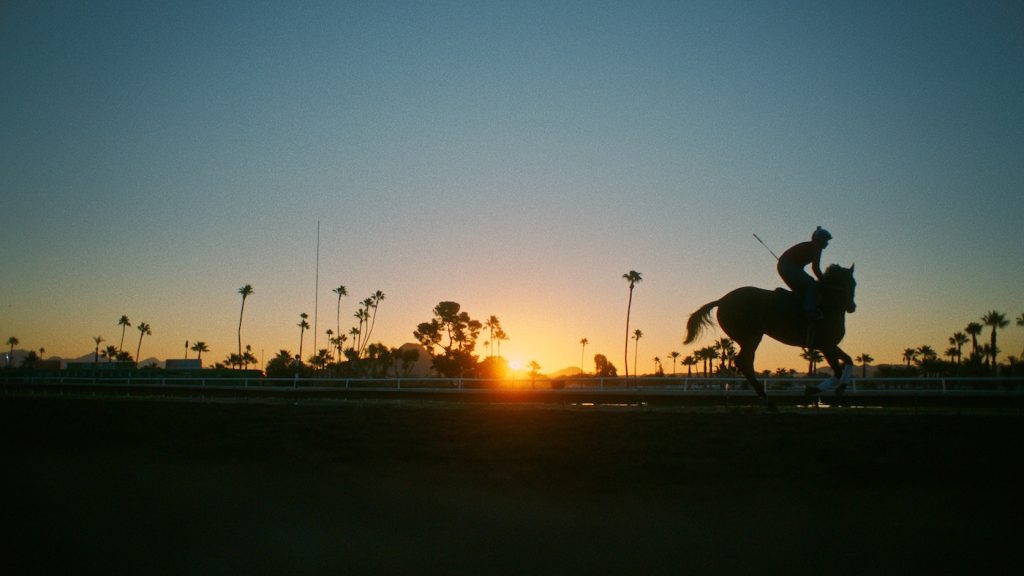 The small budget and small crew helped the filmmakers become part of the world they wanted to depict. "Clint wanted to get the jockeys and trainers to show their true selves and if we'd had all this [filmmaking] apparatus, I'm not sure if it would have been possible," said Kwedar. "So that translated to everything we did. It was all about getting closer and more intimate with the characters and that became reflected in the racing sequences as well."
As much as they imbued their film with grit and realism, the filmmakers understood that only a scripted feature with skilled actors in the leads could achieve the emotional payoff they wanted.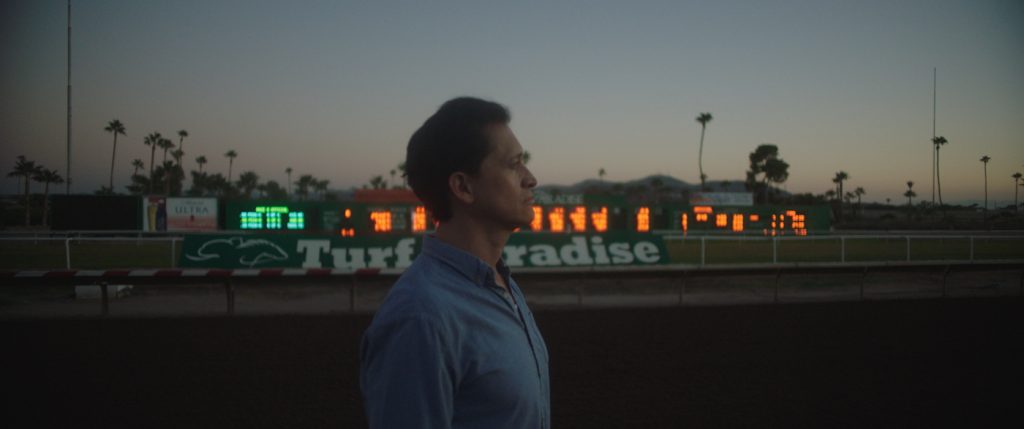 Jockey is centered on aging rider Jackson Silva (Clifton Collins, Jr.) who despite injuries clings to the horse racing world. His life gets further complicated by rising young jockey Gabriel (Moises Arias) who shows up claiming to be Jackson's biological son and by his longtime employer and friend Ruth (Molly Parker) and her spirited new horse that Jackson yearns to take across the finish line. Bentley and Kwedar wrote the role of Jackson for Collins, the veteran actor who had a supporting role in Transpecos.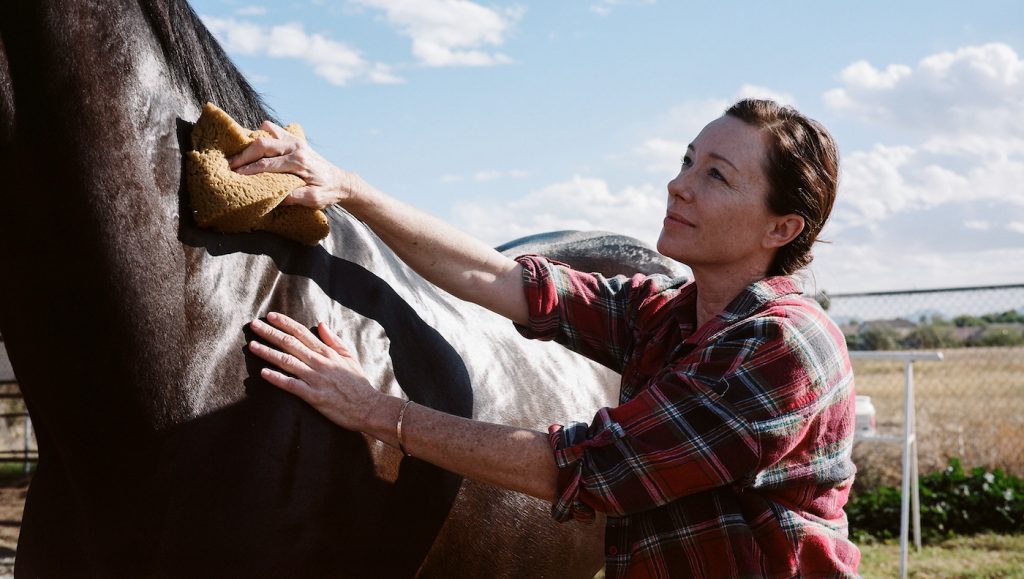 "We realized he could do so much more than the roles he was getting," said Bentley. "We don't know anyone who'd go as deep as Clifton would — getting to know the jockeys, the lifestyle. We knew he'd lose the weight. He already knew how to ride a horse but [we knew he'd learn to] ride like a jockey, sit like a jockey on a horse. He did exactly that and went above and beyond."
The same holds true for Parker who plays Ruth, a veteran horsewoman seeking one last shot at the winner's circle.
"Molly brought the dimensionality and made [Ruth] a fully realized human being. We always saw the potential of this character, a trainer trying to navigate all these roles of being his employer, friend, maybe a deeper history, and trying to make the best decisions for her career and her horse. That part was always rich but Molly imbued with texture and nuance and brought it to life… Molly did so much research to the point that she could run the barn as well as any trainer," Bentley said.
The filmmakers initially thought about casting a real jockey to play young upstart, Gabriel. "Moises felt like the only one, as a professional actor, who could achieve what that character needed. In the end no one, not even a real jockey, could not have done what Moises found in the character," he added.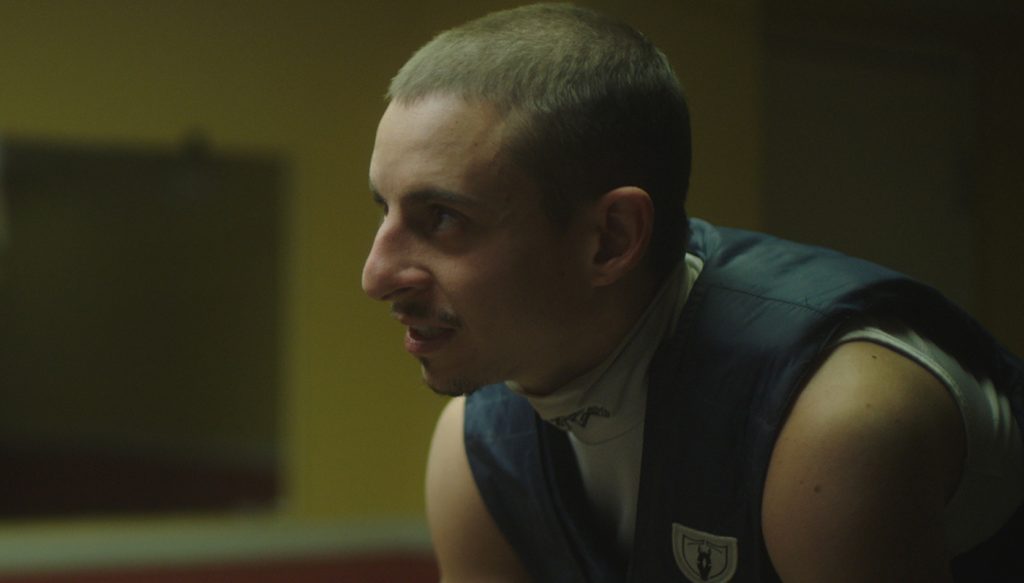 It may be a cliche to say that a setting is another character but in Jockey, it happens to be true. The filmmakers shot the film at Turf Paradise, a racetrack in Phoenix, Arizona that's been operating since 1956.
"We searched a long time for a track. We had about three that were okay with us [shooting there] but a lot of tracks these days have been bought by casinos and renovated and they all look the same. Paradise had the most personality and character to it," said Bentley whose late father was a jockey. 
"We —my siblings and my mom —followed him from track to track when he was racing. Then, when I was older, he became a trainer and I helped him, cleaning stalls. Once I started as a filmmaker, I realized the world was rich and fascinating and one we'd never seen before."
Movies have a long tradition with horse racing but Jockey is less Seabiscuit than a look at the lives of the men and women behind the scenes. "I wasn't interested in making a sports movie even though it's set in that world. It all came down to thematics. We wanted the story to reveal a subculture, almost in documentary fashion, as Greg and I showed this person who has committed his life to racing and getting accolades and that's slipping away," Bentley said.
The idea of a character in his twilight became true about the sport itself, said Kwedar. "If you go to any of these tracks — blue-collar circuit tracks — in the front of house and grandstand, there's not much life. But in the back, there is life and they are still holding onto this vibrant community," he said. "That became more of the vibe, the tone of the story: this circus-like, carnival-like cast of characters who create their own family life."
For more upcoming films from Sony Pictures, check out these stories:
First "Bullet Train" Trailer Reveals Brad Pitt in Upcoming Action Thriller
First "Bullet Train" Teaser Reveals Brad Pitt in Action Thriller
The Final "Morbius" Trailer Reveals Jared Leto's Entrance Into the Spider-Man Universe
New "Morbius" Video Reveals Jared Leto's Vampire Antihero
Featured image: Clifton Collins Jr. in "Jockey." Courtesy Sony Pictures Classics.